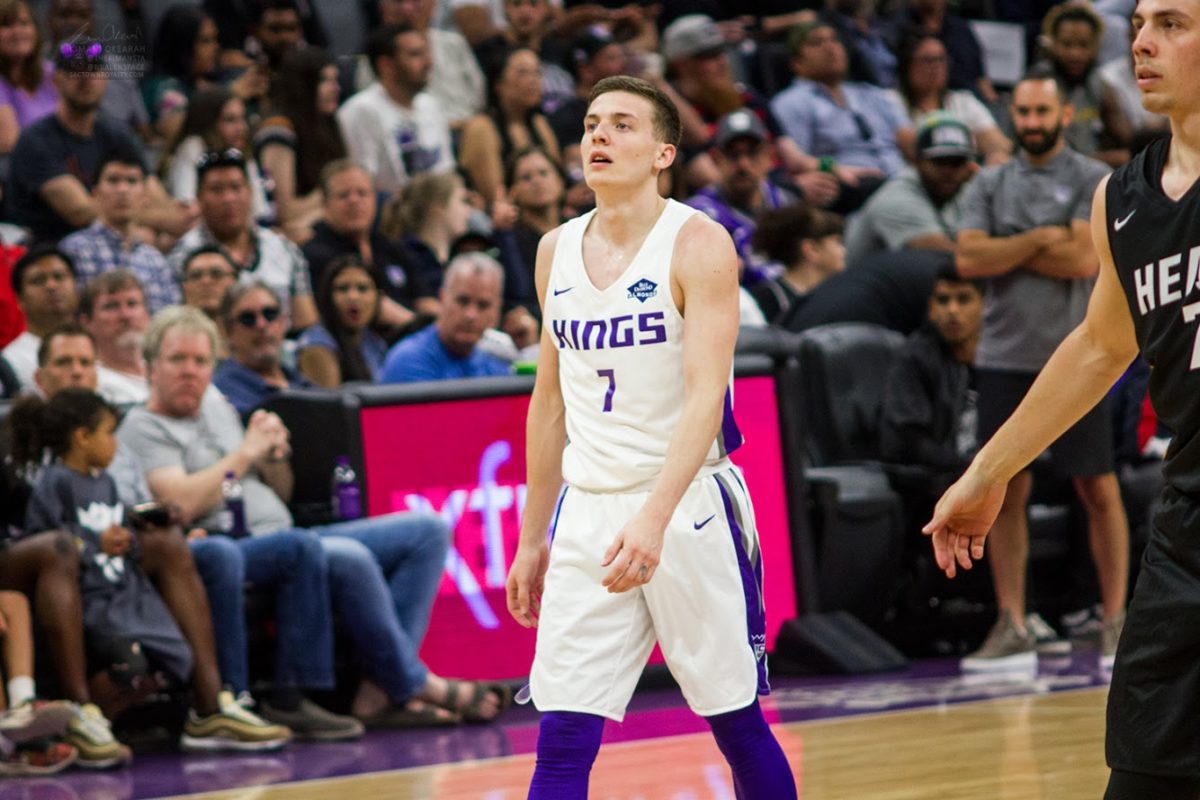 With the Sacramento Kings not having any new first round picks to display following the 2019 NBA Draft, all eyes shifted to Kyle Guy as the rookie who could make some noise to get into the first team.
Not to discredit the other two second-round selections by the Kings, but Guy clearly held the advantage with his flashy three-point shooting he displayed at Virginia. Plus he has a fun name.
Justin James being picked 40th overall when there was an argument to be made that he could've gone undrafted made fans uncertain about the pick (though he definitely showed promise once he hit the floor). Vanja Marinković would be staying in Europe to play ball, so there wasn't much immediate hype there.
Guy wasn't a lock to make the Sacramento roster. Most guys picked 55th overall usually don't have any expectations. But this guy had an interesting dilemma.
The 6'3" guard doesn't possess the ball-handling abilities that would consider him to be a primarily handler. Having to beat out players like De'Aaron Fox, Cory Joseph, Yogi Ferrell and Bogdan Bogdanovic is an incredibly tough task for a second-rounder. But his small frame doesn't allow him to succeed as an off-ball guard either, at least not immediately at the NBA level. Playing off-ball with Ty Jerome at Virginia is one thing, but trying to replicate that success right away in the big leagues is unrealistic.
That's where the Stockton Kings came into play. Relocating from Reno to Stockton has definitely made things easier for the franchise and as Stockton is still relatively new to the G-League, one great way to build some hype for a city that previously didn't have basketball is having a flashy rookie become the face of it.
Though Stockton's roster was filled with guards like Gabe Vincent (who later signed with Miami), Cody Demps, Marcus Graves, Isaiah Canaan and combo guard DaQuan Jeffries, Guy did hold his own in hefty minutes (36.9 minutes per game).
Guy averaged 21.5 points per game, despite attempting 17.4 shots a game and only converting on 7.2 of them. To nobody's surprise, the bulk of his attempts came from beyond the arc. To nobody's surprise again, Guy saw success from that range, shooting 40% on 9.6 attempts a game. Yeah, he let it fly often and why not? It's a great environment to utilize your strengths effectively while not having to deal with a ton of pressure if mistakes are made (see Ben McLemore vs. Kawhi Leonard).
Guy's hunger for buckets became evident quickly as he finished multiple games with 30-plus and 40-plus point performances, such as dropping 45 on the Iowa Wolves.
Guy was constantly aggressive on offense. He would pull up from anywhere or on anyone and still knock it down with confidence. Guy also sought to penetrate the defense by attacking the rim and proved to be a decent finisher there (54-97, 55.7% in the restricted area), but where he tended to fall off was shots in the paint and just outside the paint. Guy went 52-129 on shots in the paint (40.3%) and 19-65 on mid-range jumpers (29.2%).
Stockton lacks true length on the roster so guys like Eric Mika and Kevin Young usually were the ones with the responsibility to score inside, but I'm not going to fault Guy for trying to be aggressive for getting down low more often.
He clearly understands his strengths lie beyond the arc, but taking his game to the next level does require an ability to extend his arsenal inside the arc. Otherwise, he would be too predictable to guard and his shot essentially becomes useless.
We still don't quite know where Guy's trajectory is headed. He's clearly fit for the G-League. He's proved that in one year, or at least until COVID-19 shut the league down, but he will have to prove he's a player that's built for more. For many players, they get stuck directly between the lines of an All-Star G-Leaguer and an NBA caliber player. We just saw it this past season with Frank Mason in Wisconsin. His stats are absurd in the G-League, but he failed to establish himself as a consistent and capable backup to De'Aaron Fox in Sacramento, despite many chances.
While COVID-19 is making it difficult for the NBA to know whether it's safe to return to some form of action, if any, any decision made about a possible return will have a domino effect on the G-League. Until then, Guy most certainly had a fun rookie campaign in Stockton and helped bring more attention to a team with underrated talent. Let's see if he can take it to the next level soon enough.