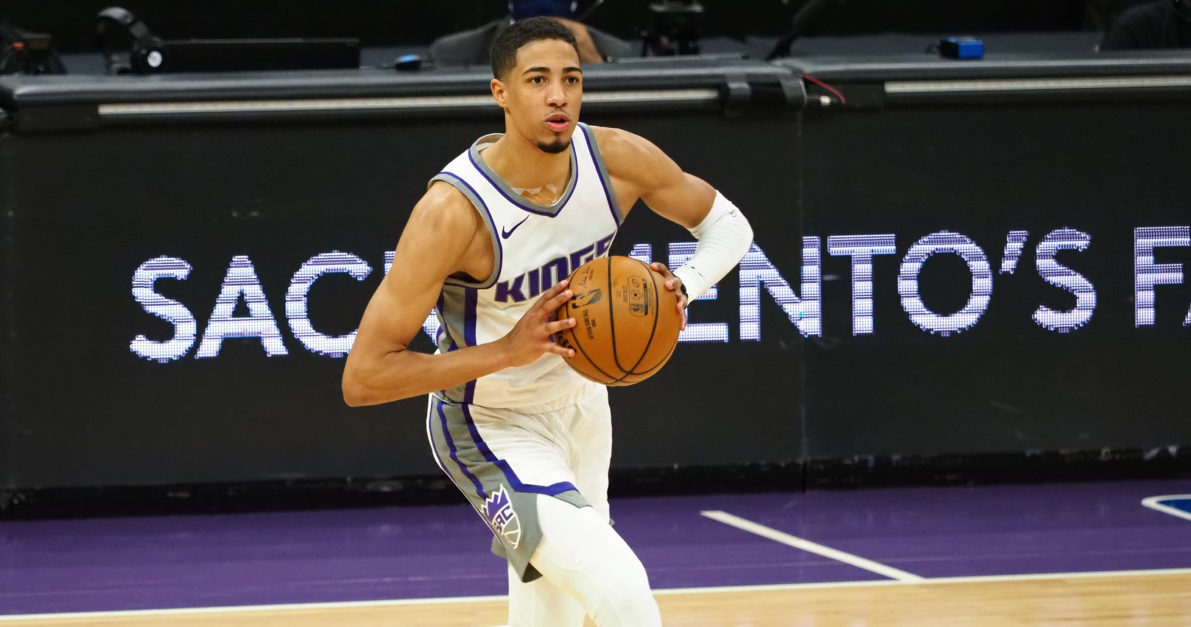 When Tyrese Haliburton fell to the Sacramento Kings at #12 in the 2020 NBA Draft, it was widely considered the steal of the draft.  Haliburton had been projected to go in the top-5, and here he was slipping all the way to Sacramento near the end of the lottery.
Kings fans were excited, but this isn't the first time a supposed top prospect had fallen to the Kings and been declared a steal.  Over the years, we've seen players like Thomas Robinson or Ben McLemore arrive with big expectations and fail to meet them.
So far, that hasn't been the case with Tyrese Haliburton.  Haliburton hit the ground running, posting one of the most efficient rookie performances in Sacramento Kings history.  Haliburton's 13 points, 5.3 assists and 3.0 rebounds aren't the stuff of legends, but it was remarkable how comfortable he looked on the floor as a rookie, with skills and instincts of a player with far more experience.
One of the biggest question marks coming into the league was if Haliburton's shot would translate to the NBA.  He had been very efficient at Iowa St., shooting almost 43% from beyond the arc in his two seasons, but his shot was a little awkward looking and there were thoughts that he wouldn't be able to get it off against NBA defenses.  That question was quickly answered as Haliburton started off the year on a shooting tear, making 52.1% of his threes over his first 10 games.
Tyrese Haliburton different bro pic.twitter.com/zSVDSThG5c

— jm⛷ (@smoovaic) May 22, 2021
He finished the season shooting 40.9% from three, the highest qualified mark for a drafted Kings rookie in history.  His 121 made threes are second only to Bogdan Bogdanovic, who was 5 years older when he made his NBA debut (and also played 20 more games).  Haliburton's overall FG% of 47.2% was the 3rd highest for a rookie guard in Sacramento history, behind only Vinny Del Negro (47.5%) and Kenny Smith (47.7%).  LaMelo Ball (43.6%) and Anthony Edwards (41.7%), the two other rookies this season in consideration for the Rookie of the Year award, were far less efficient.
Shooting wasn't the only thing Haliburton did well.  The one area widely considered to be his strength coming into the draft was his playmaking ability.  In his sophomore year at Iowa St. he averaged 6.5 assists with a 2.3:1 assist to turnover ratio.  As a rookie for the Kings, he averaged 5.3 assists and had an even better 3.3:1 assist to turnover ratio.  Only LaMelo Ball had more total assists as rookie this season, but he also had 60 more turnovers.
Haliburton is an instinctual passer, often passing up opportunities for himself to find an even better one for a teammate, or even making a pass that he knows sets up a better long term play. On more than one occasion this season, Haliburton would make a pass only to instantly point to another teammate, telling the player who he just passed to where the ball needed to go.  He's also got a little bit of flair to his game, especially favoring no-look passes on the fast break.
Defensively, Haliburton's best work comes off the ball.  Much like his instincts in knowing where the ball should go on offense, he also has a feel for where the opposing team is going to be moving the ball and sets himself up to pick off passes like an NFL corner back.
Tyrese Haliburton is one incredible rookie. @TyHaliburton22

Unbelievable steal, displaying his great IQ but even more : his amazing instincts for the game.

Not your typical rookie mind. Makes that play like he's a crafty & cerebral 15-years vet.

That's some Ed Reed stuff here. pic.twitter.com/rZrfPxRF1q

— NBEinstein (@NBEinstein) January 23, 2021
While Haliburton had an excellent year and was perhaps the highlight of Sacramento's season, that doesn't mean he doesn't have parts of his game that need improvement.  For one, he needs to get stronger, but so do most rookies.  But getting stronger for Haliburton will allow him to compete better in man-on-man defense as well as be more aggressive in attacking the basket, which is another area he will need to focus on.  Despite being a great free throw shooter, Haliburton barely got to the line at all, only averaging one free throw attempt per game.  This wasn't a particular strength for him in college either.
To take the next step, he'll also have to become more assertive in looking for his own shot and also creating his own looks.  As the season wore on and teams got more scouting information on Haliburton, he wasn't left nearly as open by opposing teams.  Most of Haliburton's scoring came on catch and shoot threes or fast break scores.  With teams guarding him more closely and his propensity for sharing the ball, there were times when he was too passive.  Eventually, he'll have to become a more focal point of the offense to be a more complementary piece to De'Aaron Fox.
Still, the improvements that Haliburton needs to make aren't huge.  He was a remarkably polished rookie, and his fundamentals are solid.  There's no doubt in my mind that he's going to be a very good player for years to come.  He's the type of player who elevates the team around him.  Even when he suffered the knee injury that knocked him out for the last few weeks of the season, he was the team's biggest cheerleader, up off the bench and the first to react to any big moment. He's a team player, on and off the court.
While this season may have been disappointing overall, the prospect of watching a Fox/Haliburton backcourt for years to come makes it a little easier to see a road where the Kings can get back to relevance sooner rather than later.