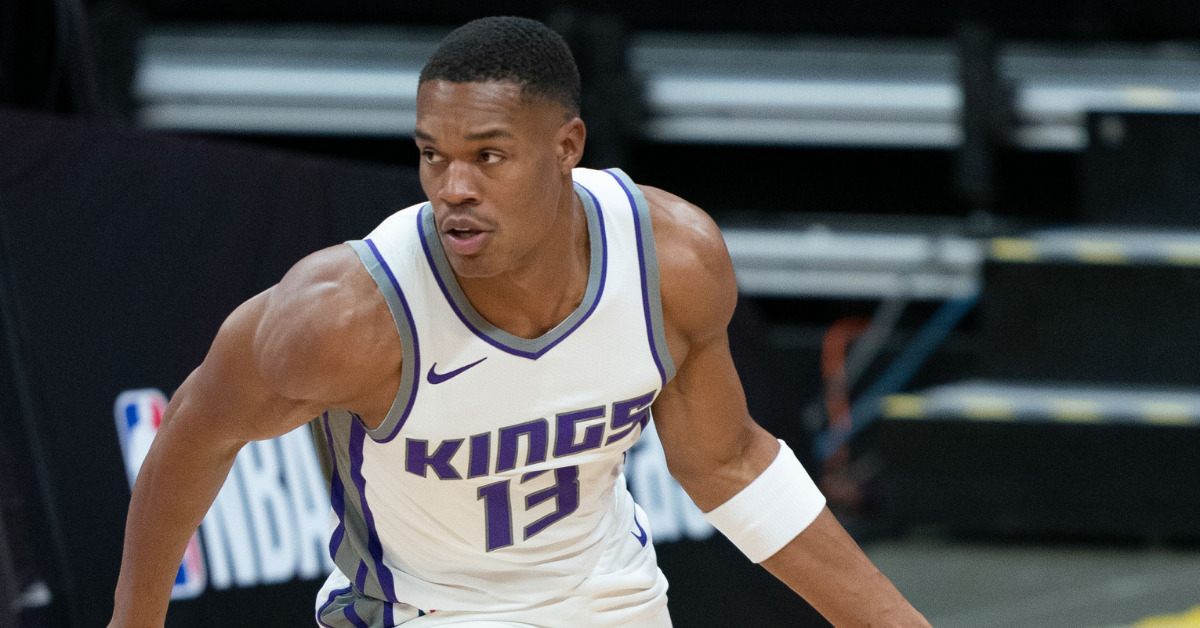 After teasing the basketball world for a few weeks that they might actually be decent, the Sacramento Kings have lost 7-straight games, and any talk or push for the Western Conference 10-seed should be good and dead. I use the word should instead of is because you'll still hear 10-seed talk on the Kings broadcast, and they aren't mathematically eliminated, but pushing for the play-in at this stage is silly. It's over. The team is bad. Play the kids.
I would advocate for playing time for all the 'kids' in Sacramento — Jahm'ius Ramsey, Kyle Guy, and Robert Woodard specifically, but I don't expect the Kings to sit that many veterans despite my desire to see the youth play, and I just think Woodard has the easiest case, so we'll start there.
Robert Woodard II was selected with the 40th overall pick in the 2020 NBA Draft by the Memphis Grizzlies, and then traded to Sacramento along with a 2022 2nd round pick for Xavier Tillman (35th overall pick). The Kings later signed Woodard to a 3 year, $4,800,602 contract with the final year being a partial guarantee of 300,000.
The Kings liked Woodard going into the draft, and for good reason. There is a lot to like there. Woodard is a big, strong wing with some serious defensive potential and a promising 3-point shot that gives him a prototypical 3-and-D wing base to develop. We haven't seen much of Woodard in Sacramento this season, but as our own Brenden Nunes wrote in February, he had some strong moments in the G-League bubble before a left hamstring strain took him out for several weeks.
Woodard is healthy now, but currently glued to Luke Walton's bench while veteran forward and unrestricted free agent to be, Moe Harkless, is playing 28 minutes a night since he entered the starting lineup vs. the Detroit Pistons on April 8.
This is nothing against Moe Harkless, but with the play-in dreams fading, I don't see the logic behind minutes going to the veteran with no long-term future here over the guy you just drafted and gave two guaranteed years to in Robert Woodard.
Woodard may not be as good as Harkless on day one, but you made the investment, why not give him some run? Are you afraid the Kings will lose... more? What is it going to take for Robert Woodard to get some minutes?
Of course, I write this blog with different goals and intentions than Monte McNair and Luke Walton. I recognize that. The Kings have been a brutal watch recently. Brutal. I'm looking for something, anything new or intriguing, to keep me engaged and watching. I don't need much. Robert Woodard II would do it for me.
But beyond my own wants and needs, Woodard was an intriguing prospect out of Mississippi State, and you'd think someone in the Kings organization would like to see him on the court at some point.
The Kings, thankfully, have just 18 games remaining this season. They're quickly running out of time to give Woodard a meaningful opportunity in the rotation, and with his defensive potential coupled with the Kings' shortcomings on that end, I don't understand what the hesitation is. Woodard could be a key wing defender for this franchise moving forward — a position of obvious, obvious need, and hopefully we can get a glimpse into that future this season before it's too late.