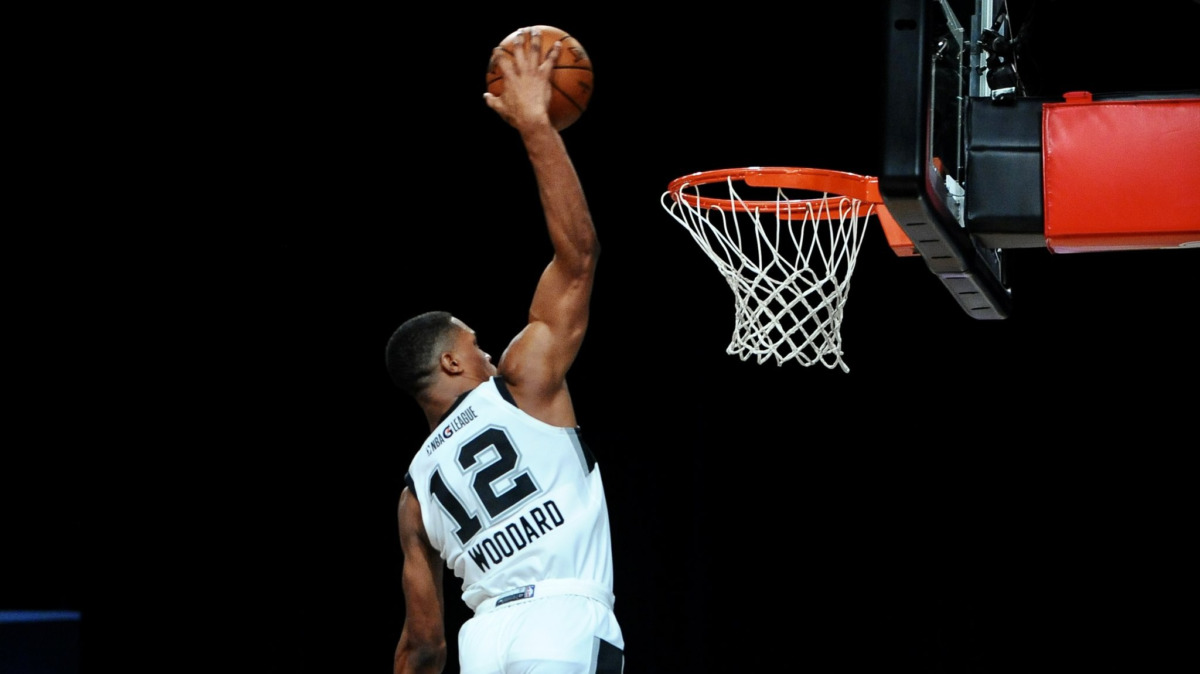 The Sacramento Kings are in desperate need of defense, as is well documented. The 40th overall selection in this past draft, Robert Woodard II, may be able to add just that from an early point in his career.
Sadly, Robert Woodard II's G-League stint was cut short after he suffered a left hamstring strain on February 28th which he will have re-evaluated in 3-4 weeks.
No matter, he was able to showcase his impressive capabilities during the 12 games that he was available for on the Austin Spurs roster. The Spurs were one of the better teams in the bubble, with Woodard being a primary factor.
Defense
Robert Woodard II may very well be the best weakside rim protector on Sacramento's roster already. His 7'1" wingspan and impressive vertical athleticism paired with a high defensive IQ regularly lead to shot-altering meetings at the rim.
Properly using the three allowed seconds in the paint is an underappreciated talent in basketball. You can see Woodard wait for the perfect moment to come across the paint and contest the shot with picture perfect verticality. At the very beginning of the clip, you can also notice Woodard dig into the ball handler while remaining in the passing lane of the corner shooter. This type of disruptive activity is commonplace for the Mississippi State alum and urgently needed on a Sacramento roster deprived of defensive talent.
Woodard has ideal timing on his jumps to meet opposing players at the top. Rarely was he caught biting on pump fakes or late off the ground, averaging a mere 2.1 fouls in 31.2 minutes per game.
During his 12 games played in the bubble, Woodard averaged 1.4 steals and 0.6 blocks per showing. Similar to fellow rookie Tyrese Haliburton, no lazy passes are allowed with Woodard lurking in the vicinity. Stay on the lookout for an explosive dunk to top it off if Woodard sees a free lane in the open court. Defense leading to offense.
It can't be overstated how much the Sacramento Kings are lacking in off-ball activity and playmaking. Throughout this season the team has often looked uninspired and lackadaisical on the defensive end of the floor. In the second half, Luke Walton should strongly consider playing Woodard in those moments for some instant energy and potential impact off the bench.
The G-League site lists Robert Woodard II as 6'6", but he feels taller than that. It may be the strength and recorded 7'1" wingspan misleading me, but Woodard should be able to play both the small forward and power forward at the next level.
Sam Vecenie praised his lateral quickness for his size around the time of the draft.
"(Robert Woodard's) defensive ability at 6'7" with a 7'2" wingspan is real. That dude can slide his feet like crazy... I would have taken him over Zeke Nnaji for sure." -@Sam_Vecenie

— Brenden Nunes (@BrendenNunesNBA) November 20, 2020
While I do see the potential, this is an area where Woodard will need some time adjusting. There were moments in the bubble that he was tasked with speedy guards that he understandably struggled to contain. At times, he would get shaken by a dribble move or two.
Yet, on the other side of the coin, there were moments that displayed his upside in these situations. Here you can see him guarding Aleksej Pokusevski in the closing minutes of a close game and doing a remarkable job.
He may be better suited as a four so he can primarily function off-ball, but time will tell and it is certainly too early in his career to pen him into any one specific role. I would even consider playing him at the five, which the Austin Spurs experimented with for stretches.
Defensive rebounding is the period on all defensive possessions, it is incomplete without it. Robert Woodard II tallied 11.0 rebounds per night, the fifth most of any player in the bubble with 7.3 of those coming on the defensive end.
Doug Christie is going to adore Woodard boxing out, rising for boards, and securing them with two hands before turning the other way.
Defense is Robert Woodard's calling card and I believe he can immediately be an impact player for the Kings on that end of the floor.
Offense
The rebounding prowess of Woodard extends to this side of the ball as well. It won't take long for 'box out Robert Woodard' to be on the opposing team's scouting reports.
If a shot goes up, Woodard is crashing the board and looking for a chance to secure a putback slam. If he is fighting down low, he properly utilizes a swim move to get in front of the opposition attempting to box him out. This comes back to the neverending motor that Woodard possesses and his willingness to do the dirty work.
After securing the board, Woodard displayed the strength and touch needed to go back up with it, through contact if need be. His finishing around the rim came as a surprise to me (66.7 percent in the restricted area), and it will most likely be revealed with putbacks or after smart cuts.
Woodard will be far from a focal point of Sacramento's offense, but he recognizes his opportunities to fill lanes and take advantage of the pressure his teammates are creating. Before they were recalled to San Antonio, Woodard played exceptionally in a complimentary offense role alongside Tre Jones and Luka Samanic.
Once both of those players were removed from the roster, Woodard was attempting to create for himself and others more often. With this not being apart of his scouting profile that I was aware of, there were moments that surprised me.
Throughout his two seasons at Mississippi State, Woodard only surpassed 20 points on one occasion and never shot the ball more than 15 times in a game.
During his 12 G-League appearances, Woodard averaged 16.8 points a night on 15.7 attempts. He tallied 20 or more points on five different occasions.
Post-ups and mid-ranges seemed to be a favorite of Woodard, and you can see his very high release point on the jumper.
Robert Woodard II or Michael Jordan? pic.twitter.com/GG7U0qQuh8

— Brenden Nunes (@BrendenNunesNBA) February 22, 2021
Robert Woodard II with the crossover into an and-one finish. pic.twitter.com/h5q9un6GQt

— Brenden Nunes (@BrendenNunesNBA) February 23, 2021
Okay Robert Woodard pic.twitter.com/sjBA2GvgwD

— Brenden Nunes (@BrendenNunesNBA) February 21, 2021
Okay, Robert Woodard II is showing off some handle right now.

In & Out ➡️ behind the back ➡️ Eurostep ➡️ Layup pic.twitter.com/XjbA3JV1AE

— Brenden Nunes (@BrendenNunesNBA) February 22, 2021
While there were unexpected flashes of a handle from the 40th overall selection in the 2020 NBA Draft, there are also various examples of Woodard's dribble currently being shaky.
At this stage, Woodard does not possess the lightning-quick first step to blow by his defender. He does not have a crisp enough handle to consistently string together multiple dribble moves, and that's all fine.
Again, I don't think he will or should be asked to do this at the next level where the offense can run through De'Aaron Fox, Tyrese Haliburton, Harrison Barnes, or Buddy Hield. Scarce opportunities will present themselves in transition or attacking a closeout.
Ideally, Woodard will be able to make his impact on offense with the aforementioned offense rebounds/putbacks, smart cuts, and hitting his open shots from beyond the arc. The latter is currently a concern that will need to be monitored.
In the bubble, Woodard averaged 3.9 attempts from deep per game and only managed to convert 21.3 percent of those looks. At one point, he missed 17 consecutive threes. He also shot 68.6 percent from the charity stripe on 35 total attempts.
It is significant to note that during his sophomore campaign at Mississippi State, Woodard achieved 42.9 percent from three on 2.3 attempts a night.
Taking that into account along with a clear confidence in that shot, there is undoubtedly potential there but his three will be the swing factor when it comes to playing time early in his Sacramento career. Some work with Rico Hines and the training staff to find consistency in his form could lead to Woodard eventually being a reliable shooter from distance.
Even if the jumper fails to fall throughout stretches, Robert Woodard has made it apparent that he will find a way to survive on the offensive end of the floor. As long as he is not a liability on that end, he will earn his minutes playing much-needed physical and intelligent defensive with infectious energy.
Robert Woodard II plays the game with a constant smile on his face to go along with his energy that the fanbase is sure to cherish. He can provide defensive instincts that Sacramento lacks from players at his size, and is guaranteed for some highlight dunks and blocks as well.
I was extremely impressed with what Woodard displayed during his short stint in the G-League and look forward to seeing him utilized on the Sacramento roster during the second half of the season.