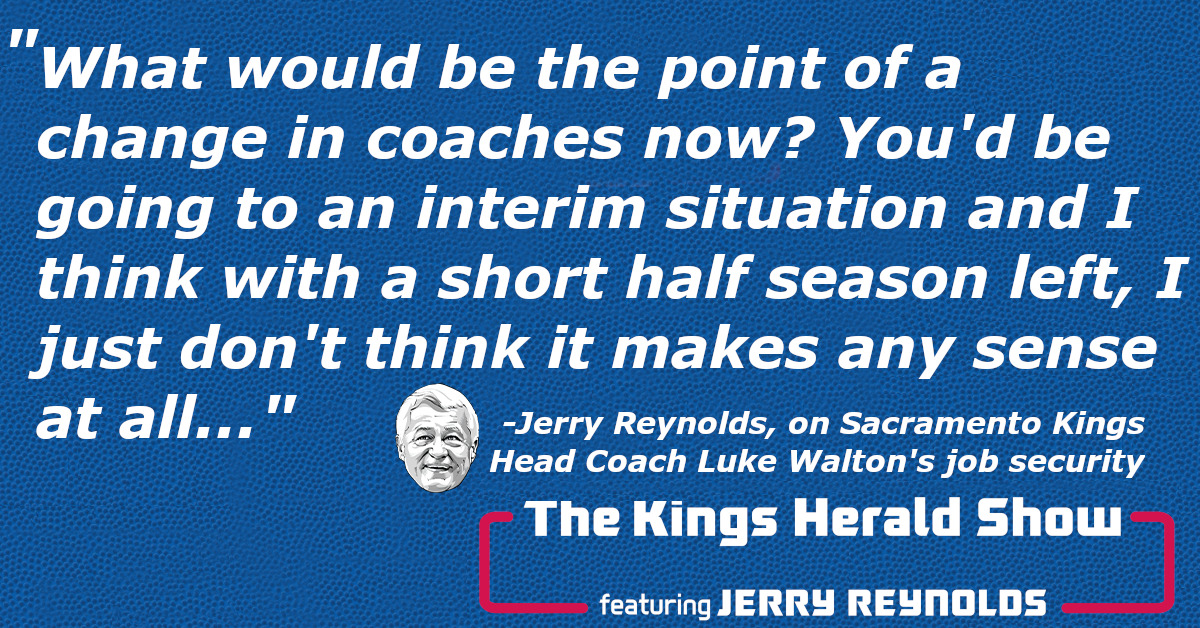 NBC Sports' James Ham joins Jerry Reynolds, Will Griffith, and Tony Xypteras on The Kings Herald Show this week to deep-dive the Luke Walton situation, and break down how the Kings have performed both on and off the court through the first half of the 2020-21 NBA season.
Special thanks to James for taking a couple of hours out of his Saturday to jump on the podcast and share some of his insight with us. It was a good time, and showcased a few different perspectives on the current state of the Kings.
Timestamps:
(2:25) The Luke Walton job security conversation
(15:15) Will Luke Walton be the head coach of the Sacramento Kings next season?
(24:30) Who is on the trade block as the March 25 trade deadline approaches?
(34:25) How much power does Joe Dumars have in the Kings organization?
(39:06) Are you optimistic about the future of the Sacramento Kings under Monte McNair's leadership?
(44:05) Should Monte McNair be more available to the media for questioning?
(59:45) What lessons should the Kings learn from the last 14 years of unparalleled coaching turnover?
(1:09:13) Why are so many fans ready to move on from Luke Walton?
(1:19:05) Patreon Question of the Week
You can find The Kings Herald Show wherever you listen to podcasts, but if we're missing a platform of your choosing, leave us a note in the comments and we'll get to work. If you can subscribe, rate, and review the podcast on any and all platforms, that would be greatly appreciated, too. It's the easiest way you can support the show!
Apple.
Spotify.
Google.
Stitcher.
In addition to our bi-weekly podcast with Jerry Reynolds, we also record a Patreon exclusive Q+A once a month where Patrons at any level can Ask Jerry Anything. The 3rd Patreon Q+A with Jerry was posted here.
You can submit questions to us on Patreon, or post your questions for Jerry in the comments right below this post! We'll be recording another Q+A soon, so get those questions in now.
And finally, you can sign up for our Patreon here.
Thanks for listening.