Watching the Tape: The Kings need Harrison Barnes in Orlando
Barnes, who hasn't cleared coronavirus protocols, will be severely missed if he doesn't play.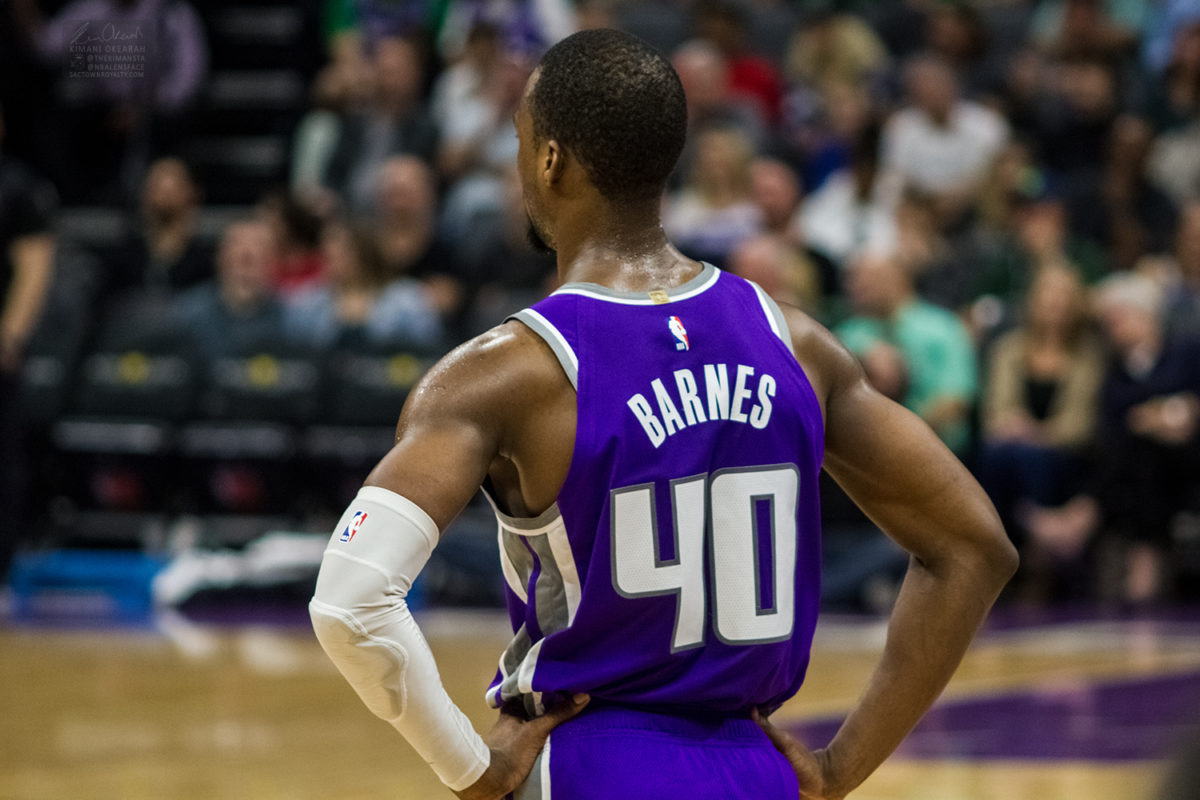 Adversity has already challenged the Sacramento Kings in Orlando and the games haven't started yet. The team has seen four positive COVID-19 tests, Richaun Holmes broke the bubble line so he had to be quarantined, De'Aaron Fox sprained his left ankle in practice, and now Marvin Bagley has a yet-undiagnosed foot injury.
Though three of the four players who tested positive are with the team in Orlando now, the only one who isn't with the team yet is Harrison Barnes.
Barnes hasn't cleared NBA protocol yet to make his return, but head coach Luke Walton said he wants to hold on to Barnes' roster spot. That's the right move to make here, because the team without Barnes isn't something I'd want to see with every single game being crucial.
The numbers on paper don't pop out for a guy who inked a four year, $88 million deal to stay with Sacramento. You'd expect the on-court production to be near the level of his contract, but Barnes doesn't need to play the role of elite star with the Kings.
As of now, that label is in the hands of De'Aaron Fox and the Kings need to hope that Marvin Bagley III joins Fox in that regard. Barnes is more of an elite complimentary role player for the Kings. He doesn't command all the attention, pull any gravity from opposing defenses or be the one to score the game-winning bucket on an isolation.
Instead, Barnes on offense gives you floor spacing and playmaking in the post among others. Defensively, he provides the necessary length and frame to guard the better wings of the league, as well as rebounding in various small-ball lineups.
For the next edition of Watching the Tape, let's go through why Barnes is imperative to the team's success and how they might struggle without his presence in Orlando.
Barnes is a wing that can shoot from anywhere on the court, but he's noticeably better from the left side of the court than he is on the right.

Barnes is a significant threat from beyond the arc, but if a shot had the potential to be contested, Barnes was smart enough to pull the ball down and attack the rim with an array of moves.
Pascal Siakam is one tremendous defender. Within seconds, Siakam tracks down Richaun Holmes rolling into the paint and runs back to cover Barnes who receives the pass from Fox. Siakam's 7'3" wingspan is extremely difficult to shoot over with minimal room, but Barnes doesn't show intentions of shooting over Siakam.
Barnes immediately dribbles to his right and quickly switches to the left, taking advantage of Siakam's shaky footwork as he runs back to Barnes. Barnes, going up with the left, utilizes the step he has over Siakam to finish in the paint. You have to get really creative against shifty, quick defenders like Siakam and Barnes did so here.
Barnes is able to show off his versatility here as a ball-handler that attacks the rim yet again. Nemanja Bjelica gives it to Barnes with a dribble hand-off, who comes around two screens set by Richaun Holmes and Cory Joseph to get a layup.
With Joseph being the last screener, the only defender in Barnes' path is Terry Rozier. Rozier could attempt to draw a charge here, but he proves to be too small to contest. With Bjelica initiating the DHO, he isolates himself to the corner. Bismack Biyombo, Bjelica's defender, has two options. Stick with Bjelica in the corner to prevent the kick-out pass or slide into the paint for help defense.
Biyombo picks the latter and because Bjelica is left open, Barnes could kick it out if necessary. However, Holmes slides into the paint himself which seals Biyombo from contesting. Easy two points.
The Kings go with a small-ball lineup here and because of the score, the Kings need to go all-out attacking to attempt a comeback. With Bjelica playing center, every single player on the court for Sacramento can space the floor.
Sacramento takes advantage of a chaotic Detroit defense following Fox's drive to the rim, which opens up Barnes in the left corner. Barnes converted 19/43 attempts from that spot, good for 44.2%. In total this season, Barnes shot 38.3% from deep (93/243). He's always been a steady shooter from long range but the last two seasons have been good for Barnes.
Having Barnes available opens up more opportunities to utilize when small-ball lineups are on the court. We saw a clip of the Kings going small-ball with Barnes at the four against Detroit, but this was the ultra small-ball lineup on display.
Barnes is lined up at center, matching up with 7'0" Brook Lopez. Barnes played 3% of his minutes at center this season and this was one of those occasions. Sacramento's frontcourt depth for this game was incredibly thin. Harry Giles and Nemanja Bjelica started but there were nine players used by Walton in this game. None of the backups were big men.
The Kings didn't have the power to attack against Lopez down low, who has been one of the better rim protectors in the league recently. Defensively, Lopez versus Barnes is a battle that Lopez should win most of the time. Offensively, the Kings tried to pull Lopez away from the paint by guarding Barnes on the perimeter. That means Lopez has to pick his poison. Does he protect the paint or does he leave it open by guarding Barnes outside the arc?
On this specific instance, Lopez opts for the former. Fox passes it to Barnes on a pick-and-pop and Lopez hesitates to contest the whole time. This play consists of two-vs-two basketball - everyone on the right side of the court isn't meant to be involved. Barnes dares Lopez to contest after Fox makes the pass, but Lopez comes slowly allowing for Barnes to drill the three.
Barnes being able to read defensive movements in the post to make plays is an aspect of his game I wrote about as soon as he arrived in Sacramento last season.
The 6'8" forward isn't going to dish out five or more assists a game, but his average of 2.4 this season does mark a career-high. Walton turns to Barnes in the post here in crunch time against the Los Angeles Clippers.
In these types of plays, one opening is all you need. However, Barnes can pick two because Bazemore splits the defense down the middle and Montrezl Harrell doesn't react at all. As open as Bazemore is at the four second mark, Bogdanovic is able to swing back around to get a good look. Landry Shamet is neutralized by a Giles screen and Kawhi Leonard isn't in prime position for a good contest. Barnes makes the catch easy for Bogi who drills it.
Another beneficial aspect of having a capable wing player in the post is creating mismatches down low. Barnes matches up against Damian Lillard down low and Barnes can either back Lillard down into the lower block or kick it out.
Bogi creates room for Hield to make a run and Hield does. Hield comes off a Holmes screen to get a great pass from Barnes who puts the ball right into Hield's shooting pocket, giving him the momentum to rise up and knock it down.
Barnes is not a shot blocker by any means, but his length is absolutely crucial against other wings in the league.
Kelly Oubre Jr. immediately attacks the rim once receiving the ball. Barnes pivots and permits Oubre to drive to his right, which is his non-dominant side. Barnes keeps his forearm on Oubre's hip and keeps the other arm up to contest and that stance ensures that Barnes won't foul on Oubre's dribble-drive.
Barnes doesn't let Oubre get a step on him and when Oubre goes up for the shot, Barnes is right with him and meets him for a block. Barnes only averages 0.2 blocks a game, but it's critical to understand that Barnes' defense against forwards of all types is present.
The depth behind Barnes on the roster is pretty shallow. Kent Bazemore has been terrific ever since arriving in Sacramento from Portland, but he can't replicate what Barnes brings to both ends of the floor, especially at 6'4". Corey Brewer may be a fan favorite and has the length at 6'9", but he's not a reliable floor spacer, can't rebound as well and isn't an ideal option to play hefty minutes. DaQuan Jeffries is another possibility and someone who played minutes as a wing in Stockton, but he doesn't have NBA experience under his belt and that leads to limitations.
Barnes is arguably the most underappreciated player on this team. For his skill set and the versatility he brings to the court on both ends, it's a luxury to have in the modern NBA. Oftentimes a player is evaluated on their production-to-contract value, but that shouldn't be the case for Barnes.
The Kings have to overpay for players to join their team and small forward has been a prominent issue since Rudy Gay's departure. Barnes for essentially Justin Jackson was a great get and if Barnes misses games in Orlando, his absence will be felt.