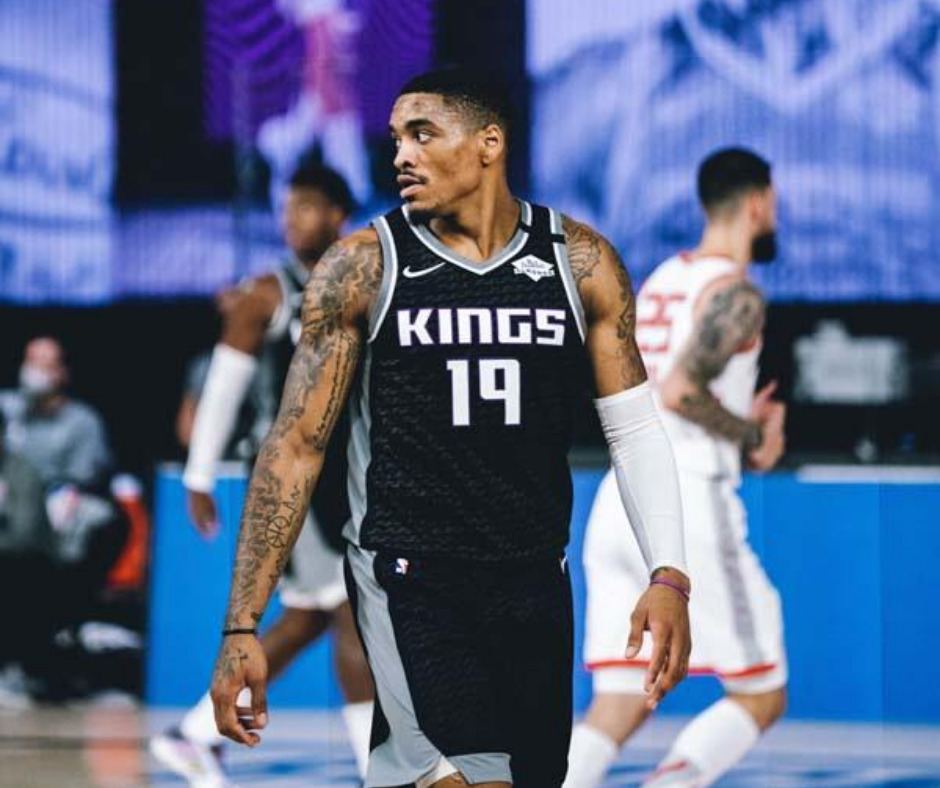 There were few positives to take away from the effortless display by the Sacramento Kings in the Orlando bubble. De'Aaron Fox continued to exhibit the star qualities this team so desperately needs. Beginning with a slow start, Bogdan Bogdanovic finally found his rhythm though it proved to be too late. Kent Bazemore provided a solid presence off the bench and strung together positive performances. The list doesn't expand much beyond that - besides one exception.
With Luke Walton's reluctance to let the rookies in Kyle Guy and Justin James get their feet wet in meaningless games, one rookie that received adequate playing time was DaQuan Jeffries. Not having Harrison Barnes and Alex Len contributed to Jeffries getting more minutes, as guys like Bazemore saw more minutes at the three. With Len out, Nemanja Bjelica played small-ball center, opening up minutes for Jeffries as a four. When the opportunity came, Jeffries snatched it and didn't look back.
The 6'5" forward shined in the three scrimmages leading up to the seeding games and once he solidified himself in the rotation, he got to play when it mattered.
For this Watching the Tape, we'll go into Jeffries' play in the seven seeding games he appeared in and what made him stand out as one of the true young players on the roster.
Jeffries is at his best when he's around the rim. When taking a shot less than five feet from the rim, Jeffries converted on 11 of 14 attempts. That's good for a whopping 78.6%.
Of course that's a minute sample size to examine, but when you observe what Jeffries produced in Stockton, the numbers aren't too distant. With the Stockton Kings, Jeffries scored on 67-82 attempts (81.7%) so it's not shocking that his attempts in the bubble were successful.
Jeffries may be 6'5", but at 230 pounds, he can move like a freight train and poses a significant threat to smaller defenders.
On this play, Jeffries switches baselines so Len can clear out for a Bjelica drive. Bjelica's dribble penetration move pulls in three defenders - getting off a shot here is highly unlikely. Jeffries' prompt move back to the basket upon seeing Bjelica driving allows for a simple drop-off pass to occur.
Dion Waiters should've fully committed to cutting off Jeffries path, but he doesn't and it's an easy bucket. Great positional awareness and commitment to coming back to the bucket from the rook.
Positional awareness also comes into play in this clip. The Los Angeles Lakers attempt to trap Buddy Hield in the left corner (which is a smart move), allowing for Corey Brewer to sneak along the baseline to the rim.
The good ball movement by Sacramento leads to Jeffries getting a shot at the rim. There's also brilliant patience from both Brewer and Jeffries that allows that extra second needed for a clean release. Brewer's pump fake throws off Dwight Howard's body enough so that he can't position himself properly to block Jeffries' attempt. Jeffries gathers the ball away from Dion Waiters and shows the soft touch at the rim.
Where Jeffries needs to improve his game is from beyond the arc. In the bubble, he hit threes at a clip of 28.6% (4-14). With the Stockton Kings, that number sat at 33.9% on 6.9 attempts per game. Again, it's not an ideal sample to extract a reasonable conclusion from.
If Jeffries shot well from deep in these seven games, a larger sample size like his Stockton numbers would suggest a decline on the horizon. But since that's not the case, the optimistic approach would indicate an enhancement to that abysmal percentage.
Jeffries possesses a release that can be worked on. He tends to get off his shot before he reaches the top of his jumper, but working out the small details of his shot can position him to be a better threat from deep.
Taking a look at this clip, Cory Joseph backs out from penetrating the defense and kicks it out to an open Jeffries. Jonathan Isaac follows the ball and turns direction too late, giving Jeffries enough time and room to hit the shot. If Jeffries wants to increase his playing time, he must provide quality spacing so guys like De'Aaron Fox and Bogdan Bogdanovic can penetrate and kick it out to a reliable presence.
Having a 230-pound frame, Jeffries can play multiple positions, expanding to the four spot as well. His body can bang down low against bigger opponents and that means grabbing more rebounds to support the center. Jeffries rebounded at a solid rate with Stockton, averaging 6.9 a game. Stockton doesn't possess too much length but Jeffries helped in that department.
Late in the fourth quarter, Jabari Parker sees minutes as a small-ball five with Jeffries as his frontcourt partner. Waiters takes the triple right after the screen as Parker was in shape to tag the potential roll big. Jeffries times his run to rebound the miss and the key aspect here: he boxes out the big man. Yogi Ferrell doesn't have the strength in this situation, but Jeffries utilizes his to secure the rebound.
With the size of Jeffries, it's difficult for his opponents to attack him straight on. The combination of lateral quickness with a big frame forces ball handlers to pass it up. If you aim to score against Jeffries, you'll have to dig into some creative footwork off the ball.
James Ennis beats Jeffries, who gets caught ball-watching, backdoor and runs down the baseline. It's Michael Carter-Williams' job to throw a dime leading Ennis to the basket, which he does, but Jeffries does the only thing he can in this circumstance: throw your arms in the passing lane. Don't let the pass come even if you've been beat. Jeffries does that and just clips the ball which Ennis can't grab, leading to a turnover.
The Orlando bubble became a memory the Kings want to store far down the extensive cabinet of blown opportunities, but a diamond in the rough in Jeffries emerged. He is a restricted free agent so the Kings can retain him and it shouldn't cost much.
The Kings need to find ways to get younger talent that can defend and aid Fox on the offensive end. Jeffries checks those boxes and though he's still a developing project, he's one to keep.