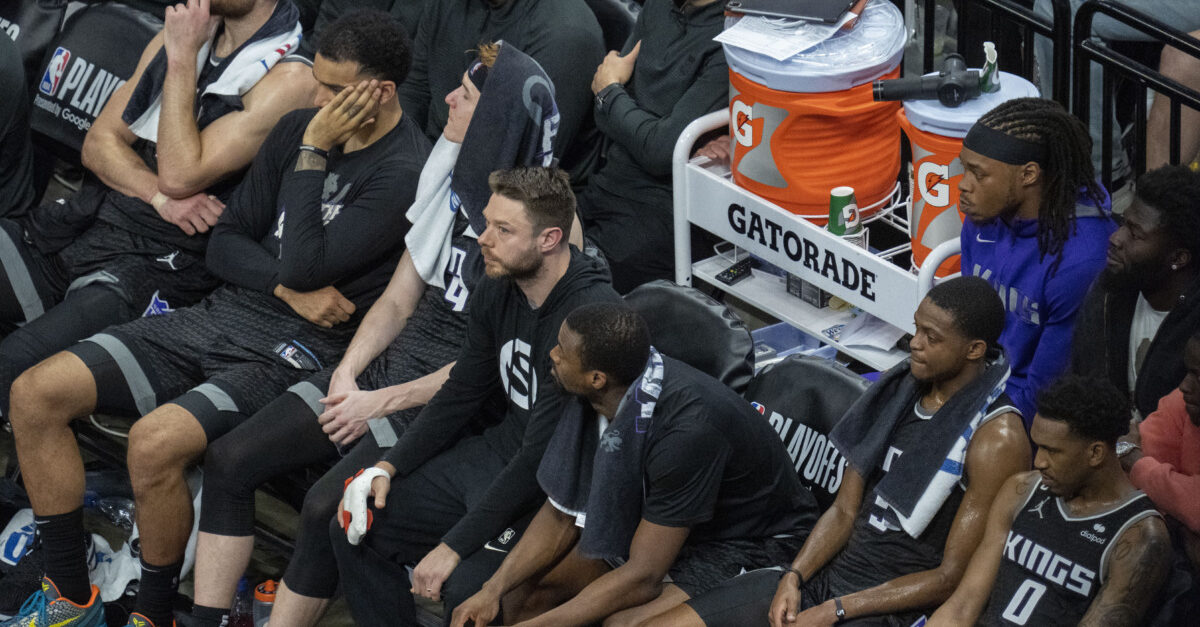 The Sacramento Kings have enjoyed an improbably wonderful season full of miraculous moments and shocking comebacks. Sadly their season ended without even a whiff of such magic, losing 120-100 in Game 7 of their series with the Golden State Warriors.
For a team that defied expectations at every turn, this game went about as you'd expect if you were a casual fan. Stephen Curry dropped 50 points in a reminder that he's still one of the best to ever play the game. Kevon Looney dominated the Kings on the boards, finishing with 21 rebounds, including 10 backbreaking offensive rebounds.
The Warriors were the better team today. The Kings failed to show up when it mattered most. There were questionable choices from the players and from the coaching staff, and at the end of the day we're left hoping that the Kings learned some valuable lessons that will help them next season.
The Kings played well in the first half, but completely fell apart in the second half. A big third quarter from Steph and Looney put the Kings in a deficit they never recovered from.
A few quick player notes:
Domantas Sabonis: Domas will be the subject of a lot of scrutiny in the days and weeks to come. He finished with a respectable stat line of 22 points, 7 assists, and 8 rebounds, but most of that production came in the first half and in garbage time with the game already out of reach. Sabonis struggled this entire series against Kevon Looney.
It's a difficult line to walk when discussing Sabonis, because his shortcomings were a big reason the Kings lost this series. But Sabonis' play this year is also a huge part of why the Kings were the 3 seed to begin with. Sabonis is critical to Sacramento's success, this was just a terrible matchup and a terrible series for him.
De'Aaron Fox: I admire the hell out of De'Aaron Fox for continuing to play through his broken index finger on his shooting hand, but it was clearly a hindrance. Fox finished with 16 points on 19 shots, along with 5 turnovers. Fox was not himself. I'm not making excuses here, he chose to play, but it was obvious he wasn't playing at full capacity. I'll always wonder what might have been if he hadn't gotten hurt.
Kevin Huerter: Another brutal game in an awful series for Huerter. 7 points on 9 shots. Huerter did his best to have a positive impact on the game in other ways, with 9 rebounds, 2 blocks, and a steal, but the Kings desperately needed him to just make an open shot.
Harrison Barnes: Barnes likely cost himself some money over the last 7 games. Just a terrible series from a guy who is supposed to be a veteran leader with big game experience. 4 points on 4 shots and zero other contributions to the game. Not a rebound, not an assist, not a steal. not a single moment that stands out as a positive impact over 14 minutes of game time.
Some thoughts on coaching:
Mike Brown outcoached Steve Kerr in Game 6. Steve Kerr outcoached Mike Brown in Game 7.
The adjustment to use Terence Davis instead of Davion Mitchell on Steph Curry was an unexpected and successful wrinkle in Game 6, but clearly was not working in Game 7. Brown stuck with it, leading to the aforementioned 50-piece from Steph. Davion played just 8 minutes in this game, and it feels like a huge mistake.
It generally felt like Brown stuck with things that weren't working, instead of adjusting on the fly. Brown has done this throughout the year, and game to game in a long season it makes sense to trust your guys even when it isn't working, but it felt like a failure in Game 7.
Mike Brown was clearly the right choice for the Kings last summer. He has transformed the culture in Sacramento, and absolutely deserved his Coach Of The Year honors. But he got outcoached in this one. I suspect he'll be the first to admit it in post game interviews.
Thoughts on the season:
It's such a let down to end this season on this note. A 20-point blowout at home sucks, there's no other way to take it. This wasn't a fluke loss on a last second shot. It was a championship team showing up and reminding the upstarts that they still have a lot to learn.
And yet despite that, this season remains an incredible success for the Kings. None of us expected this team to be the 3 seed in the West. We as fans can be proud of what this team has accomplished, while still being bitter that our reward for such success was to face a team like the Warriors instead of a more flawed team like the Clippers. Alas.
The Kings accelerated the timeline beyond expectations. Under influence of a truth serum, I suspect even Monte McNair would admit he never expected the Kings to be this good. The Kings now have the offseason to address their issues and get set for another run next season. Contracts will expire, pieces will be lost, new pieces will be added, and we'll hope the Kings can be even better next year.
No matter what happens next, this season will always hold a special place in my heart. The Beam Team was a transcendent moment for Kings fans who have suffered through so many bad years. Take a moment to be upset at this loss, but then take a longer moment of gratitude for all that we got to enjoy this season.
The lingering moment I'll remember from this playoff series is going to be Kings fans sticking around to the final buzzer in a 20-point loss, chanting "SA-CRA-MEN-TO" for all the world to hear.
The Sacramento Kings are back. And we'll be here to Light The Beam in years to come.