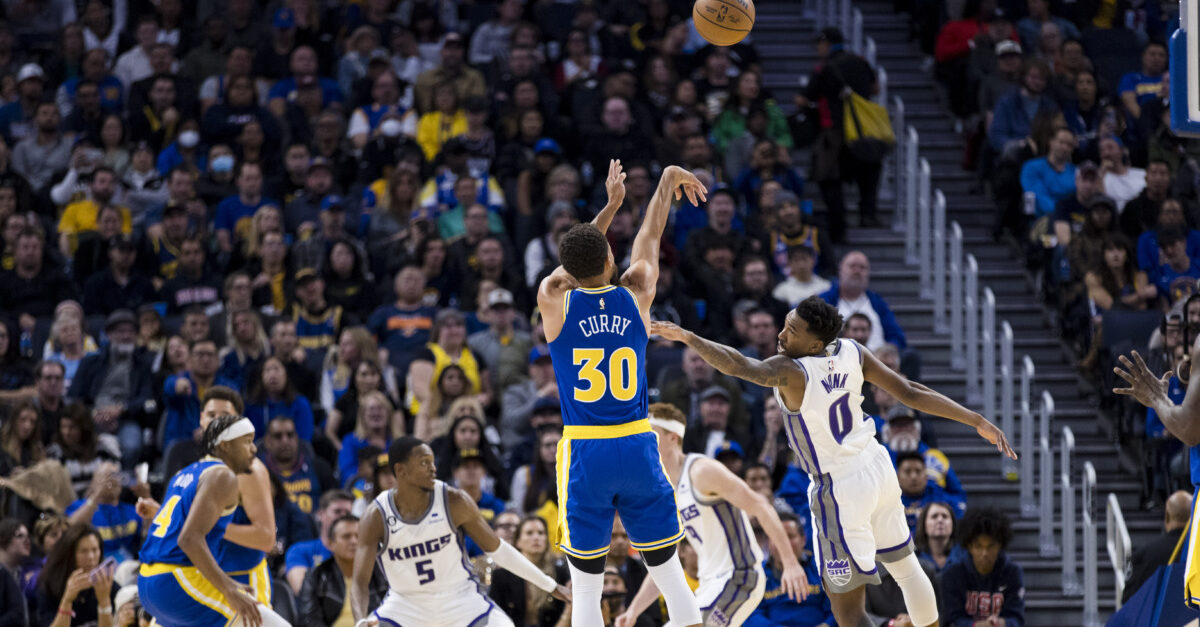 To wrap up their first road trip of the season, the Kings made it back to the west coast to face off with the Golden State Warriors for the second time so far this season. The Warriors entered tonight's NorCal battle having lost six of their last seven, and on an unusual five-game losing streak. Meanwhile, the Kings had lost their previous six matchups against the Warriors, last beating them on March 25, 2021. Few things make my cold heart glow more than a Kings' win and a Warriors' loss, so I came in with high hopes that the Kings could extend their annoying neighbor's losing streak. Let's see how they did:
Quick Stats
Outcome: Kings lose, 116-113
Sacramento Kings: 113 pts, 40.7% fg, 35.0% 3pt, 86.2% ft, 24 ast, 43 reb, 11 to
Golden State Warriors: 116 pts, 50.0% fg, 36.8% 3 pt, 66.7% ft, 28 ast, 48 reb, 15 to
Man, this one sucks. After battling for all four quarters, the Kings lost the handle in the final possessions and officially lost to the Warriors for the seventh time in a row. After the Kings led for most of the game, Steph Curry did what Steph Curry does and he clawed his team back into winning range with a sequence of insane shotmaking. The Kings found themselves down by 1 with 9.9 seconds remaining, but had a major brain lapse where they let the clock get down to 1.3 seconds before fouling the league's best free throw shooter in Curry. Down by 3, Kevin Huerter got a shot off and was probably fouled by Klay Thompson, but the Kings go back to Sacramento without a win.
The Good, The Bad, & The Ugly
The Good
Taking & Giving Punches: Things didn't look good at the start - the Warriors jumped out to a quick 9-1 lead as they ran circles around the Kings and got easy buckets left and right. Stephen Curry was perfect from the field through 20 minutes of play, and the Warriors racked up nine assists in the first quarter from easy offense. The Warriors had a similar run to start the 3rd quarter, where they took less than three minutes to cut the Kings' lead from 12 points to just five points. In both of these sequences, the Kings took these punches to the chin and came swinging right back. They countered the Warriors' early run by closing out the 1st quarter with a 2-point advantage. The Kings answered the 3rd quarter run by never giving up their lead and finishing with a 9-point lead. It is encouraging to see this team play and battle through adversity, something that is inevitable in the game of basketball, especially against a team that just won an NBA championship.
Bench Squad: The Kings got their best and most inspiring energy from their bench tonight. Malik Monk is a sitting firecracker, just waiting to be lit. Once unleashed, he brought a palpable energy that paired well with De'Aaron Fox's preferred pace of play and the two were able to give the Kings the offensive boost they needed. Chimezie Metu got all of the backup center minutes tonight and although he only finished with two points, he played within himself and anchored the bench unit as they often went to small ball lineups. Terence Davis also contributed his usual frenetic energy and contributed nine points.
Mitchell the Menace: While Malik Monk led the offensive charge for the bench squad, Davion Mitchell had a handful of impactful defensive possessions for this team. Of all the different Kings that tried to contain Stephen Curry tonight, Mitchell did the best. While it's nearly impossible to completely stop Stephen Curry, Mitchell used his quickness to keep himself connected to Curry and force him to give the ball up or into a tough shot. As the Kings were trading baskets in final possessions, I personally would have preferred to have Mitchell on the floor to throw our best defensive efforts at Curry.
Free Throws: After a few games where the Kings struggled form the charity stripe, it was encouraging to see them hit 25 of 29 tonight. De'Aaron Fox (28 points) hit 10-12 and Domantas Sabonis (19 points, 14 rebounds) hit 7-8. Malik Monk was a perfect 7-7.
The BAd
Weak Links: The Kings got a lot of helpful production from their bench, but suffered some very glaring weak links in their starting lineup. Both Harrison Barnes and Keegan Murray have been struggling to find any consistent rhythms in the past few games. Barnes failed to score tonight on just four shot attempts, while Murray finished with just six points. There appears to be some hesitation to Murray's approach on the floor, and Barnes may be struggling with his new role playing alongside Murray in the starting rotation. Whatever it may be, the Kings needed more positive production from these two starters tonight, both of whom we know have the ability and basketball IQ to help elevate this team to the next level.
The Ugly
Revolving Doors: Especially in the 1st quarter, the Kings' defense suffered from an embarrassing amount of back door plays. Simple jab steps and cuts by the Warriors turned into wide open layups at the rim. During the Warriors' most impactful runs, the Kings failed to be disciplined on defense and failed to help the helper on a number of occasions. Against a seasoned team like the Warriors, those easy points are what get them rolling and to produce their best offensive runs.
The King of Kings
Malik Monk was a flamethrower off the bench, finishing with 24 points on seven made field goals and a perfect 7-7 from the free throw line. Monk's energy and shotmaking was crucial for the Kings tonight as he lifted his team back up anytime they got knocked down.
Operation: MCNAIR - Season 2 Watch
Tonight's chosen charity is Sacramento Loves & Fishes. Donate here to support their efforts in aiding adults and children experiencing homelessness. Be sure to notify Will via Twitter (@WillofThaPeople) or e-mail ([email protected]) so he can keep track of donation totals.
Up Next
Wednesday, November 9th vs. Cleveland Cavaliers - 7:00 P.M. (PT)