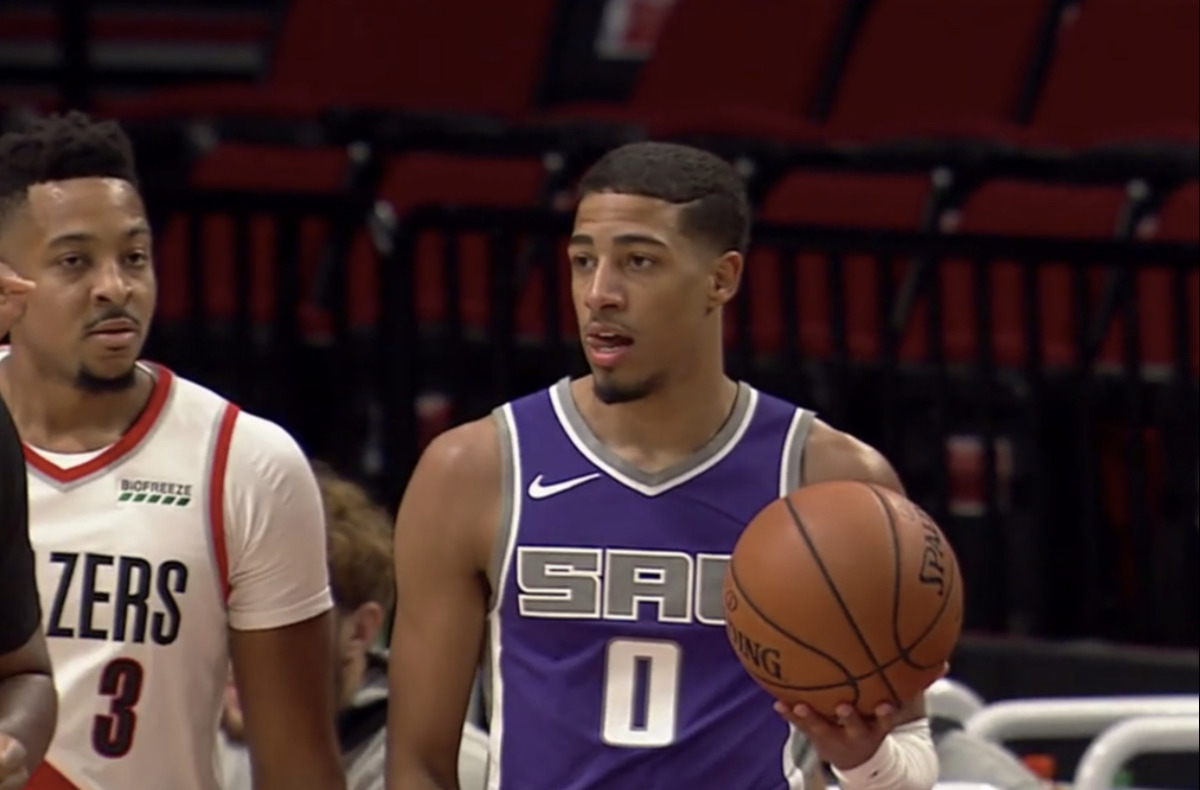 Your first day of work at a new job can generate a great deal of nerves. Of course, you were confident coming into the new gig, that's why you were hired. When day 1 actually arrives, however, it can be a little unsettling. Sacramento Kings rookie Tyrese Haliburton went through this Friday night in his first preseason game against the Portland Trailblazers.
His hands were shaking and he was just trying to get a feel for everything. On the outside going into the game, he displayed confidence, but when he got out there it was a little different, he admitted. Carmelo Anthony switched out on him on a ball screen and he thought to himself, €œMan, this is really Carmelo Anthony.€ He knew he was now in the NBA.
He said in the first game he felt a bit like Calvin Cambridge in the movie Like Mike when he wasn't wearing his Michael Jordan shoes.
He just didn't feel quite right.
Haliburton wasn't bad in the first game. He displayed some of the passing, defense and the three-point shot that landed him the job. He was a little quick to get the ball out of his hands when it came to him, however, and wasn't too aggressive. Since then, everyone on the Kings staff and his teammates have been telling him to be more aggressive. He has also gained confidence simply from observing the confidence the Kings organization has in him. He appreciates it, and says he is on a mission to prove that the Kings made the right choice by selecting him with the 12th pick in this year's draft. His comfort level also has increased as a result of the coaching staff pulling him aside to chat about the game, and he is getting to know his teammates more.
In Sunday night's rematch with the Blazers, Haliburton said he felt a lot more comfortable, and it showed. He finished the game with 11 points, 7 assists, 6 rebounds, 1 steal and 1 block in 30 minutes of playing time. To top it off, he didn't have a single turnover. You saw the across-the-board skillset, basketball IQ and poise on full display. Granted he was largely going up against second string guys on the Blazers, but when Haliburton was on the floor the Kings were simply better on Sunday. He finished the game with a +20 in the plus/minus column.
€œThe way he gets the deflections, the steals. He's seeing what's happening out there from not just from his spot, but like all great guards, he sees it from what everyone else is doing too,€ said Head Coach Luke Walton. €œThose instincts for someone as young as he is and was only drafted a few weeks ago, is pretty exciting.€
The preseason for Haliburton, and all NBA rookies this season, is essentially serving as his Summer League and he is using the time to ask questions and learn. What is different about Haliburton is that he is already grasping what the team is trying to do from a scheme perspective instead of having to focus solely on memorizing plays, something not so common in rookies. His basketball instincts are getting attention among his teammates and the coaching staff.
€œTy has been great. He's been great. He's been a leader since he stepped in,€ said Richaun Holmes. €œHe does a great job pushing the pace, he pushes us on the defensive end. He's always in the passing lanes, putting pressure on the ball. He's been playing great and he's going to be a huge part of this team going forward.€
In the immediate future, Haliburton has some goals for himself.
€œJust making shots, but that will come, I'm not tripping off anything. And just keep getting paint touches. I'm at my best when I'm getting into the paint, keeping guys honest, finishing at the rim, or dishing out of there,€ he said.
He knows that if he's coming off the bench he needs to serve as an energy guy. He also wants to get the team out in transition more when he is on the floor and learn his spots on the floor where he feels the best. He sees how De'Aaron Fox knows where opponents want to get to on the floor and certain schemes they try to run and he wants to get to that point. He wants to know sets like the back of his hand.
€œAs a fan I know some of that, but obviously there's a whole other level to get to,€ he said.
There may be a whole other level to a lot of things when it comes to this young man's game.