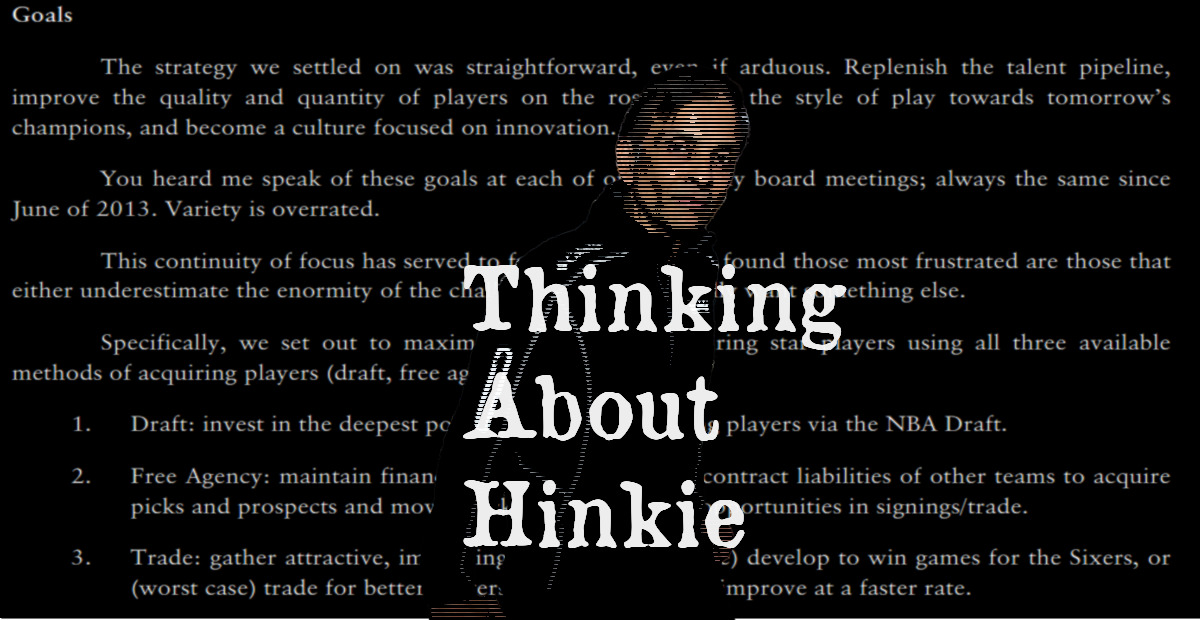 Raise your hand if you still remember NBA 3.0.
For the unfamiliar: when Vivek Ranadive vied for ownership over the Sacramento Kings in 2013, he didn't just center his pitch on a state-of-the-art arena in downtown Sacramento, he spoke of something bigger, something better, something global in significance and ahead of the curve in all things basketball. He pitched the Board of Governors, Commissioner Adam Silver, and most importantly, the City of Sacramento, on the concept of NBA 3.0 - a three pronged approach that used technology, globalization of the game and the idea that basketball can be an agent of positive change. Vivek spoke of using Big Data, deep machine-learning software and other tech-driven elements which he called his "secret sauce" in his hopes to make the NBA, by way of the Sacramento Kings, the most popular sport of the 21st Century. He's undeniably a tech genius, a man hellbent on "making a dent in the universe" (as his friend Steve Jobs used to say) and above all else, the man with the vision, capital and goodwill of the fanbase to make it happen.
So where did that mentality go?
First, I don't want to embrangle my message here. Yes, the arena that Vivek and Company built is nothing short of a blessing for the city of Sacramento and, in fact, most everything on the business and public outreach side of the Kings can be considered good, if not great. Vivek did what the Maloof brothers could not and got an arena done and did so with minimal harm to the taxpayers of Sacramento. Vivek took a stand on the right side of history when issues of racism and injustice came literally knocking at his doors. He, and the rest of the ownership group is to be commended on these things.
However, with the resignation of President of Basketball Operations and former fan-favorite Vlade Divac in mid-August, the Kings are now at a moment of reflection. It's been seven seasons since Vivek Ranadive assumed control of the Sacramento Kings. He's gone through five coaches during that time, with none posting close to a winning record. Only Mike Malone, Vivek's very first hire as owner, has had success after leaving Sacramento. Malone has led the Denver Nuggets to no lower than tenth place during his tenure, with two ninth place finishes and two playoff appearances. He boasts a 54% win percentage during his time with the team and is already fourth in Denver Nuggets franchise history with 194 wins. Vivek has also gone through a string of advisors, general managers and executives, all who have been shoved into the closets and under the various rugs at Golden 1 Center when the time comes.
I couldn't list every issue or mistake made in the last seven years if I had two lifetimes, but let's give a quick rundown of some relevant turnover that has occurred in the last few years. Pete D'Alessandro and Chris Mullins were pushed away after a variety of failures and backstabbings - including a scheme to fire Mike Malone in an apparent attempt to get Mullin installed as coach. Vlade Divac was brought in to settle the dust mostly because he was trusted among the ownership, but he brought in the likes of Scott Perry, who left for the Knicks less than three months into the job, Brandon Williams, who not only ousted long-time employees without explanation but also feuded publicly with then head coach Dave Joerger, who was in the middle of coaching the Kings to their best record since the '05-06 season. Both Williams and Joerger were fired at the end of that season, which led to hiring Luke Walton, who flamed out with the Lakers and was brought in without as much as a hiring process for other suitable candidates. Luke Walton saw sexual assault charges brought forward a week after he was formally hired, but was allowed to continue coaching after an independent investigation was closed due to lack of evidence. Divac and his sidekick Peja Stojakovic both stepped down just weeks ago after repeated misfires in the draft and general tumult in all things basketball, both victims of and perpetrators in the asylum that is the Sacramento Kings.
All the while, the franchise has failed in the very fundamental goals once sent out by Vivek across fields of rallying fans and national broadcasts that had finally regained a modicum of curiosity of the little team in the capital of California. Vivek was going to make the Kings into the model franchise of the 21st century - Moneyball for a basketball Metropolis. Yet, the Kings never truly boosted their analytics department. Sure, they hired Dean Oliver to be their Director of Player Personnel and Head of Analytics, the man who wrote the literal book on analytics in the NBA, but then they unceremoniously banned him from their summer league games and fired him with years left on the contract. They then replaced him with Roland Beech, another legend in the field, less than a month later. He spent two years in Sacramento and then exited stage left for reasons unknown. They then quickly hired Luke Bornn as their new Vice President of Strategy and Analytics, a man who had never worked specifically with basketball. At some point in the few years, Bornn quietly transitioned to an advisor role with the Kings. This is all to say that they couldn't hold onto two legends and an up-and-comer in the field of analytics, much less a staff of men and women of this ilk. During Vivek's tenure, the Kings have consistently fielded one of the smallest management teams in the NBA and the few home run hires that they've brought in have either been fired in embarrassing public fashion or left after less than a few years. This goes for scouting of college players, overseas players and those on opposing teams, as well. The Kings aren't hiring bad people, they haven't hired people at all. The Dallas Mavericks send their kindest regards.
In short, Vivek promised the NBA's version of Wakanda and what he's delivered is nothing short of Robocop's Detroit.
The Sacramento Kings now stand at a fork-in-the-road that will lead to continued disappointment, apathy and rumors of mismanagement that go right to the very top or to a semblance of success, however fleeting, and the calming and then reinvigoration of the fanbase. But to get to that latter path, to get to a place above mockery and nearest to praise, they'll need more than a President of Basketball Operations. They'll need more than any single General Manager can do or the efforts of any singular Vice President of Strategy and Analytics, or single scout that can project Luka Doncic being a star before he's a star, or Luka Doncic himself. Vivek, the ownership and the fanbase need something more if they have any chance of falling into the pit. They need a modern strategy for the way the game is played now, in 2020 and beyond, and a foundation firmly based in analytics. After coming up on fifteen years without a playoff appearance, the Kings need to rebound from this and not aim for an eighth seed or two. They need to publicly and privately commit to setting their eyes towards a championship in Sacramento. In short, they need NBA 3.0.
Enter Samuel Hinkie.
How much of an intro do Kings fan's need on Sam Hinkie? He's an oft-maligned, oft-misrepresented former General Manager of the Philadelphia Sixers. And if you've paid even slight attention to professional basketball since 2015, you've heard his name and probably have a vague understanding of "The Process". Even now, four years after his thirty-four month stint with Philly, you will still hear his name on national broadcasts and talk shows alike. The part meme, part legend of Hinkie, this Dr. Frankenstein that briefly ran that team in Philadelphia has only grown with time, and for some reason, every failure of the Sixers. To this day we see many outside of Philly still argue about the merits of The Process, whether or not it was anything more than blatant tanking and whether the endgame of the strategy that would ultimately force his resignation was worth the losing that took place during his tenure.
He's equally a savior to fans of misguided teams as he is a scapegoat for the problems the Sixers currently face and while he appears on the shortlist for many armchair owners, since his departure from the NBA in 2016, he's made no such show on any franchise's actual list of candidates. This includes the current list of leaked candidates for the Sacramento Kings. Whether that is his decisions or those with control of the franchise, I could only wager an uneducated guess. What I can say is that the Kings have seemingly had interest in him before, going back to 2017 when Marc Stein, Zach Lowe and Adrian Wojnarowski all tweeted about Vivek receiving permission to speak with Hinkie and their supposed interest in hiring an executive to place over the now resigned Divac. The Kings, of course, quickly denied those rumors.
But why would the Kings, who have been deprived of playoff basketball for coming up on a decade and a half want to swing a deal, entrust what might be the very last straw that many Kings fans have to a General Manager who brought his team 47 wins and 199 losses in three years? Why would an owner want to hire a man who drove attendance from 18th in the league before he arrived to the bottom two in attendance for the next three years in a row?
Upon his departure, Sam Hinkie left what he called his €œinvestor's letter€ - equal parts resignation letter, resume, and explanation to the whole of just what the hell he was attempting to do, in an attempt to save face to those that were now edging him out the door. It was meant to be private, but in typical embarrassing Philly fashion, those same people leaked it. Most media had a good laugh at him quoting Max Planck and Elon Musk, and citing examples that range from extinct birds to the Ten Thousand Year Clock and then it faded into just another anecdote in the legend of Sam Hinkie and The Process. The Process never left NBA fan discussion for Palo Alto like its creator, instead bouncing around in Twitter threads and blog conversations, usually in arguments and devoid of the necessary context on both sides, solidifying itself as one of the most controversial topics in sports, residing in a sort of space between worship and infamy. So let's talk about it for a second.
Before we get started, I want to provide you a link to the resignation letter in case you want to read the entire thing. It isn't nearly as dense as its reputation and while it is thirteen-pages long, it's accessible and intelligent all the way through. This is an undressing of the strategy and goals of a franchise in a way fans rarely get access to. It's a fascinating read and I'm going to give some of the highlights.
To first give some context to the Philadelphia Sixers team that would hire a man like Hinkie to run their front office: the 2012-2013 Sixers had won 34 games that season, saw the likes of Damien Wilkins, Dorell Wright, Nick Young and Royal Ivey headed away in free agency and maybe the best player left on that team, Jason Richardson, sidelined for the coming season. The Sixers cupboards were bare with only Arnett Moultrie and Evan Turner as guys on rookie contracts. Just a season before, the Sixers traded Andre Iguodala, young Nikola Vucevic, Mo Harkless, and a protected future first for Andrew Bynum, a guy who was less of a star and more of a constant knife in the heart of then coach, Doug Collins. Bynum was nursing an injury and stayed injured for pretty much his entire tenure. In short, the Sixers cupboards were bare. Hinkie cites in his letter ESPN's future Power Rankings, a mixture of current roster, player potential, assets, cap space, coaching etc. that projects how they should fair in the next three years: the Sixers were 26th. Sidenote, the Kings were 27th and shoutout to cowboyron96 (Rise the Hot Hand, buddy) on STR who relayed succinctly why:

In his letter, Hinkie states matter-of-factly €œYour crops had been eaten€. The Kings are a small patch of potatoes in the back field away from not being allowed into their stall at the farmer's market.
The Sixers fortunes would change in a variety of ways with the firing of then GM Tony DiLeo and the ascension of Hinkie. Hinkie sprinkled a variety of goals and observations throughout but his general methodology and recommendation for the long lasting success of the Sixers can be summarized as seeing their position in the hierarchy of the league €œnecessitated a zig while our competitors comfortably zagged€ and to do so would require €œa culture of finding new, better ways to solve repeating problems€. In short, the Sixers needed to innovate, do so quickly and continue to do so until they reached the NBA summit. The Sixers needed to find a way to fight a three front war with four clips of ammo and an abandoned tank. In his own words:
€œThe strategy we settled on was straightforward, even if arduous. Replenish the talent pipeline, improve the quality and quantity of players on the roster, shift the style of play towards tomorrow's champions, and become a culture focused on innovation.€
More specifically he listed the need to €œplay a faster style that recognizes the importance of speed in tomorrow's NBA and one that quickly integrates young players€. Four and a half years after his resignation and 2700 miles across the country, this is where the Kings should be headed right now, if not for the last few years.
He continues, €œWe set out to improve our shot selection toward high efficiency basketball.€ I'm imagining what they asked Buddy Hield to do in the bubble and I'm shaking my head vigorously with this.
€œWe also wanted to build a defensive identity that€"in time€"could thwart tomorrow's high-efficiency offenses. Lastly, we needed to build a world-class training center, develop an ever-evolving player development program, and change the organization's culture to one of innovation and a constant search for competitive edge.€
Now this is obviously an eight year old assessment of a different franchise at a different moment in the league, but it's also (other than the world class training center) every single thing that the Kings need and that their fans have called for. Recognizing the strengths of this current franchise, a fast paced offense fits them like a glove, but beyond that, fans cries for a defensive presence have gone ignored since, what, Samuel Dalembert? Metta World Peace? We've all spent time in the comments pining for a true farm system in Stockton that developed our guys down there into ready made players. Much of the appeal for Webster and Tolzman from Toronto are for that exact reason: the Raptors built a pipeline that ran from their G-League team straight to the Larry O'Brien trophy. And that end bit about a culture of innovation and a constant search for a competitive edge? Now where exactly have we heard that before?
Hinkie spends a good portion of his letter talking about the need to see down the road further than any other team in the league. That the team shouldn't be committed to a preferred style of play but rather €œaim for where future champions would be crowned€. Hinkie is in no way rigid about how to reach the ultimate goal only that they should be aiming solely for that. I mention this because, well, there's a lot of people that say something to the tune of "I don't want The Process in Sacramento!" as if that was the only thing Sam Hinkie ever focused on. Admittedly, its the only thing we've been able to see out of Hinkie, but that's more to do with Hinkie's employers being pressured to end their plans prematurely. "The Process" itself wasn't about losing a bunch of games - it was about ensuring the best chance of winning it all by maximizing every single advantage the Sixers had. The Kings have different assets and ownership than the Sixers (for better AND worse) and if there is one thing I am certain of in reading this thirteen pages a million and a half times, it's that Sam Hinkie is NOT a one trick pony. Three pages in, Hinkie mentions that he writes in a decision journal, putting down on paper what and why he thinks he's the way he does about every single move he makes, when he makes it.
"Reading your own past reasoning in your own words in your own handwriting time after time causes the tides of humility to gather at your feet. I'm often in waist-deep water here."
This man knows the mistakes he's made, The Process and otherwise. There would be no Process in Sacramento, and for a variety of reasons. First, the lottery odds have changed enough in recent years that the advantage Hinkie sought is now split between the bottom three teams. That change in itself negates the most displeasing part of The Process. Secondly, if the the NBA ever does allow Sam Hinkie back into the fold, their blacklist already has a line and his initials chiseled in stone. Most importantly thought, his strategy for a team in 2021 would be different solely because the league has caught up to where he expected and predicted they would be at this point. In 2012, prior to being hired Hinkie wrote Sixers owner Josh Harris another document laying out where he saw the league headed. In it, he noted "History's lessons are clear, but tomorrow's championship caliber teams may break from historical trends" and gave two examples: "A 3PA-happy champion like Orlando under Stan Van Gundy" and "A fast-paced champion like Phoenix under Mike D'Antoni". In 2015, the Golden State Warriors were far and away the fastest paced team in the league, hit the third most threes in league history and beat the Cleveland Cavaliers in the NBA Finals in six games.
But what were the actual tangible results of these goals? We've seen where they were and we've seen where they aimed to go, but what actually happened? Well, in short, all hell broke loose. Over the next two years, the Sixers added a draft pick or a pick swap to the team EVERY month over the draft picks that they had already. Twenty six months after taking charge of the Sixers, Sam Hinkie had himself a total of 28 draft picks or pick swaps. TWENTY-EIGHT more chances at grabbing the players necessary to build a championship team. Resigning just a month before the 2016 NBA Draft lottery, the Sixers had positioned themselves for an absolutely wild haul. They had the best chances in the league for the #1 pick, owned the rights to the Lakers pick if it fell out of the Top 3, owned the rights to swap their pick with the Kings if Sacramento jumped. They also already owned the 24th and 26th pick in the draft that year. This was, of course, the year the Sixers and GM Jerry Coangelo picked Ben Simmons at #1, the Lakers pick was not conveyed (they drafting Brandon Ingram) and the 24th and 26th were used on Timothy Luwawu-Cabarot and Furkan Kormaz.
I'm not here to defend Hinkie's draft record necessarily. Drafting Jahlil Okafor over Kristaps Porzingis was a miss. I've seen people whine that he drafted then Rookie of the Year Michael Carter-Williams at 11 when Giannis Antetokounmpo fell to 15. It's also easy to attribute too much success to him either. He did not draft Ben Simmons and there are still rumors that float around that Hinkie said he would have taken Ingram over Simmons. Hinkie hit and he missed, like all general managers. But when he hit, he hit. Joel Embiid is the best center in the NBA. Jeremi Grant drafted in the second round is a key cog off the bench for the Nuggets. Kings starting big man and fan favorite Richaun Holmes, second round pick. He signed another Kings legend, Dewayne Dedmon to a two ten day contracts at the end of one season prior to him getting any recognition in the league. The picks that he acquired still haven't all come to pass. Just this last season, Mikal Bridges was selected by the Sixers (and traded away quickly). That pick was send away for Zhaire Smith. I can't go over 28 moves and swaps, but the point is: Hinkie put 28 rounds in the chamber, knowing they weren't all gonna hit, knowing good and well they only needed two or three from each round to have themselves something special. Beyond that he emphasized a fundamental goal of searching out every advantage he could find, every avenue of data, to get those picks and signings right.
As a Kings fan, nothing was more patronizing than hearing the likes of "trust me, I'm a developer" or Pete D'Allesando jumping on a radio show to answer fan questions only to say "you need to trust me" or even Vlade proudly proclaiming at the lowest spot of his tenure "I believe we have a super team, they're just young". Anyone in their right mind knew this was bullshit, whether the speakers truly meant it or not. The Kings have been flying by the seat of their pants, patching teams and coaching staffs and front offices together for 14 seasons now, heading vaguely in a direction that might or might not be towards a playoff berth. I don't want to be excited that our new GM got Zach Randolph and a sad-faced George Hill to join our team as a favor. I don't want to hear how we're supposed to believe that Giorgios Papagiannis is a hidden gem but Luka Doncic isn't even the second choice for a team in need of everything he had. Trusting one of the least knowledgeable management staffs in basketball history with top picks is soul sucking, especially when it came to the draft. Over and over seeing trade downs that resulted predictably someone from a Final Four team who made a splash in March. Decision-making that wasn't just not focused on the future, but not even based in the present. I want to share one last anecdote that he mentions in his letter. For a team as short-sited as the Kings have always been, Hinkie mentions that "in this league, the long view picks at the lock of mediocrity", the very thing the Kings have been trapped behind since 2005. This is wrapping up now, so bear with me. He states:
Warren Buffett in the late 80s on this topic: €œIn any sort of a contest€"financial, mental, or physical€"it's an enormous advantage to have opponents who have been taught that it's useless to even try.€ Ask who wants to trade for an in-his-prime Kevin Garnett and 30 hands will go up. Ask who planned for it three or four years in advance and Danny Ainge is nearly alone. Same for Daryl Morey in Houston trading for James Harden. San Antonio's Peter Holt said after signing LaMarcus Aldridge this summer, €œR.C. [Buford] came to us with this plan three years ago, four years ago€"seriously. And we've worked at it ever since.€
Kings fans have been told through the actions of this franchise time and time again that it's useless to try. They've finally started to believe it. I don't want the guy that want's to get us an eighth seed and a little extra TV revenue. I want the guy that sees the decade and half plus of losing, the mish-mash in the Kings cupboard of small assets and bloated contracts and stills says: "fuck it, let's go win a couple championships". This fanbase and franchise are both desperate to have Vivek finally own up and make good on NBA 3.0's basketball potential in Sacramento and Sam Hinkie just happens to be the guy who wanted those exact same things and attempted to execute a plan to achieve them over eight years ago.
Am I claiming that Sam Hinkie is the only man up to the task? No. There are plenty other talented people in this league. Other people can check boxes off of the wish list, other people could get the Kings to their end goal. Is Hinkie the scary, high risk, high reward candidate? Sure. But, part of the reason to reject fear and plow on is exactly because fear had been the dominant motivator of the actions of too many for too long. Afraid to properly rebuild, afraid to hire capable people who could usurp your job, afraid to fire the coach or hire the coach or stick with the coach. Time and time again. Honestly, this whole piece might be less about Hinkie and more about that wish list we, the hive mind, have for a great GM. There just happens to be paper proof that Sam Hinkie at one point or another was and/or is that kind of GM for Sacramento. If he'll take it, Hinkie needs to be interviewed.
It's been seven years since Vivek Ranadive took control of the Kings and four since Sam Hinkie stepped away from the Sixers. There's been superteams and various NBA records broken left and right and even a bit of a dynasty. And yet there is still a larger basketball universe out there ripe for some real, permanent denting. It's time for Vivek, Hinkie and the Kings to come together, take a look way down the road and see that they can still be the ones to do it, if they do it together.