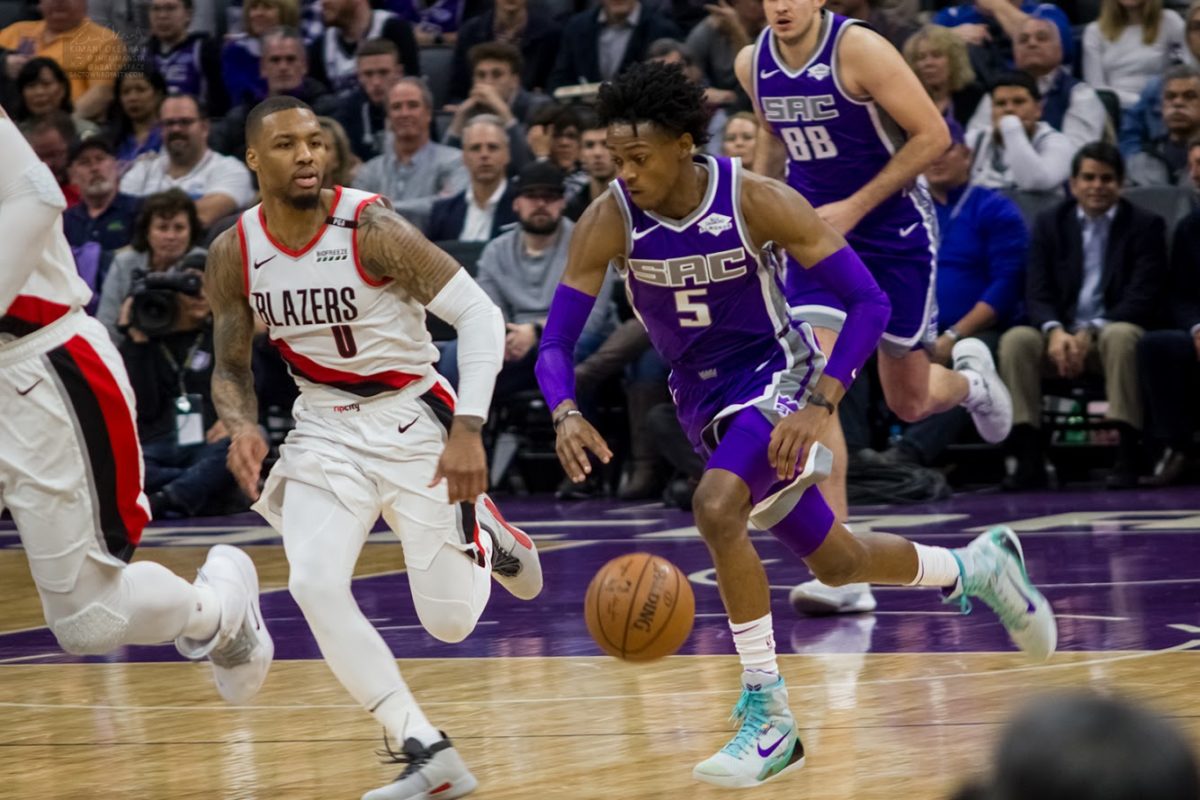 Despite employing one of the fastest lead guards in the NBA in De'Aaron Fox, Luke Walton's Sacramento Kings have played notably slow throughout the first 64 games of the 2019-20 season. According to NBA.com, the Kings rank 23rd in the NBA in pace (an estimate of possessions per 48 minutes) at just 99.08.
This is particularly interesting because part of Vlade Divac's reasoning for replacing Dave Joerger with Luke Walton after one of the most successful seasons in recent Kings history was that Walton would better utilize Sacramento's players, and take Divac's team to the next level. To this point, that decision has felt more like a lateral move at best, and a step-back at worst.
Dave Joerger's 2018-19 Sacramento Kings finished the season 5th in the league in pace at 103.1. Speed or pace-of-play isn't everything, but when you have a dynamic speedy point guard like De'Aaron Fox and have consistently drafted in a way that would optimize his speed (like pairing him up with another mega athlete in Marvin Bagley) any sort of regression in pace is worrisome, and there has certainly been pace regression under Walton.
In Walton's defense, the drop-off, while real, hasn't been quite as bad as the numbers or narrative might suggest. When De'Aaron Fox is on the court, the Kings' pace jumps to 102.07 according to NBA.com, which is pretty close to where the Kings ranked last season under Joerger. Considering Fox missed so much time this season, some pace regression can be attributed to that loss, but losing Fox for a significant stretch doesn't make up for the clear philosophical difference between Walton and Joerger.
Fox is a fast player. He will chart well on any pace metric regardless of his coaching staff. The big difference is that Joerger gave his team that identity, where Walton opted to slow things down in an effort to try and fix the halfcourt offense. To Walton's credit, the Kings have improved in that area, but it's not that simple. Walton had the luxury of utilizing a much more complete and talented roster. Replacing Willie Cauley-Stein with Richaun Holmes, for example, has been one of several dramatic improvements.
The good news is that according to The Sacramento Bee's Jason Anderson, Walton is changing his philosophy in Orlando.
Multiple sources have confirmed the Kings intend to push the pace with Fox. The Kings got away from one of their greatest strengths over the first half of the season as Walton implemented his offense and Fox missed extended time with an ankle injury, but they want to play fast in Florida.
There is some reason for optimism. Before De'Aaron Fox permanently returned to the Kings' lineup after recovering from a grade 3 ankle sprain on December 17th, the Kings ranked 30th in the league in pace at 97.47.
From Fox's return on December 17th through the NBA's announcement to suspend the season due to the COVID-19 pandemic, the Kings ranked 15th in the NBA in pace at 100.18.
If you want to break the numbers down even further, in the last ten games the Kings played before the league went on hiatus, Sacramento ranked 13th in the NBA in pace at 101.35. They went 7-3 over the course of those ten games.
The Kings were trending in the right direction before the NBA suspended play, and that puts a little more weight behind Walton's reported desire to push the pace even further when the NBA returns in Orlando on July 30.