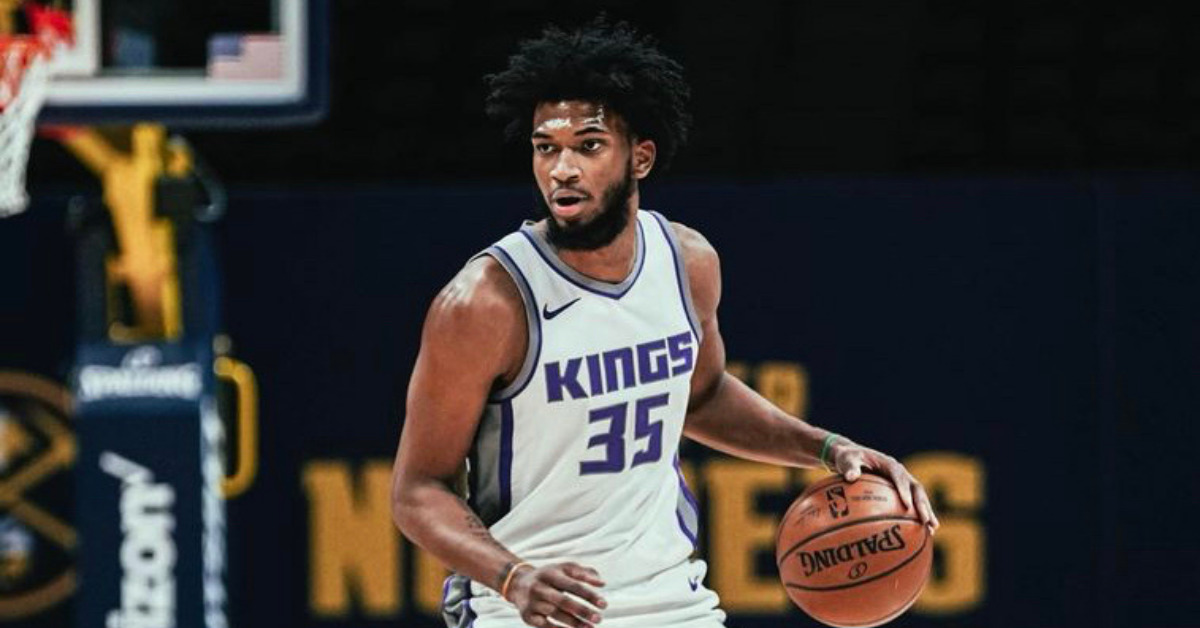 The word 'tweener' in the NBA was once used to refer to players that were too slow laterally to keep up with athletic small forwards, but too weak to battle with burly power forwards.
In the modern game, a 'tweener' sways between a wing (or power forward) and the center role due to the aforementioned defensive complications. Some players are never able to solidify into either one and remain a negative on the defensive end as they float in the upside-down of 'tweeners'.
Marvin Bagley III currently resides in an uncharted residence amongst John Collins, Julius Randle, Lauri Markannnen, and Christian Wood among others on land owned by Kevin Love and Jabari Parker.
Defensively, they are all negative outcasts in essentially every scenario. Yet for some of them, including Bagley, a glimmer of hope remains built around youth and development optimism. There is one path toward discovering if Sacramento's big man can become a positive player on the defensive end of the floor.
Experimentation.
Monte McNair's debut offseason as Kings' general manager included the polarizing signing of Hassan Whiteside and a less impactful non-guaranteed deal given to Frank Kaminsky. Adding Richaun Holmes into the equation, the roster featured three players that were undeniable centers and worries surfaced about Bagley's opportunity in that role.
Kaminsky did not make it past training camp, and Whiteside was given limited playing time before suffering a left hip flexor strain early in the season that sidelined him for a short stretch. This led to Marvin Bagley seeing action as the five-man on the floor, which was a welcome sight no matter the lackluster results.
Since returning from his absence, Whiteside's presence has eliminated Bagley's opportunity to progress and discover the intricacies of weakside help, pick-and-roll coverage, protecting the rim, etc.
Outside of a few short-lived outliers, all of Bagley's minutes have come alongside one of Holmes or Whiteside from that point on. There is no denying this has been a factor in the slightly improved defense, but Whiteside is not the savior some make him out to be.
The truth is that Hassan Whiteside is an extremely flawed defensive player in his own right who is likely gone after this season's conclusion.
What's more important? Winning three more games (if even) because Hassan Whiteside is on the floor, or discovering if the 21-year-old Marvin Bagley can potentially work his way from a crippling negative on defense to neutral by playing the center?
There are sparse flashes of verticality to hold onto from the Duke product. 6'11" with a 7'1" wingspan and an infamously spectacular second jump is an ideal prototype for a rim protector.
Is he usually a half-step late to rotate? Absolutely. Does he understand the proper methods of pick-and-roll defense? Negative. Is he foul prone due to a habit of jumping at everything? Undoubtedly.
Can he grow out of these flaws? Only if he is given an opportunity to experience these in-game and reflect on his mistakes during film sessions.
He is never going to be a perfect defender by any stretch of the meaning, but progressing towards neutral would be outstanding while most of his impact will come on the offensive end of the floor.
This is not to take away from the developments shown on the perimeter, even though he often finds himself with his feet crossed and blown by. It simply should not be decided that Marvin Bagley is a four, no questions asked.
Marvin Bagley has shown encouraging progress this season, primarily on offense, likely due to a more defined and limited role. The progression shown in his three-point shooting allows a possibility of him alongside a center who can't space the floor.
But in the NBA, you are what you can guard and on the other side of the ball, Bagley's ideal position remains undefined. He may be most competent as a power-forward who is not the primary player responsible for protecting the rim. He may be able to develop into a rim protector himself and enable lineups with five shooters to unlock De'Aaron Fox's driving ability. He might be both.
But we will never know if Bagley is not given the opportunity to learn both positions. Hassan Whiteside should not be the reason that Marvin Bagley is not given that chance.