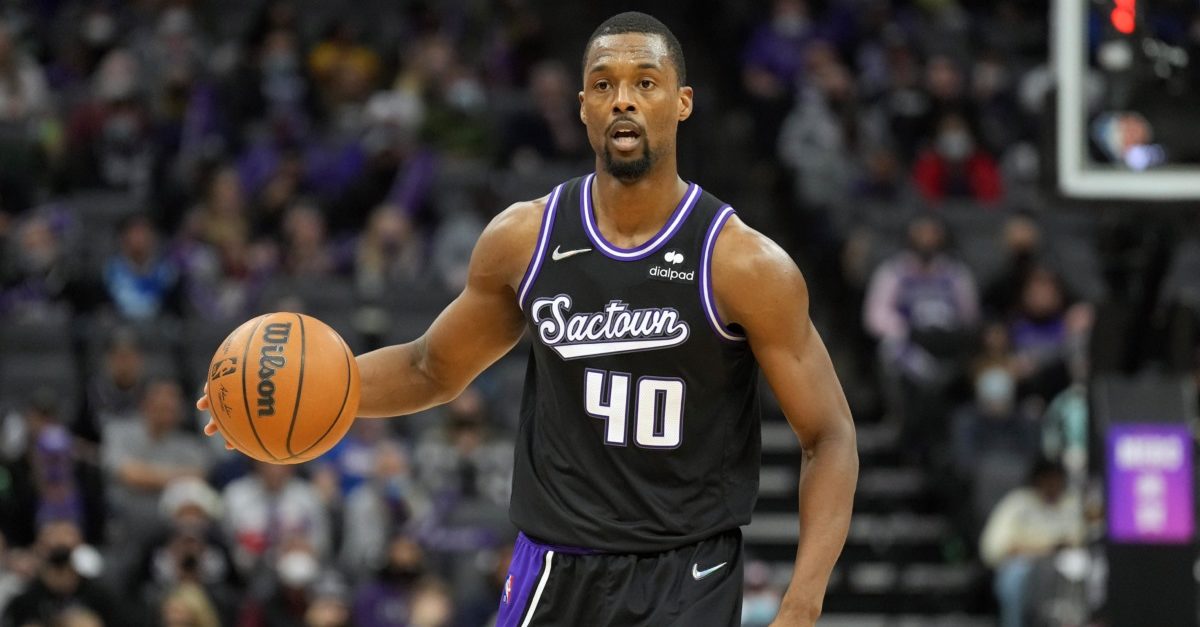 Harrison Barnes was producing at an All-Star level at the beginning of the 2021-22 NBA season. Through the first 10 games, he averaged 22.2 points, 9.0 rebounds and 2.8 assists while shooting an impressive 47.9 percent from the field and 43.3 percent from three. There was reason to believe the jump in production was sustainable, to an extent, due to an increase in attempts that was publicly encouraged by the coaching staff.
Head coach Luke Walton expressed his desire for Barnes to shoot at least six threes per game countless times before his eventual firing. Barnes succeeded in reaching that marker in eight of his initial ten games played. Sacramento went 5-5 during that oft-referenced stretch, with the success also partially due to minimal roster health complications.
Yet, opening night in Portland still stands as the most threes attempted by Barnes this year (11) and the second-most field goals he's attempted (19). His season-high in field goal attempts (20) came in the second game of the season.
The reason for his regression since that point is unclear. You'd think that with notable absences from Richaun Holmes and De'Aaron Fox, who are both essential aspects to Sacramento's offense, Barnes would recognize and embrace an increase in responsibility. While the most aggressive moments from Barnes took place prior to Walton's firing, what we've heard makes that seem to be merely coincidental.
Interim head coach Alvin Gentry has made it clear that he shares Walton's desires regarding Barnes' aggressiveness on offense. Yet, for reasons unknown to Gentry, Barnes has reverted back to his more typical passive ways as the year has progressed. After the first ten games of the season, Barnes has recorded just four additional games with at least six attempts from three. I asked Alvin Gentry about the recent quiet play of Harrison Barnes before the Kings took the floor in Denver.
"We don't want him to be quiet," Gentry said. "We've tried to do things to get him involved. And then, I think obviously, he's got to get himself involved."
The UNC product surpassed 20 points in nine of his first 13 games but has failed to do so since that 13th game took place on November 11th, 2021. In December, Harrison Barnes averaged 14.1 points, 4.8 rebounds, and 2.2 assists while shooting 39.4 percent from the field and 43.3 percent from three.
His percentage from distance remained undeniably phenomenal, but attempting 5.2 threes per game in that span was disappointing. In Cleveland, Barnes attempted only two three-pointers, with zero total makes. He then went one of five from distance the following night in Toronto en route to three points.
The Kings need significantly more production and consistency in their current state. Richaun Holmes, one of their most essential offensive players, has missed nearly 40 percent of the season. De'Aaron Fox, Tyrese Haliburton, and Harrison Barnes are the only three players averaging upwards of 30 minutes a night, and Barnes trails only Fox in points per game.
Barnes needs to be a larger factor in Sacramento's offense, and the coaching staff has made that clear.
"We've talked to him (Barnes) several times about when you shoot the percentage he shoots from three, I think you got to get up at least eight three-pointers," Alvin Gentry said. "We try to put him in that situation and, in general, I think the team tries to create situations from him in those areas."
When Barnes was hot to start the season, Fox was in a slump. As of late, those roles have reversed with Fox returning to form while Barnes lacks his previously highlighted aggression. There are only five games this season where Fox scored at least 20 points while Barnes added 15 or more of his own; Sacramento is 4-1 in those showings.
But these all too common games where Barnes is hardly felt on the offensive end have proven troubling for a team actively chasing a play-in spot. With the trade deadline approaching, a decision surrounding Harrison Barnes' future in Sacramento will need to be made.
Despite these inconsistencies, it's easy to understand why Harrison Barnes' name was often mentioned around the trade deadline last season. He's proven to be a deadly three-point shooter while standing at 6'8" with no clear weaknesses in other aspects of his game. His defensive capabilities have slowly diminished, but he's always been best functioning as a surrounding, complimentary piece on that end rather than someone who's tasked with disrupting actions and making highlight plays himself.
The clock is ticking on his time with the Kings. After this season, Barnes has one remaining year on his deal when he will be making $18.3-million - which is an extremely reasonable price point for a starting-caliber wing.
While he's clearly important to the Kings' current success, general manager Monte McNair will have some tough decisions to make as teams around the league will undoubtedly start calling about Barnes, if they haven't already.
There's already an argument to be made that the peak time to trade Barnes has passed, but letting yet another year of that deal pass could shorten the potential return even further. The idea of potentially re-signing Barnes to a significant deal in the 2023 offseason, when he will be 31 years old, seems questionable for a Sacramento team whose primary centerpieces are at least five years younger.
It's apparent that Harrison Barnes can't help fix one of the worst defenses in the entire league. And, clearly, Barnes seems to struggle with consistently letting it fly from beyond the arc to the extent that's being asked. He's proven to be capable of more, but those moments are the outlier.
So, while the Kings need more players like Barnes who consistently contribute well-rounded and intelligent basketball with minimal damaging mistakes, the clock is ticking for Harrison Barnes.