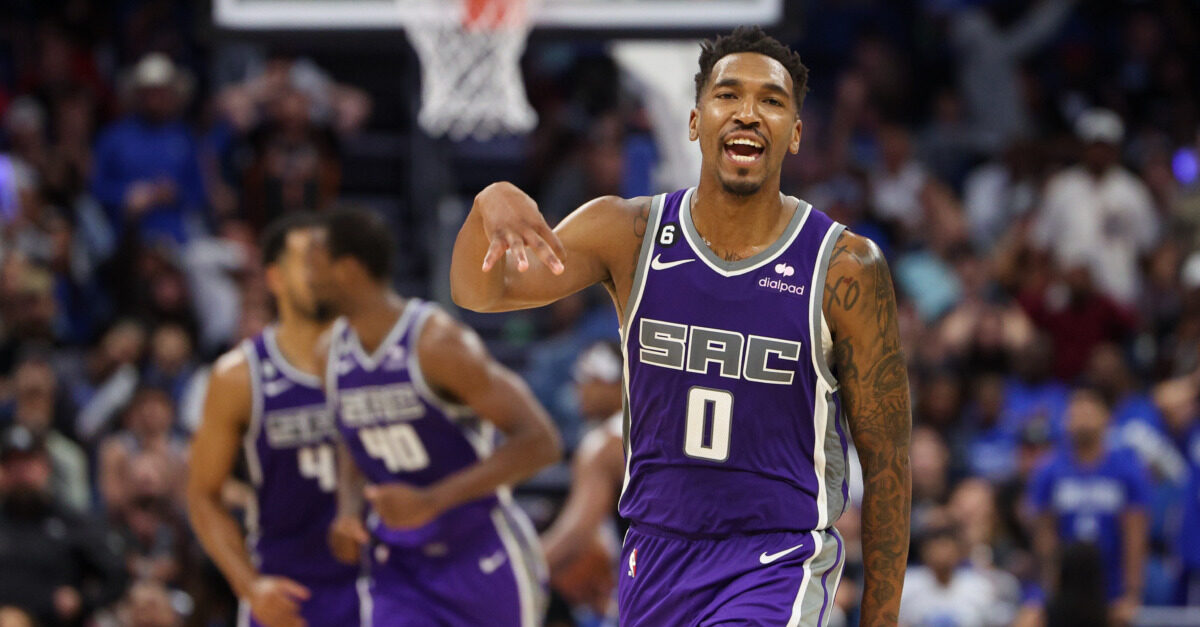 After playing a small Miami Heat lineup the game prior, the Sacramento Kings went into Orlando against a team with four players 6'10" or taller in their starting lineup. That ridiculous size was a problem from the jump on both ends of the floor.
In the first half, Sacramento struggled to deal with their switching defense and rarely succeeded in attacking the rim. The Kings were 15/26 in the paint through two quarters compared to Orlando's 19/25. Orlando only converted foul triples throughout the entire game.
Orlando's size was also felt in the rebounding battle, where they held a 27-14 advantage on the glass in the first half. It's hard to win basketball games when you struggle to get in the paint and simultaneously struggle to keep the other team out of the paint.
"We know we didn't play well in the first half at all. We were giving up lob dunks on the weak side because we weren't there to protect our teammates. We were giving up blow bys, we were giving up middle. Everything that we talk about defensively, we were getting compromised," Coach Mike Brown said postgame. "And I told our guys basically 'We're better than this.' I said, 'I don't care if we win or lose the game, but the way we're playing, that's not us. And if we have any pride as a group, we'll go out there and fight. And whatever happens with the win or loss, we're gonna live with it, but let's at least go out and fight.' And, to our guy's credit, they did."
Ideally, the Kings wouldn't allow themselves to get into a position where they need a miracle quarter to give themselves a chance to win. On the other end of that, it's promising to see them show they are able to stay mentally resilient and produce when desperately needed.
Orlando scored just 12 points in the third quarter. The Kings had not held a team to that low of a point total in a single quarter since December 2016. Defense led to offense and the Kings put up 36 of their own in quarter three.
"I think we were down 18 going into [halftime]. We hit first and made them call the first timeout and we got within striking distance," De'Aaron Fox said. "Our bench took the lead and they got us up 10. It was a full team effort in that second half, but for us as starters, we need to start the game like that so we don't put ourselves in that predicament."
Sacramento's bench showed up in a big way. Chimezie Metu played nearly 11 minutes almost solely at the center position while Richaun Holmes struggled and Domantas Sabonis picked up his fourth foul in the third. Trey Lyles and Malik Monk nearly played 30 minutes a piece and had their usual offensive production (15 points each), but their defensive effort was on display in the second half as well. Davion Mitchell was a pest on defense in the minutes he played behind Fox.
"I gotta take my hat off to a couple of guys. The first one is
[Domantas Sabonis], and the second is [Chimezie Metu]... in the second half we went to [Metu] and we didn't play Richaun. So, you give [Metu] credit for stepping up and Richaun credit for continuing to uplift and cheer for his team. Same with [Sabonis]. We took him out late in the game. And I thought he was just a little gassed, he missed a few free throws, so I wanted him to get a quick rest. He was great uplifting and cheering his teammates at that time. And then [Metu], he played the Golden State game, he played a little in the Miami game, and he was ready to go tonight. He was big for us in the third quarter when we went on a run... We want to build a culture of team and togetherness and whoever is out on the floor to uplift and support them. I want to start off recognizing those guys for what they did to help let people understand that we're a team. On top of that, Davion played 13 minutes, he didn't score, but he was a plus-15. That was huge."
One player who did struggle to find a rhythm offensively and deal with Orlando's physicality on the other end was rookie Keegan Murray. After playing 30+ minutes in his first five NBA appearances, Murray played 27 minutes against Miami and just 24 minutes in Orlando.
Murray is as NBA-ready as rookies come but that doesn't mean there will not be growing pains. The Iowa product will get a better feel for the defensive rotations and recognize his responsibilities quicker as his career goes on.
De'Aaron Fox was the clear star of the night. He scored nine of Sacramento's 20 points in overtime, including a heroic three-point jumper from the logo.
"When they got the dunk there were six point-something seconds left...they threw it into [Barnes] and it was tied up so they are not going to deny because you don't want to get beat on a home
run play," Fox said. "I got it from [Barnes] with around four seconds. For me, I would really try to get to the paint and get something up, but with that team's length and how big they are, they started to load towards the ball and I just tried to get as in front of the basket as I possibly could and just tried to get it up and it felt good leaving my hands."
Fox ended the game with 37 points on 14/24 from the field including 7/7 from the free-throw line. He has managed to contribute at least 30 points in three of his first seven games of the season. Coach Brown has said a few times that the only thing that will stop De'Aaron Fox from being an All-Star is their record as a team.
It wasn't the prettiest 53 minutes of basketball, but the Kings came out victorious when the final buzzer rang to improve their record to 3-5.
Stretches like the first half in Orlando have been too commonplace early in the 2022-23 season, but Sacramento has shown an ability to lock-in and give themselves a chance to win any game on any night.