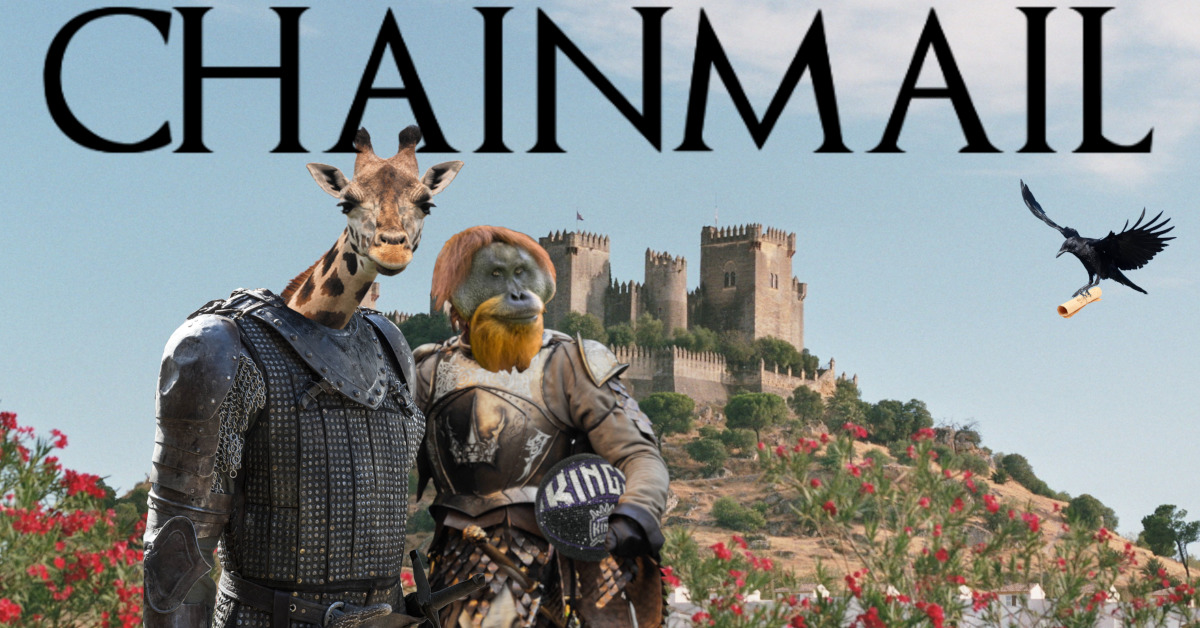 Welcome back to Chainmail! Last week, we encouraged all of you to dust of your trade machines and get active, and boy did you respond! We'll be going through all of your ideas, with one exception. When we posted the mailbag, a few of you included single-player trades with Marvin Bagley. Due to his recent injury, we decided to exclude those so we wouldn't have to constantly reference back to him missing time. Other than that, everything is fair game. Oh, and Tony will be joining us this week to try and convince us that pizza is a Greek invention! Let's dive right in!
From Elllmist:
SAC: Porzingis
DAL: Hield, Holmes
Tim: Although this may actually be okay value for Porzingis, especially considering his injury history and contract, I don't think the Mavericks can deal away their "second star" for role players like Holmes and Hield. They gave away multiple first round picks for Zinger, so their best bet is to probably just hope he returns to form over the next year or two. From the Kings side of things, they would absolutely do this deal, but I believe Dallas is a no-go here.
Will: This is a trade for 2022. If Dallas keeps the Zinger healthy and it just still doesn't seem to click and Sacramento has Richaun locked up for a few more seasons, I think there's a chance Dallas would make this trade. Right now? The fear Richaun would walk or that Porzingis is just struggling through the pandemic like many people are... it's too soon.
Tony: The Kings have to pull the trigger on this, right? Kristaps Porzingis isn't the perfect unicorn we once thought, but that's the only reason you're starting to hear some rumblings that Dallas could move him. Despite that trade chatter, I don't think this is a good enough return for the Mavericks, and if all they could get in return for Porzingis was an overpaid volume shooter and an unrestricted free agent center, I would bet they just hold on to him and let it play out.
SAC: Bamba, Culver, Fournier
ORL: Hield, J. Hernangomez, Davis, 2022 MIN 2nd rounder
MIN: Gordon, Whiteside
Tim: Although Aaron Gordon is almost certainly on the block, as he is every trade deadline, I don't think the Magic are looking to swap him for an average, overpaid, not-young shooting guard when they're likely entering a rebuild over the next two years. Buddy would provide them stability from an injury standpoint, but he's not good enough on his own to move the needle for the organization. Minnesota and Orlando could probably come to an agreement without involving the Kings and Hield's massive salary commitment.
Will: I like the general principle of this idea. These are the kinds of moves I'm in favor of the Kings if they're going to slide themselves back into the basement. Bamba is a solid reclamation project whose had his first few years in the league stunted due to injuries and COVID and on the off-chance this wager hits, the payoff would be huge in the long run. Culver is a rookie stuck on a weird team that hasn't had enough time or ambition to put him in a spot to succeed and coming to Sac would give him the space to actually play. Fournier would be a good vet presence on a decent deal. Does Orlando do this? No. Do I like the thinking behind it? Heck yeah.
Tony: If the Kings could get a Bamba, Culver, and Fournier type package in return for Buddy Hield, I think he'd already be gone. By all reports Orlando believes Gordon is more valuable than the return they're getting here, but time will tell if that is reality or wishful thinking.
From 4imdrane
SAC: Achiuwa, Olynyk, Harkless, 2025 MIA first rounder (lotto protected)
MIA: Barnes, Whiteside
Tim: A quick note here, I changed the trade slightly as Meyers Leonard was traded on the morning I was responding to the trade ideas. I removed Nemanja Bjelica from the deal and swapped in Moe Harkless for Leonard, but I think the gist of the deal is still the same.
As far as the trade is concerned, I would pull the trigger pretty comfortably. Although the pick is a little further out than I would want in a Barnes deal, it's kind of nice having an asset lingering out there for a potential future playoff team. Imagine the luxury of owning a non-Kings future first rounder when Sacramento is looking to find a difference-maker for their core in three years. Not bad at all.
Will: I'd be more than happy with this return. The pick is a bit out there and I'd prefer the lotto protections were closer to a Top 8 or 10 protection instead but it's so far off it might not be worth the haggling. Olynyk is a nice piece that could deepen the bench and provide starter minutes in case of a Holmes injury. Precious has shown flashes of potential that make the swap enticing and Barnes gets to go to a team looking to make another deep run in the playoffs.
Tony: I have been looking at a similar return package from Miami for Barnes, and I think this one is pretty satisfying for all parties. My 'fear' is that the Kings have an inflated sense of Barnes' value, and this package wouldn't be enough for them, but for me, this is getting me what I'm looking for: one solid young prospect, a first round pick, and the ability to comfortable re-sign Richaun Holmes in the offseason.
SAC: Carter Jr., 2021 CHI second rounder
CHI: Holmes
Tim: Carter Jr. has fallen a little bit out of favor in Chicago, as he's been moved to the bench over the last couple of games, but the Bulls can probably get more value for a potential defensive anchor. Assuming that Chicago is looking to make a playoff run, they can get a better deal than Richaun Holmes, who is a fine, if unspectacular starting center.
Will: While I do think we as fans overrate Richaun Holmes a tad, I do think that if Holmes' contract was anything longer than what it is Chicago might do this deal. Any deal with him gets tricky when we consider the man has thirty something games left on his contract and I don't think Chicago renting Holmes and giving up on a still developing Carter Jr. would be worth it.
Tony: I like Wendell Carter Jr. I'm less sure that he's ever going to be as good as Richaun Holmes is right now, but the Kings could do everything right in free agency and still lose Holmes. This is a proposal where only Monte McNair can make the right call. If he is certain he can retain Holmes, I'll pass on the trade. If he is seriously worried about losing him for nothing, this is a very intriguing backup plan. With that being said, I'm not sure it makes much sense for the Bulls to take on the same UFA risk the Kings would be worried about here.
From Adamsite:
SAC: Maxey, Seth Curry, Green, Scott
PHI: Hield, Joseph, multiple second
Tim: From the reports a couple of months ago (or whenever James Harden was traded. Time is a flat circle right now), Philly wouldn't include Maxey in on that deal, and I don't think there's any realistic chance they let him go for the services of Buddy Hield. As reports continue to come out regarding Buddy's lukewarm market, I continue to grow more and more convinced that the Kings will either be unable to deal him, or they'll have to settle for something like expiring contracts and second rounders or unimpressive youngsters.
Will: I think the Kings would have to settle for one of those first two players in the first trade and Michael Scott if this were going to work. Buddy quite simply tanked his own value this season and as such the return just isn't there. If Philly were more desperate, I could squint and see their logic, but as such, I doubt they shake up this team when they're playing so well together when everyone is back and healthy.
Tony: I don't see Philly trading Seth Curry in a Buddy Hield swap at this point. Curry has been tremendous for them this season, and I'm not sure that the upgrade to Hield is worth losing Maxey. They're trying to win it all this season. I would be surprised if they make any moves that subtract from their win-now core. Green, Scott, and Maxey for Hield would make a lot more sense for them in this championship window, and I think Maxey is a good enough return for the Kings to seriously consider it.
SAC: Claxton
BKN: Whiteside
Tim: Claxton has been better than Whiteside this year. Brooklyn declines.
Will: Yeah, I think Brooklyn feels comfortable with what they have.
Tony: Kings say yes, Brooklyn probably doesn't.
From MaybeNextYear
SAC: Thybulle, Scott, Green
PHI: Barnes, Whiteside
Tim: This is an interesting idea, but I'm unsure as to where Barnes fits in Philly's lineup. They're already huge with Simmons-Harris-Embiid, so swapping in Harrison for Danny Green makes them even more massive. If the Sixers are looking for as much versatility as possible, this could work, and the Kings would probably be foolish to turn an offer like this down.
Will: The Kings would be foolish to turn down this trade and the Sixers would be foolish to offer it. Tim is the numbers guy so maybe he can go into how much this would cost Philly but with Simmons and Embiid having big deals, Harris having himself a massive contract... I'll just go ahead and wager 50 billion bucks. This is a move that could put them over the top for a championship so that might be worth the cost, but that window feels like it would close quicker just due to the price of keeping it open.
Tony: I am also unsure if all the pieces here make sense, but if the 76ers can add Barnes without losing a major rotation piece, and the Kings can add Thybulle to the young core, I could see some conversations along these lines taking place.
SAC: Monk, Bridges
CHA: Bagley, Holmes
Tim: Charlotte is young and up-and-coming, so I don't think they'll be looking to deal Bridges for Holmes, assuming that the other side of things is basically Monk for Bagley.
Will: I don't think Charlotte would want either of these players for that price. They're another team that I think is going to wait out this season, hope to get some playoff action and see where they're at this off-season when the dust settles.
Tony: Richaun Holmes would solve a lot of longer-term problems for Charlotte, but with no guarantee that they could keep him, I'm not sure that the risk is worth the reward from their perspective. Especially now that LaMelo Ball is out for the rest of the season. But if they don't want to pay Monk this summer, and they don't view Bridges as a starter (they already have P.J. Washington and Gordon Hayward at forward) maybe those two players are available. I'm just less sure that this is the package to acquire them.
SAC: Ntilikina
NYK: Bjelica
Tim: I like it! Ntilikina has been on the block for basically every season since he was drafted, and the price last year was reportedly a couple of second rounders, which is about the same value as Bjelica. Honestly, I would be happy to throw in a second rounder myself, just to get the deal done.
Will: Franky Smokes would be a welcome addition in Sacramento and for a team like the Knicks who are pushing up the Eastern Conference standings, it could never hurt to have more shooting. Not sure how Coach Thibs handles Bjelica's defense but he'd be a great get for them to come off the bench and handle his business on the offensive end.
Tony: Sign me up. I don't know if the Knicks want Bjelica, but if I'm the Kings, Ntilikina is absolutely someone I would target at the trade deadline.
From SexyNapear
SAC: Herro, Olynyk
MIA: Bagley, Bjelica
Tim: Miami doesn't consider moving a contributor like Herro for a injury-riddled Bagley and expiring Bjelica. I think there's probably a smaller deal out there that sends Nemanja into Miami's trade exception for a small assset, like a future second rounder.
Will: I honestly think that you could offer Barnes for Tyler Herro and Miami would think long and hard about turning that down. Bagley again does nothing but add a developing big man to a team that already has one in Precious Achiuwa and Bjelica would help but no for what they'd have to give up.
Tony: Tyler Herro is the most valuable player in this trade by a lot. I don't see it.
SAC: Carter Jr., White, Porter Jr.
CHI: Bagley, Hield
Tim: Chicago probably isn't ready to give up on White yet, but the concept of Bagley for Carter is an interesting one. Both players have struggled to establish themselves on their teams, and both players could probably use a change of scenery. From my point of view, I would need some additional compensation from Chicago to consider swapping Bagley for Carter Jr.
Will: I remember many of us clamoring for Otto Porter Jr. in Dave Joerger's final year and I still think he could do well in the right spot. It isn't Chicago. I agree with Tim that White is probably off-limits for a swap, but as currently constructed I would be pretty damn happy with this deal from the Kings side of things. Chicago says no but they consider it for a moment or two.
Tony: Maybe I'm wrong, but I still feel like this is too optimistic of a return on Hield at this point. The Kings need him to do some trade value rehabilitation first, and then we might be in the ballpark. If the Kings could get a big expiring contract and two promising young players for Hield and Bagley, I think that's a win.
SAC: Ingram
NOP: Bagley, Hield, top-3 protected 2021 first rounder
Tim: The Kings shouldn't be giving out future first round picks unless they're snagging a "1A" star, and I don't think Ingram is going to be that guy. Also, New Orleans could probably get a lot more value for a player of his caliber.
Will: For being the guy that's really tried to value this 2021 first round pick this year and hearing the nails on the chalk board recently about the Kings still wanting to be a playoff team this season, I'm going to admit that I do this deal. Bagley gets a fresh start, Buddy gets to go to a playoff team that limits what he has to do and the Pelicans get a pick that looks more and more like a 9-11 pick, especially with Ingram coming back to Sacramento. The move gives the Kings a young but experienced squad with Fox, Hali, Ingram, Barnes and Holmes and while they won't be able to bench much in the weight room... this team scores a metric ton of points. They'd be fun, dare I say exciting. I like it if the Pels were good with it.
Tony: This is a great hypothetical trade because doing it makes me just as nervous as not doing it. I love Ingram. He is very likely better than anyone you would draft outside of the top-3. Ugh. Fine, I'm in. Let's do it.
We just need to convince the Pelicans to do it.
From cloudyeyes
SAC: Bertans, R. Lopez, unprotected 2021 WAS first rounder
WAS: Barnes, Holmes
Tim: Washington is probably grabbing a top-6 pick this year, so they're certainly not moving an unprotected first rounder. I'm not even sure they're really trying to win this year, even with the "addition" of Westbrook.
Will: To add to what Tim said, I'd be shocked to see Bertans moved in the first year of the big deal he just signed in the offseason with Washington. If the Wizards offered it, Monte McNair would be foolish not to take it. Coming out of the trade deadline with another shot at a high lotto pick, plus a sniper at the 4 spot is too rich, even when giving up Holmes and Barnes.
Tony: I love Bertans. I love Washington's first round pick. I'm not sure that this move makes sense for the Wizards' timeline, whatever that might be.
From TheBaker
SAC: Aldridge, Walker IV, top-5 protected 2023 first rounder
SAS: Hield, Holmes
Tim: Swap in Barnes for Hield, move the pick to 2021, and top-8 protect it, and you may have something. San Antonio is right in the middle of rebuilding and trying to compete, so it's really impossible to tell what exactly they'll be looking to do this trade deadline. One thing to note - the Spurs basically never trade future first rounders, especially mid-season.
Will: I like the idea of taking on Aldridge's contract and getting a first rounder and a good young player in Walker, but I don't see a reason for the Spurs to want Hield. I'm not sure he how much he gives Coach Popovich outside of his shooting. I think this is a trade that's close to being fair for both teams, but also one where both say no.
Tony: I'm treating Aldridge as nothing more than contract filler from the Kings' perspective. Hield and Holmes for Walker and a protected first might be fair from an asset swap standpoint, but I'm not sure a Hield and Holmes return lines up with what the Spurs are trying to accomplish at this stage. It kinda feels like both teams could do better for what they're giving up.
From jwalker1395
SAC: Green, Scott, Thybulle or Maxey
PHI: Hield
Tim: As I mentioned above, I don't think Hield carries enough trade value to snag a player of Thybulle or Maxey's caliber. I'm not convinced he's a positive trade asset at this point in his career.
Will: I know we saw Buddy show out the other night against the Sixers but I doubt that anything could pull Thybulle from them right now. Maxey is much more realistic due to be much less of a guaranteed commodity and if you could find a less impactful player than Danny Green that makes the money work, I'd bet that would be fairly close to a fair deal for both sides.
Tony: This is the move. I'm unsure if the 76ers would do it, but I do believe that adding a scorer of Hield's caliber to a legitimate title contender for no major current rotation pieces could be viewed as a win in their eyes. Maybe it's an overpay (and certainly expensive) but if the 76ers believe Hield is enough to put you over the top and win a title, they have to consider it.
SAC: Hampton, Harris, 2023 second round pick swap
DEN: Hield
Tim: We've chatted about a similar-type trade among the crew at TKH, and I would happily pull the trigger on such a deal. I don't know if Hampton is any good or not, but the Kings can get a young backup guard to complement Fox and Haliburton, and he's not making $23 million next year. From Denver's perspective, Malone could theoretically unlock Hield and give them a much better scoring punch off of the bench.
Will: Hampton had a very impressive interview before the draft that I was able to sit in on and while I can still be a little hesitant on his future in the league, I think he's the young talent the Kings should be taking swings for. Gary Harris is a good option off the bench and Buddy on the Nuggets would be SO damn fun to watch. I dig it. Let's do it.
Tony: I love it. Garry Harris is overpaid for what he is, but I think he's a player that could get you a little something something by the deadline next year as a reclamation project. He is a fantastic defender, and contenders are always looking for stoppers on the wing come playoff time. RJ Hampton is the sweetener. Nuggets get a huge scoring piece off the bench. Win-win.
SAC: Turner, McDermott, Holiday
IND: Barnes, Bjelica, Holmes
Tim: Indiana isn't trading Turner for the Kings scraps. He's one of the best defensive big men in the NBA. Side note - imagine how much better the Celtics would be if they had traded Hayward for Turner!
Will: I was a fan of the Kings trying to swing for Myles Turner in the off-season when he seemed to be available, but his emergence this season also means that his stock is through the roof this season. If you added an unprotected 2023 pick from the Kings in there, I think it would be a much closer deal in terms of fair value. Even then, I think Turner just means too much to the Pacers for them to rebuild their defensive identity on the fly after the All-Star Break.
Tony: I think the Turner ship has sailed away from the Kings at this point, but I would love Sacramento to make a run at Aaron Holiday. He's having a down year, but as a nice young point guard project off the bench next season, the Kings could certainly do worse.
From RORDOG
SAC: Kelan Martin
IND: James
Tim: I have no idea who Kelan Martin is, but he's probably a better prospect than James.
Will: I like Kelan Martin when he played for a time with the Wolves and still I have no idea why either team would do this, but HELL YEAH! Swap these two!
Tony: I like trades. This is a trade?
From Melmoth
SAC: Hachimura, R. Lopez, Oladipo
HOU: Bagley, Joseph
WAS: Bjelica, Whiteside, McLemore
Tim: Although the Wizards currently employ Beal and Westbrook, I don't really think they're a win-now team, which means they won't be looking to deal a young player like Hachimura for average bench players. Houston would make this deal, but I don't think Washington is interested.
Will: The Kings only giving up three bench players and Bagley and getting back Victor Oladipo, Rui Hachimura and Robin Lopez feels like the con of the century for Monte McNair and Co. While I doubt Oladipo would want to sign an extension in Sacramento, if they could agree to terms I wouldn't be against his inclusion. I'm not sure at all why Houston does this and if Washington wanted to get back to being worthy in the East you could throw in Buddy to make the swap less lopsided in the Kings favor.
Tony: This would be a no-brainer swap for the Kings, but I don't think it makes much sense for the Wizards. This gets Cory Joseph's $2.4 million guarantee off the Kings cap sheet next season, though, and I think that's a scenario worth talking about. If the Kings don't make any major moves, they will need every penny to re-sign Richaun Holmes, and moving Joseph at the deadline to clear $2.4 million of cap room this summer could be weirdly important.