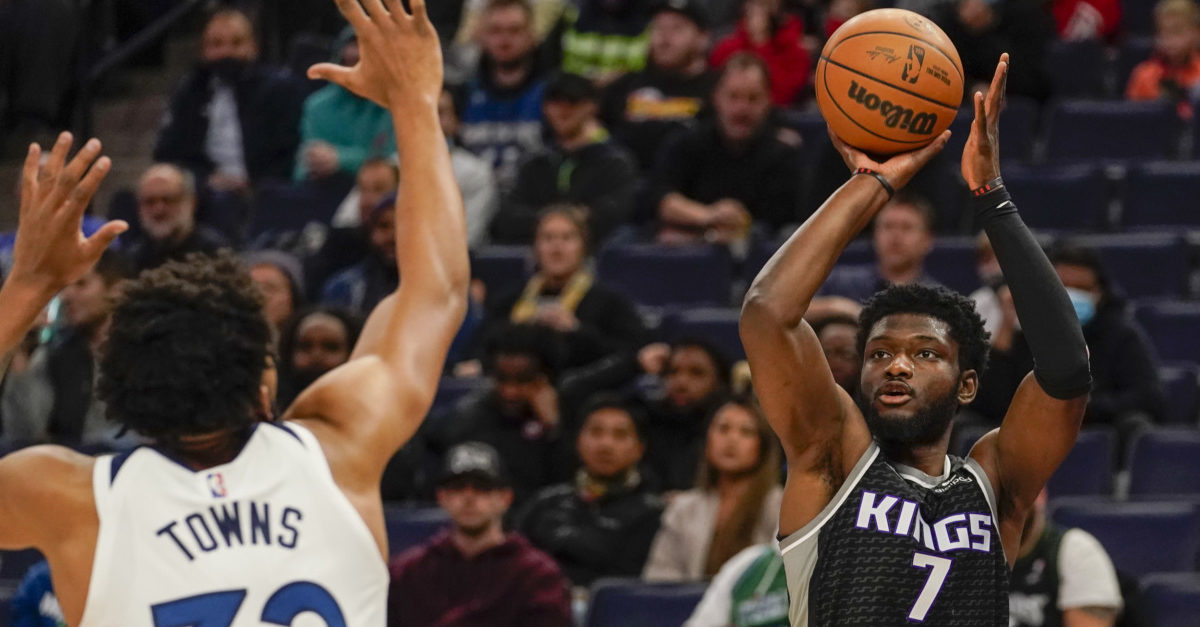 Over the last 10 years, the NBA has fallen more and more in love with the three-point shot. A decade ago, teams were averaging 18 three-point attempts per game. This season, Steph Curry is jacking up 13 three-point attempts per night on his own. Every offseason, more and more players, from guards to centers, try to add a three-point shot to their arsenal to try stay relevant in a league straying as far as it can from anything considered to be an inefficient shot.
Despite that seismic shift, most teams still only employ one or two players who are given a pure green light - the guys who can toss up any three-point attempts they would like, at any time they would like. Steph Curry, Buddy Hield, Seth Curry, Damian Lillard, CJ McCollum, James Harden, Zach LaVine, and a host of other players fit within that unique group. However, aside from those volume shooters, most contributors on most teams are only afforded three-point opportunities in the right situations, whether those be catch-and-shoot situations, open attempts after a drive-and-kick, or even late-clock desperation attempts.
This year, the Kings have seemingly taken a different approach. Everyone gets to shoot threes whenever they want, with no one being held accountable for poor shooting performances. It's as if Oprah Winfrey is coaching the squad and she's standing on the sideline screaming "You get a three! You get a three! You get a three!" And it's not working.
The Kings currently rank 7th in three-point attempts taken very early in the shot clock, despite sitting 24th overall in accuracy from beyond the arc this season. They play some of the worst three-point shooters in the league, and those players have been granted a green light from deep, for some inexplicable reason.
Chimezie Metu
Chimezie Metu, as likable of a player as he may be, is probably the worst example of this issue for the Kings. This season, he's jacking up 4.7 three-point attempts per game and hitting just 25.5% of his attempts, and his volume has only gone up as the season has progressed, despite his lack of success from beyond the arc. On a per-minute basis, Metu is averaging the third most long-balls on the team, 7.7 per 36 minutes, behind only Buddy Hield and Terence Davis.
Interestingly enough, Metu's three-point shots are also coming at the cost of much better shooters. In the seven games that Chimezie has played significant minutes beside Harrison Barnes, six of which he's started, Metu has averaged 5.3 three-point attempts per game, while Harrison Barnes has taken just 2.6, despite being Sacramento's second-best three-point shooter over the last few years. In games in which Metu has not appeared, Harrison attempts 6.7 three-pointers, a massive difference for such an important player in Sacramento's offensive scheme.
Terence Davis
Unlike Chimezie Metu, who doesn't have any large sample size of three-point making in his career, Terence Davis has previously found some success in the league from beyond the arc. Prior to the disaster that has been the 2021 season for Davis, he posted a respectable three-point percentage of 37.7% on 3.8 attempts per game. Those numbers aren't exactly awe-inspiring, but they speak to a player who can occasionally knock down a shot.
That has not been the case this season, for whatever reason. TD hasn't just been bad from three-point range - he's been arguably the worst three-point marksman in the league through 20 games. Of the 137 NBA players who are averaging around four three-point attempts per game, Davis ranks dead least in accuracy, currently 22.6%. Frankly, if Terence Davis isn't hitting shots, he's providing nothing for the Kings, and to date, that's exactly what he's done.
Davion Mitchell
Davion Mitchell probably deserves the least amount of frustration for his three-point performance. He's a six-foot rookie guard who is burning a ton of energy trying to make up for De'Aaron Fox and Tyrese Haliburton's refusal to keep their man in front of them, while also trying to occasionally run the offense and find his own scoring touch. Thus far this year, despite knocking down 45% of his three-pointers in his final year in the NCAA, Mitchell has yet to find the range.
Davion's lack of success from beyond the arc kind of comes down to the simple fact that he's missing, and he's missing a lot. Most guards who struggle from deep often find a significant gap in accuracy between their in-rhythm, settled three-point attempts, and their off-the-dribble jumpers, but shot selection hasn't affected Mitchell's success this season. In fact, he's actually shooting better in pull-up situations (24.3%) than in catch-and-shoot scenarios (22.5%).
De'Aaron Fox
Slowly but surely, Kings fans are beginning to accept the fact that, for whatever reason, De'Aaron Fox probably isn't going to add the low-volume, accurate three-point shot that would unlock a whole new level of his game. This season has been especially disappointing for Fox, as he's sinking 25.8% of his 4.4 three-point attempts per game, the worst mark in his five-year career.
Unlike Davion Mitchell, who can't buy a shot no matter the situation, Fox's habit of settling early in the shot clock for step-back, pull-up three-pointers is killing his accuracy. On the season, De'Aaron is knocking down 35.4% of his catch-and-shoot attempts, around the NBA average for three-point percentage, while he's averaging a putrid 21.4% on pull-up three-point attempts. There are occasions, especially late in the shot clock, in which a De'Aaron Fox three-point attempt is better than nothing, but to date in his career those shot attempts should also be considered a win for the opposing defense.
***
The Sacramento Kings currently rank 24th in the NBA in three-point percentage. Of the 137 NBA players attempting around four three-point attempts per game, Terence Davis ranks 137th, Chimezie Metu ranks 133rd, De'Aaron Fox ranks 132nd, and Davion Mitchell ranks 130th. The Kings are responsible for four of the worst nine shooters in the league this season.
And while some of the blame for such terrible performances rests on the shoulders of the players who are missing shot after shot after shot, the responsibility for these foolish green lights lies with the coaching staff. The Kings aren't playing rec league ball at La Sierra where everyone gets a turn; they're an NBA franchise trying to break a 15-year playoff drought. On just about every other team, if a player isn't hitting shots, he's pulled or told to try something else. The Kings just keep jacking up more and more shots, and it's simply not working.