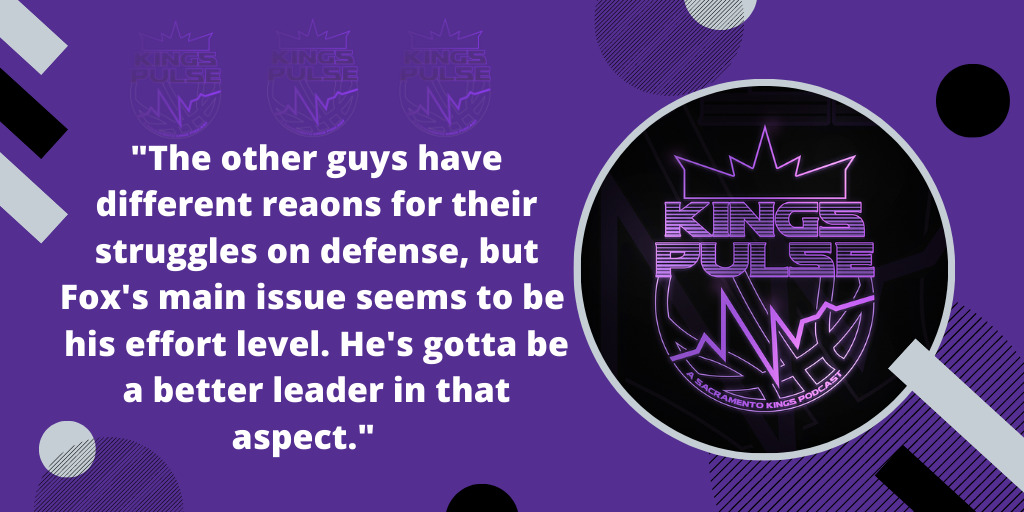 Tim Maxwell joined me for this Kings Pulse episode to talk about the horrible play we saw from the Sacramento Kings against the Memphis Grizzlies.
Richaun Holmes, Harrison Barnes, and Maurice Harkless being unavailable was undeniably impactful, but the way that Sacramento rolled over and died from an early point was beyond disappointing.
Tim and I spend some time at the beginning of the episode talking about how the injuries mattered, but the issue from this game in Memphis has nothing to do with that.
"I think the most frustrating thing for me is that the Kings shot horribly tonight and some people will point at that and say tired legs, short rotation, and I get all that," Tim continued, "the Kings didn't play a damn bit of defense, not a damn bit."
This then led to a conversation we had about the Kings lack of perimeter containment that was apparent in the Grizzlies scoring 72 (!!) of their 128 points in the paint. While he is far from the only issue, De'Aaron Fox has to be a better example on the defensive end.
I talk about while I have been less worried about Fox than most on the offensive end of the floor, his defensive effort this season has been concerning. Yes, Tyrese Haliburton, Buddy Hield, and Terence Davis all struggle in this aspect as well. We then explain why we think Fox's lack of impact on that end is different than the others.
"If (Fox) just doesn't give a damn on defense, why should the rest of the team? And frankly, I think the rest of the team tries harder than him," Tim stated. I added, in aggreeance, "That's the issue, right? Like, Haliburton is going to struggle on-ball becuase of his physical limitations. Buddy Hield just doesn't having a great defensive understanding at times, but he's trying his a** off. The other guys have other reasons aside from effort. And effort is the primary reason for Fox, and I don't even know what you would point at after that."
Again, De'Aaron Fox is very far from the lone problem on this team. I explain in the episode that I think he's returning to form on offense but his lackluster defensive effort against Memphis made the game extremely tough for the Sacramento Kings.
Tim and I spent some time talking about how Fox does not have to emerge as the vocal leader of this team like many in the fanbase are hoping for. But, we continue that Sacramento does need someone to be that guy, and he's gotta play more minutes than Iman Shumpert did or Tristan Thompson does currently.
Our conversation then transitions into our concerns about the three-point shooting on this Kings' roster that was made apparent with the absence of Harrison Barnes. Buddy, Barnes, and Haliburton are the three high-level distance shooters on this team and there is a bunch of average to below-average guys after that who seem to have extremely green lights to let it fly.
We debate the idea of players like Chimezie Metu, Marvin Bagley, and even Davion Mitchell being encouraged to shoot quickly and often. Is it essential for spacing or currently being harmful? Is it simply a flaw in Monte McNair's roster construction?
We close this episode by going through some questions that we received on Twitter prior to recording.
Going to be recording a @Kings_Pulse episode a bit later tonight about the Kings' horrific showing in Memphis...

If anyone has any questions throw them my way and I'll answer them best I can on the pod.

— Brenden Nunes (@BrendenNunesNBA) November 29, 2021
The topics we covered include:
Should the Kings consider trading De'Aaron Fox?
What is the "core" of this team and is it time to significantly change that core?
How much of a concern does spacing become if you trade away Buddy Hield?
Potential trade packages the Kings could offer (different combinations of Buddy, Bagley, Thompson, Mitchell, and draft picks -- what are their salaries and potential values?)
Does Monte McNair HAVE TO make a move before this trade deadline?
And we dive into plenty more in this episode that ran for upwards of an hour! Yes, we talk about the horrific performance that Sacramento had in Memphis, but in a more big-picture sense rather than emotionally complaining about the lack of effort the entire episode.
I always appreciate hearing feedback from the listeners in these comments on Twitter, no matter if it's a compliment or complaint! Also, if there are any topics you'd like discussed in future episodes, I'd be happy to hear them!
Be sure to subscribe so the latest KP episodes appear in your feed as soon as they are released.
The Kings Pulse podcast is available on all major listening platforms.