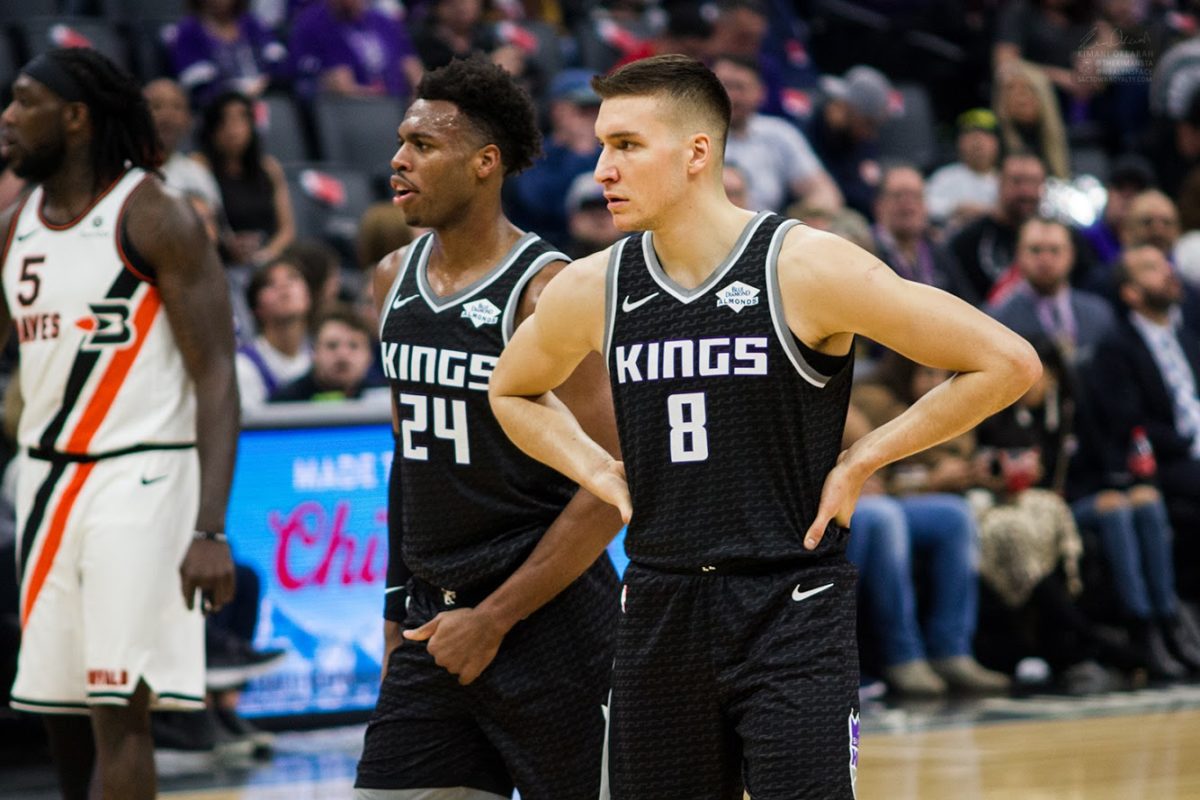 De'Aaron Fox is the Sacramento Kings' best player. He is a storm on the court, and his lightning-blessed abilities set the tone, pace, and future of the franchise. But the identity of the Kings second best player is much more of a debate, evidenced by the twitter polls from First-Team All-Kings-Twitter lock Brett Huff. Is it sharpshooting Buddy Hield, the well-rounded Bogdan Bogdanovic, the veteran Harrison Barnes, or fan-favorite energizer Richaun Holmes?
In a week of Huff's polls that set out to make a Kings hierarchy ranking, the most heated contest was for the Kings second best player.
Unsurprisingly, that question was equally contentious in the Kings Herald offices, and four of our writers decided to make their cases.
Bryant's pick: Bogdan Bogdanovic
Bogdan Bogdanović is the Kings second most important player. He's arguably the most well-rounded King on the roster, offering real shooting gravity, secondary playmaking, and solid team defense while not needing to pound the air out of the ball to be effective. He's an excellent fit with the rest of the Kings core€"he can control the ball to free up Buddy Hield, run the pick-and-roll with Richaun Holmes or Marvin Bagley (more of these, please!), and space the floor for De'Aaron Fox€"and provides offensive versatility without the usage others in this debate demand.
He's a career 37% shooter from deep and is one of the more efficient mid-range shooters in the league. And while the Kings haven't overly relied on his self-creation skills since Fox's ascension, Bogi's ability to score off the dribble is one of the team's most efficient weapons; he sank 44.6% of such shots last season, 84th percentile in the NBA. He is also a premier secondary playmaker, finishing with a 18% asist rate this season (87th percentile for a wing, per Cleaning the Glass). He's a low-usage player (22.6% usage rate, 82nd percentile for wings) who doesn't need the ball to be effective, and who doesn't make many mistakes (79th percentile among wings for his assist to turnover ratio). None of the Kings core, outside of Fox, can equal Bogi's combination of dribble-pass-shoot skills.
Bogi makes his teammates better, and the Kings record shows it; the Kings finished the season 8 games below .500 (28-36), but were 26-27 when Bogi played. But even beyond the current roster, Bogdanovic is important to the Kings future. He's not a hidden star waiting for a breakout season, and he will not be the Kings second best player when the team finally makes that next step into contention. But whoever that Kings second best player is€"whether he is on the roster already or not€"will benefit from Bogi's wide skill set and low-usage efficiency in the same way that Fox does now.
As Jerry Reynolds put it in his interview with Blake Ellington last week, €œOn this particular team, the one guy that could probably play on every team in the league is Bogdanovic. It may be different roles because of his versatility and shooting ability and competitive spirit and all of that... you can't name a team from the Milwaukee Bucks, to the Lakers, to the Clippers, that he wouldn't play on.€ Bogi's versatility makes him an excellent fit for any smart team, and for a Kings squad aiming to finish their rebuild soon, keeping him around for the future is an absolute must.
Tim's pick: Buddy Hield

The case for Buddy Hield as the Kings second-best player is a pretty simple one. He's not only the best deep shooter on the current roster, he's the best three-point shooter in Kings history and one of the deadliest snipers in a league chock-full of threats from beyond the arc. With the NBA transitioning to a game so focused on spacing the floor at every opportunity, Buddy's unbeatable shooting touch makes him more valuable than any other Kings player not named De'Aaron Fox.
Hield's consistency from deep may actually hurt him in a debate such as this, as Kings fans have probably begun to underappreciate Buddy's shooting because he's been so good for so long, so let's put his abilities in the proper league-wide context. Over this past season, Hield recorded the highest three-point percentage of any player to take at least nine three-pointers per game. Since the 2018-2019 campaign, Hield has recorded the highest three-point percentage of any player to take at least 400 total three-pointers, beating out James Harden, Damian Lillard, Paul George, and Kemba Walker. Since the 2017-2018 season, Hield has recorded the highest three-point percentage of any player to take at least 600 three-pointers. There's an argument to be made that Buddy Hield has been the NBA's best combination of three-point volume and accuracy over the last three years: not exactly a small feat. In fact, Buddy Hield scores more points per possession as a spot-up shooter than De'Aaron Fox, Giannis Antetokounmpo, or LeBron James manage in transition opportunities. He's the elite of the elite of the elite when it comes to open-court shooting.
And that brings me to the second half of my argument. Players like Bogdan Bogdanovic, Harrison Barnes, and Richaun Holmes are great to have around championship caliber teams. They help to raise the ceiling of the stars around them. However, clubs that are desperate to slip into the eighth seed like the Kings need a floor raiser, which is exactly what Buddy Hield does for this team. Elite skills with larger flaws in other areas are simply more valuable than Swiss army knives to teams severely lacking top-end talent, which certainly describes the Sacramento Kings.
Tony's pick: Richaun Holmes
I don't know if the case for Richaun Holmes is strong enough to win this argument, but he belongs in the conversation based on his consistent play this season. The this season part is where things get tricky for him.
Richaun Holmes played 39 games of being the Sacramento Kings' 2nd best player in 2019-20. Does that make him the Kings' 2nd best player? That depends on how you define the question we're asking, but he's been the most flawless out of the players we're debating. I have nothing bad to say about Richaun Holmes. He has played his (important) role perfectly.
Buddy Hield's shot selection and carelessness with the ball has been maddening, and his shooting numbers have been bordering on a career low all year.
Bodgan Bogdanovic has less glaring weaknesses, but his shooting has been pretty inconsistent. In 26 wins, he's shooting .422 from 3. In 27 losses, he shot just .301 from deep. Maybe my view of Bogi's potential is too optimistic, but I think he can still be better than he is. I want Bogdanovic to be the answer to this question because he has the most intriguing skill-set, but I'm not sure that he is.
Harrison Barnes doesn't have a big enough impact on a game-to-game basis for me to seriously consider him here, and I can't shake the memory of how little he stepped up when De'Aaron Fox was out of the lineup. The Kings desperately needed someone to lead this group, and the still-in-his-prime veteran you just spent $84 million on didn't do it. Am I being overly harsh? Probably, but I'm trying to win an argument here.
Richaun Holmes brings it every single night. You never forget that he's on the court.
He's been one of the most efficient offensive players in the entire NBA this season, scoring a whopping 136.1 points-per-100 shot attempts. That's 93rd percentile among NBA bigs. If Holmes has taken a bad shot this season, I don't remember it.
Holmes is also the best defender in the €˜2nd best' group. His 2.6 BLK% is 75th percentile at his position, but what makes his defense particularly effective is a 5.3 FOUL% (22nd percentile). He blocks shots and steals the ball at an above average rate, and rarely commits a foul. That's exactly what you're looking for in a defensive anchor.
Holmes is also a more-than-competent rebounder, pulling down 10.8% of OREB opportunities (80th percentile) and 18.4% of DREB opportunities (56th percentile).
He leads the team in efficiency differential (+5.4). The Kings are better across the board when he's on the court.
If you want to subtract points from the argument for Holmes because of the small sample size we're dealing with here, I can definitely understand that, but I have a hard time saying anyone has been better than him in 2019-20 outside of De'Aaron Fox.
Richard's pick: Harrison Barnes
This take will clearly put me in the minority, but I don't mind. Harrison Barnes is the second best player on the Kings, and it isn't particularly close.
Size matters, position matters, and matchups matter. Versatile forwards are the most important players in modern basketball, while guards that can't defend and centers that can't shoot are the least important.
Barnes is both the best small forward and the best power forward on the team. Perhaps Bogdan Bogdanovic will grow three inches, Nemanja Bjelica will lose 30 pounds, or Marvin Bagley will become the player Vlade thought he was. But until those things happen, Barnes is the best option at two crucial positions.
While I appreciate both Buddy Hield and Bogdan Bogdanovic, neither of them is clearly the best at any one position for this team. At least Richaun Holmes has the center spot locked down. However, we all know that centers have been losing their value for years. Unless he develops a reliable jumpshot, Holmes will always be replaceable.
Buddy is better than Barnes at shooting and€¦ nothing else. Holmes is better than Barnes around the basket and€¦ nothing else. Bogi is better at passing than Barnes and€¦ nothing else. Barnes is the most versatile, the most well-rounded, and the least replaceable player on the Kings, outside of the obvious franchise cornerstone that is De'Aaron Fox.
I could offer a bunch of statistical arguments to this point. Believe me, they are out there. Just look at his synergy profile, his advanced stats, or just compare any of his numbers to his teammates. That's not even necessary in order to make my point. Just consider this question: What Kings lineup is better without Harrison Barnes in it?
Face the facts, people. You would trade Buddy, Bogi, or Holmes for a second Harrison Barnes, and you would do it with a smile on your face.