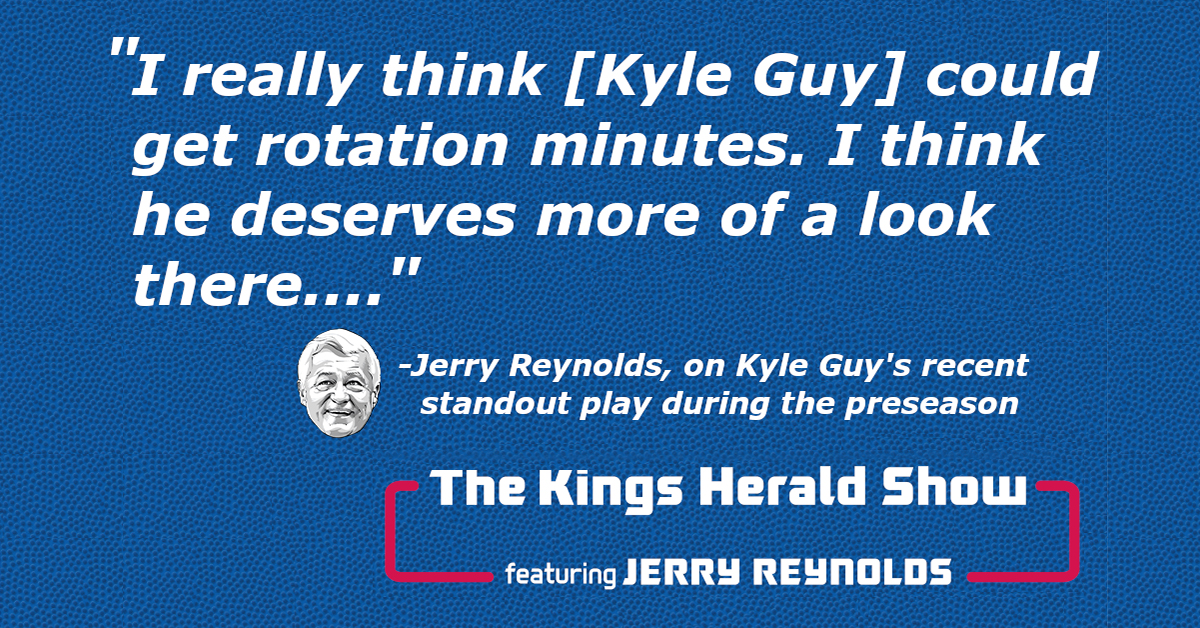 Episode 4 of The Kings Herald Show featuring Jerry Reynolds is live! Jerry, Will, and Tony reviewed the Sacramento Kings preseason this week, including the NBA debut of Tyrese Haliburton, the return of Marvin Bagley, the struggles of De'Aaron Fox, and the emergence of Kyle Guy.
The Kings Herald Show featuring Jerry Reynolds, episode 4:
Timestamps:
(1:30) General observations about the how the Kings played in the preseason.
(7:00) Is there any reason to be worried about De'Aaron Fox after a rough preseason performance?
(12:30) Did Kyle Guy earn regular season minutes with his strong preseason play?
(17:30) How did Buddy Hield look in his return to the starting lineup?
(24:30) Did any bench players perform above expectations?
(36:00) Regular season predictions
(52:00) NBA award predictions
You can find The Kings Herald Show wherever you listen to podcasts, but if we're missing a platform of your choosing, leave us a note in the comments and we'll get to work. If you want to subscribe, rate, and review the podcast on any and all platforms, that would be greatly appreciated, too.
Apple.
Spotify.
Google.
Stitcher.
In addition to our bi-weekly podcast with Jerry Reynolds, we also record a Patreon exclusive Q+A once a month where Patrons at any level can Ask Jerry Anything. The first Patreon Q+A with Jerry was posted last week. If you're a Patron, you can submit questions to us on Patreon, or post your questions for Jerry in the comments right here in this post. Lastly, you can sign up for our Patreon here.
As always, thanks for listening. See you back here in two weeks.