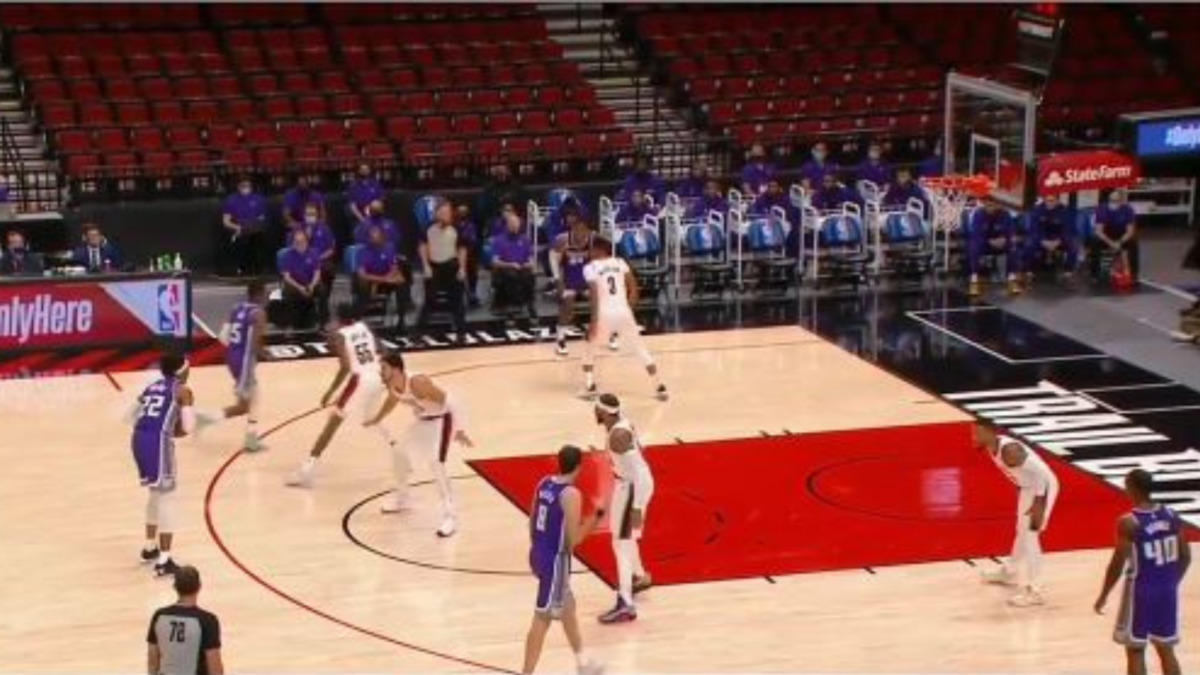 The 2020-21 preseason has officially concluded for the Sacramento Kings, and while four games aren't sufficient for experimenting with new schemes, there were some instances where Sacramento ran the 5-out on offense, a set Luke Walton has said he wants to utilize more this season.
Basics of the 5-out offense
The name is self-explanatory; all five players on the court will occupy a portion of the floor beyond the three-point arc. If a team wants to *fully* maximize floor spacing, this is a staunch route to achieve that.
For Sacramento, Luke Walton's reasoning for implementing more 5-out sets is precise: This offense should optimize De'Aaron Fox, the Kings max point guard who benefits from playing alongside reliable shooters. Fox's ability to attack the paint lures in hypnotized defenders, enabling Fox to reach into his bag of passing wizardry to deliver a pass to the perimeter; the onus will then shift to the defenders who must reject the temptations of contesting Fox, who possesses the passing chops to fleece a muddling defender.
We'll explore the nuances of this set in these upcoming clips, so let's watch the tape.
Game 1 at Portland:
Buddy Hield races down the court in transition, but instead of pulling the trigger on a well-contested shot, he brings the ball down and gives it back to his backcourt mate. As every player occupies an area on the arc, the action will commence with Hield coming off a wide pindown, with Fox used as the screener.
Hield's path to curl towards the rim is jammed; instead, he receives the dribble hand-off, leading to three options: 1. Pocket pass to the roll big (tough, the passing lane is blocked) 2. Chest pass to Nemanja Bjelica (good) or 3. Skip pass to Harrison Barnes in the corner (good, also risky; defender can jump the lane or contest better).
Hield opts for #2, which leads to an extra pass to an open Barnes. Damian Lillard erroneously tags Richaun Holmes on the roll, which was unnecessary. Lillard is unable to rotate back in time as Barnes drills the catch-and-shoot attempt.
A 5-out system desperately requires competent shooting from at least four players. Sacramento's lineup in this play satisfies that requirement, despite Fox's rough outputs from deep. Holmes' excellence as a pick-and-roll finisher extracted multiple defenders from the perimeter, and the Kings' ball movement from the strong side to the weak resulted in an open three. That's how you capitalize on a defense's mistake.
In this system, there are multiple ways an offense can spread the ball without relying on the paint: off-ball screens, on-ball screens, backdoor cuts and more. This play involves Barnes with a pump fake in the corner, but he passes it back to Fox to reset (for reference, DaQuan Jeffries occupies the bottom corner which isn't in the frame).
After passing it to Barnes, Hield rounds his way out to the right wing, so Jabari Parker slides to the top of the key. Now you get an on-ball screen from Parker to obtain the mismatch; Fox guarded by Enes Kanter is a million times better than dealing with the feisty Gary Trent Jr.
Fox's dribble hits Kanter's leg which ends the play. If that doesn't transpire, Fox's speed results in an open layup here. But if Fox does get past Kanter, look at the space he's dealing with; if one of Derrick Jones Jr. or Anthony committed to Fox hard enough, Fox could've swung a pass out to a teammate. Portland is pouring one out for Kanter's leg.
This play is quite similar to the first clip but evolves differently. Both wing players (Hield, Fox) will swap spaces with the corner spots (Barnes, Jeffries). Parker can go either direction; he chooses left. Parker, however, doesn't execute the DHO smoothly with Barnes as the pass is deflected.
Barnes then resets with Parker setting another screen as both Jones Jr. and Harry Giles defend it well (Jones goes over on the screen; Giles shows high). Parker will fade out instead of rolling and attempt a three over Giles. You admire the confidence by Parker, but as a career 32% shooter from deep, he was likely to miss. Still, in these sets, having a shooting big is extremely profitable to exploit situations like this.
Okay, last clip from game one. This is particularly why you want more 5-out sets; it provides Fox with the prospect of attacking the rim on an one-on-one situation, a situation most defenders in the league will fear. Fox simply puts his head down and swiftly attacks Robert Covington's left. However, the weak side rotation along the baseline by Trent Jr. foils Fox's plan.
Also, notice Lillard's clever swipe. He decommits from fully swiping at Fox because of the sharpshooter he's guarding.
Game 2 at Portland:
The Kings, specifically Holmes, get funky here. Out of this baseline out-of-bounds set (BLOB), both Bjelica and Holmes double screen Trent Jr. to free up Hield. Bjelica backtracks to the corner as Hield and Holmes initiate the PnR.
Kanter is caught ball-watching, but he wouldn't have expected Holmes to take the three, which goes in. Remember, Holmes once shot 35% from deep (1.4 attempts per game) in 2016-17, but never advanced in that category. Holmes is already an adept roller, but if he restores a reliable long ball, it's eye emoji season.
Sacramento's preseason breakout star, Kyle Guy, is the prominent player on this play. Part of proving he belongs on this team is exhibiting on-ball skills, and this exemplified that. The wide pindown leads to a DHO with Kaminsky, who proceeds to roll to the basket. Jusuf Nurkic bites, giving Guy enough time to deliver a crisp pocket pass for a layup.
Guy and Kaminsky, who was cut by Sacramento while I was writing this, are two consummate players for this system. Though released, Kaminsky's ability to stretch the floor is convenient, despite his waning percentages. Guy is proving to be a threat on and off the ball, and though it's unlikely we see more from him immediately in the regular season, I hope he gains a shot at some point.
Another principle of the system is backdoor cuts; there are multiple scenarios that can lead to a player backcutting. The one we'll see here is when the defense steps up to deny the pass. Portland will blitz Guy and then shift the blitz to Kaminsky. Everytime a Blazer blitzes, their defensive rotation shortens; CJ Elleby moves up to guard Hield, but that grants Tyrese Haliburton a free lane to the basket, which Kaminsky recognizes.
Anthony comes on the weak side rotation to prevent the layup which Haliburton notices as he passes the ball to an open Glenn Robinson III. Robinson can't miss the shot like that, though.
Last one from game two. After playing catch with Guy for some trickery, Haliburton gains the step on Elleby by not altering directions after Chimezie Metu's screen. Giles supplies the strong side rotation by fully committing to stopping Haliburton; Elleby, already trailing Haliburton, needed to pick up Robinson in the corner. Since he doesn't, Robinson reimburses Haliburton with the basket after failing in the previous clip.
Game 3 vs Golden State:
The sets didn't materialize as often in this game, and I'm guessing the returns of Hassan Whiteside and Marvin Bagley affected that; the former isn't a floor spacer, and the latter hadn't practiced much because of COVID-19.
There's two off-ball actions here: 1. Kyle Guy leaking into the right corner and 2. A backdoor cut by Marvin Bagley. Both are feasible methods in achieving points. Holmes opted for the skip pass to Guy, which I prefer in this context because the cut by Bagley is stolid. Kent Bazemore is surprisingly caught off guard, giving Guy ample time to knock it down.
Off-ball screens are crucial in these sets to generate good looks. Sacramento runs a weak side double-drag set to land a catch-and-shoot shot for Hield (that's what you want to see), and Hield drills it.
Game 4 vs Golden State:
Similar to the preceding game, this game accompanied fewer 5-out sets. And similar to the last clip from game one, Fox attempts a solo attack to the basket. However, despite maintaining good positioning, Kelly Oubre Jr. reaches deep into the cookie jar and fouls Fox.
But for funsies, let's say Fox passes by Oubre. That presents two options for Fox based on how the help defenders reacted: 1. Quick shovel pass to Barnes or 2. Dump pass to a rolling Holmes. What occurs beyond that is obscure, of course, but both options are palatable; Barnes can shoot, and Holmes can score when rolling.
I mentioned earlier that Whiteside isn't an ideal fit in these sets because of clogged spacing. But one of the nuances of the set is that Whiteside's screening aptness is cooperative with Hield coming off a DHO. It's a simple method that doesn't require Whiteside to be a spacer; you just need a good screen on the wide pindown to free a lane for Hield.
Pressing Questions
Whether the Kings are equipped with the suitable personnel for this system to prosper is something we can't takeaway after four preseason games, but there's some questions I have after rewatching the games:
How does Marvin Bagley fit in?
Bagley played in the last two games of the preseason on a minutes restriction, and he only attempted one three. While Bagley's three-point percentage from last season is perturbing, it was also a small sample size. Bagley's one attempt went in and out, so if the shot progresses, I can see Bagley attempting threes from this set. Whether he's playing as a four or five in those sets is an entirely different question.
Who else creates?
On paper, this set is designed to enhance Fox's impact because of his playmaking abilities. Tyrese Haliburton displayed flashes of initiating, so if Walton is playing the rook, this aids Haliburton's game too. We didn't see Cory Joseph in this set because of back soreness, but he's never held a reputation for playmaking. Guy, on the other hand, flaunted both initiating and shooting, which fits right in.
How will the long-range shooting fare?
Sacramento's three-point shooting fell flat during the preseason. In four games, the team attempted a whopping total of 171 threes and only converted on...52. A rate of 30.4% on that volume is, to put it nicely, absolutely abysmal. That rate needs to significantly increase for the system to function at its desired effect.
In a league dominated by shooting and spacing, I'm all for Walton implementing this. In theory, the Kings have initiators (Fox, Haliburton, Guy (?)), shooters (Hield, Barnes, Bjelica, Robinson, etc.) and screeners (Holmes, Whiteside, Bagley (?), Parker (?)) to make it work. In practice, though these are small samples, it indicates a larger theme for this year's roster that correlates to this system's potential: still in progress.