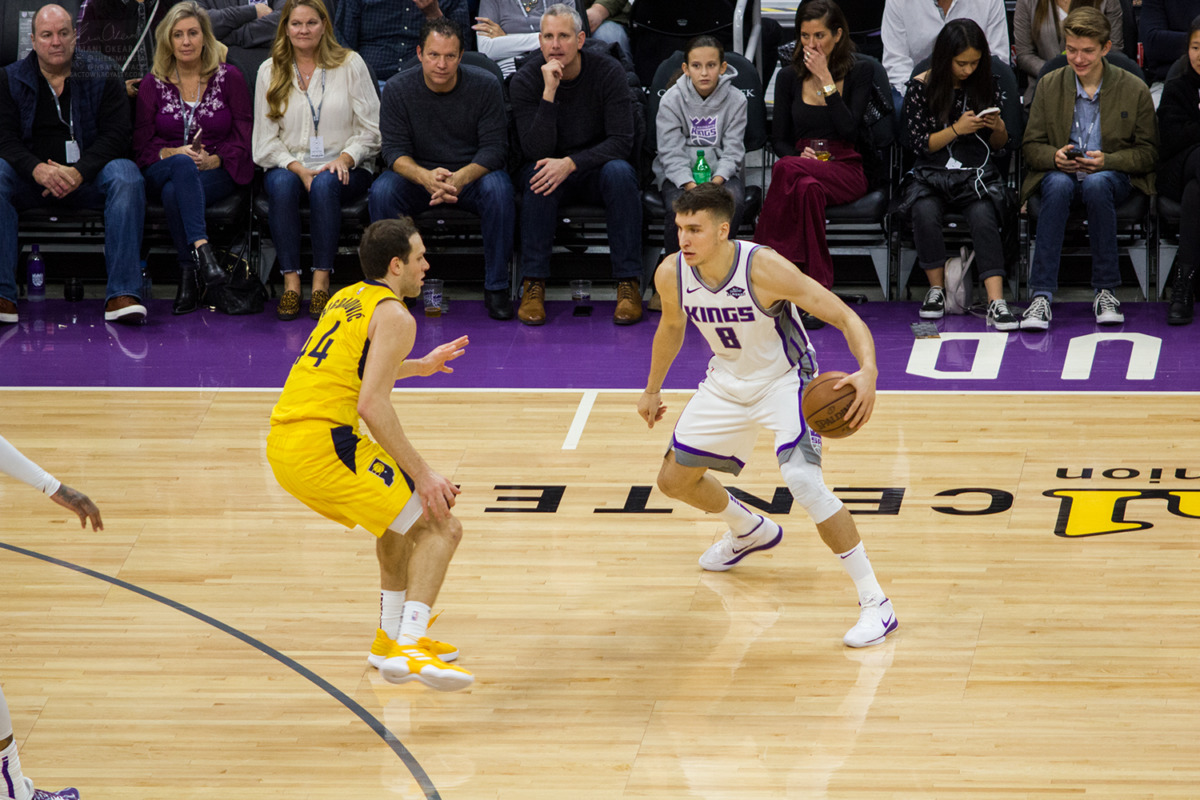 According to James Ham of NBCS, after failing to acquire Gordon Hayward from the Boston Celtics, the Indiana Pacers have shown interest in Sacramento Kings restricted free agent Bogdan Bogdanovic:
Bogdan Bogdanovic is drawing interest from the Pacers, sources tell @James_HamNBCS.

Is there a sign-and-trade that can be worked out? https://t.co/eeQZtOqZ0u pic.twitter.com/bkQc79iJBo

— Kings on NBCS (@NBCSKings) November 22, 2020
Unlike a few other teams that have been linked to Bogdanovic, the Pacers do not have any available cap space, meaning a sign-and-trade would have to take place. Because of that complication, a few factors would have to fall into place. First, Bogdan would actually have to hold interest in shifting his career to Indiana, which as we all learned in the failed Milwaukee Bucks trade, his desire to join any team must be completely locked down before any negotiations can take place.
In addition to Bogdanovic wanting to sign with the Pacers, the two teams would need to make the salaries match, which is a bit more complicated in a sign-and-trade transaction in which the receiving team does not hold any cap space. In that case, a concept called Base Year Compensation comes into play. For the Kings, that means Bogdanovic would only account for his previous season's salary or half of his new salary, whichever was greater. If his new deal were to start at $17 million, his outgoing salary for Sacramento would only be $8.5 million (his previous season's salary). For the Pacers, Bogdanovic would account for his full salary, and Indiana would need to ship approximately the same salary back. While that sounds nearly impossible, with a deal of this size, the teams only need incoming and outgoing salaries to fall within $5 million of one another.
Putting that concept into real life numbers, if Myles Turner is the assumed prize, a player who has been rumored to be on the trade block for months, including as the primary piece in the incomplete Hayward deal, the Pacers would be sending out $17.5 million and would be receiving $17 million from the Kings. For Indiana, that works just fine. However, Bogdanovic would only account for $8.5 million for the Kings, making the numbers too far apart (8.5 million outgoing for the Kings, $17.5 million incoming). Sacramento needs to add bout $5 million to their outgoing salary to make the numbers work: enter Richaun Holmes. If the Kings were to add Richaun Holmes to the deal, they would send out $13.5 million and receive $17.5 million, within the $5 million threshold. Indiana would be receiving $22 million and send out $17.5 million, also within the $5 million threshold. The salaries of players like Jabari Parker or Nemanja Bjelica could also be added if one were to slightly change Bogdanovic's salary, which is of course undetermined at this point in time.
While the Indiana Pacers were never a team that was necessarily expected to pursue Bogdanovic, a young asset like Myles Turner, a 24-year old rim protector locked up for several seasons at a reasonable rate, would be an extremely favorable outcome for Monte McNair and the Sacramento Kings. In fact, this would almost certainly be looked as an upgrade to the rumored Milwaukee Bucks compensation.
We'll keep this story updated as new information is released.