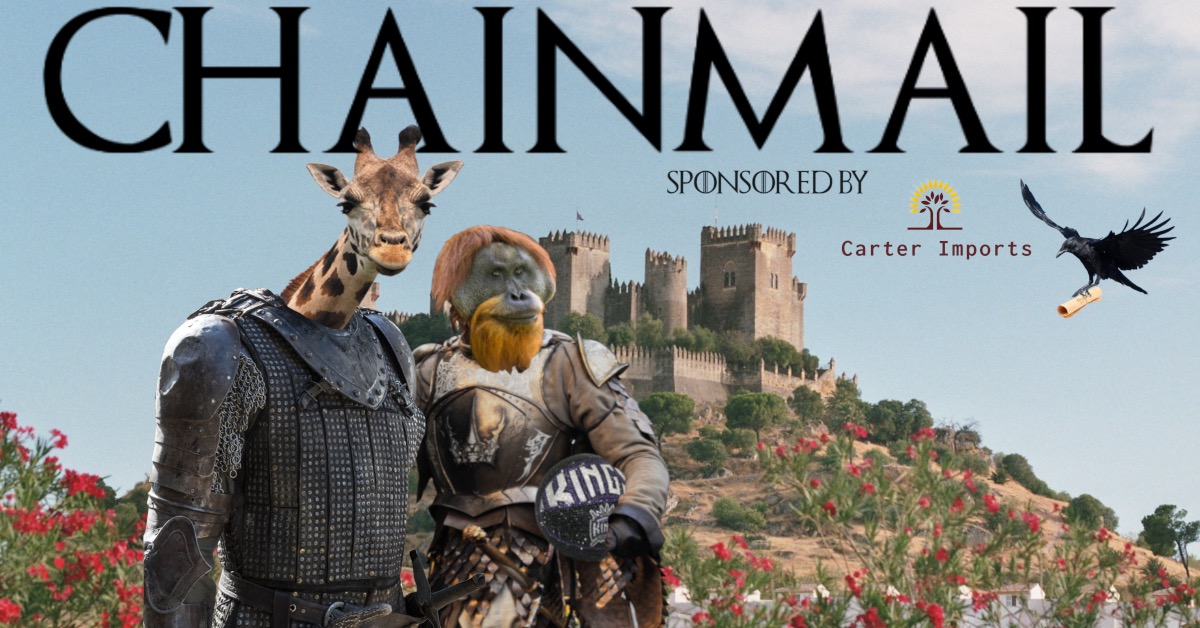 Welcome back to Chainmail!
Before getting to your questions, we want to thank our sponsor for the mailbag, Carter Imports! Carter Imports is a Sacramento-based company that imports some of the very best Extra Virgin Olive Oil and Cretan Thyme Honey available in the world today. There has never been a better time to support one of our own than right now!
Let's dive right in!
From FarmerGuy:
Much has been made about the Kings historically bad defense. What rotation changes, defense settings, matchup adjustments, etc need to change in order to stop the hemorrhaging on any given night? It would seem the Kings could be competitive on any given night with a shift in defensive attitude. Also, is there a trade target or more that would match our roster to make this improvement immediate as well?
Will: I think if there was going to be a trade for a defensive minded guy that fit the Kings timeline, they would have gone after Myles Turner while he was available this summer. Now that he's a Defensive Player of the Year front-runner, I'm guessing he's a lot less available. I don't see much in the way of the Kings buying in without an overhaul of the roster of head coach. Luke Walton can only do so much and the vets that are playing know this is yet another season without the playoffs. What incentive do they have to work extra hard on a given night? Why put their bodies and careers on the line for a team they know isn't keen on keeping them. Now, if those vets are greatly reduced and the young kids amplified - some of those kids are playing for their lives. They're second rounders or one year guys and they need to make an impression. Giving them time might not turn the Kings into solid defenders, but it would inject some life into those lineups.
Tim: The Kings have three primary issues when it comes to their defense: talent, effort, and experience, and none of those issues are getting resolved anytime soon. They don't employ any "very good" one-on-one stoppers, and their two best in that category are a rookie an above-average center who still struggles a bit with general rim protection and fouling. From a coaching perspective, they lack talent because...well...you know.
They also aren't motivated on the defensive end, and no matter how many times people tell me that's on the coaches, if you're getting paid millions of dollars to step onto the hardwood, and in every press conference you lament the lack of effort and execution as a team, maybe give a damn, show some leadership, and do your best to stop your man from penetrating the lane or getting an easy layup. I don't know what needs to happen to change, but this franchise lacks a culture that celebrates defensive effort.
From a trade standpoint, Will just broke my heart anew from our pining for Myles Turner this offseason, but this defense won't be fixed with the addition of any single player, either. Tyrese Haliburton is a good start, but the Kings need to continue to prioritize young players who enjoy both ends of the floor if they hope to turn this thing around. Oh, and hire a good coach too.
From Bbmuteman:
Why are fans upset about losing when all that does is get the kings closer to cade or Mobley?
Will: As someone rooting for the Kings to get the highest draft pick possible - It's the way they're losing games. Until recently, Walton had stuck to the same nine man rotation of vets + Haliburton through the highest of highs and lowest of lows and gave very little room for young guys to be out there. I understand that minutes should be earned and I guess we could twist in a justification that some of these young guys just aren't ready to play regular minutes at an NBA level, but refusing to expand or adjust the roster when your team is giving up historic point totals every night is pretty asinine. There was no sense of frustration from Walton, no sense of accountability from the coaching staff when the Kings went down big with their veteran core. Obviously in recent days we've seen an adjustment to more time for some of these younger players. The franchise has even signaled that guys like Bjelica are being sat in order to get time for players that "fit De'Aaron Fox's timeline" (with the main benefactor of that move was Glenn Robinson III).
Obviously a coach in Luke Walton's position has no choice but to do what it takes to win as many games as possible and a lot of that will be veterans getting the bulk of those minutes. We can't expect anything but that from a man who might very well be on his last head coaching gig for a long time. But to go down big and not even attempt to inject some energy and youth into games that sorely needed it, was frustrating as hell. There has been some adjustment in recent games, so lets circle back around to this in another 20 games or so.
Tim: Will said it perfectly. The Kings sporting a 6-10 record a the time of this mailbag isn't shocking - it's the way that they're losing these games. They've now surrendered the most total points through 12, 13, 14, 15, and 16 games into an NBA season in the last 25 years, and they're also on track to post the worst defensive rating in NBA history. That's concerning.
I'm also a little, and maybe more than a little, concerned about the lack of leadership coming from a guy who just got paid a 5-year max deal. De'Aaron Fox has been honest about his struggles with leadership in the past, but at some point, he needs to step up and be the guy for more than just a 10 or 12 minute stretch on one end of the floor. To this point in the season, the rook has shown more poise and more leadership on the floor than most of the veterans.
From TheBufferZone:
What is the trade value for each of these 4 players? If they get traded, when do you think that will happen & to which teams? Buddy, Barnes, Bjelly, Cojo
Will: All these deals are approximate and if the math doesn't work then fudge the numbers and players till they do! This is more to show what the focus of the trades would be and the prizes that come out of them.
Buddy - maybe a low protected first/future pick swap and/or underperforming youngin'. At this rate by the end of February. Dark horse guess? Miami for Kendrick Nunn + '22 2nd round pick.
Barnes: Lotto protected 1st rounder and young one. Trade deadline or off-season. Indiana for 1-10 protected '22 pick + Goga Bitadze or Cassius Stanley.
Bjelica: Two second round picks and filler. Before the trade deadline. I think the Jazz will target him but I've got zero idea what they would swap for him. Two 2nd rounders and whatever filler guys make it work.
Joseph: Protected 2nd rounder. Before the trade deadline. Brooklyn Nets for Golden State's '25 second round pick and filler.
Tim: Buddy: late first rounder or struggling young player, with an expiring contract to make the money work. One deal that I could see happening is Buddy + James for Dieng (expiring), Grayson Allen (yuck, I know), and the 2021 Utah first rounder, which will likely convey as a top-6 protected 2022 first rounder.
Barnes: I would be surprising if he got us a pick, to be honest. I'm thinking more in the range of expiring salary and a "meh" young player. Boston could very well target him with their massive TPE and send a guy like Romeo Langford back, who was ironically selected with Sacramento's original pick.
Bjelica: A high-value second rounder (30-45) or a pair of later seconds (45-60)
Joseph: No one's trading for Cory Joseph.
From Murf:
What moves will Monte make? and when will he start?
Will: With the Kings closing in on 20% of their season, I think Monte has enough evaluation for some of his vets to start shipping them out of town. I'd be surprised if Bjelica isn't the first domino to fall and would be doubly surprised if he isn't moved in the next 4-6 weeks. I think Buddy Hield still gets moved, though that timeline wobbles a bit depending entirely on if they move him to the bench in favor of Haliburton. If he remains the starter, I think he's moved at the deadline. If they bench him in order to get starting experience for Haliburton, I think they'll have a move pretty much in place and are showcasing him as a super sub somewhere before the completion of the deal. They won't want to risk him ruining his remaining value with a loud trade request.
I wouldn't be surprised to see McNair ultimately be rid of Walton at the All-Star Break but I'm still hold that he's going to be here through at least the end of this season. Hoping I'm wrong about that one.
Tim: Monte McNair probably isn't in a massive rush to get things done, and that's only because this team is losing often enough to hopefully drive the tank to a top-4 pick. Once the trade deadline nears, all of the veterans are going to be shopped hard, and I also wouldn't be surprised to hear that McNair takes calls on guys like Marvin Bagley and Justin James (as if anyone is going to call about Justin James). My guess would be that Nemanja Bjelica and one of Harrison Barnes or Buddy Hield is moved, and you can maybe throw Hassan Whiteside or GR3's name in the mix as well.
The only way I see Walton getting fired this year is if the players completely revolt and he loses the locker room (possible) or if Vivek Ranadive gets sick of the losing and demands a change, even if Monte doesn't want it (probable).
From BradMillersDipCup
I don't get the plan here. This is a historically bad run of games in the history of the NBA, none of our young players really seem to care, and we have a lame duck coach. It's probably still to early to see Monte's plan for the future, but honestly what do the King's do from here? I've watched almost all King's games for the last 20 years but this right now is just pathetic€¦
Will: I think the Kings just keep going through it. It's right to say were a little too early in the season to fully see the plan, but I think there was a compromise that involved an owner asking to keep the coach and "play the vets for 20 games or so and see if we catch lightning in the bottle". Kings started hot and then regressed hard so now we're seeing them introduce some of these young guys into the rotation and hope we can get some growth out of them. After another 10 games or so, some of these vets that are losing minutes can start getting sent out. Cojo gets sent out and Guy or Ramsey takes his minutes. Buddy gets sent away, Haliburton starts and Justin James start getting minutes. If Barnes is shipped out, you've got Glenn Robinson starting and Woodard taking those back-up minutes. If Holmes gets sent away during the middle of a great season - They've got Chimezie Metu and Whiteside as a back-up to roam the paint. There are young fill-ins for every single vet on this roster and I'd venture to guess we're going to start getting to know them and their flaws really well, very soon.
I know the initial hype of the first five games is hard to discard and this season will ultimately be a drag regardless of who is playing and coaching, but think just a bit further down the road for some relief. By the end of the season, the Kings will find themselves in range of a Top 5 pick, they will have moved most of the older core that Vlade built, they're promising core can entice a coach that holds the young guys (and themselves) accountable and the rebuild will officially be in full swing and trending upward. Fox, Haliburton, Top-5 pick, possibly Bagley is a decent young group of guys who work hard, regardless of who the mystery man is. The only thing standing between them and their bright future is the rubble of the previous management.
Tim: Because we're all in a never-ending time loop with the pandemic, I think it's easy to forget that Monte McNair has only been in the driver's seat for about four months, and in two of those months, he couldn't make any trades, cut any players, or do anything else. He's 16 games into his Kings General Manager career, so I'm not particularly bothered by the fact that nothing has really spouted off, outside of snagging the best rookie in the 2020 draft class.
I've always been of the opinion that Monte walked into this job with the knowledge that this core had to be reset. Vlade Divac screwed things up for a half-decade, so it's going to take a bit of time to work on some of those knots. If McNair can tank his way to a top-5 pick, he's got a core of Fox and Haliburton, as well as that selection and whatever Marvin Bagley ends up being. If McNair can move on from Buddy and Barnes, which isn't an impossible task by any means, he can enter next offseason with $30+ million of cap space. Now, let's sit back and look at this team if those two relatively simple things take place, and let's also assume that Luke Walton is gone.
Core: Fox, Haliburton, Ziaire Williams, Bagley, Woodard, Ramsey, Jeffries
Contracts over $10 million: Fox ($28M), Bagley ($11M)
Cap space: $30 - $35 million
Coach: Up-and-coming assistant, dealer's choice
That's not a bad reset for one year's worth of work. That's the plan.
From SMF-PDXConnection:
If you had to come up with a dark horse, out of left field prediction for the Kings the rest of this season, what would it be? Could be anything from player's stats, trades, front office, coaching, etc.
Will: Okay. My first dark horse prediction comes from outside the actual season. I think the Kings will end up around the 4-6th pick in next years draft, trade that pick and their unprotected first rounder next year to move into the Top 2 of this upcoming draft. I think with the way the Kings core is set up, they're looking to lock down some true All-Star level talent and whether it's Cade Cunningham or Evan Mobley, they'll get a guy of that level with a Top 2 pick. They'll take the risk and bet on Fox/Hali/Bagley improving enough to pull them out of the high lotto, maybe even further encouraged to risk it with any first rounders they might get from trading Buddy or Harrison Barnes. It's a gamble, I'm not even sure I would do it, but I do see them doing all they can to wrap this core around a truly transcendent player and get moving towards a playoff berth.
Second, smaller one: I think they fire Walton mid-season, give the reigns to either Gentry and Rex Kalamian and then this off-season hire a new coach of G-League or assistant coach renown. The hitch here is that they give Gentry the associate head coach title as a thank you for sticking around during the transition and make Kalamian the lead assistant.
Tim: Oof, this is a tough one. Okay, I think this qualifies. Tyrese Haliburton wins rookie of the year, and wait for it, he also receives a few votes for sixth man of the year.