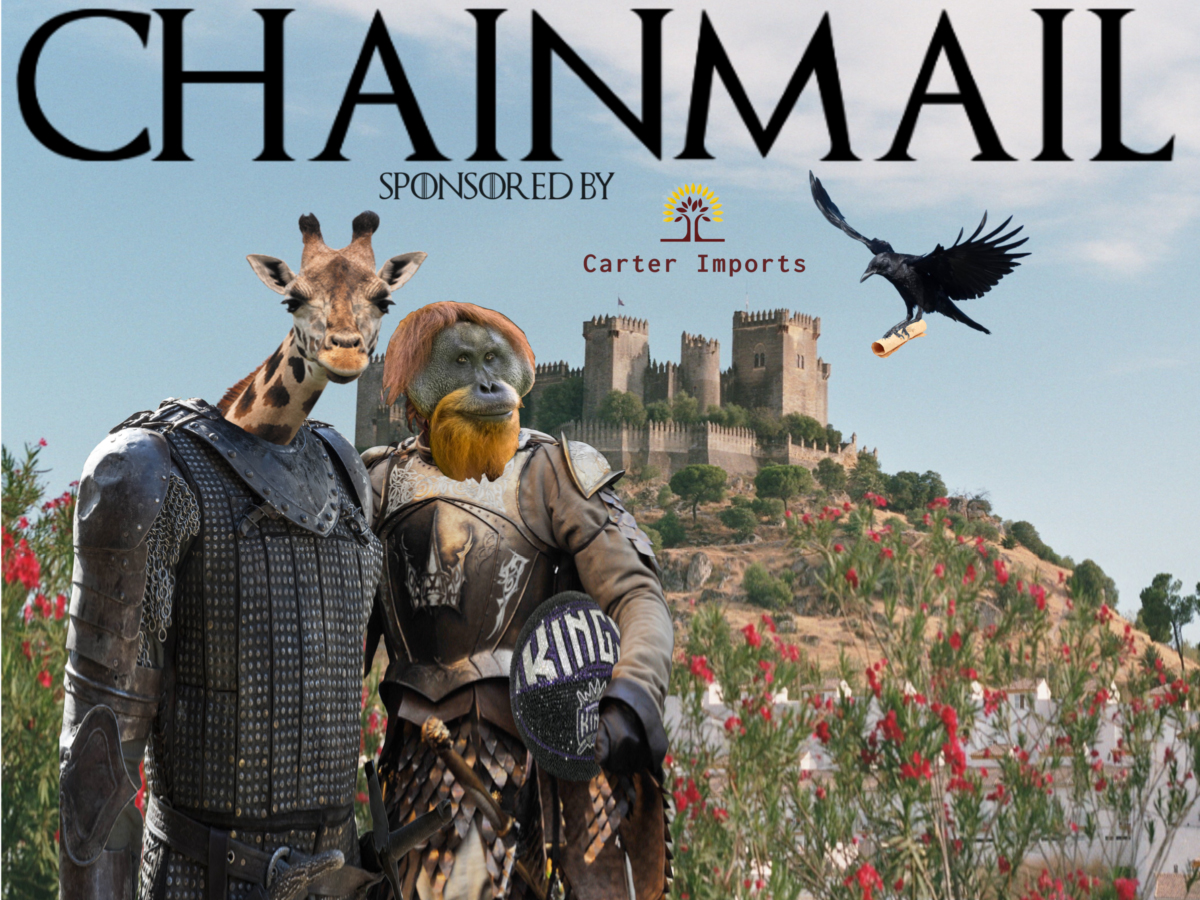 Welcome back to Chaimail! This week we took on a couple of trade proposals, Monte McNair's long-term strategy, our favorite draft possibilities in the lottery, and lots, lots more!
Before we get into the answers, we also want to thank our sponsor for the mailbag, Carter Imports! Carter Imports is a Sacramento-based company that imports some of the very best Extra Virgin Olive Oil and Cretan Thyme Honey available in the world today. There has never been a better time to support one of our own than right now!
MaybeNextYear:
Tobias and Thybulle for Barnes and Joseph?
Tim: I don't think either team would be particularly interested in this deal. From the Sixers perspective, they need shooters and ball-handlers more than anything, and while Barnes is a solid shooter, neither he nor Joseph are going to solve their point guard problems. Thybulle is too valuable as a trade asset to give up in that sort of deal.
For the Kings, they shouldn't be eager to take on Harris' fear-inducing contract. He's not a good enough player to push us close to the playoffs, and while Thybulle would be a nice piece to add to the core, I don't think Monte McNair is interested in the cost.
Will: I think I'm okay with this deal from the Kings side, though I do agree that Philly won't do it. With the Kings rumored to be looking at Kira Lewis Jr. at #12, you immediately swap an overpaid Joseph with Lewis and have him running with Thybulle off the bench, at least until the Kings swap one or both of the Buddy/Bogi core. Harris is a massive contract and a big overpay but I really don't think his on the court style hurts the Kings and I have confidence that a smart team would still want him, regardless of his contract if they're a single piece away from a championship. The Kings use his contract to rent space for awhile, develop Fox, Kira and Matisse in a professional environment while still ensuring a decent pick in next season's heavy draft. Again, Philly probably hedges on this trade quickly, but I can squint and see the Kings doing this if it came up.
Adamsite:
With the Jazz being sold for the whopping price of $1.6B, should the league once again consider expansion? Also, what do you think would be the buy in price for an expansion team? Lastly, which city or cities do you want to see expansion.
Tim: I doubt the league will look into expansion anytime soon. The league is in a complicated place already with COVID-19, and with escrow and player salaries being affected for at least the next two years, expansion negotiations don't seem to be a priority.
That being said, if the league was expanding, I would like to see Seattle snag a team in the West and Louisville take the Eastern Conference edition. Both of those cities deserve a team.
Will: I swear I answered a question like this a few weeks ago. I think COVID is the perfect excuse to expand the league as a way of recouping some of that lost revenue. Expansion costs are going to easily be $750 million to over $1 billion dollars when it is all said and done and I think it's only right that the NBA put back what once went wrong. Throw a team to Seattle and another to Vancouver, move Minnesota and New Orleans to the East to balance things out a bit. The league has the talent to support it, it would be an easy publicity win and bring in some much needed cash. Go for it.
From ZillersCat:
I've been waiting for the Kings to have a starting Power Forward since Webber. What does the draft look like in getting a prospect to replace our starting Backup Power Forwards parade of starters?
Tim: There are two candidates at power forward, although both are more combo foward/wings than pure big men. Patrick Williams is full of potential, while also full of question marks because of his small role at Florida State, while Saddiq Bey out of Villanova could also fill in at the four-spot. Assuming the Kings view Bagley as their center of the future, I would be happy with either of those prospects at number twelve.
Will: Big guy with a shooting stroke, a mean streak and sweet, sweet passing skills? Why that sounds like a call for POKUUUUU! No, no - I'm partially kidding here. If you hunger for a traditional power forward, I think the closet you could hope for is if Obi Toppin becomes the falling knife of the draft. He's springy, with a developing outside shot but that would mean that the Kings have no faith in Marvin Bagley, or are planning on being the worst defensive front court in the league for a decade plus. I doubt he falls and I would be concerned if the Kings moved up for one of the oldest players in the draft, but, it is the Kings afterall. As for my quip about Poku, the Flower Forward? He's gonna take awhile to be anything at all and when he get's there, they'll have to name a new position after him.
From SPTSJUNKIE:
McNair hires you tomorrow to figure out the Kings future strategy. He's told you that he does not want to follow a 76ers style €œprocess;€ however, he's also more concerned about building for the future and making the playoffs in 2-3 years than maximizing wins this year.

So what is the strategy you have for the type of team the Kings should be in 2-3 years? Who do you want to keep and what players do you try to trade or shed their salaries? And how do you juggle moving some veterans, while still making sure we are prepared to increase our wins in 2-3 years as opposed to risking bottoming out and relying on lottery luck for 4-5+ seasons?
Tim: If my goal is to make the playoffs in 2-3 years without bottoming out, I'm shopping every veteran on the roster for solid, young players and draft picks. That may come close to the previously prevented tanking, but I'm also not going to try and lose games by only signing non/fringe NBA players. Instead, I would target guys like Myles Turner, Aaron Gordon, Lauri Markkanen, Kelly Oubre, Lonzo Ball, Dillon Brooks, and anyone else that fits the mold of young-ish, talented, and full of potential. If I can acquire one or two of those players, I now have a legit core that I can build around, headlined by De'Aaron Fox. Is that team good enough for the playoffs? Who knows, but it's a lot closer, younger, and cheaper than the mess we have now.
Will: You deny me my chance of running my own twitch and tear inducing version of The Process? I've already workshopped the name! ["The Grifft" with two ff's obviously and so we aren't caught like Hinkie we "Plead the Fifth About The Grifft"] Okay so Tim took the smartest strategy here with this one so I'm going to just go off in another direct for the sake of experimentation. The first thing I do is pay whatever it takes to get Mike D'Antoni on my team. I'm going to be throwing a lot of pieces at him in the next few years and I need a coach with utmost flexibility in their coaching style. The rest of this strategy, which will take 2-3 years is to acquire two stars by any means necessary. Immediately everyone is on the block and expendable for that purpose. Is Philly ready to move on from Joel Embiid? How would Daryl Morey like Fox and literally any of my picks? Jrue Holiday can be had? Do you accept coupons? Stars drive this league and sacrificing literally anyone and anything to acquire Top 30 talent in the NBA is worth the hard goodbyes and gnashing of teeth. Get as close to the cream of the crop as you can. I hate saying this but if you can trade for Jrue Holiday (who is rumored to be available now) and then also get a man like Blake Griffin, you do it. Griffin especially is a tender player but we take the risk. It doesn't have to be them: it could be a Conley and Gobert swing or you get lucky and its Embiid and you find room for aging Chris Paul. You get two stars, fill in with older, declining older role players and young second rounders or undrafted types who you can rotate in and out every few years and if a better player becomes available, you swing for that person too.
It's the more expensive route. It's the uglier route. Your championship window is always a hammy away from squeaking closed. But you didn't have to sit through three years of The Grifft so congrats! You're in the playoffs.
From SMF-PDXConnection:
The league starts the new season in January allowing fans in the stands (where legally allowed) at 30% capacity. Do you buy a ticket and go see a game?
Tim: Definitely not in January. Check back in with me in a few months.
Will: Absolutely not. I don't see myself returning to an NBA game for at least another two seasons, possibly three. This season will be the guinea pig season and most dangerous. By the following season we should have some sort of reliable vaccine and an idea of whether or not it 'works' or WORKS. Around the end of that third season, when science says definitely that "you don't have to die to see a 35 win Luke Walton sit on his ass in the last year of his contract", well then I give it a go.
From eurostep:
If you were McNair would you stand pat, take pretty much the same roster into the coming season, giving everyone (including Walton) a fresh slate, and then re-evaluate?
Tim: No, I would not stand pat. That doesn't mean McNair needs to rush things, either. The Kings have draft night, the offseason, and the trade deadline as three major points of player movement before the end of next year. I would let GMs know of my willingness to deal just about anyone on the roster, but I also wouldn't feel pressured to rush into a deal just to make a deal.
Will: If I were McNair, I wouldn't have been hired by the Sacramento Kings. They'd have asked me "how much do we need to change about this team to be successful" and I would have suggested changing everything down to the team name and arena location just to be safe. I'd give this team about 25 games to get it right. I want to see them running, I want to see them working hard on defense and I want to see Luke watching tape like he was quality control at 3M. If anyone is deficient, I'm playing Whack-A-Mole with my boot and their luggage. If you stacked the current Kings coaching staff on the bench by talent, Walton wouldn't be able to hear the gameplanning going on from where he was sitting. He legitimately might be the fourth most qualified coach on his own staff. Getting rid of him and bumping any of the others up on an interim basis might legitimately improve the team from a strategy and chemistry standpoint so, his leash would be mighty, mighty short.
From Kangzville
Let's say the popular guys in the draft, like Vassell and Williams and Toppin etc. don't slide. Who do you want at number twelve who's likely to be there?
Tim: Tyrese Maxey. Some of you may think it's a bit of a reach, but there's a huge pool of third level talent in the 11 - 20 range, and Maxey is in that group. The Kings need someone who's going to start changing the defensive identity and culture of this team, and Maxey may be their best bet at that sort of player.
Will: I am sticking to my guns here when I say, if no one drops to 12, I'm swinging for Aleksej Pokusevski. People miss at 12 all the time and face zero criticism for it. In a weak draft? With limited data due to the Coronavirus? After a shortened scouting season due to me being a new hirer? No one is going to say a word if I take a crack at hitting a 480 footer into the upper decks and strike out. He's a freak, with great speed and handling, a good shot with no obvious flaws, a deadeye passer and is SEVEN FOOT TWO. Sure he's thin and needs a weight program and a few years to figure out the NBA. But if he pans out, you've taken a playoff window and turned it into a championship window. Nuggets did it in the second round when they stumbled onto Jokic. Kings could replicate it, with a far different player and one that better fits the speed and tempo of the future. If he turns to salt as soon as he gets to Sacramento? All I missed out on were projected back-up players and I can get one of those at 35.