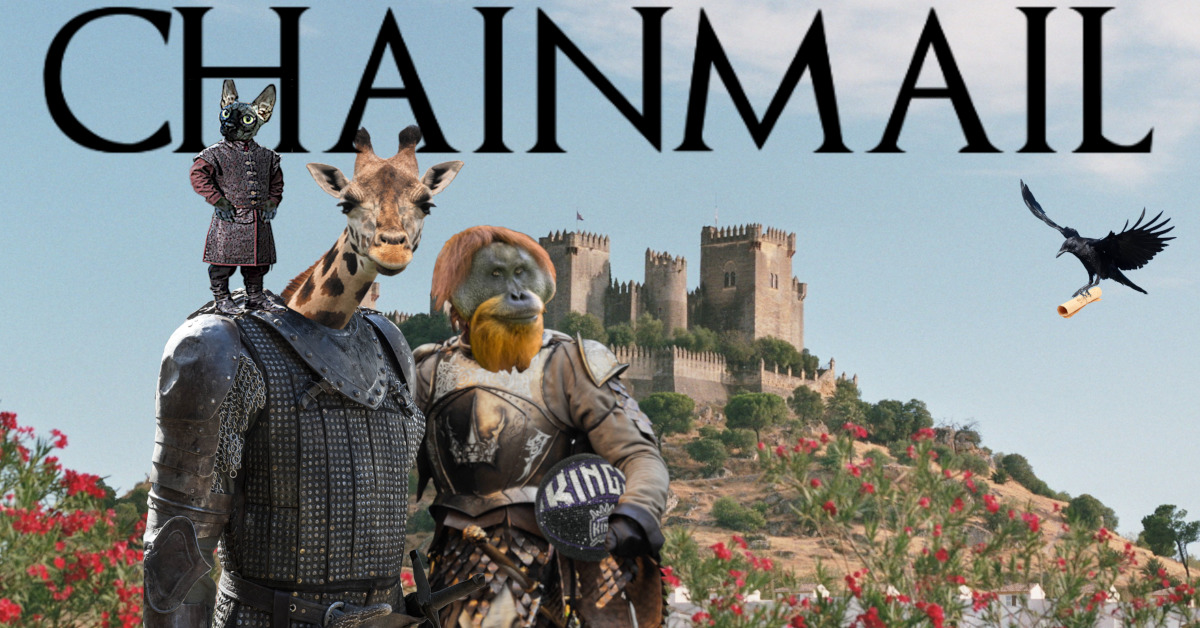 Welcome back to Chainmail! This week, we've brought in the nerds and the birds (Bryant, you're a bird now. That's the rhyme that came into my head when I was trying to think of something that rhymed with nerds) to talk about Sacramento's draft possibilities, trade ideas, and much, much more! Let's dive right in!
From jwalker1395:
People you can draft at #9: Wagner, Moody, Jalen J, Keon J, Giddey, Kispert, Garuba, Jones

People you can draft at #20 or later: Prkacin, Duarte, Brown, Ziaire, Dosunmu, Thomas, Jackson

Is there enough difference between these tiers of players to justify not trading the pick? Seems to me the #9 pick just comes with a higher price tag/risk, but not a lot more assurance or even potential (unless a top guy drops).
Tim: Outside of De'Aaron Fox and (probably) Tyrese Haliburton, the Kings are bereft of high-end talent, or even high-end starters. The higher up they are in the lottery, the better statistical chance they retain of finding high-end talent. If this was a team that had multiple, established young stars, alongside solid, young rotational pieces, moving back may make sense. The Kings aren't there yet. They need to stay where they're at, trade for an established star, or even move up.
Will: Call this being triggered by Vlade's draft antics, but with the Kings trying to make the playoffs for the fifteenth year in a row, I'm not trying to get cute or clever and trading back for two guys instead of one. Sure it's a sunk cost fallacy and yes, I do believe the current management of the Kings is better suited for that kind of maneuver. If the Kings are determined to add meaningful talent, I'd even understand them attaching Buddy or Bagley or a future pick to move UP this draft. I'm not necessarily advocating for it, but I would certainly understand the attempt.
Bryant: I love William and agree with everything he said. I think there is enough difference. To me, Moody, Wagner, and Jalen Johnson are all very much worthy of the 9th pick, and I see little chance that one of those three players isn't available. There are 9 players I would love to see the Kings take (those three included), and if any of those are available, I do not consider trading back - thus, I'm not gonna be in favor of trading back!
The one thing that gets me about these trade-back scenarios is the concept of €œwell if you trade back, _____ or _____ will be available.€ This is a good exercise of tiers, but I think it becomes way too complicated in actuality. There's a reason that most trades that move back in drafts are only trading a few picks down; GMs don't want to leave it up in the air who they are going to get.
If you provide a whole list of people to cover the bases (which I appreciate that the author did here), then you better have every single one of them in a comparable tier if you're going to argue for trading back. I'm not trading back from 9 to 20 just to pray Ziaire Williams (10th on my board) lasts to 20, because I'm not gonna be thrilled with taking Greg Brown, Chris Duarte, or Ayo Dosunmu. I'd rather just see the Kings take their man at 9.
Brenden: I have Wagner, Moody, and Jalen Johnson in a completely different tier ahead of the rest of the players you have mentioned. I would stay at nine for a real chance at any of those three players along with Scottie Barnes, Josh Giddey, or even a sliding Jonathan Kuminga.
I do think there is a notable enough difference between the two groups that I would be hesitant to trade down.
From Rob Hessing
Do you take this organization seriously, and if so, how, and if not, what do they need to do to get you to take them seriously?
Tim: It really depends on what you mean by taking the organization seriously. I still watch every game, debate every draft pick, and write 3 - 4 articles per week about the team, so in that sense, I take the Kings very seriously.
If you're talking about the decision-making abilities and the reputation of the franchise, I take my two-year old's play-time threats more seriously than the people running this organization. Vivek Ranadive repeats the same mistakes once every three years and continues to believe he's doing brilliant things, Matina Kolokotronis is invincible within the organization, Luke Walton is the biggest head coaching joke in the league, and Monte McNair has done little to dissuade me from lumping him in with the rest of that group. To put it simply, I will not take the Kings seriously, nor will I truly think they have a shot at being anything better than average (which is still a significant step up from where they are today) while Vivek Ranadive is still the man on top.
Will: I take this organization seriously the same way I'd take a toddler holding a handgun seriously. 99% of the time, the toddler is messing up on the little things - still not understanding what they need to walk, eat, play. It's slightly disappointing when you see them trying to take those first steps day after day and they're constantly falling on their ass, but, nature says, they're probably going to figure it out at some point. You've got jokes, laugh at their failure but ultimately have hope. Right now, they've got their chubby hands fumbling around a Glock and suddenly their lack of coordination and control are pretty damn serious. They get spooked, pull the trigger - baby might be setting themselves back in that whole successful walking, eating, playing thing for a long, long time.
The Kings are at a pivotal moment with the strain of hope on the fanbase, two young stars and a whole lot of options. One wrong move on their end and they could completely crash this franchise. They're supposed to be entertainment and a social cornerstone of the community, but how much longer can fans really be expected to continue to show out after years of false hope, short-sighted business moves and generally terrible management. Sure, it's the worst case scenario. Sure, the baby is just as likely to drop the gun and crawl towards rattling keys, but in the moment, the situation is dire and I'm not relaxing until the baby has a binky in their hand and not a damn blunderbuss. One bad trade for a malcontented or oft-injured star and this organization, franchise and community support is toast.
Bryant: I would take a tapeworm in my gut seriously, but a mental tapeworm sucking up my time, energy, and willpower? I call that fandom, and it does not matter if I take it seriously. It exists and will continue to do so.
I wish the Kings had favored a more complete rebuild, but they haven't - and until Monte McNair tosses his dice and shows us his grand move, I will hold out hope but not confidence.
Brenden: I do, literally just for the sake of my own sanity. It pains me to assume the Sacramento Kings are going to make the wrong decision 90% of the time, even if that is what they have proven. It takes the fun out of theorycrafting, analyzing, and team building exercises.
So, the team (FO & ownership) has given us no real reason to take them seriously but I still refuse to accept that they will mess up every single decision. Fox and Haliburton is a very good core and marginal moves (like hiring a new head coach€¦) should be enough to turn the ship in the right direction. We've seen teams change their franchise trajectory quickly and I'm ignorantly hoping the Kings can do the same.
From Sacto_J
Are we close enough to being one vet/trade away from really competing for the playoffs or should we keep the pick and continue adding young talent?
Tim: If the Kings want to somewhat guarantee themselves a playoff spot next year, say seven seed or better, they need to trade for an All-Star level talent. That could happen, but they're going to need to include a lot more than just the number nine overall pick - likely Bagley, Barnes, a future first rounder, and potentially more, depending on what name we're discussing.
If the Kings solely use the pick and players to target a veteran, a Myles Turner for example, I think they'll be in that mix for the play-in, with no guarantees that they make it further than that. I'm fine dealing the pick as a concept, but Monte McNair needs to ensure that any trade doesn't only take next season into account, but three or four seasons down the line.
Will: I think we're one vet/trade away from really competing FOR the playoffs but much further off from competing IN the playoffs. With a decent swing, I think the Kings could be right there for the 7th-10th seed next year and with a significant seed I could even squint hard enough to see them getting up into a 6th seed and all that being said - They'd still be nowhere near contenders and much closer to being in the €œwe won a playoff game this year!€ territory for two or three years. Obviously, I was the guy who saw the last few years as a perfect opportunity to tank. They didn't and the Kings aren't any better for their failed attempts at the play-in game. Of course I'm going to say that I think the Kings should aim for talent to surround our young flashy back court of the future. I'm certain they'll do the opposite.
Bryant: I expect this team will trade the pick. I think there are many rookies who could be making serious contributions to the playoff push come next February/March - Moses Moody, Franz Wagner, Scottie Barnes, Jalen Johnson are all top 10 picks on my board who I think could play 20-25 MPG early in their careers. There are guys I'm a bit lower on than consensus - Alpren Sengun, James Bouknight, Davion Mitchell, Corey Kispert - who could all be strong difference makers next years. And hell, if this team was more patient, than I'd be cheering for Ziaire Williams or Kai Jones, both excellent high-ceiling gambles who could take this team to a new level€¦ in two to three years.
But the 9th pick is arguably Monte McNair's greatest offseason asset, and if the team is hell bent on ending this postseason drought, then I expect they'll trade it for a veteran; I just hope it's a bigger package for someone meaningful.
Brenden: The real issue is I think the team was nearly good enough last season, the talent was just ridiculously miscast on the defensive end of the floor. The offense is set with Fox and Haliburton running the show, but the Kings desperately need wing and center defensive difference makers.
That could come via trade (Myles Turner) but I also think that there are multiple draft picks (Moses Moody & Franz Wagner) who could be the effective defensive players that this roster so desperately needs.
Either way I'd say yes, I think the team is marginal moves away from being in the playoffs/play-in.
From WizsSox:
See a lot of takes about trading the 9th pick. Considering cap, what real targets (that would make the team better this year) are available and that could be had for the 9th pick and one of Hield/Bagley/Barnes? Or just 9th pick alone?
Tim: The 9th pick and a solid starter (Barnes) or worse (Buddy or Bagley) probably doesn't get you as much as Kings fans wish. In fact, over the last ten years, there's basically zero history of teams swapping a mid-lotto pick for a contributing veteran. The closest deal would be the Blazers sending out #16, a future first rounder, and Trevor Ariza for Robert Covington, but a non-lotto first and a future first from a perennial playoff team are hard to quantify next to a lottery selection from a historically inept team. The Kings may very well deal the pick, but the package is probably going to be far more expanded than we think.
Will: If we're talking something like one of those players and the #9 pick, I wouldn't be surprised if the return is rather low. Mile Bridges of Charlotte Hornets fame is a guy that we've talked about on The Kings Herald Show more than a few times. Buddy and the 9th might be enough to get him away now that Gordon Hayward is back to his old tricks. The Hornets could grab themselves some cheap youth with upside, but still have a big veteran piece towards a playoff run. Rozier, Hield, Hayward is a great 1,2,3 group with youngins like Lamelo Ball, PJ Washington and Malik Monk. Another swap I've been thinking about is a guy like Josh Hart for the 9th, maybe in a 3 teamer that sends Buddy out. Maybe the Wizards want some bench help out and would take Buddy and the 9 for Rui Hachimura? I don't even know if I do these deals, I guess the point is, I don't think many teams will value the 9th and a Bagley or Buddy incredibly high.
Bryant: I know that Brenden is going to pick one of my preferences, so I'll leave him to cover Myles Turner. My favorite outcome is Pascal Siakam - I know that he had shoulder surgery in May that will keep him limited well into the new season, but I think he's an excellent player on both ends, and one who would fit well with De'Aaron Fox and Tyrese Haliburton.
Brenden: MYLES TURNER. I will scream it from the mountain tops all summer, Myles Turner is the elite rim protector that the Sacramento Kings need to clean up their atrocious defense.
Other intriguing names that come to mind are Ben Simmons, Brandon Ingram, and Pascal Siakam. I think each of them could be the third cog that's the Kings need to take a jump to the next level. Especially if they can hold onto Harrison Barnes in the process.
From Milkman:
Best package to get Ben Simmons?
Tim: The best package I would offer for Ben Simmons would be the ninth pick, Harrison Barnes, Delon Wright (they desperately need a solid point guard), a future first rounder (top-8 protected), and whatever remnants of assets I could get from a third team in a Marvin Bagley trade. Is that enough? Probably not. But we need to stop pretending that we're getting an All-Star, Defensive Player of the Year candidate for dribs and drabs like Marvin Bagley and Buddy Hield. Ben Simmons is flawed, but he would be the best or second-best player on the team by a country mile, and that's nothing to laugh at in Sacramento.
Will: If you want the BEST package for Ben Simmons, if you want to win the Ben Simmons trade (by a hair) - you aren't going to like it but you offer up Tyrese Haliburton to go along with Barnes, Buddy, #9 and future pick swaps. Yes, yes, BOOO HISSSS, but you aren't short-sheeting Daryl Morey and whether you like it or not, Ben Simmons is a better player than Tyrese Haliburton is, and maybe ever will be. He's a 3 x All-Star, DPOY candidate and (seemingly) available. Morey sent out a high-level starter in Kevin Martin, a young upside guard in Jeremy Lamb and two firsts for Harden and I'd venture to guess that under his tutelage, Monte McNair came to understand that to get transformative talent you've got to pay a heavy price. Simmons would be the best player acquired by Sacramento since Ron Artest and while the fit isn't perfect or pleasant to think about in terms of cost, he would absolutely give the Kings a better shot at a championship.
All that being said, it isn't happening and I'm not advocating for it, but, in our reality, it is the best possible package.
Bryant: Harrison Barnes, Marvin Bagley, the 9th pick, and a lotto-protected 2022 or 2023 1st. I think Simmons would solve a ton of defensive issues, and while he's NOWHERE close to a seamless offensive fit, he's a low-usage, high-assist player who doesn't need to dribble the air out of the ball on offense. That said, I think we all know the biggest thing holding Ben Simmons back is Ben Simmons at this point€¦ and since when has Sacramento (or being coached by Luke Walton) been the right situation for players trying to figure themselves out? There's a real chance said deal could go sideways and then you're stuck on a massive contract€¦ but there's also a real chance that without the pressure of Philadelphia, he just settles into a strong defensive role and fits well with Fox and Haliburton.
Brenden: I think people are already underrating Ben Simmons, somewhat understandably. Sure, his free throw shooting and lack of willingness to shoot any jump shot at all is a real concern, but he also is a 24 year old who was rightfully selected to three All-Star teams and two All-Defense teams while being in consideration for defensive player of the year. The Kings would love to have that type of talent on the roster.
The most I would offer is Harrison Barnes, Marvin Bagley, the 9th pick, and a top-8 protected 2022 1st rounder. Obviously, I would much prefer that package to include Buddy Hield's name rather than Barnes but that is the absolute furthest I would go.
From KANGZ_FOREVER
Assuming no one crazy slides, who would you take at #9 in the draft?
Tim: I will continue to preach the message that the Kings are in desperate need of high-end, high-ceiling talent, even if that means taking a bit of a risk on a potential bust. After talking through the possibilities with Bryant and Brenden, I'm settling on Ziaire Williams, a prospect who went through a hellish collegiate season and who didn't perform as well as everyone had hoped. He could be great! He could be terrible! Let's find out together, shall we?
Will: We still have a month to go on this, so take these with a grain of salt. The guy I'm taking is Alperen Sengun. He's the reigning Turkish League MVP, won't turn 19 till 4 days before the draft and could wind up being a fantastic fit for what the Kings are building. The guy is a demon on the offensive end - with a great display of offensive moves, special passing instincts out of the post and is a great screen and roll threat to boot. He's a great rebounder without being the most athletic guy on the floor, he plays with that fire and intensity that the Kings tend to shy away from in recent years and while his long-range shooting isn't there yet, his free throw percentage throughout the BSL season was 81.2%, a decent indicator that he's not broken with his mechanics. Omer recently mentioned that he reminded him of Turkish League Boogie Cousins and while their size isn't exactly the same (Alperen is an inch shorter), the general feel of his game is spot on.
If you've been hounding the Kings to go get Sabonis, this guy is going to impress the hell out of you.
Bryant: Moses Moody. Best 3-and-D wing in the Kings range with good catch-and-shoot ability, real toughness on both ends, defensive versatility and length, and an underappreciated ceiling as he shows more and more shot creation moments.
Brenden: Moses Moody or Franz Wagner. Both of these players have shown the ability to be defensive playmakers - Moody with his 7'0€ wingspan and Franz Wagner standing at 6'8€ both move well laterally and displayed high defensive IQ throughout their collegiate careers. The Kings need players who can at very least hold their own on the defensive end of the floor and ideally be positive contributors on a nightly basis, which both Moody and Wagner project to do.
They both also have shown promise on the offensive end of the floor, more so Moody who shot 35.8 percent from deep on upwards on five attempts per night and flashed self creation abilities a la Khris Middleton. Wagner is a typical well rounded European with underrated playmaking and overall good decision making while on the floor.
I'd be thrilled with either one of these players and think there's a good chance they are both available when Sacramento is on the clock at pick nine.
From TyrekeFan18
What's a realistic trade for Marvin Bagley?
Tim: Best case scenario is a later first rounder from a team looking to snag a once highly-touted prospect for a low cost, but even that feels like a stretch at this point. Sacramento can probably get another likely bust like Mo Bamba, a solid, if unexciting young player in the realm of Josh Okogie, or a pair of pretty solid second round picks. It's sad.
Will: I don't realistically think it's anything other than a lotto-protected first rounder or an equally embattled young player. Maybe Bamba is the ceiling in this case, but nothing more.
Bryant: While part of me would rather keep Bagley and make him play out his contract year in a put-up-or-shut-up moment, we all know he's being traded whether it's the right call or not. I have no idea how to evaluate his value, so I'll say cap space and a 2nd rounder and be done with it.
Brenden: It's no secret that the Kings will likely need to clear salary if they want a real shot at re-signing Richaun Holmes. Marvin Bagley is the obvious candidate, yet there are only so many teams that have cap space this offseason to absorb his $11.3-million. Of those teams, OKC is the obvious candidate that could try to bring him in and give him an opportunity to turn his career around.
I expect very minimal return, something like Isaiah Roby or Kenrich Williams in addition to the 34th overall pick.
From Rob Hessing:
Golden State and OKC are two teams that project to improve more than the Kings via the upcoming draft. Obviously Houston as well. One could also argue New Orleans, who pick 10th but have four 2nd round picks. Absent of a major shift deal this summer, where do you rank the Kings in the West next season?
Tim: Uhhh....in Monte McNair is on the hot seat category? The Rockets will probably be worse, and I think the Spurs are also headed nowhere fast, but outside of those two, I would put money on every other team in the West being better. The Wolves have a better young core and I think they'll make a play for a Ben Simmons or Pascal Siakam type player. The Warriors will rocket past the Kings. Oklahoma City can use their million future picks to get better, along with their lottery selection. It doesn't look good for the Kings, to be quite honest.
Will: Absent a major deal? The Kings aren't doing better than they did last year. I would not be surprised at all to see the Kings south of every other team in the West but the Thunder and Rockets. If the Wolves click like they seemed to at the end of last season, or the Spurs pieces continue their natural progression, or the Pelicans don't blow it all up to fit around Zion better, the Kings will (again, without a major deal) be worse than they all are. With one of the worst head coaches in the NBA and in the lower third of the league in terms of talent, the Kings aren't going anywhere with an infusion somewhere.
Bryant: 10th or lower. I'm fairly confident they'll be better than the Rockers, Thunder, or Wolves, but the Spurs are in the same tier and the Grizzlies and Pelicans - to me - are both significantly better off. If someone is gonna come tumbling down, it'll be interesting to see how the Portland Trail Blazers hold together after Dame Lillard's recent rumblings after the Chancey Billups hiring. I think the Kings will have a shot at the playoffs, but I'm not putting money on it, no matter which rookie gets drafted.
Brenden: Let me just say, I hate this question - it's depressing. I think the Kings will be in the same tier as the Memphis Grizzlies, New Orleans Pelicans, and San Antonio Spurs while being clearly above the Houston Rockets, Oklahoma City Thunder, and Minnesota Timberwolves. The Kings will probably be right around where they were in 2020-21 barring a massive roster shakeup. The 9th seed will be a very possibly landing spot, but so will 12th once again.
It's difficult when I view those rosters as comparable and the tiebreaker comes down to coaching, which the Kings are going to lose every time with Luke Walton at the helm. I will predict the Kings finish in 10th and make the play-in tournament, assuming it still exists.