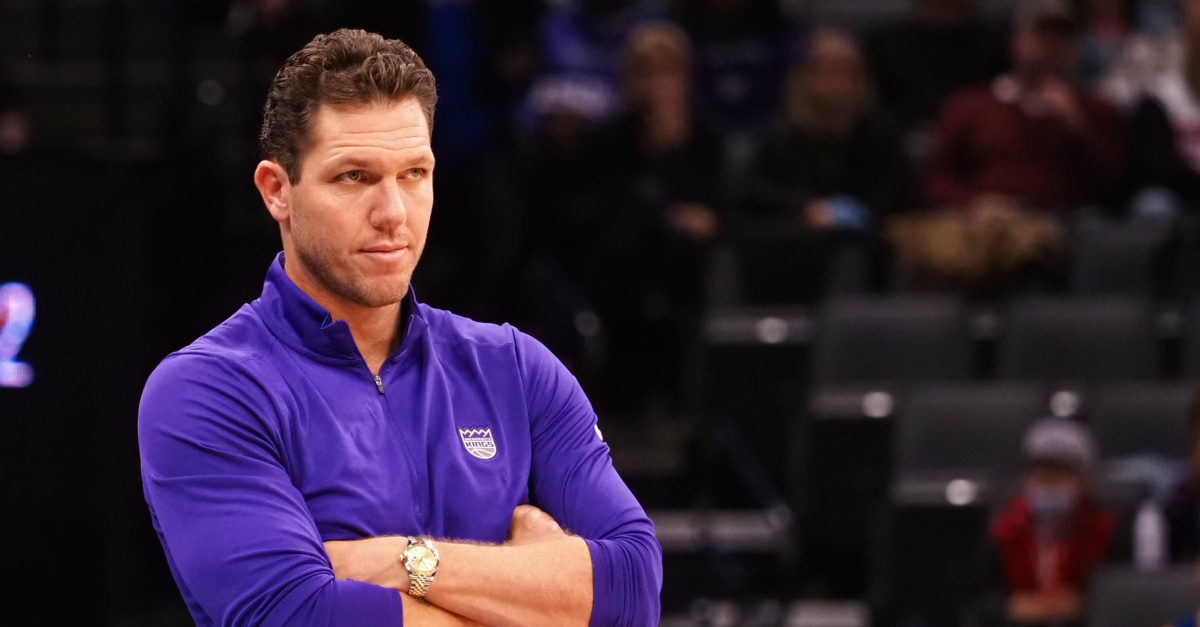 According to ESPN's Adrian Wojnarowski, the Sacramento Kings have fired Head Coach Luke Walton after a 6-11 start to the 2020-2021 campaign.
The Sacramento Kings fired coach Luke Walton on Sunday, sources told ESPN. Kings have lost seven of eight games and dropped to 6-11 on season – leaving them 12th in the Western Conference.

— Adrian Wojnarowski (@wojespn) November 21, 2021
Walton's termination is both unsurprising and a bit of an unexpected shift just 17 games into the season. Over the summer, many expected Walton, originally hired by former General Manager Vlade Divac, to be let go after two unsuccessful years in Sacramento, but he was given full approval by current GM Monte McNair back in May:
"Luke will continue to be our head coach. The team finished strong down the stretch, obviously did not ultimately reach our goal, but he has the support of our players, we have a great working relationship and while we both acknowledge that we have to become better in many areas, we've built that trust and we need the stability in this organization to ultimately take that next step."
Later on in the same press conference, McNair reinforced his belief in Walton:
"There was a lot of positives this year. Certainly, not enough, we understand that, but Luke and I talk every day. We have a great working relationship; he's got the support of the players. We found some success especially late in the season to get back into the play-in race, and ultimately, I felt that we could build on that and that he's the coach who is going to get us back to the playoffs."
Although Sacramento's front office clearly established a very real faith in Luke Walton, the team's recent play was simply too poor to ignore. After starting the season an impressive 5-4, including wins over the Portland Trail Blazers and Phoenix Suns, the Kings have dropped seven of their last eight games, with their sole victory coming over the lowly Detroit Pistons. Friday night's blowout loss to the Toronto Raptors and Saturday evening's loss agains the Utah Jazz were undoubtedly the final straws in Luke Walton's controversial tenure as Sacramento's head coach, and may very well mark the final game of his career as a lead man in the league. Over the last 5+ seasons between the Kings and the Lakers, Walton has compiled a record of 166-241, an average of 33 wins per year.
With Walton exiting, the pressure will now mount on Monte McNair to make the correct calls moving forward, as the team's primary scapegoat is gone. First, he must decide on the team's interim head coach, a title that will likely fall to the highly experienced Alvin Gentry, a result that doesn't necessarily evoke excitement. In 17 years of partial or full seasons as a head coach, Gentry has compiled an unimpressive record of 510-595. Woj reports Gentry will be in consideration for the interim role.

Kings associate head coach Alvin Gentry – a five-time head coach in the NBA – is expected get strong consideration to serve as interim head coach. Walton was 68-93 in two-plus seasons as Kings coach. https://t.co/jeZIFqmVCd

— Adrian Wojnarowski (@wojespn) November 21, 2021
Others may call for Doug Christie's candidacy, but it would be both rare and highly controversial for McNair to select a first-year assistant coach to take over the reins.
Beyond finding Walton's replacement, management must also quickly find a solution to an unbalanced, uninspired roster. As bad as the coaching was at times over the past couple of seasons, the staff was also granted exactly one quality wing, too many centers, and more high-usage guards than busted Kings draft picks this year. A change in leadership could certainly shake things up for a short time, but additional adjustments must be made if this franchise wishes to make any progress in the coming months. Walton's termination may have been necessary, but it should also be viewed as the first step to change, rather than as the final remaining move for a squad on pace for just 28 wins.