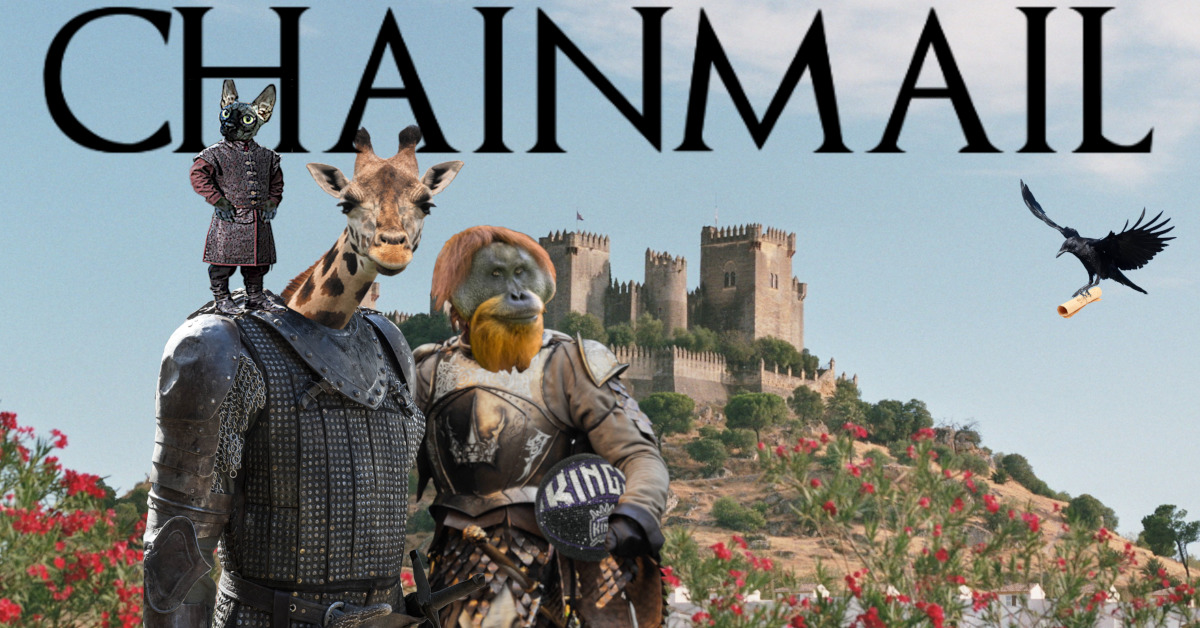 Welcome back to Chainmail! We had some great questions this week, so let's dive right in!
From Outrider:
Assuming we stay at #9, who's your guy and why (of those projected to be available at that slot)? Somewhat related, who could be this year's Tyrese and slide?
Tim: Typically, it feels like the Kings find themselves picking just after a talent-level drop-off, but that doesn't seem to be the case in 2021. There should be two to three guys available at nine who would excite me as a fan, and that's encouraging in and of itself.
I feel forced to decide between two dichotomous players: Alperen Sengun and Moses Moody. Sengun is the high-risk, high-reward potential offensive star, while Moody likely doesn't have the ceiling, but he's unlikely to bust as well. As badly as the Kings need star power, I'm siding with Moody this year. Sacramento desperately needs to change their defensive culture, and Haliburton + Moody may very well be a strong step in that direction.
Moody also isn't the typical collegiate defensive star who can't shoot worth a lick. In his freshman year, he knocked down 36% of his five three-point attempts per game. Of course, we've seen better NCAA shooters struggle to convert their range to NBA standards, but if Moody can become a consistent, above-average sniper, he could develop into a star role player, a la Mikal Bridges of the Phoenix Suns.
As far as who could slide like Tyrese Haliburton, Ziaire Williams feels like a prospect who could cause a lot of regret for a lot of teams, and he's almost who I picked, He had a rough go of it in college, but his circumstances were less than ideal and he has a ton of natural gifts, assuming he can put it all together. He'll likely go in the late teens or early twenties, and the chances of Williams eventually being better than a lot of folks taken before him feel pretty high.
Will: I wouldn't necessarily call him €œthis year's Tyrese€ but coming into the final week before the draft it really sounds like Kuminga has gone from a sure-fire Top-5 guy to someone who has a plausible case to fall to 9 - especially if his knees have issues like some have reported. The über-talented wing/forward is easily the most likely to be the falling knife of the top prospects - and a risk I'd be happy to take over every other draft darling we've talked about over the last few months.
Pulling myself out of a fantasy land where Sam Presti refuses to draft a talented potential two-way guy in Kuminga and then Orlando follows that up by passing on him twice, I think the man to grab is oft discussed Turkish dynamo, Alperen Sengun. His combination of size and offensive skills makes him a fantastic fit for whatever the Kings decide to do this year. Will he ever be a plus defender? I'd venture to guess no. Will he be spurring the Kings to a high playoff seed, year 1? Absolutely not.
The Kings lack high-end talent outside of their young front court and any hopes Sacramento has for extended playoff runs or championship windows will rely heavily on drafting players that vastly outperform their lower draft position. Is Sengun one of those spooky high ceiling-questionable floor players? Yes. The fact remains the Kings have to make intelligent swings for those caliber guys if they're hoping to win a championship in Vivek's lifetime. Sengun is a hard-working, high IQ teenager who just got done with an MVP season at 18 years old in which he led a patched together project team to the semis in the Super League. I'm planting my flag on The Alps.
Brenden: I have been really vocal on wanting Franz Wagner at nine. I wrote a deep profile on him recently that dives into his game, but the idea of adding a 6'9€ versatile defending with good connecting traits on offense just sounds perfect to me. I think a team with Wagner, Fox, and Haliburton could be near the top of the league in steals and lead to more transition opportunities to the fastest player in the league. People are also underselling the ceiling of Franz Wagner, I think he could end up a 16ppg scorer in the league in a modern Harrison Barnes type of way.
As for who could fall, the answer seems to be Jonathan Kuminga and I would be horrified if he was available at pick nine. I would hate to be Monte McNair in that situation, and I personally would pass on Kuminga in favor of Moody or Wagner. Kuminga is going to need a long time to develop but I get why some people feel like you can't pass on his physical tools.
From The BanquetBear:
Why do you think Moses Moody is ranked so low compared to the other prospects (16/17) but still being mocked so high in the draft(6-10)? Is this just a case of upside not being reflected in rankings, or more that his position means that he will be drafted higher than his rank when compared to other prospects as far as fit goes?
Tim: Moody is one of those guys who can help complete a young core, rather than act as a primary option, and most teams in the lottery need the latter, not the former. He's also not a great shooter, which may make some teams hesitant, as we've seen time and again that college defenders who can't convert three-pointers at high level often struggle to find a place in the league.
Will: I'm going to defer to one of the capos of the Moody Mafia here and let Brenden get into detail on this one. I will say that I think that Moody is in an awkward spot: highish ceiling but not superstar high, a very wobbly floor if his shooting or defense doesn't hit hard. He's like eating next-day Taco Bell. Perfectly fine, maybe even good in the right conditions. But you're sure to think a bit longer and harder on if these are really the right conditions.
Brenden: I have no clue why he has been ranked so low, I think people were too quick to just throw a 3&D label onto him and call it a day. Moody has potential to be the third best scorer on a threatening playoff roster with his shooting, which doesn't sound sexy but it's impactful beyond catching and shooting. For the mocks, I know Sam Vecenie did just move him up and I think him usually being selected so high means that some front offices around the league probably really like him.
From Peja
Hollinger in an athletic article pegged Holmes as being worth 18 mil a year. Is this number worth it for resigning Holmes long-term? If not, what is appropriate and how can the kings make it work?
Tim: Richaun Holmes' contract situation has long been a frustration of mine. Assuming that the Kings stay over the cap, which is most beneficial to them financially, their maximum contract offer to Holmes is about 4 years, $47 million using early bird rights. If the Kings dump Marvin Bagley and choose to stay under the cap, they'll have around $16 million to spend on Richaun, which would equal a 4-year deal worth around $68 million, assuming that 5% non-compounding, annual raises are included in the contract.
There is a couple of issues with that plan, however. First, I have absolutely zero desire to pay Richaun Holmes, a solid, if unspectacular, starting center $17 million per season. That's a hefty overpay. Jusuf Nurkic makes $12 million. Brook Lopez makes $13 million. Jonas Valanciunas makes $15 million. All of those centers would be ranked around Holmes' range, if not even a little bit better.
The other concern in dipping below the cap is the other financial tools that are sacrificed in that move. The Kings would lose access to the MLE ($9 million starting salary, 4-year year deal), and the BAE ($4 million starting salary, 2-year deal), and replace that with the room exception, worth about 2 years, $9 million. Running back a much more expensive version of last year's roster, with no spending money to get better, just doesn't entice me.
Will: If a team offered Holmes 18 mill a year, I'd congratulate the man and drive him to the airport myself. He's worth whatever a team is willing to pay and he certainly deserves a significant pay raise for the work he's put in to get to this point in previous years€¦ but if I'm Monty, I'm not maneuvering Buddy/Bagley/Barnes off the team in order to pay Holmes that much. Then again, if I was Monty and I wasn't 100% certain I was retaining Holmes I might have done something at the previous deadline.
Brenden: $18-million is a tough spot for me, and it's right about my walking point but it would be so difficult to watch another offseason with our best asset heading elsewhere with no return. If trading Marvin Bagley into OKC's cap space clears enough space to get the deal done (I think it does? Help me, Tim), then I think I would feel comfortable giving that money to a top-15 center in the league.
Hobby916
What is your philosophy when looking at drafting players? (fit, BPA, upside, floor, specific skills, etc.)
Tim: When you're a bad team drafting in the lottery (the Kings), best player available should always take precedence, but that conversation is often more simplified than reality. Sure, it's easy to say that we should take the best guy available over a player who fits the current roster, but rarely is there a clear better player, with Tyrese Haliburton at 12 last year being the exception. If two players are ranked in the same tier, I'm going to lean toward whoever fits my core (not roster) better.
From a more specific standpoint, and this is going to sound obvious, I look for NBA skills, rather than "I hope this guy develops this thing". For example, Sengun could develop into a stretch big, and that would be fantastic for his game, but I can't assume that will happen, especially with his low success rate on low attempts. If I have to project multiple areas of significant growth for a prospect, they're going to lose me fast. Conversely, a player with at least one identifiable, translatable skill is going to attract my attention.
There is also a hierarchy of skills in the NBA. Great rebounders are great, but they're also a dime a dozen. The same can be said of an athletic off-guard who can drive but can't shoot. On the other hand, wings who can defend and shoot the three, or bigs who can space the floor and protect the paint, are much rarer and much more costly in free agency-type situations. If a skillset is easily replicable across the league, its simply not as valuable in the draft.
Will: Are they seven feet plus, under 200 lbs and like to pass? I'M IN. No, I think it's hard to have a hard set philosophy with the Kings. Last year, I felt picking a high upside player that wouldn't affect the win column would be a good get because I also felt like this current draft was strong enough to tank for and that the pandemic made for a unique scenario where they didn't have to worry about fans in the stands. It didn't happen and it's obvious the Kings felt they were good enough to win now rather than wait an extra year or so.
That being said, I'm not changing my whole preference set because Vivek had big eyes on a very small window. My semi-warm take here is that the Kings do not have their #1 guy yet. Fox is a fantastic 1b or #2 guy and Hali is an optimal #3 option but that backcourt doesn't have much, if any, hope of reaching the post-season achievements of even what Damian Lillard and CJ McCollum have accomplished in Portland without a significant boost in talent. With the Kings constant resistance to bottoming out, they have to find that talent in the fringes of the lottery, so I'm constantly looking for guys who could vastly outperform their position. The Kings also can't afford to full on swing and miss on guys completely either. The Warriors could pick whoever the hell they wanted and not truly be affected if the guy doesn't pan out, but the Kings need this guy to at least be an asset down the road. So right now, my focus on Kings draftees this season is high ceiling, semi-high floor guys that drop to lower in the lotto.
Brenden: It really depends where in the draft you are selecting. I typically break the prospects into tiers and just make sure I am never reaching into a lower tier just for the sake of fit when selecting in the lottery. This year, I want the Kings to play it safe and look towards guys whose ceilings may €œonly€ be elite role players and not stars, because they can't strike out again. I also love defense and the Kings were seemingly allergic to the idea of it last season so I would stay away from anyone who projects to be a potential liability on that end of the floor and love the idea of a difference maker (Franz Wagner) on that end.
From KangzFanForever:
What's up with the Lillard rumor? Any teeth to that? How would you feel about it if the Kings made that move?
Tim: I don't think the Kings have any realistic shot at Lillard, nor should they pursue him. Sacramento would need to give up Fox and multiple picks, as multiple teams could make a more impressive offer than Haliburton and picks, which means that Dame-Haliburton-Barnes is your new core, especially when considering Richaun Holmes' contract situation. Is that team better than the current Trail Blazers roster? No. Would Dame be just as, if not more, frustrated than he is right now? Yes. It would be a terrible situation all around.
Will: No teeth. The Kings could offer up Fox and players and picks and I'm not sure Portland says yes. That being said IF we lived in a world where it happened? I'd understand the thought process behind it. I would be excited in terms of having an incredibly fun basketball player and resign myself to the fact that we're in for 6th-8th seeds for the next five years and that we aren't going to see a Kings €˜ship before our world burns down. It would make sense for both Monte and Vivek's modus operandi. Monte attempts to recreate the Harden trade, albeit with a much smaller window for competition, Vivek gets his superstar and hell, even Dame could say €œI never went to a super team€ if the Kings ever did anything of note. It would be a fun short burst of time followed by us right back here where we've been for 15 years. It's the ultimate short-sighted, swing for the fence and I'd enjoy it while it lasted with zero expectations for anything other than absolute heartbreak.
Brenden: I would guess the Kings and Rockets were linked to Lillard because they were trying to facilitate a three-team deal. I just don't see any possible reason the Kings would trade one of Fox or Haliburton for Lillard where his supporting cast would be worse than Portland. It is refreshing to see the Kings being mentioned by national reporters as a team that is snooping around and being active.
From RobHessing:
Who do you think we can get in trade for the 9th pick (include Hield / Bagley / Barnes as needed to facilitate the trade), and which draft prospects outside of the big 5-6 would you rather have at 9 instead of trading the pick?
Tim: I don't think those packages get you much, although Barnes + 9 is probably the most attractive pairing. The real issue with any of those ideas is that teams trading for Barnes and Buddy are almost certainly trying to win now, which makes the 9th pick less attractive, while 9 + Bagley is geared more toward a rebuilder. However, Bagley's value is extremely low across the league, and a mid-lotto pick isn't that valuable when considering game-changing players, which is who the Kings should be pursuing if they're trading the pick.
To put it simply, I'm not totally against trading the pick in theory, but it needs to be a much bigger, more involved trade for a much better player.
Will: If we assume that the draft kind of goes relatively as planned, I don't think there's much to be gained in trading the pick by itself and packaging it with a player won't bring back as much as we hoped. I could see a Buddy + 9 for Miles Bridges if Charlotte was trying to be rid of some expensive duplication. If the Kings are going to use the #9 as sweetener, I'd prefer it in a big swing for a true game changer, but outside of the Dame and Simmons rumors (neither of whom I think end up getting traded this off-season) I have no idea who that player would be.
Brenden: FRANZ WAGNER or Moses Moody. Bryant and I will scream one of those two into existence until draft day.
If they trade the pick, I think someone like Myles Turner. Is roughly the value you would be expecting back. It's not netting you a star unless combined with future assets and Harrison Barnes, but someone more complimentary like Turner or maybe Robert Covington if Portland blows it up.