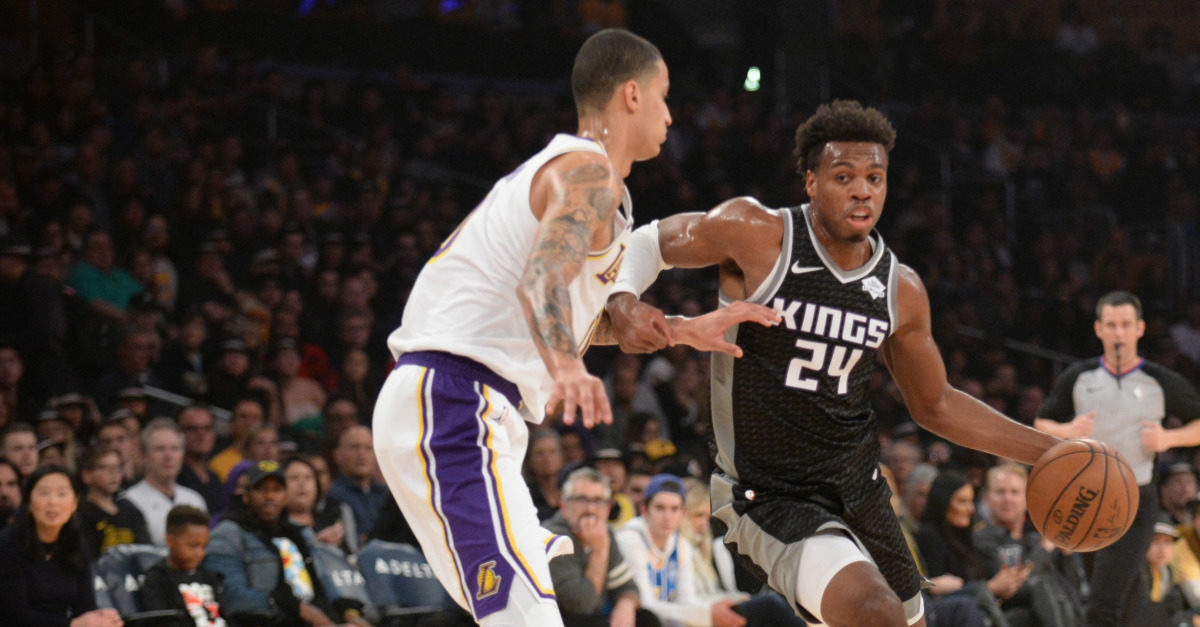 According to Shams Charania of The Athletic, the Sacramento Kings and the Los Angeles Lakers have discussed a trade that would send guard Buddy Hield to LA in exchange for forward Kyle Kuzma.
Kuzma is an interesting target for the Kings and someone who has been linked to the team since the Vlade Divac era. Despite the fact that he's never developed into a true stretch-4, Kuzma has established his place in the league as a switchable defender in space and as a smart cutter away from the ball. There are legitimate questions about his shot selection and efficiency on the offensive end, and those issues may be exacerbated when playing away from superstars LeBron James and Anthony Davis. If Kuzma came to Sacramento, Luke Walton, the coaching staff, and even De'Aaron Fox would need to ensure that he was getting his shots, without giving into Kuzma's belief that he can be a number one or number two option on the offensive end of the floor.
From the Lakers perspective, Hield is the exact sort of upgrade that they should be seeking with their limited assets. Los Angeles made just 29.9% of their three-point attempts in the playoffs, ranking 15th of the 16 teams involved, and outside of James and Davis, their roster sports no one who can carry the offensive load for any serious stretch. Buddy would solve their issues from behind the arc, while also acting as a relief valve on offense for LA's stars.
Perhaps the most daunting obstacle in a deal being consummated isn't the players or their individual fit, but their difference in salaries. Kuzma's $13 million deal doesn't come close to that of Hield's massive contact, meaning the Lakers would need to include an additional player, likely guard Kentavious Caldwell-Pope or big man Montrezl Harrel. Either player would bring value to a roster such as Sacramento's, as KCP would give the Kings wing depth and a boost of defense, while Harrel could act as a lower-tier replacement for Richaun Holmes if he leaves. And even if Holmes weren't to depart, bringing Harrel's pick-and-roll dynamism off of the bench would be a massive upgrade. However, the Lakers don't have much depth themselves, so including another high-minute role player may be too large of an ask.
Of course, the days leading up to the draft are filled with rumors, some close to true and some out-of-this-world insane, but this report feels closer to the former. Both teams have shopped these individuals for quite awhile, and both players would provide real value to their new team. This isn't the sort of sexy, huge deal that would push the Kings to the playoffs in and of itself, but getting younger, shedding long-term salary, and adding a defensive presence may be a savvy move on the part of Monte McNair.