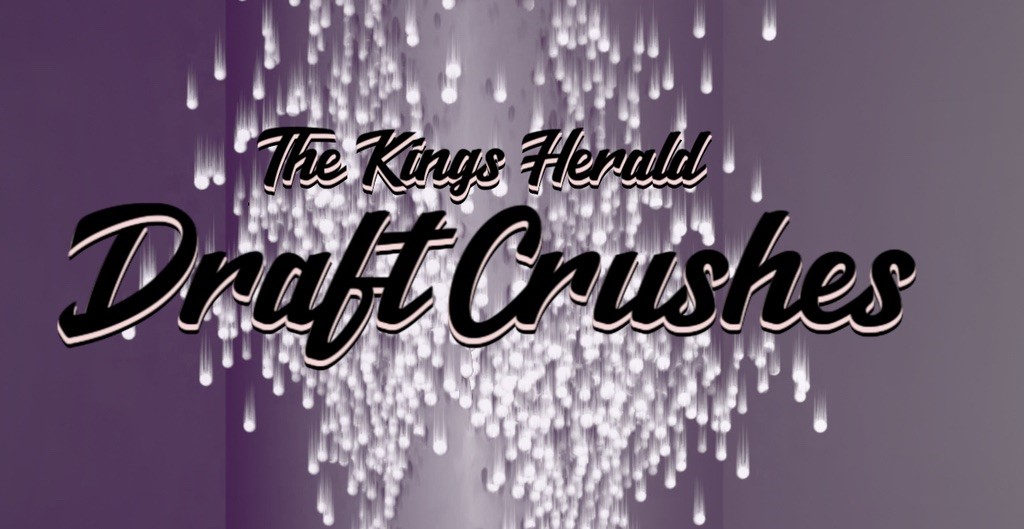 As the 2020 NBA Draft approaches and mock drafts and big boards trip over themselves to post new content and stay relevant, we here at The Kings Herald are taking a different approach, at least until Bryant finishes his magnus opus on Tyrese Maxey's fit with the team. Instead of guessing who will be taken 12th overall, or who we might like to see taken late in the lottery, we're here to argue about our draft crushes. These are the prospects who we believe will be far better than their current projection, whether that be in the top-3, late lottery, or even outside of the first round. Our reasoning may be sound or psychotic, but these are the draft takes you can hold us to for years and years and years to come.
Tim: Deni Avdija
I view Deni Avdija as a highly attractive prospect for both the Kings and most of the other teams in the lottery. Every report labels him as a gym rat and a hard worker, and his attitude on the floor is such that he wants to destroy and humiliate his opponent. He doesn't back down from anyone at anytime. Doesn't that sound refreshing for a team like the Kings? In addition to his intangibles, Avdija is a 6'8" secondary ball-handler who has also shown prowess in moving off of the ball for easy buckets. His best game has been in transition (hello, Kings!), and he's displayed potential as a weakside, rotational rim defender, although he certainly will never guard centers full-time. Yes, his shot is questionable (at best), but even if he never becomes a league-average sniper, his ability to play-make, defend, and dominate in transition makes him a top-end selection for me. In a weak draft full of questionable players, I'll take the hardworking, never say die, oversized ball-handler over any other guy listed here.
Rich: Cole Anthony
The premise of this piece revolves around which players we are highest on relative to consensus ranks, so I chose Cole because his stock has just slipped too far. He was a top three recruit coming out of high school one year ago and frequently projected as the No. 1 overall pick. Yes, he had a bad year, but it wasn't disastrous. He still shot the hell out of the ball and proved he could create those shots for himself regularly. He also had flashes of excellent defense, even at the rim.
The area he really struggled with was finishing, but there are excuses that can be made for that. Just check twitter for examples of the spacing on his UNC team. His Tarheel teammates were atrocious from deep and Cole was constantly double and triple teamed when driving in the paint. He certainly lost his spot as a contender for the No. 1 pick, but he didn't fall out of my top five. His nightly triple-double average at Oak Hill Academy is not far removed and shot creation will always be at a premium in the NBA.
Bryant: Isaac Okoro
Isaac Okoro is gonna be really damn good, and he's a jumpshot away from being the best prospect in the class. Any conversation about the 6'6 forward starts with his terrible shooting numbers and mediocre free throw throw rate, but I think he's become underrated because he has such a clear, obvious weakness. He's otherwise one of the more complete players in the draft. He's a dynamic driver to the rim and shows excellent touch around the basket, has the passing eye to be a good team playmaker, forces his way to the line, competes on every play, and - oh yeah - is an absolute beastly on-ball defender. He has a real chance to be a top tier defender and defensive culture setter. With his two way motor, I see no way that he doesn't work his way to being an average shooter. I daydream about Monte McNair being the one GM in this draft who isn't afraid to trade up; Okoro would be fantastic in Sacramento, and he'll be an awesome player wherever he ends up.
Brenden: Onyeka Okongwu
Onyeka Okongwu is the perfect modern big man on the defensive end of the floor. While the comparison to Bam Adebayo has been vastly overstated, it is most noticeable in Okongwu's ability to simultaneously switch onto smaller wings and guards while maintaining a daunting presence at the rim. At 6'9€ he is gifted with a 7'1€ wingspan and impressive lateral quickness, hip flexibility, and OO elevates as fast as anyone. He also has an unbelievable IQ for a 19 year old, impeccable shot blocking timing, and outstanding awareness to go along with his physical abilities.
On the other end of the ball, Okongwu plays within his limits and understands that he is best fit as a roll man and finisher around the rim. He displayed excellent touch around the rim with both hands, flashed moments of decision making out of the short roll, and has a neverending motor that bodes well for his team on the offensive glass and in transition. While I am skeptical that Onyeka is not a typical top-5 pick since he likely caps out as an elite role-player, I think Onyeka has the potential to function as the defensive anchor on a championship-level roster.
Tony: Aaron Nesmith
Things I've heard people say about the NBA and this draft class over the last several months: Versatile wings are the most important position in basketball. 3-point shooting is essential, and it's hard to find minutes for non-shooters. Every team can use more spacing. Small ball is king. Traditional centers can't stay on the floor. The 2020 NBA Draft is the weakest in a long time.
So let me get this straight. Modern NBA teams should prioritize versatile shooting wings and I can draft the best shooting wing in this weak class in the late lottery? That's Aaron Nesmith to me. His volume shooting last season at Vanderbilt was silly-good. 52% from 3 on 8.2 attempts is absurd. I understand that his season was cut short due to a stress fracture in his foot and people will cry small sample size, but I'm a believer in his shot. I think he's going to be an awesome 3-point shooter and floor spacer with enough wingspan, strength, and smarts to be a decent defender, and considering where he's projected (12 or so) I'm so very comfortable with that potential and skill set.
Will: Aleksej Pokusevski
I'm sorry but if there were one player in this draft worth harboring a deep and unwavering crush for, it 1000% should be Aleksej Pokuševski. As the youngest player in the draft, Poku can do everything but find enough calories to fill his frame. No seriously. He can run both sides of a pick and roll, he's a good pull-up shooter, can legitimately beat people six inches shorter off the dribble and is an absolute savant as a passer. Does he make boneheaded plays from time to time? Sure. Everyone who is the equivalent to a high school senior would. Filling out his frame, learning to contain his sometimes overly complicated basketball urges: many of these are just things that can simply be fixed with time and the right coaching staff. Time is something that he's got in droves. I know this is less about being Kings centric as general draft crushes but looking at a few other picks in the Kings range: He's a year younger than Tyrese Maxey, almost a year and a half younger than Devin Vassell, almost two years younger than Tyrese Haliburton and over two and a half years younger than Saddiq Bey.
Some of you might want to point out that he was playing in a lower Euro league. Yes true, but it's also true that Olympiacos was keen on keeping this young guy hidden, hoping to get another year or so out of him. Regardless, he crushed in his playing time the same way and in the same league as a young Giannis Antetokounmpo. Per 36 he averaged over sixteen points, over 12 rebounds and just about five assists as one of the youngest one's on the floor every night. He's not built to be a Giannis by any means and it's more likely that he's nothing than he is close, but it's hard to see him becoming anything other than the very first Poku: a 7'2 point forward with a shooter's touch and eyes in the back of his head. Put it this way: in a weak year, where everyone is trying to get out of the top picks and no one thinks anyone in this class would be worth a Top 8 pick in next year's draft, what's the risk in the lower lottery of picking a guy who could end up having Luka's passing in Durant's body, someone who could run the floor with Fox and spread the floor for Bagley? It might take a few years, but swings for guys like Poku are how you vault a limited team like the Kings from playoff contender to championship contender. Ask Denver how their low risk swing with that Jokic guy went. All these other guys in this article might have a better chance at being solid role players, even starters. Poku is the only guy who could end up as a Top 10 player in the league.
Kevin: Jalen Smith
Full discloser: I've been the conductor of the Jalen Smith hype train since late December and it would be irresponsible for me to leave my post at this point. That said, I legitimately think he's the most undervalued player in this draft and I didn't expect that to be the case. He is a real deal stretch big who can rebound, shoot it from deep, and protect the rim, and he did all that in arguably the best/deepest conference in America. While that 3p% might not jump off the screen I think it only begins to tell the story of what you can expect from him offensively. His still-improving jumper features excellent mechanics and a quick release that will allow him to punish defenses not only as a catch and shoot spacer but ALSO a movement shooter. Maryland wasn't just using this dude as a trailing big or stationary shooter from the corner, they were running off-ball screens to free him up, dribble handoffs, pnp's and pin downs. You combine that offensive bag of tricks with his size and length, and you've got a straight up weapon.
The Kings are obviously an interesting case but on the other end of the floor, he'd immediately translate as the their best rim protector and one of their best rebounders. He was an absolute freak around the rim on defense and seems to be able to eliminate shots almost at will. On the flip side he'll likely have issues sticking with quicker guys out in space but he has a great motor, and uses his length and nose for the ball to help recover and get back into plays. He's pretty slow laterally when defending out on the perimeter, which is weird because he's fairly coordinated and fluid otherwise, so it's unclear to me whether this comes down to "stiffness" or indecision. I don't think this is an impossible deficiency to overcome, provided he can learn to better read/anticipate and utilize his length to defend on the perimeter. Even then he'll need to add some strength to more effectively bump/control his man out in space.
Maybe I'm too high on Jalen because he's exactly the type of player I'd like the Kings to pair with Bagley. He'd provide Sac with the kind of spacing/lineup versatility they desperately need without sacrificing rebounding or rim protection on the other end. Jalen and the Kings are a match made in heaven and I know that's not necessarily what this exercise is about, but almost every team in the league is looking for this kind of player on the cheap. If the Terps needed a play, on either end of the court, they went to Smith and he routinely delivered in the biggest moments. Bottom line, he should be a lottery pick in this draft and teams are going to be kicking themselves for getting this wrong.
Rob: Kira Lewis Jr.
Kira Lewis could bring a lot to the Kings, both behind and perhaps even alongside De'Aaron Fox. For the Kings to get its best from Fox, they need to play up-tempo. This generates a dual need: a little additional rest for Fox, and the ability to still play up-tempo when Fox is out. Enter Lewis. And as the Thunder showed last year with CP3, Schroder and Gilgeous-Alexander, available minutes for Fox, Lewis, Hield & Bogdanovic would be a non-issue (well, if your coach's name was Donovan and not Walton€¦). From my perspective (I know nothing), Lewis is the player that would best benefit the entire roster.
Sanjesh: Desmond Bane
I'm in the same boat as Greg in terms of a crush at #12, if the Kings even remain in that slot. If I were to select a lottery crush, I'd go with Devin Vassell but he's not my favorite player in the entire draft. That title goes to Desmond Bane from TCU. I watched clips of his three-point shooting in a Twitter thread and I was amazed by his release and how he can knock it down from anywhere on the court. I pursued more Bane content and looked up his numbers; Bane has improved every year with increased minutes. I saw many early mock drafts that had Bane picked all across the second round. The Kings have three second-round picks so I was completely on board to use one on Bane. But as we've moved closer to the draft, Bane has only received more attention and his draft stock continuously rises. Wherever this strong sharpshooter lands (he's a tank), I'll be watching.
Greg: Literally no one
I am zen. Sure, I could watch some draft videos or read a draft profile and convince myself that Player A is better than Payers B or C. But I've been down that path too many times. I've been too hurt. I can't fall in love with a player again. It's silly to do considering how often we're all wrong about players, and even when I'm right about a player it can still hurt when the Kings pick someone else. So why bother? Early in the draft season I dedicated myself to the idea that I would gain only a passing knowledge of each player. I'll know just enough to have an idea how the Kings next rookie might fit or why he might be good or bad. That's all I need. And stayed true to this with only one exception -- I do not want LaMelo Ball. I'm convinced that he's not going to be worthy of his draft position and I have zero interest in him. Hard pass. Aside from that, I'm just along for the ride.
***
What do you think of our draft crushes? Should we all take Greg's approach and realize that life is mostly disappointment and pain until our physical vessel expires? Who is your draft crush and why is Rich so very wrong about Cole Anthony?