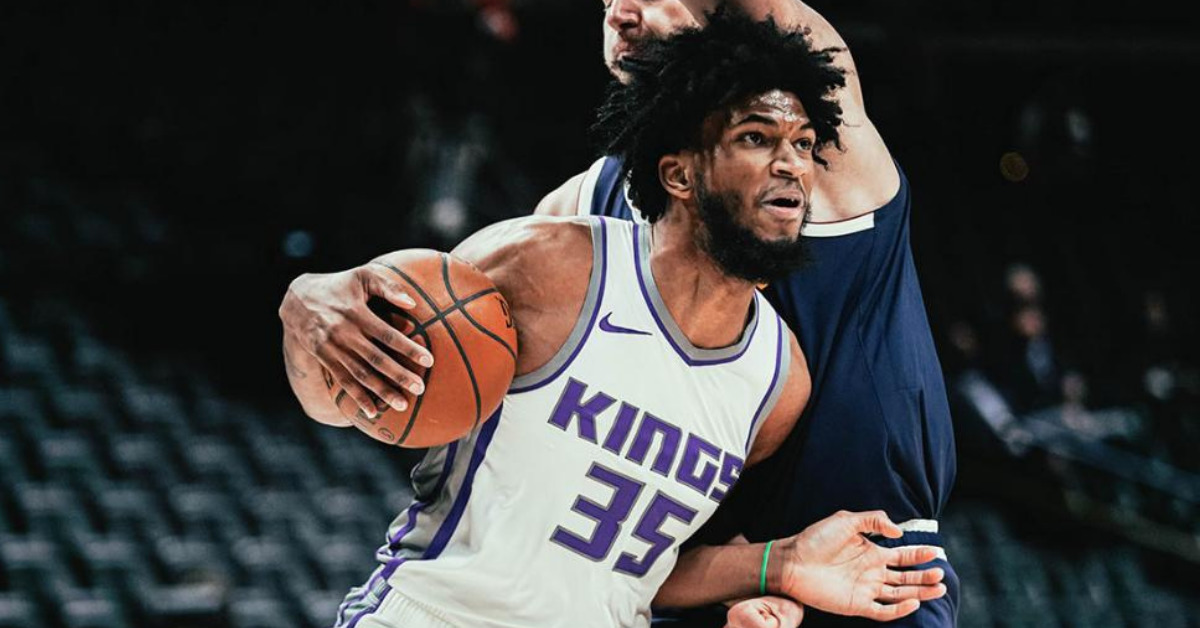 Winning basketball games is always satisfying. It's even more satisfying when young talent with plenty of room to continue developing were the primary contributors to that victory.
We have all grown to expect borderline all-star level performances from De'Aaron Fox. Tyrese Haliburton is a wizard in what feels like every aspect of the game. Yet, it was the unicorn Marvin Bagley III that made his presence felt early on against the Denver Nuggets.
The third-year product out of Duke tallied 14 points in the second quarter of the game while playing within the flow of the offense. The latter part of that is where the promise lies and why this may have been the best quarter of his young career.
Bagley always has been able to get his left jump hook off whenever he wants and sometimes the three-ball is just gonna fall, but making quick decisions is what really puts pressure on opposing defenses.
Bagley catches the ball on the low block with five seconds remaining on the shot clock.
Left jump hook? Nope.
Bagley spins towards the baseline and uses his length to swing a pass cross-court to a smartly relocating Buddy Hield. Great ball movement from Sacramento as a whole and Bagley logs the assist.
He also managed to knock down half of his four attempts from distance in the quarter and may have been the best defensive option on Nikola Jokic by using his length to obscure the big man's vision.
What may have been more crucial is what was missing from typical Bagley showings. There were only a few moments of stagnating the offense while searching for his own shot - and when you're on fire you're allowed one or two of those.
It seemed like it could be a career-night for the third-year big man if he kept pace but, for reasons unknown, he hardly saw the floor in the second half and totaled 23 minutes on the night.
After putting up 42 in the second quarter that was lead by Bagley, offense all of a sudden seemed hard to come by.
Luckily for Sacramento, De'Aaron Fox recognized it was time to take matters into his own hands after Denver went on a 22-4 run to start the second half - and he was joined by a new sidekick with neon green shoes.
The speedy point guard tallied 16 points, two assists, one steal, one block, and zero turnovers throughout the second half of play in his typical fashion. Four attempts from the charity stripe, regularly slicing his way to the paint and dissecting the Nugget's defense with what seems to be an improved handle and patience.
Sacramento fans know what the Kentucky guard brings to the table, but Tyrese Haliburton is a new commodity that is promptly and understandably growing into a fan favorite. Any basketball enthusiast would enjoy witnessing the 20-year-old perform much beyond his years.
He set up teammates with precise passes while looking in random directions and maintained control throughout it all. Five assists in the closing quarter for Haliburton along with zero turnovers, a steal, and eight points of his own including this dagger with his foot just inches from the logo.
The assist to turnover ratio golden child did record his first game with multiple turnovers, and one of the two feels very forgivable.
The effort is simply never-ending from the 12th pick (seriously, how was he 12th??) in the 2020 NBA Draft. He may already be the second most impactful player on the roster after only participating in four regular-season games. Haliburton recorded the highest plus-minus of any player from either team in Golden 1 Center, +20.
Richaun Holmes should not go unmentioned either. He threw down a few ferocious dunks, caught ally-oops, and (of course) knocked down his patent-pending push shot on his way to an efficient 20 points on 10/13 shooting.
With crucial performances from Marvin Bagley III, De'Aaron Fox, and Tyrese Haliburton, the Sacramento Kings improved to 3-1 on the year. Nothing feels more gratifying than winning a game due to the blossoming talent on your roster that has only scraped the surface of their potential both individually and as a unit.