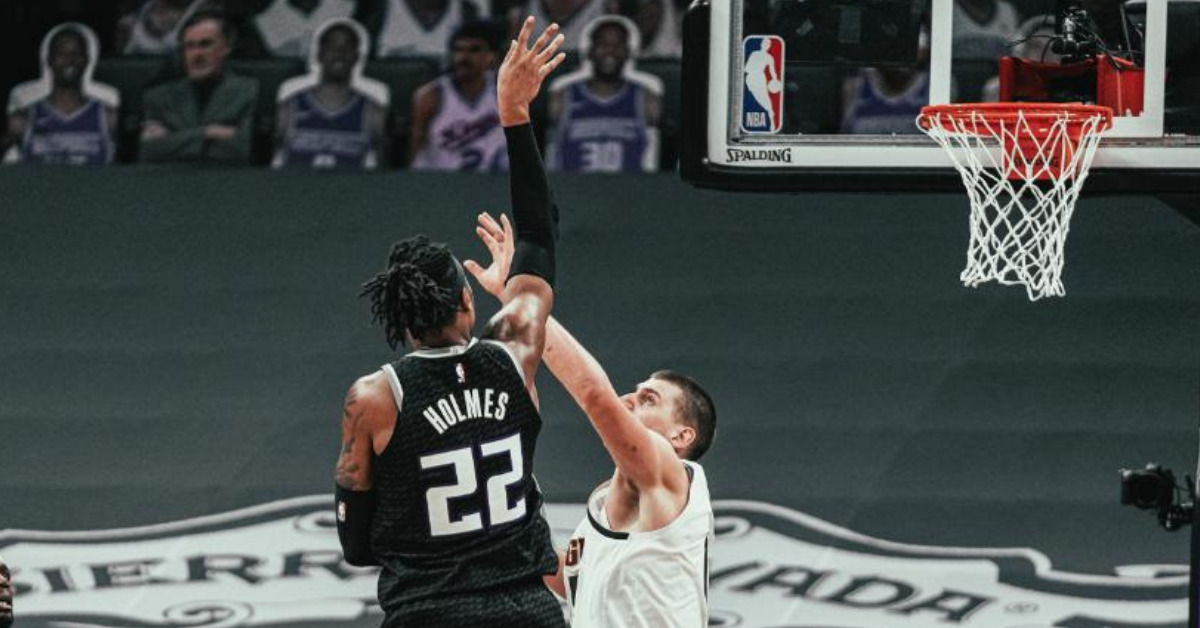 €œThat thing is on automatic, folks,€ - Mark Jones on Richaun Holmes' push shot, several times this season.
€œHe doesn't miss that shot...he's hunting that shot,€ DeAaron Fox said on Zach Lowe's The Lowe Post podcast. €œThat shot's almost automatic for him.€
There's your theme: Holmes is automatic. If you search the definition of automatic, there's a 99.99% percent chance you'll see a frame of Richaun Holmes attempting a push shot.
It's not a coincidence that when Holmes is on the court, the Kings' eFG% rises by 3.6 percentage points, compared to when he's off. Holmes' patented push shot has evolved into a staple of Sacramento's offense, whether they run plays for him or when opponents collapse on someone like De'Aaron Fox or Harrison Barnes churning downhill. The latter leads to additional space for Holmes to attempt one.
Holmes' individual numbers in specific spots on the floor are even more salivating than his team impact. He currently boasts a personal eFG% of 66.1 (90th percentile amongst bigs, also a career-high), while shooting 75% at the rim (83rd percentile) and 60% on all mid-range jumpers (97th percentile, career-high). All stats via Cleaning the Glass.
Narrowing his percentages, NBA.com tracking data tracks Holmes' push shot under €œfloating jump shot€ and right now, Holmes has converted on 72.5% (29-40) of them. Last season, Holmes' efficiency wasn't as dazzling, making only 30-59 (50.8%). Through 22 games played, Holmes' push shot is eloquently better than last year, and he should eclipse last year's attempt total at this pace.
For a maneuver requiring minimal effort, Holmes has weaponized it to punish teams for granting him the slightest inch.
Let's watch some tape:
This play from Saturday's contest is a variation of €œ21 Chase€. The idea is to clear out space on the weak side for your playmaker to attack, with a big man nearby to assist if necessary. Usually with 21 Chase, the weak side the playmaker is attacking is vacant, but Marvin Bagley is located in the left corner which is plausible, as I detailed here.
Buddy Hield will relocate to the strong side as Holmes sets the screen. Hield and Fox play catch, preparing Fox to launch. Nikola Jokic drops as Fox progresses downhill off the screen. Holmes is in the short roll now, but notice how Denver defends him: Will Barton shows at the nail but shifts back to Hield; Michael Porter Jr. fully commits to prevent Holmes from attacking the rim, opening a path for Holmes to kick it out to Barnes in the corner.
Denver respects Holmes' shot, but despite the tight space, Holmes has enough room to shoot.
The Tyrese Haliburton-Richaun Holmes dyad in the two-man game is especially fruitful. Haliburton's artistry with head fakes, pocket passes and snake dribbles seizes defenders like a deer in headlights, and the pocket passing is on display here.
Watch Daniel Theis maintain leverage by reading the play. Cory Joseph sets the screen for Haliburton on the wide pindown, prompting Theis to establish €œdrop€ position for the ensuing pick-and-roll. Theis attempts to split the difference between Haliburton's downhill lane and Holmes' roll lane, but it's tough for one man to stop. Javonte Green shows at the nail, but that's insufficient to disrupt Holmes. Haliburton delivers a crisp pocket pass, and Holmes has sufficient space to score.
Holmes has undoubtedly been Sacramento's best pick-and-roll big this season, and the push shot plays a pivotal role because it adds a layer to his arsenal. Marvin Bagley's mid-range jumper hasn't stabilized yet, nor have they run enough pick-and-rolls for him to develop; Hassan Whiteside occasionally deploys a floater, but he thrives closer to the rim.
In fact, Holmes ranks eighth in the league in field-goal percentage off pick-and-rolls, swaggering a 69.6% clip. What is more compelling is that four players above Holmes have truncated frequencies in pick-and-rolls: DeAndre Jordan (24.5% frequency), Montrezl Harrell (7.1%), Miles Bridges (9.9%), and Mitchell Robinson (24.2%) all have better field-goal percentages than Holmes but aren't involved in these plays at the same rate (27.9 % frequency for Holmes).
I showed you how Holmes utilizes his push shot within half-court sets, but before we started watching the tape, I mentioned Holmes is a beneficiary of collapsing defenses. This is a prime example.
Fox whips an insane one-handed pass out to Barnes in the corner who lowers his head and attacks the basket after Jeff Teague's (too) hard closeout. Theis slides over with the help, freeing Holmes, who establishes position to shoot. Jayson Tatum is a second too late, and it's a bucket.
Another positive of Holmes' shot is he's attempting it at an elevated rate. Last year, his attempts from mid-range €" where the push shot tallies €" accounted for 35% of his overall attempts (81st percentile), per Cleaning the Glass. This year, it's currently perched at 50% (95th percentile). He's attempting more while augmenting efficiency. It's simply absurd.
The push shot sneakily incorporates itself in putbacks too. Per NBA.com tracking data, Holmes is currently in the 62.4 percentile for putback efficiency. While his offensive rebounding rate has shrunk (10.5% last season to 8.9% this season), he's still generating 1.18 points per possession on putbacks (1.22 last season).
€œIf he misses one and we get the offensive rebound, if he gets it again, he's making it,€ Fox said on €œThe Lowe Post€ podcast. €œThere's no way he's missing two in a row.
"Ever.€