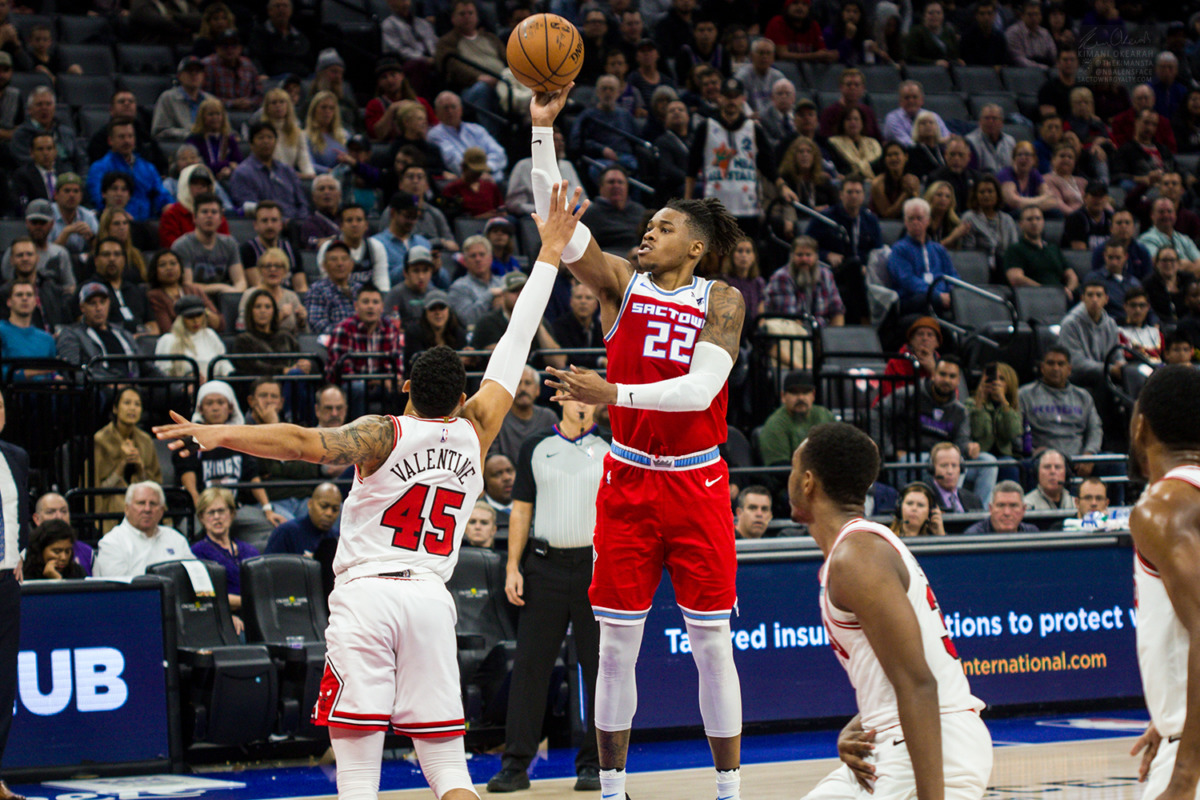 Sacramento Kings big man Richaun Holmes has spent the offseason working on different ways he can impact the game. He said he will always be a roller looking to put pressure on the rim, but he knows in today's NBA game you need to be a threat from the perimeter.
He's been working on his shooting mechanics and spent €œcountless hours€ in the gym in recent months.
€œJust adding that part to my game so people can respect that shot, respect the floor spacing I think it's important for our team,€ said the 27-year-old Holmes said on Thursday during a media call. €œI think it's going to pay dividends. €¦ If I'm open I'm looking to shoot it.€
Let's take a quick look at his shooting history.
With the 76ers in 2016-17 Holmes averaged 1.4 three point attempts per game and averaged 35 percent on those shots. In Phoenix the following year, that dropped to .6 attempts per game and only 12 percent. What is interesting is it appears he has not attempted a single three-point shot in his last two seasons. Not that he needed to for the Kings last season. He was very effective when healthy last season averaging 12.3 points, 8.1 rebounds and 1.3 blocks per game. He did shoot 78 percent from the free throw line last season, the highest of his career. This puts him in the top 10 in centers (if you want to classify him as a center). He was also pretty effective with his floater shot near the basket (see the picture above). So the shooting capability may be there.
Coming out of Bowling Green State in 2014-15, Holmes shot 41.9 percent from three and improved his free throw percentage to 71 percent. His jump shot was still considered a weakness coming out of college though.
Holmes said he's also been working on his playmaking from the middle of the floor and watching film of Bam Adebayo and how he operates as an outlet for the Heat.
€œHe's the guy who kind of gets the offense going for Miami and the way he does things. Just looking at him as kind of an example of things I can do and see how I can impact the game in the same way,€ Holmes said.
With Hassan Whiteside joining the Kings this season and his ability to serve as an enforcer at the rim, Holmes adding a shot to his already versatile game may be a way for him to stand out in a now crowded front court. Considering he once had a shot as part of his game it could have been a lack of opportunity these past couple of seasons. This will be something to monitor as the season gets underway.
Holmes also added that he thinks the Kings have a chip on their shoulders based on how things went in the NBA Bubble in Orlando and that they won't be an easy matchup for most teams this season.
€œThere's a ton of talent here and there's a lot of hungry guys. So it's not going to be a cake walk when people play Sacramento. It's not going to be an easy game when they play Sacramento,€ Holmes said. €œWe've got a lot of tough-minded guys here, a lot of competitors and we're looking forward to getting after it every night. And I think people are going to see something a little different than they were expecting.€