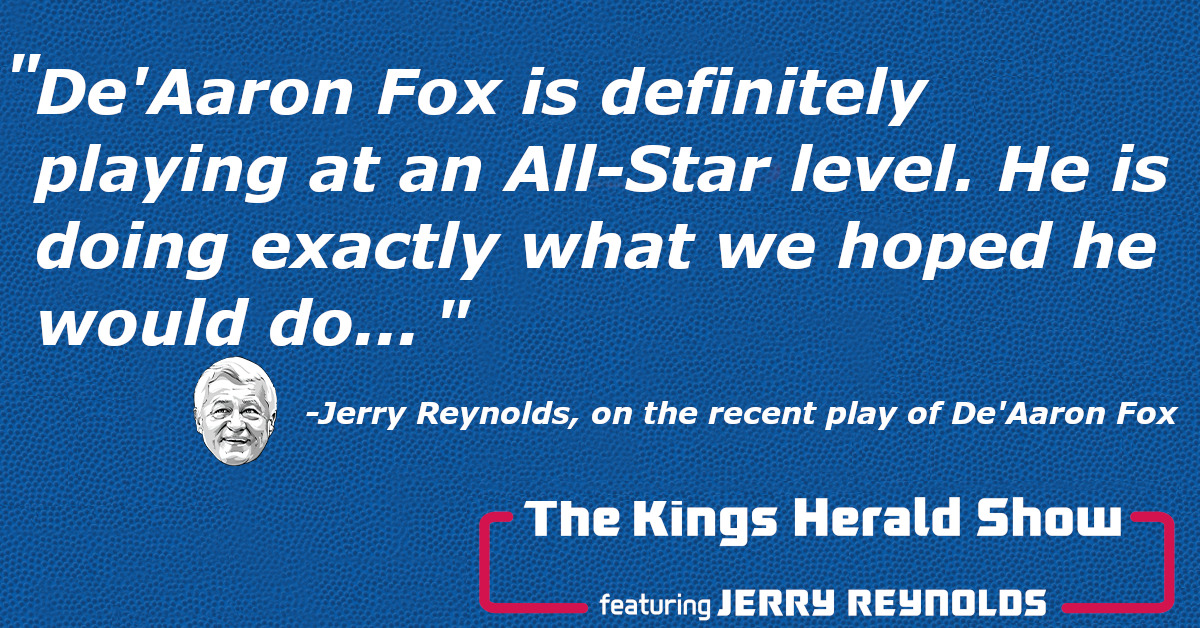 Episode 8 of The Kings Herald Show featuring Jerry Reynolds is here! I can't believe it's been 8 episodes already.
After a fun podcast with Hasan Minhaj a couple of weeks ago, Jerry, Will, and Tony return for your regularly scheduled Kings talk with some unexpected but welcomed positivity! De'Aaron Fox looks like he's taking a real leap, Tyrese Haliburton looks like the Rookie of the Year, Harrison Barnes and Richaun Holmes are playing the best basketball of their lives, and Sacramento's basketball team is winning a lot of games. Good stuff all around.
Timestamps:
(2:15) Why have the Kings been playing so well recently?
(4:30) How much credit does Luke Walton deserve for the Kings' recent success?
(10:45) Is the Kings' good play sustainable?
(21:30) Are we witnessing the beginning of De'Aaron Fox's rise to NBA stardom?
(33:15) On the Kings' locker room chemistry
(44:45) Will the Kings remain in the playoff conversation all season?
(51:15) At what point should the Kings look for trade opportunities
(108:35) Patreon Question of the Day
You can find The Kings Herald Show wherever you listen to podcasts, but if we're missing a platform of your choosing, leave us a note in the comments and we'll get to work. If you can subscribe, rate, and review the podcast on any and all platforms, that would be greatly appreciated, too. It's the best way you can support the show!
Apple.
Spotify.
Google.
Stitcher.
In addition to our bi-weekly podcast with Jerry Reynolds, we also record a Patreon exclusive Q+A once a month where Patrons at any level can Ask Jerry Anything. The 3rd Patreon Q+A with Jerry was posted last week.
You can submit questions to us on Patreon, or post your questions for Jerry in the comments right below this post! We'll be recording another Q+A very soon, so get those questions in now.
And finally, you can sign up for our Patreon here. Thanks for listening.