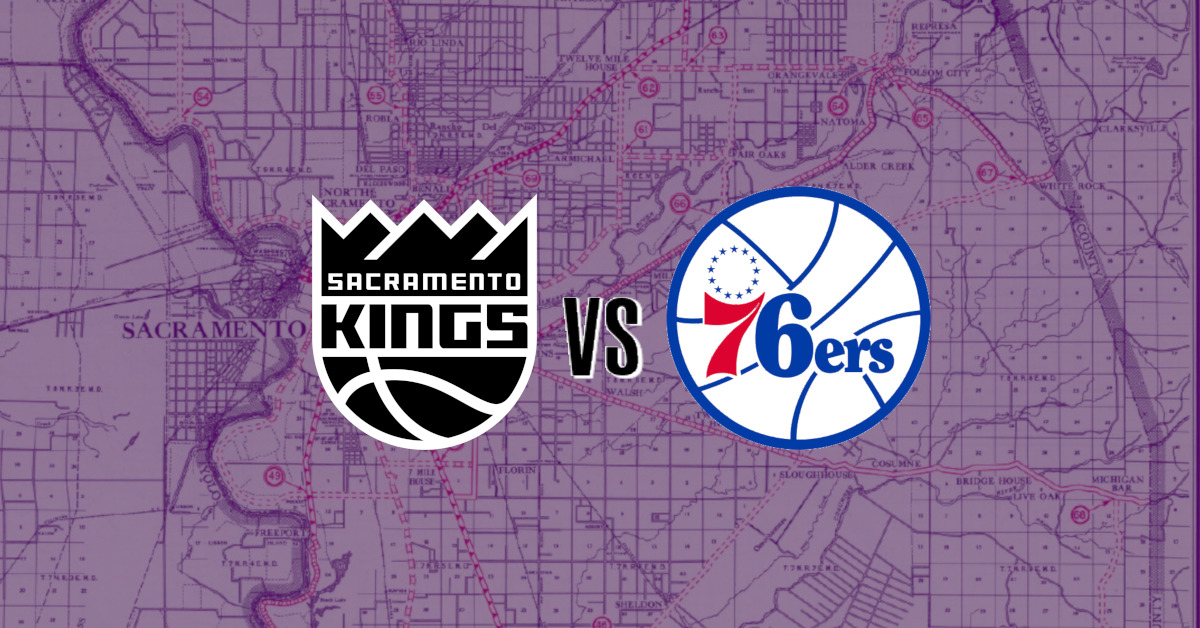 Rise and shine everyone, your Sacramento Kings are officially in the hunt for a playoff spot! Due to shenanigans in last night's games that I'm sure someone in the comments will be more than happy to explain to you, the Kings jumped from the 9th spot to the 7th over the course of like, two hours and I have to say, even as someone who is sure the iceberg that sinks this team is always just out of our view, it is pretty damn fun to feel some energy in this fanbase. Now, to keep that same energy, the Kings are going to have to up their game yet again tonight. They're facing a healthy Philly squad who is in the middle of a 5-1 surge that has seen them climb to the top of the Eastern Conference. Yeah, you read that right. It isn't the Bucks, nor is it the Nets. Right now, it's Philly that is King of the East and they are hell bent on keeping it that way. This is going to be fun. Let's talk Kings Basketball!
When: Tuesday, February 9th, 7:00 PM PST
Where: Golden 1 Center, Sacramento, CA
TV: NBCSCA - Mark Jones on the call.
Radio: KHTK Sports 1140 AM
For Your Consideration
The Hope That Kills You: I'm sure there are a lot of you out there feeling a lot like I do - not sure how real this Kings streak is and both wanting to celebrate these successes with full abandon and also feeling the reflex to guard yourself against that inevitable fall to Earth. This '20-21 Kings squad is a pair of Icarus' wings, brought to you by the minds behind Olestra: they're matchsticks held together with dried bits of chewing gum and adorned with various pieces from your neighbor's recycling bin and yet, it's working.
It's undeniable that Fox and Haliburton provide an incredible lift, Harrison Barnes keeps everything steady and Richaun Holmes provides a boost whenever needed. Some from the ground might actually mistake this de-feat of engineering to actually be a success and I'm not so sure that they're actually mistaken anymore. Maybe the biggest blunder Daedalus made was believing it should be wax and feathers that held his beautiful wings together, and not minotaur shit and seagull innards. I still feel reserved about all this. It's fairly unprecedented in Sacramento, unprecedented anywhere really, that three guys all have career years at the same moment and their 12th pick Rookie of the Year comes into the league ready to be one of the most clutch players from the word go. This team is too thin, relies too much on luck and health and COVID just deciding to leave the team alone. But for now, they're flying high, warming themselves in the sun. In this moment, I'm here on the ground and completely content, happily to watch those pesky laws of gravity finally be defied by the men that I root for.
So to today's game: This Sixers squad is damn good. Joel Embiid is an MVP frontrunner, their defense is legit and everyone on this squad has seemed to buy into Doc Rivers. Going to give some timely stats for you all to chew on then jet the heck out of here for life stuff. Philly is currently eighth in both points per game and in opponents points per game and eighth as well in pace. I'm not big on numerology or anything but I'm just going to assume someone on that team sold their soul to an entity that doesn't have their best interest at heart. Philly isn't big on the three point shot, 28th in the league in attempts and makes, and 16th in the league in percentage. This is mostly because of Ben Simmons and his well known allergy to the long ball. They're the 8th best team in the league in total rebounding, 3rd in the league in steals and top of the heap when it comes to blocking shots. If Fox is gonna keep his streak of play alive, he's going to be going against one of the best paint protecting teams in the league. On the other side of things, Philly is 2nd in the league at getting to the line - Richaun Holmes is already going to have his hands full tonight but any extra fouls for him will spell certain doom for the Kings. Whiteside is a capable interior defender, but Embiid being able to play outside the key is going to render Hassan fairly useless if Philly wants to go that way.
One last thing, DaQuan Jeffries is officially upgraded from out to doubtful, so some high energy help to back up Harrison Barnes is officially on the way. Okay! Enjoy this one!
Prediction:
De'Aaron Fox is going to blow through Ben Simmons like a Super Soaker through a cotton candy riot shield. Buddy Hield is going to show out for his former future team and Marvin Bagley will play 4 fourth quarter minutes. Yes, I'm going there with this one.
Kings: 117, Sixers: 109