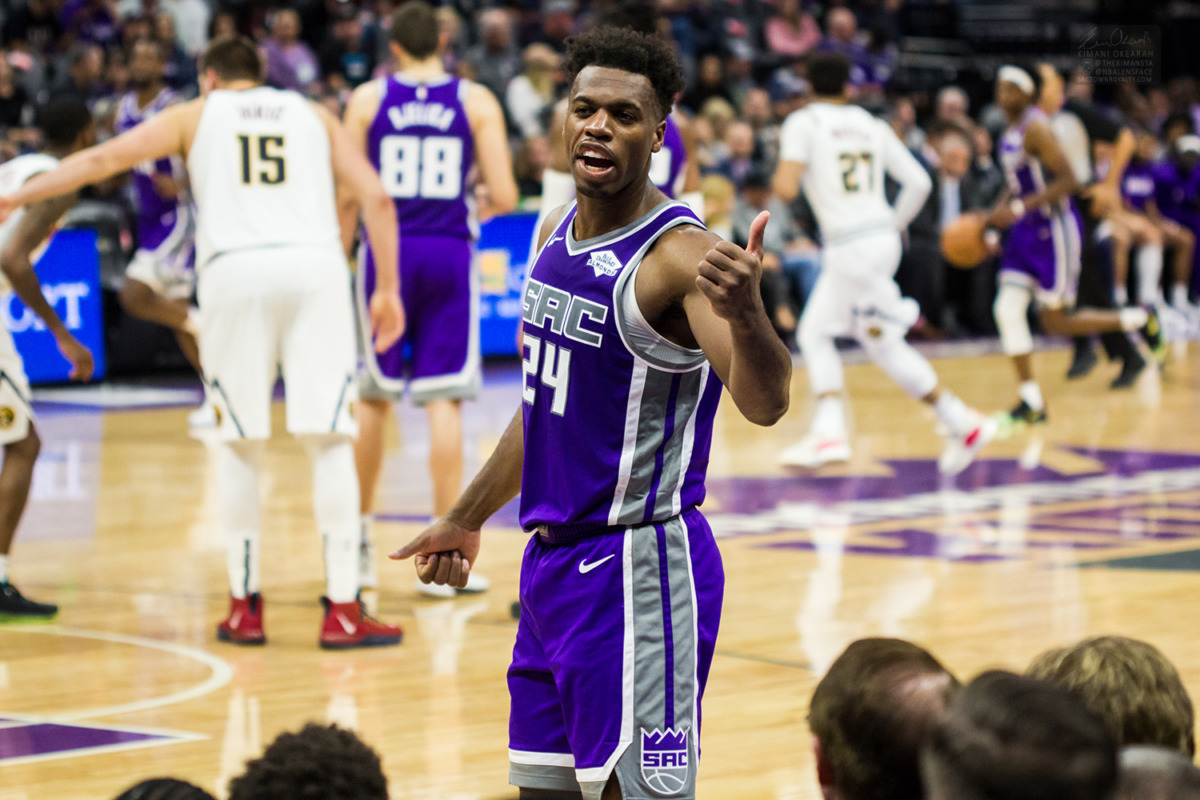 As Monte McNair embarks on his first offseason in charge of basketball operations for the Kings, Buddy Hield's future in Sacramento looms as one of McNair's biggest decisions.
Hield didn't hide the fact that he wasn't pleased with his role in Luke Walton's rotation last season after losing his starting spot to restricted free agent Bogdan Bogdanovic. The way the Kings' relationship with Buddy soured over the last year fueled rampant speculation that one of two things had to happen before the 2020-21 season kicks off: Either Buddy Hield is traded, or Bodgan Bogdanovic isn't retained.
Despite that trade speculation, McNair spoke glowingly about Hield in his introductory press conference back in September. Of course, there is a huge "what else is he supposed to say?" factor here, but McNair acted as if Hield will be a big part of what the Kings want to do offensively next season.
Forbes' Sean Deveney provided a minor update on the Buddy Hield situation on Saturday in a report sourced from a rival NBA general manager. According to Deveney and his source, the Kings haven't been actively pursuing a Buddy Hield trade, yet.
€œI think it makes a lot of sense, them trying to move him, start with a clean slate, they were better without him in the starting five, all of that,€ one general manager said. €œThe logic is there. But there does not seem to be a lot of action there, not yet at least. It is not something where they seem to be shopping him very actively. Maybe it would be better to wait, to see how the season starts, but I don't get the sense that they're out there really laying the groundwork for a deal. They're just not yet shopping him.€
Considering we know that the source of Deveney's report is another NBA general manager, it's entirely possible that the Kings are having conversations about Hield with other general managers around the league that he isn't privy to, so I'm digesting this rumor with a healthy amount of skepticism, but it's information worth talking about.
The Kings have legitimate reasons to keep Buddy, so while I'm skeptical about this particular report, it could certainly be legit. Beyond the on-court reasons, McNair would likely be trading Buddy at a low point in his value around the league. Everyone knows he's unhappy. Everyone knows the fit with Bogdanovic's emergence is awkward. Everyone knows he had a down year by his 2018-19 standards. If McNair would prefer to build Hield's value back up to trade him later, there is a lot of logic to that approach.
It's also possible that McNair just prefers Hield to Bogdanovic, and that's how this situation is eventually resolved. We'll find that one out when free agency opens in a few weeks.
The big problem McNair has to consider is that if Hield's relationship with Luke Walton is as bad as it appears from the outside, his value around the league could tank even further. The Athletic's Jason Jones reported last month that Hield hasn't been returning Walton's phone calls since the Kings left the Orlando bubble. If Hield and Walton can't come to some resolution soon, I would expect the trade rumors to continue.