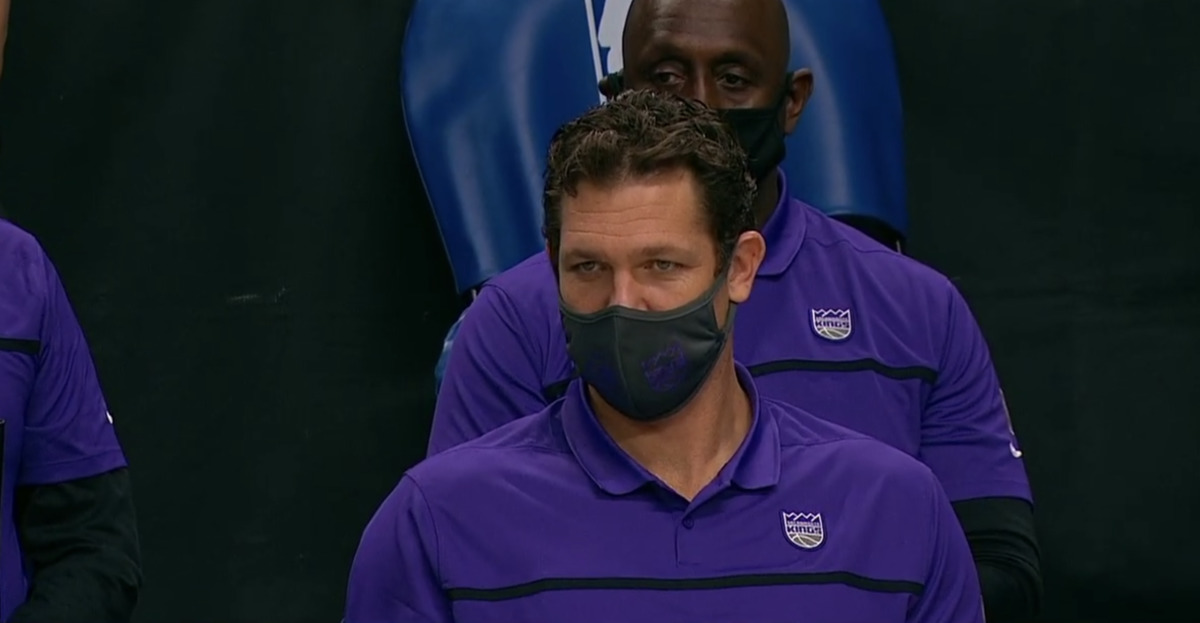 The Sacramento Kings dropped the first preseason game of this new season Friday night to the Portland Trailblazers 127-102.
Harry Giles slayed the Kings for 18 points and 14 rebounds.
Ok, now that we got that out of the way, a few of the biggest aspects of the game that Luke Walton and players noticed were the pace, passing and [lack of] defense.
Here are some comments shared after the game.
Pace

Walton: €œI thought we did a lot of good things in that first half as far as what we've been working on, what we're looking to do offensively. We had 15 assists [at the half], liked the pace we were playing at. Obviously, we're not in good enough shape yet. I thought our guys got tired and then we gave into that fatigue.€
Buddy Hield: €œThe spacing was great. I think everybody played unselfishly too.€
De'Aaron Fox: €œFirst half I think we shared the ball really well.€
The Kings finished the game with 24 assists and 17 turnovers.
Defense

Walton: €œDefensively, we played absolutely zero defense tonight from the start of the game to the end. We've got to be much better at that.€
€œIt comes down to for us we've got to be able to guard the ball, we've got to be able to protect the paint and we've got to be able to rebound.€
€œThere are some things we're doing different. We've had what, four days of practice, however many days of practice, and this was the first preseason game. There are some coverages that are different for the guys that are returning that we have a foundation set with. And then outside of Cory Jo [Joseph], there wasn't many people on the bench that were out there playing tonight that were getting rotational minutes last year. A lot of opportunities are coming for guys that this is either new for or the opportunity and the role, the minutes are bigger for right now. The combination of the two of those is what we have to continue to understand. Be patient on one hand with some of the young guys and let the veteran guys get some more experience running these schemes and coverages.€
€œWe're looking to be much more disruptive this year. Part of that is deflections, steals, blocks, and I thought we did a nice job of those parts of it. It was more how freely we were letting them run their offense. €¦ We've got to push them out further, we've got to fight through screens better, bigs have to be up more, and those are things and traits that good defensive teams have that we're going to continue to work toward.€
Fox: €œBeing good defensively isn't about forcing turnovers or just forcing turnovers. You have to make teams miss. You can have 20 turnovers, 25 turnovers, but if you're shooting 50 percent from three then it's probably going to be hard to lose. For us, we have to be able to close out better, pick up points better, just be able to pressure the ball a lot better and force them into shots that they don't want to take.€
The Blazers shot 51 percent from the field and 50 percent from three. The Kings had 12 steals.
Rookies

Hield: €œT-Y [Tyrese Haliburton] was able to find some guys and play a little point and show his versatility. Jahmi'us [Ramsey] was a scorer at Texas Tech. He came in and he shot the ball with confidence. You see why they are in the league.€
Walton: €œA couple of these guys were in college a few weeks ago. You want to come out and show everyone what you can do so I feel like we probably forced a couple of shots that we're not looking for, but they're confident young men and I like that they're aggressive, but we have to do better as far as understanding what we're looking for. And understanding that when we're unselfish the ball is going to make its way back to us as long as the other guys out there are playing the same way.€
Haliburton finished the game with 5 points, 3 rebounds, 2 assists and 2 steals in 20 minutes. Ramsey had 5 points and 1 assist in five minutes of action.
Getting Into the Paint More

Walton: €œI'm looking for De'Aaron to get into the paint a little more.€
Fox: €œI do think we shot a lot of threes today. We definitely can touch the paint more. Obviously, doesn't mean we have to shoot the ball [in the paint]. If those paint touches result in kick-out threes then those are the best threes that you can possibly get in basketball.€
The Kings had 36 points in the paint to the Blazers 38.
Other Notes
The Kings shot 50 three pointers (made 16 of them). The motto this season coming out of training camp isn't about a certain number of threes per game, but taking good three-point shots when the opportunity is there.
Hassan Whiteside (right calf strain) and Marvin Bagley (COVID-19) did not travel with the Kings to Portland.
CJ McCollum reminded Walton to wear his mask during the game.
"Put your mask on." - @CJMcCollum 😷

(via @trailblazers)pic.twitter.com/rhoFVpHGb8

— Sports Illustrated (@SInow) December 12, 2020
The rematch between these two teams is on Sunday at 6 p.m.