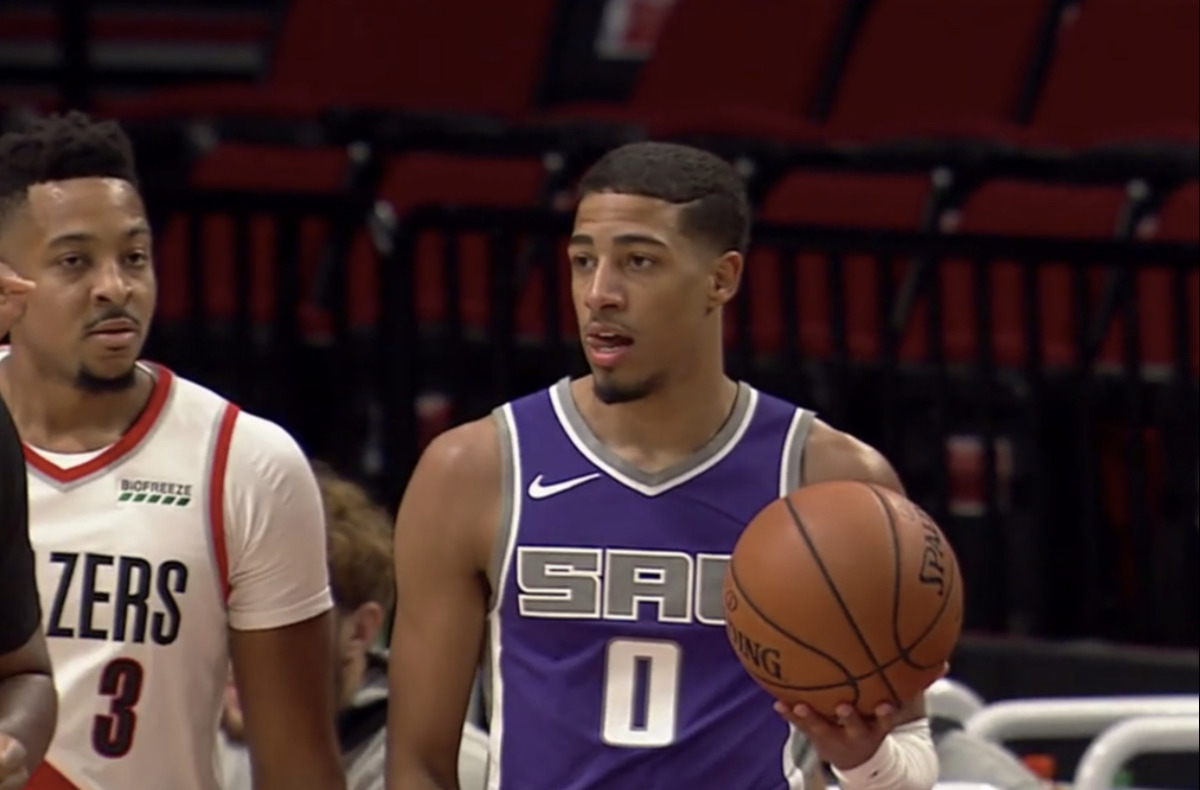 Tyrese Haliburton, Jahmi'us Ramsey, and Robert Woodard II all made their NBA (preseason) debut against Portland last night in an eerily empty arena. It was surely a moment they will never forget, and their first chance to show the Sacramento fanbase their styles of game.
Haliburton was the obvious headliner who will be a rotation player this year and displayed what seemed like some understandable nerves in his 20 minutes of run.
The 12th pick is a pass-first player, but he appeared a bit anxious to get the ball out of his hands on the offense end at times. He often picked up his dribble early, hardly looked towards the rim, and that's fine in preseason game one.
Unselfishness is a quality that I admire in players and Tyrese will learn to pick his shots and be aggressive when he needs to. Defensively is where he excited and, call me crazy, I truly believe he will be the best off-ball defender on Sacramento's roster before the season concludes.
Look at how engaged he is at tall times, surveying the floor, constantly moving, and filling lanes while his teammates rotate.
A large portion of defending in the NBA is being willing to put in the effort on that end of the floor -- the Iowa State product will have no concerns in that regard.
No lazy passes are allowed when Tyrese Haliburton checked in. He managed two steals on the night and a few more deflections on top of it. Just wait until he is launching these post-steal outlet passes to De'Aaron Fox and Marvin Bagley in the open court.
The transition defense in the later clip is probably what I would pick as the play of the night, especially if you cut it right after he gets the turnover with great anticipation. Haliburton giving it up so quickly and blundering what should have been an easy opportunity if he put pressure on Robert Covington by driving to the rim is a prime example of the nerves and unselfishness I mentioned previously.
To my disappointment, Jahmi'us Ramsey and Robert Woodard II did not check into their debut until about five minutes remaining in the closing quarter.
For Woodard, who was selected by Sacramento at pick 40, that was not enough time to display his defensive prowess. Jahmi'us Ramsey, however, came in and was ready to show it all.
First shot, first NBA bucket in the books for JR - a simple catch-and-shoot three from the corner.
Next posession, give it right back to him. The Texas Tech alumni made a smooth pocket pass out of the pick-and-roll that leads to a Chimezie Metu push shot.
Nothing crazy, but just showing off some of the on-ball equity that made me so high on his potential ceiling on draft night. I mentioned apparent nerves for Sacramento's lottery pick, but if Ramsey had any they were much less obvious.
He had no hesitation to pull it, which may not always be a good thing, but I am buying all the Jahmi'us Ramsey stock on the market. With this likely being a season focused on development, let him get them up.
Ramsey will get his shots, Haliburton will get some stops, and Woodard's will eventually earn his props. Sacramento can look forward to watching the rookies develop on game nights, usually around seven o'clock.