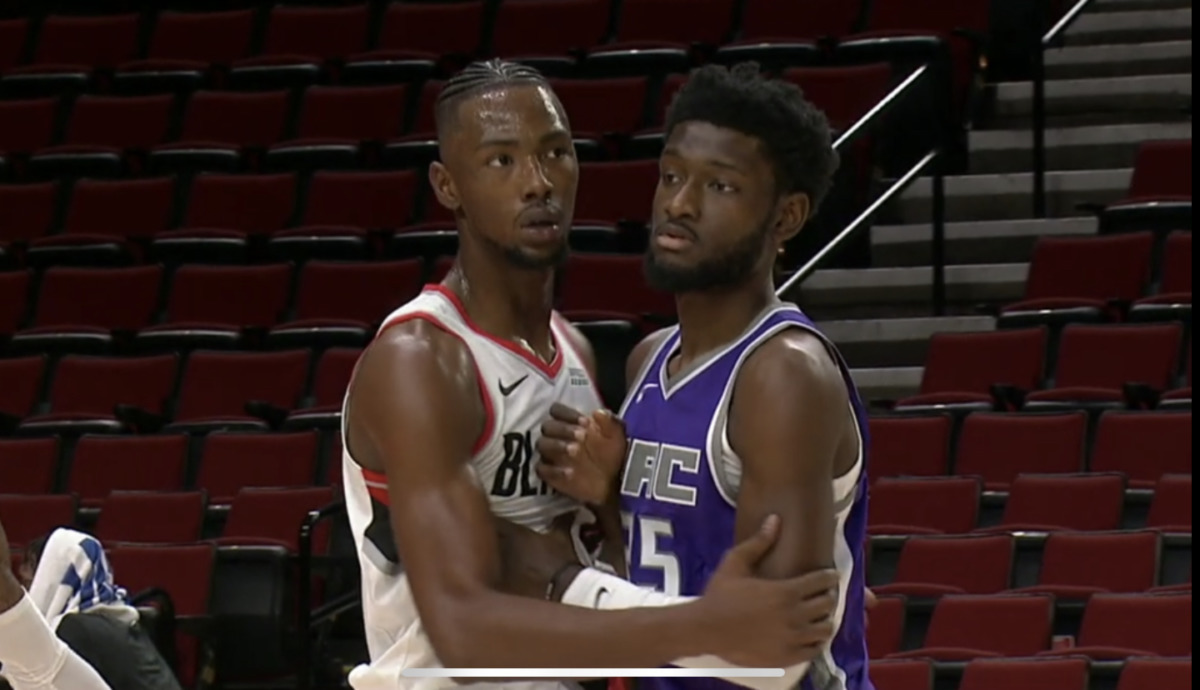 The commencement of the most unprecedented season in NBA history is officially underway for Sacramento. The Sacramento Kings opened its four-game preseason campaign against the Portland Trail Blazers, falling 127-102 in a game that wasn't really close.
Portland rained triples from the tip-off with Damian Lillard showcasing his sniping abilities. CJ McCollum, newly acquired Robert Covington and Derrick Jones Jr. also provided a boost from deep for Portland, who Sacramento couldn't stop.
For Sacramento, Buddy Hield led the way with 23 points while shooting 5-11 (45%) from deep. Hield was active and hustling on both ends of the floor, showing flashes of how he played in 2018-19. The Kings, in general, looked to run whenever they had the chance.
Kings pace last season: 99.6 (19th)

Kings pace tonight: 108.5 (1st)

— SactownBabyGiraffe (@TimMaxwell22) December 12, 2020
Harrison Barnes also came to play, scoring 16 points on 5-8 shooting, including two triples. Barnes added four rebounds, three assists, and three steals to his stat sheet. His wing defense helped Sacramento in their attempts to contain Portland's scorching shooting, but little could be done to halt those flames.
As the game progressed in the second half, the Kings still trailed, but Luke Walton gave the youngsters a chance to play. Jahmi'us Ramsey, the 43rd overall pick, only played five minutes, but made an immediate impact; he knocked down a corner three, found Chimezie Metu on a slick pocket pass for an assist, and drove to the rim against a scrambling Portland defense to convert a scoop layup. Robert Woodard II, the 40th overall pick, played six minutes, and the strength he displayed during camp definitely looked impressive.
However, Harry Giles was all over the floor for Portland. He racked up 18 points (8-13 shooting), 14 rebounds, one assist, three steals and two blocks. He. Was. Everywhere. Giles, alongside Gary Trent Jr., ensured Sacramento couldn't come back in what was a blowout win.
Game Notes
It's only the first preseason game, but the Kings will need De'Aaron Fox to perform significantly better than he did today. He was aggressive from three, and for how he shot last season, it's good to see him attempting those. However, he shot 1-7 from deep. His overall shooting (3-12) isn't something the Kings can afford in the regular season if they hope to win games. But Fox and Hield looked solid sharing the floor together.
Tyrese Haliburton played 20 minutes in his rookie debut, and he looked impressive on the defensive end. He was causing havoc off the ball and displayed good anticipation when he jumped a passing lane for a steal, leading to a solo transition dunk. On offense, shyness dominated. He's typically a pass-first guard, but that's all he did. Haliburton will need to attack the rim if he hopes to unlock his game on that end.
Glenn Robinson III's strength on offense is as a catch and shoot shooter. That was evident when he made his one triple, but too often, Robinson tried to play outside of himself; the result was about what you would expect. He finished with nine points on 3-9 shooting.
DaQuan Jeffries was one of the first players off the bench - a good sign for the Bubble breakout player. He showed his versatility on defense but went 0-5 from the floor on offense. Jeffries needs to become a reliable threat on that end to make a stronger impact.
Kyle Guy and Justin James, last year's second-round picks, went a combined 0-6 from the floor, including a total +/- of -17. I'm not a big plus/minus fan, but both players really struggled. James made some flashes on defense thanks to his lateral quickness, but his long ball looked rough, and when he attacked the paint, he couldn't convert. Guy took the wrong route on a late pick-and-roll with Metu and crashed into two Blazers, resulting in a turnover. Not a good showing from the pair.
Notable Stats
The Kings shot 16-50 from deep. Yes, you read that right. On the other hand, Portland made 17-34, good for 50%. Sacramento's perimeter defense remains a weakness.
Portland out-rebounded Sacramento 55-44. Sacramento definitely felt the absence of Marvin Bagley III and Hassan Whiteside, two players touted to be the team's better rebounders.
Sacramento scored 14 fast break points compared to Portland's 20. That should improve for Sacramento with more minutes from the starters as the season progresses.
Next Game
Sacramento will play Portland again this Sunday (12/13) at 6:00 p.m. PST.