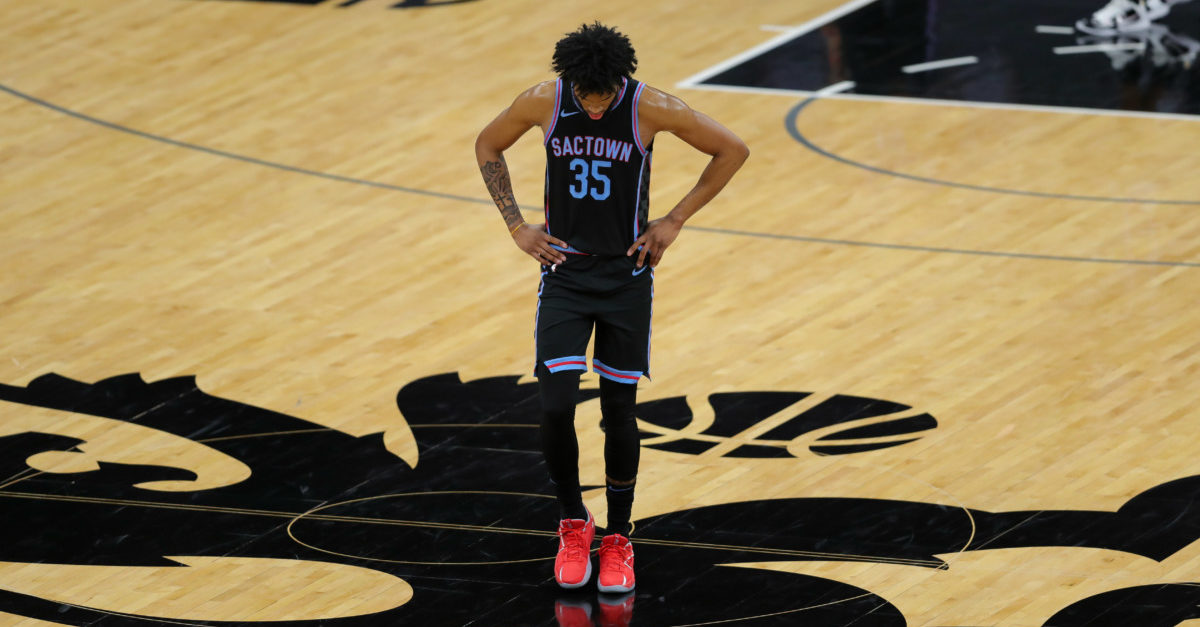 Over the course of the last 48 hours, Marvin Bagley has made some interesting social media decisions, seemingly in an attempt to signal his desire to get out of Sacramento. After watching his father engage in a year-long Twitter campaign to get his son traded, Marvin followed in his dad's footsteps on Tuesday afternoon and Wednesday evening.
Bagley's first move was to €œlike€ a tweet that begged for the former number two overall pick to be moved out of Sac after referencing the historical greatness of the 2018 NBA Draft Class.
We gotta get @MB3FIVE outta Sac man😭 https://t.co/bYMrC1fwbX

— YO BM NEW NIGGA (@NottCedd) June 22, 2021
In theory, if that had been the only activity from Bagley, the €œlike€ could have been interpreted as either an accident or an attempt to promote the original tweet complimenting his draft class, but his actions on Wednesday removed any doubt about his intentions. Marvin deleted all references to both the City of Sacramento and the Kings from his Instagram and Twitter accounts, going as far as to change his location from Sac to Phoenix, the location of his offseason home.
Marvin Bagley's Twitter and Instagram accounts have removed all references to the Kings and Sacramento.

These screenshots are about 20 minutes apart. pic.twitter.com/YZ9NfpVgu5

— SactownBabyGiraffe (@TimMaxwell22) June 24, 2021
Bagley's behavior is a little immature, and frankly, unhelpful if he really wants to be dealt away as quickly as possible, but it's also indicative of how sour the relationship has turned between Marvin and the Kings. By all rights, Bagley and his camp should want out of Sacramento (as should any sane player and their representation, but that's a discussion for another day), but the ineptitude of the Kings also doesn't absolve Marvin from his part in the failed marriage. He's been anywhere from bad to average on the court, has never committed to a physical role in the pick-and-roll or on defense, and his inability to stay healthy over the course of three seasons has hampered any momentum from his excellent rookie season. Outside of improving his three-point shot to €œsolid but not great for a big man€, his game hasn't substantially evolved in any measurable way in his time in a Kings uniform.
Similarly, the Kings are not without blame in this collapsed partnership. They took Marvin too early in a stacked draft and forced both the organization and the player to wilt in the shadows of superstars such as Trae Young and Luka Doncic. Sacramento has also fielded bad rosters and bad coaches over the course Marvin's career, causing his flaws to shine even brighter amidst the growing frustration of an exhausted fan base. If the Kings were good by now, the Bagley conversation would be a hell of a lot quieter and less intense. And by not trading him at the deadline as so many hoped, including Bagley's camp, General Manager Monte McNair has now caused the situation to grow from mildly uncomfortable to downright ugly, and the relationship is only going to break down further the longer that Bagley remains in Sacramento.
The worst kept secret in the NBA over the last six months has been the coming Bagley-Sacramento divorce. To put it frankly, a bad draft pick coming to a bad team with a bad owner was always going to equal a bad outcome, and that's exactly what has happened. Marvin Bagley doesn't want to be on the Kings. The Kings don't want Marvin Bagley to be on the Kings, and it's past time to make that happen, theoretical trade return and rehabbed value be damned. Sometimes relationships simply need to end, and that's the case with Marvin Bagley and the Sacramento Kings.