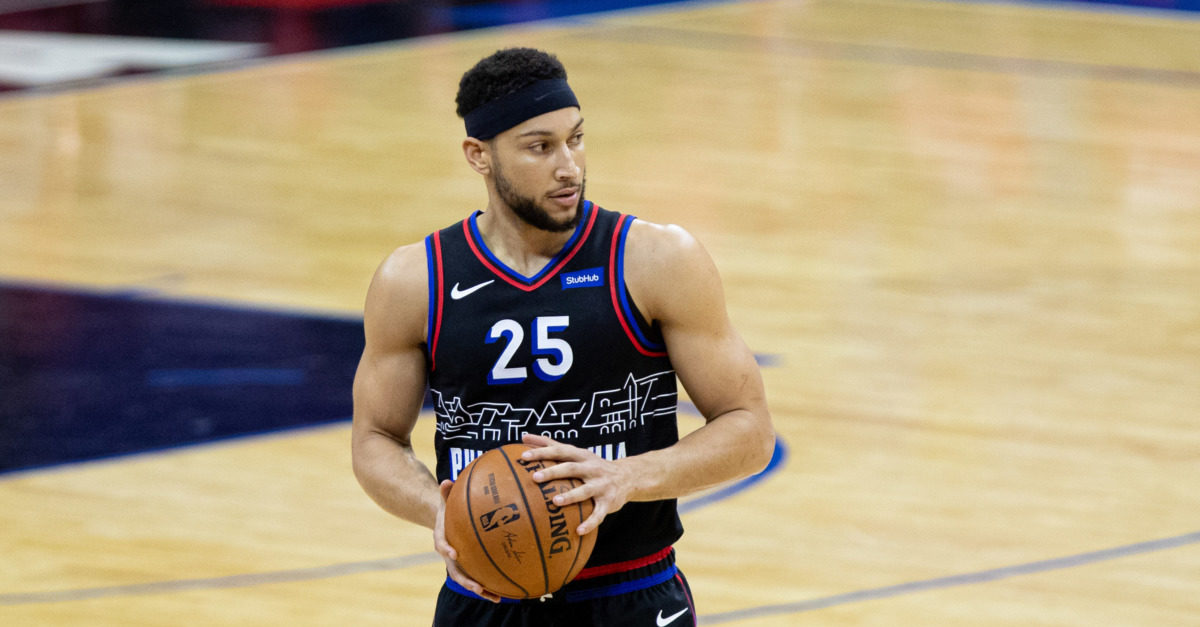 Over the last several months, no storyline has captured the attention of the NBA, and Kings fans in particular, more than the Ben Simmons saga unfolding in Philadelphia. As a franchise constantly scanning the league for discarded assets and diamonds in the rough, talented-if-imperfect players always draw Sacramento's eye, as they're often the most realistic solution for pushing the organization to the next level. Simmons represents the highest tier of that sort of high-risk, high-reward acquisition, perhaps drawing memories back to the days of the Chris Webber trade and the success that followed.
Of course, any conversation around Simmons is bound to be rife with controversy and disagreement. Much of the discourse around such a divisive talent is all or nothing, and discussions often devolve into Twitter-esque, simple labels being heaped upon a complex player. His game is full of enough holes to justify anyone wanting to call him nothing more than Andre Roberson with passing instincts, while those who believe in his abilities can claim enough official accolades to theoretically dismiss those concerns. He's a Rorschach Test of what one wishes to see in a player, and there are both major positives and significant drawbacks to be found for any team acquiring his services, including a current non-contender such as the Sacramento Kings.
The Good
The most attractive aspect of a Simmons trade is, of course, his overall talent level. Over the last 15 years, the Kings have purposefully tanked, accidentally tanked, prioritized young players, prioritized veteran players, spent tons of money, and hoarded their cash, all to no avail. The one thing they haven't tried in a decade-and-a-half of losing is to trade for an All-Star caliber winner, and Ben Simmons has known nothing but winning in his time in the league. The worst Sixers season with him as an active member was back in 2019 when Philly won 13 more games than they lost, far better than any Kings season since their playoff drought began. Last year, the combination of Joel Embiid and Simmons posted the best record in the Eastern Conference, the equivalent of 56 wins in an 82-game season.
Beyond team wins, Simmons' individual repertoire is also quite impressive, even if his poor performance against the Atlanta Hawks has seemingly erased many of his accomplishments for many people. Last season, he finished second in Defensive Player of the Year voting, while the Kings haven't even had someone rank as All-Defense since Ron Artest back in 2005-2006, not so coincidentally the last time that Sacramento sniffed the postseason. Simmons has also been elected to three All-Star Games and been selected for First Team All-Defense twice in his first four seasons in the league, one of four players in league history to accomplish both of those things. The other three names on that list are Tim Duncan, David Robinson, and Hakeem Olajuwon. Of course, Simmons certainly isn't that caliber of player, but that's perhaps a perfect definition of who he is as a contributor - a perfect Robin or co-manager, but not the number one option for a contending team.
While that label may seem a bit harsh for a career winner who has gobbled up multiple awards, Simmons' key areas of expertise — play-making, defense, and rebounding — are all facets of a complementary star, a la Draymond Green, rather than as a cornerstone piece. However, his unique package doesn't negate his value, and in some ways, it may actually increase his importance on the floor, especially for a team like the Kings.
In 2020, Sacramento failed miserably in three critical areas: overall talent level, defense, and rebounding. They ranked 30th in defensive rating, posting the worst mark in NBA history, 30th in points allowed per game, 30th in defensive rebounding, and 30th in total rebounds per game. The Kings couldn't stop opponents, nor could they close possessions with a secured board.
To be fair to Sacramento's front office, Monte McNair has somewhat addressed those areas of need in free agency and the draft. He re-signed Richaun Holmes, Moe Harkless, and Terence Davis, all defensive-minded players, drafted a stud guard stopper in Davion Mitchell, and acquired Tristan Thompson and Alex Len, an excellent rebounder and a solid rim protector respectively. Although all of those are solid depth additions, aside from Holmes and maybe Mitchell, most of those players are plug-and-play one-dimensional contributors. Luke Walton can plug in Tristan Thompson as a rebounder, but he's not going to give you much as a shot-blocker or scorer. Moe Harkless is an above-average defender, but he can't shoot a lick, and so on and so forth. The Kings addressed individual needs with a coterie of individual players, but their talent level is such that they aren't going to elevate the team in multiple areas, as is the case with most bench players in the NBA.
Simmons is the exact opposite. He can fill every gap for the Kings, and he would do so at a much higher level than almost anyone else on the roster. In 2020, the Philadelphia 76ers ranked in the 94th percentile in points allowed per possession with Simmons on the floor, and that's mostly due to his ability to guard point guards through power forwards, harass the passing lanes for potential steals, and then recover to protect the rim. He held opponents to 5% under their average field goal percentage last season, placing fourth among all forwards in the NBA, and he also ranked in the 93rd percentile in block percentage and in the 86th percentile in steal percentage among his peers. To put that final number into a different perspective, Simmons was 9th in the NBA in steals per game in 2020. If he was added to the core of De'Aaron Fox (15th) and Tyrese Haliburton (29th), the Kings would control three of the best ballhawks in the entire league, all of whom have their best defensive days ahead of them.
It's also been made very, very clear that the Kings want to run three-guard lineups as frequently as possible in the 2021 campaign, and Simmons' defensive versatility would not be the only aspect of his game to boost those lineups. He's an above-average rebounder for his position, an area of need for any of those groups that Luke Walton wants to run, especially if Richaun Holmes is anchoring the center spot, as he's a middling rebounder on his best day. Simmons' defensive rebounding percentage of 17.1% is much better than that of Harrison Barnes (15%) or Moe Harkless (9.7%), and while he'll never be as effective on the glass as a traditional big man, his much more robust skill set is far more valuable than players such as Marvin Bagley or Alex Len.
The final aspect of Simmons' game that makes him so unique is his size and passing ability, and while it's true that the Kings aren't necessarily desperate for another play-maker, adding a 6' 10" point forward should not be dismissed, even with De'Aaron Fox and Tyrese Haliburton on the roster. Only five players in NBA history have stood taller than 6' 10" and have averaged at least 6.5 assists per game. Ben Simmons is the only player to do so four times. His combination of height and court vision are especially effective in finding shooters in the half-court, as he ranked third in the league in assisted three-point makes per possession last season. The possibility of Richaun Holmes sprinting out in transition, with Simmons, Fox, and Haliburton flinging the rock all over the court to trip up defenders, and Harrison Barnes flying to the corner, would be nearly impossible to stop.
The Bad
It's incontrovertible that Ben Simmons is an all-world defensive talent, a freak play-maker, and a solid rebounder on both ends of the floor, but he is by no means a perfect player. There are holes in his game, and they are almost as incontrovertible as his positive attributes. Outside of his success at the rim, in which he ranks in the 89th percentile among ball-handlers, Simmons flat-out cannot and will not shoot, a near-death knell for a modern point guard. 97% of Simmons' shot attempts came from layups, floaters, dunks, and the like last season. Only 3% of his shots originated from outside the area around the rim, and of his career 3,188 field goal attempts, just 34 have originated from beyond the arc.
That inability and unwillingness to space the floor severely limits what Simmons can do off of the ball, and coupling his non-shooting with De'Aaron Fox's inability to knock down three-point shots (early preseason results notwithstanding) could clog up the lane, even if two of the other starters are knockdown shooters. And while it's true that some of Simmons' shooting limitations can be negated by running him in pick-and-roll as the screener and off of off-ball screens, any rotation with him on the floor will find itself in an awkward position when he refuses to pull the trigger on a good, open shot.
In some ways, he's the Yin to Russell Westbrook's Yang on the offensive side of the floor, as both are historically bad shooters. Westbrook hurts his team by shooting far too often, and Simmons hurts his team by refusing to shoot at all. Such severe imbalance on either end of that spectrum does nothing but disrupt a smooth offensive performance.
Simmmons' offensive limitations also sometimes impact his ability to run basic offensive sets. While his passing instincts are otherworldly, and his height-to-position ratio is unprecedented, Simmons still struggles to score out of the pick-and-roll, one of the most basic offensive principles in all of basketball. Opposing defenders are ingrained with the knowledge that Simmons has a zero percent chance of pulling up and knocking down a jumper, so they simply fall back and pack the paint against his drives. While it helps to have shooters on the corners to space the floor in that situation, as Philly did with Seth Cury and Danny Green last season, the individual results for Simmons were still poor from a scoring perspective, as he rated in just the 23rd percentile in pick-and-roll points per possession.
When Simmons does penetrate the lane in pick-and-roll and other situations, he's often fouled, as he led all point guards in free throw frequency last year. However, many of those free throws came from opposing defenses making a solid bet, rather than from Simmons making crafty plays. Last year, he sunk just 61.3% of his free throw attempts, the lowest mark of any player in the league to attempt more than 4.5 per game. Once again, pairing that significant deficiency with De'Aaron Fox's own struggles from the line could be cause for very real concern.
The Unknown
Other worries about Simmons' fit in Sacramento are not quite so definable or stat-driven. Perhaps the most legitimate criticism lobbed his way has been his lack of growth in any areas of weakness over the last four years. A quick glance at his season-to-season per-game numbers shows no significant evolution in shooting or scoring.
| | | | | | | | | | | | | | | | | | | | | |
| --- | --- | --- | --- | --- | --- | --- | --- | --- | --- | --- | --- | --- | --- | --- | --- | --- | --- | --- | --- | --- |
| Season | MP | FG | FGA | FG% | 3P | 3PA | 3P% | eFG% | FT | FTA | FT% | ORB | DRB | TRB | AST | STL | BLK | TOV | PF | PTS |
| 2017-18 | 33.7 | 6.7 | 12.3 | 0.55 | 0 | 0.1 | 0 | 0.55 | 2.4 | 4.2 | 0.56 | 1.8 | 6.3 | 8.1 | 8.2 | 1.7 | 0.9 | 3.4 | 2.6 | 15.8 |
| 2018-19 | 34.2 | 6.8 | 12.2 | 0.56 | 0 | 0.1 | 0 | 0.56 | 3.3 | 5.4 | 0.6 | 2.2 | 6.6 | 8.8 | 7.7 | 1.4 | 0.8 | 3.5 | 2.6 | 16.9 |
| 2019-20 | 35.4 | 6.6 | 11.4 | 0.58 | 0 | 0.1 | 0.29 | 0.58 | 3.2 | 5.2 | 0.62 | 2 | 5.8 | 7.8 | 8 | 2.1 | 0.6 | 3.5 | 3.3 | 16.4 |
| 2020-21 | 32.4 | 5.6 | 10.1 | 0.56 | 0.1 | 0.2 | 0.30 | 0.56 | 3 | 4.9 | 0.61 | 1.6 | 5.6 | 7.2 | 6.9 | 1.6 | 0.6 | 3 | 2.9 | 14.3 |
In all reality, one could swap any season for any other and see no change in production from Simmons.
Another less tangible detractor, and the one with the fewest teeth, is his potential unwillingness to play in Sacramento. His agent, Rich Paul, is known for getting his way. Combine that fact with the "three California teams" rumor from earlier in the summer, and the concern around another holdout becomes almost palpable, but there are plenty of reasons to dismiss such a worry.
For starters, holdouts aren't inherently bad things. Plenty of players have held out over the decades, with no long-term impact on their careers. Even one of the most beloved Kings of all time, Doug Christie, held out for a bigger payday or a trade when he was drafted by the Seattle SuperSonics in 1992, causing a tidal wave of disgust from Seattle's media and fan base. He turned out just fine.
The reasoning behind the holdout also makes for a unique situation. Simmons isn't mad about playing time or role or money. He's upset that his head coach and fellow star player threw him under the bus after a playoff loss, and then backed the bus up and rolled over him again this summer, and again in camp. He doesn't want to play for the Philadelphia 76ers, and that's somewhat understandable given the circumstances, although he certainly wasn't blameless in his performance against the Atlanta Hawks.
There's also the important and influential matter of cold, hard cash in Simmons' willingness to play for his new team. He's currently losing $360,000 per game that he misses, in addition to potential fines if he starts skipping practices and other team events. The Sixers have also been given permission to withhold over $8 million in pay until he reports or is traded, and that will continue to dwindle as Simmons continues to refuse to report to the team. Demanding a trade and holding out from his new team would be a potential career-killer for Simmons, and both he and his representation would feel the full wrath of the NBPA and NBA offices. While theoretically possible, a second holdout just doesn't seem likely.
The Gamble
While there are intertwining layers of debate around Ben Simmons' game, how good he actually is, and what role he would play in Sacramento, there is no real doubt that he would help the Kings, and probably help quite a bit. The balance that Monte McNair must strike is the addition of Simmons, versus the loss of assets in a high-cost trade, whether those be veteran contributors, parts of the young guard core, first round picks, and even future salary cap flexibility. Add in the ridiculous, unreasonable demands of the Sixers in trade talks, and it's easy to see why no deal has yet taken place, and why a deal may never take place.
Conversely, 25-year old Defensive Player of the Year candidates who are locked up long-term aren't exactly available whenever one wishes. Simmons very likely represents the only realistic opportunity for a major upgrade until at least the trade deadline, and if the Kings are as desperate to break their 15-year playoff drought as everyone believes they are, an All-Star paired with De'Aaron Fox and Tyrese Haliburton certainly makes that path to the postseason much easier and much wider. His defensive accomplishments and positional versatility would solve many, many problems for Sacramento, including their weak fifth starter spot. On paper, the fit looks almost perfect.
Such a dichotomous debate is unironically reflective of Simmons' actual game. There's a lot of good to be found, but there's a vein of negatives running through such a bright, young talent. On the right team, those weaknesses can be hidden and Simmons can flourish. Meanwhile, an incorrect fit may very well crush a team from a trade asset, cap sheet, and on-court chemistry position.
It's unreasonable to believe that a player of Simmons' caliber wouldn't do the Kings any good, and it's just as unreasonable to say that there's little to no inherent risk in such an acquisition, especially if the cost is as high as expected. However, for a team as desperate for wins as the Sacramento Kings, a gamble on Ben Simmons may very well be worth the risk of all of his unknowns.