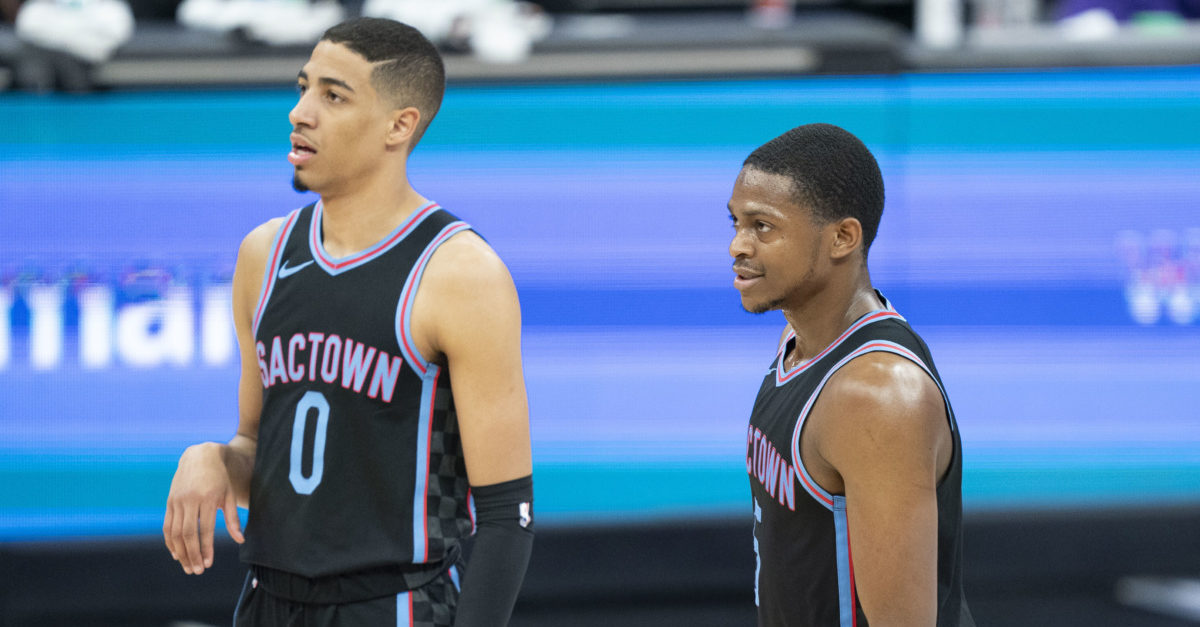 Akis glances around the specially-made conference table that could fit a giraffe and a Wissinger-sized ego. Everyone is here. The preseason roundtable is ready...except...NO ONE IS PAYING ATTENTION.
"Greg, quit texting Vivek. He said the checks are on the way. Kevin, quit DMing with Monte. Tony, quit trying to convince Kevin that the Chipotle vinaigrette is healthier than an apple. Will, stop offering free haircuts to Kevin, Brad, and Rich. It wasn't funny the first time. It wasn't funny the last time. Brad, can you rescue TJ? She fell in the wine bottle again. Brenden, if you wear a Warriors shirsey to a meeting again, you're fired. Bryant, stop shouting about Dennis Smith Jr's "excellent preseason performance against the Kings". Blake, we don't want to try your ironic chocolate chip clear your cookies. We really don't. Mirann, put down Reynolds Remembers. Rich, no one cares that you ironically, unironically hate bacon. Rob, quit arguing with all of the commentors. Robby, get off of the phone with Jake Gyllenhaal. No, Omer, we don't need to sue StR "for existing". And Tim. TIM. Please stop being So. Damn. Handsome. It is distracting"
"Alright everyone, now that I have your attention, we have five days until the regular season begins. It's time for our annual Royal Roundtable series, not because we've run out of content ideas after an offseason of scrambling for content ideas, but because this is what we love. Let's get started."
Will De'Aaron Fox make the All-Star team this season?
Tim: This is a really, really tough question. Last season, De'Aaron Fox was one of four players in NBA history (Tiny Archibald, Michael Adams, Trae Young) to average at least 25 points and 7 assists and not make the All-Star game, and we expect him to be even better next year. On the other hand, the Western Conference is full of top-quality guards such as Damian Lillard, Steph Curry, Chris Paul, Devin Booker, Luke Doncic, and the like. I'll say that while De'Aaron Fox will be in the conversation for one of the final All-Star spots, he misses the cut due to Sacramento's lack of wins at the time of selection.
Rob H.: No. He'll be incrementally better than last season, but he will be a victim of the guard talent in the Western Conference, coupled with the Kings sub-.500 record. Hali & Mitchell will both play in the rising stars, though. So we've got that going for us. Which is nice.
Tony: I'm going to say no, but I don't think that'll necessarily be indicative of the kind of season De'Aaron Fox is going to have. He'll be in the All-Star conversation. He may even deserve it over a bigger-name veteran or two. I just don't think this is the year he'll get that recognition, even if this is the year he makes the big leap. News flash – the Kings don't get a lot of respect nationally, and most of the time that's deserved so I'm not really complaining here, I'm just being realistic. It's going to take All-Star voters another year and a little bit of Kings success before Fox takes someone else's spot unless his leap is so big and the Kings win so much that his emergence becomes unavoidable. I don't think that's an impossible outcome, but I'm not going to bet on it.
Brenden: I'll say yes here because it seems like a good amount of non-Sacramento people around the league are fairly aware of the ridiculous season Fox had last year that was deserving of an All-Star appearance. 25 points, 7 assists, and 3 rebounds a game including some ridiculous highlights should be enough, even in the Western Conference. I don't see Fox regressing and two years in a row of the same numbers will earn his the All-Star nod he deserves.
Mirann: Ah, the never ending battle between my head and my heart! My heart says yes, but my head says no. Do I think De'Aaron Fox performs at an All-Star level? Absolutely. Do I think the league will award him this recognition? Not yet. Despite having a breakout season last year, averaging a career-high of 25.2 ppg, De'Aaron ranked 6th in player voting for Western Conference backcourt and didn't receive a single media vote. That's not to say those ahead of him weren't deserving - it's hard to argue that Stephen Curry, Damian Lillard, Luka Doncic, Devin Booker, and Donovan Mitchell shouldn't be up there. But I think the biggest difference we can see between those five guys and De'Aaron is the fact that they were on winning teams and De'Aaron was not. I think the final push De'Aaron needs to crack the All-Star roster is for the Kings to put themselves on the map as a winning team, garnering national attention, and subsequently uplift our point guard to his rightful All-Star throne. And given their deep-rooted history of losing, I expect the Kings would need to have a season similar to the Phoenix Suns of yesteryear in order to get that kind of attention, which I don't think will happen THIS year. Maybe next year? *prayer hands emoji*
Greg: I'll say yes, but it's because I'm very torn. I believe he will play at a level deserving of an All-Star, but I also recognize that the West is absolutely loaded at the guard position. I'll say that Fox isn't part of the initial selection, but gets the nod as an injury replacement after another player comes down with a common cold that is very mild but still requires them to withdraw from All-Star festivities (we don't wish harm on any players around here, but I am comfortable wishing a mild cold upon someone to miss an exhibition weekend).
What sort of a leap (or non-leap) do you expect from Tyrese Haliburton?
Tim: I expect a significant leap from Tyrese in the 2021 campaign, as he's the sort of player who has improved individual facets of his game every year since he's been in the spotlight, and that work ethic almost certainly didn't change this offseason. Haliburton's already an excellent outside shooter and facilitator, as well as a ballhawk in the passing lanes, so I'm hoping he focused on on-ball defense and individual scoring over the summer. Tyrese got some national love because of his placement in the Rookie of the Year race last year. Now, I expect him to get some national love because of his future stardom.
Rob H: Sophomore slump notwithstanding, I think that Haliburton becomes the Kings undisputed best baseline to baseline player, and an almost unanimous fan favorite. I am probably more excited about watching Tyrese this year than any other Kings player.
Tony: I'm sure others will talk about Tyrese Haliburton's on-court leap, which I'm also expecting to be significant, but I'll pivot and talk about the off-court leap I think we'll see from Haliburton this season. I thought Tyrese showed a lot of leadership qualities in his rookie year, and I'm excited to see how he continues to develop into that guy for a team that needs one of their young players to take on that role.
I loved how engaged Haliburton was in everything the Kings did this summer. He was at summer league, he spent a ton of time in Sacramento during the offseason, he's always showing love to Sacramento in his many media appearances, he's always shouting out local business, and all of those other community cliches. He's that dude. The Kings have had a void there, in my opinion, and I think Haliburton, with a year of NBA experience under him, will grow into a great leader for this team, on and off the court.
Brenden: For me, it's gotta be with his handle which will lead to increased self-creation opportunities. There were only two occasions last season where it really felt like Haliburton took over a game, which was against Golden State and Brooklyn. I'd expect we see that more often in year two. If Tyrese Haliburton is going to be a future All-Star in the NBA, then he needs to take a notable jump with his handle and creation and it seems like that is fairly obvious. I think that improvement does happen this season, and Haliburton is about to prove his NBA value.
Mirann: I am expecting all of the leaps from Tyrese Haliburton this year because he's already shown them! We've already seen a development of his playmaking in the preseason, and I expect that to be a key component in the Kings' offense this season. I look forward to seeing his handle continue to become tighter and hopefully relieve De'Aaron Fox of some offensive initiating responsibilities so that Fox can capitalize on more secondary attack opportunities. On the defensive end, I am expecting to see Tyrese still struggle a bit on-ball against bigger opponents, but I can't wait to see how he provides calculated off-ball coverage to pair with Davion Mitchell's on-ball havoc.
I feel like Tyrese has already grown 10 years in experience right before our eyes. I loved seeing him talk through a play with Davion immediately after draining a buzzer-beater in the first preseason game. With just one unusual NBA season under his belt, Tyrese is ready to dish out his wisdom and lessons learned. I look forward to seeing Tyrese, one of the youngest kids on this roster, provide a uniquely veteran-esque leadership presence on this team.
Greg: I am expecting a small step forward on offense, but through no fault of his own. I think with the guard-heavy rotations the Kings will be running, Tyrese seems to be a likely candidate to defer. He's not a guy who looks for his own shot or works to create his own shot. With his court vision and passing I think he'll be happy to distribute and take his own shot when it's opportunistic. I'm hoping that with the muscle Tyrese added in the summer that we see his biggest leap on defense. He was already great at disrupting passing lanes. I'm hoping he can be a little more reliable as a one on one defender as well.
Will Marvin Bagley have a significant impact this year?
Tim: Sadly, no. Marvin hasn't looked particularly effective in preseason basketball (when he's even played), and that's just sort of an encapsulation of who he is at this point in his career. He's not a particularly efficient offensive player (45th percentile in eFG%), he doesn't share the rock (6th percentile assist to usage ratio), he doesn't know how to operate in the pick-and-roll (38th percentile), he can't post up (21st percentile), and he's a particularly poor rim protector on the defensive end of the floor, as his opponents increased their field goal percentage by 5.7% when guarded by Bagley in the paint last year, the second-worst mark among big men in the league.
And although Bagley is solid on the defensive glass, and his offensive rebounding is actually above-average, but there's just not really anything he does better than anyone else on the roster. If you need scoring, someone else can score more effectively. If you need defense, just about anyone can defend better. If you need rebounding, Alex Len and Tristan Thompson are already there and do other things better. I hope I'm wrong, but I just don't see Marvin being an impact player for the Kings.
Rob H: Using the word "impact" where Marvin Bagley is concerned is unnerving. "Marvin Bagley will miss the next 4-6 weeks, due to impact."
Even healthy, he has become an odd fit on the roster, unless he has magically become a shot-blocking stretch four. Like Tim, I would be happier to be wrong than right here, and there is hope, given that I am wrong at least half the time. Please, Marvin, if you're reading this, PROVE ME WRONG!
Tony: I have no idea. His career thus far would suggest no. With that being said, he showed some promising outside shot development last season. We know how valuable shooting in the frontcourt can be, and while I don't expect Bagley to either live up to his #2 overall selection, or turn into an elite 3-point shooter, I do think he can continue to get more efficient offensively, further develop his outside shot, and find some level of competence defensively. Those improvements seem within the realm of possibility to me.
If he does that, he's a helpful player with the potential to have a significant impact, it's just impossible for someone to sit here and expect that that will be the case considering he hasn't been able to stay healthy, and his positive contributions when healthy are so inconsistent. But when you're only 22 and haven't averaged less than 14 points per game over the course of your career despite all the injuries and awkwardness surrounding his run in Sacramento, I'm not going to completely rule out the possibility of more offensive development and as a result, a fairly significant impact this season.
Brenden: I hate to be this guy, but I think that if Marvin Bagley does have a significant impact this season it'll be in a negative way. It's hard to pinpoint in what way Bagley could impact winning this season outside of some outlier offensive quarters. We did see notable progress in his three-point shooting last season, but his defense remains atrocious and the offense isn't enough to offset that. I'm sadly expecting Marvin Bagley's minutes to be negative this season, and he has given me little reason to believe otherwise.
Mirann: I'll try to keep this one short: no. I feel bad about it - aside from a liked tweet here and there, Marvin hasn't shown any reason to doubt that he's just been a dude with bad injury luck and unrealistic expectations set upon him by the misguided work of Vlade Divac. But looking at the opportunities he has had on the floor, I have never felt convinced that Marvin will be an impactful player in this league. With that being said, I hope with all of my heart that he proves me wrong and shows once again that I am just another idiot with an internet connection.
Greg: I doubt it, but I sure hope so. If Bagley could defy expectations and take a leap forward this year, the Kings would really be in an incredible position with their depth. I hope Bagley can stay healthy, I hope he can find his niche with this team, I'm just not going to stress about waiting for those things to happen. Bagley has been a consistently average player on offense and below average player on defense, and it's been the same for three years. Until Bagley proves otherwise, I'll assume we're getting more of the same.