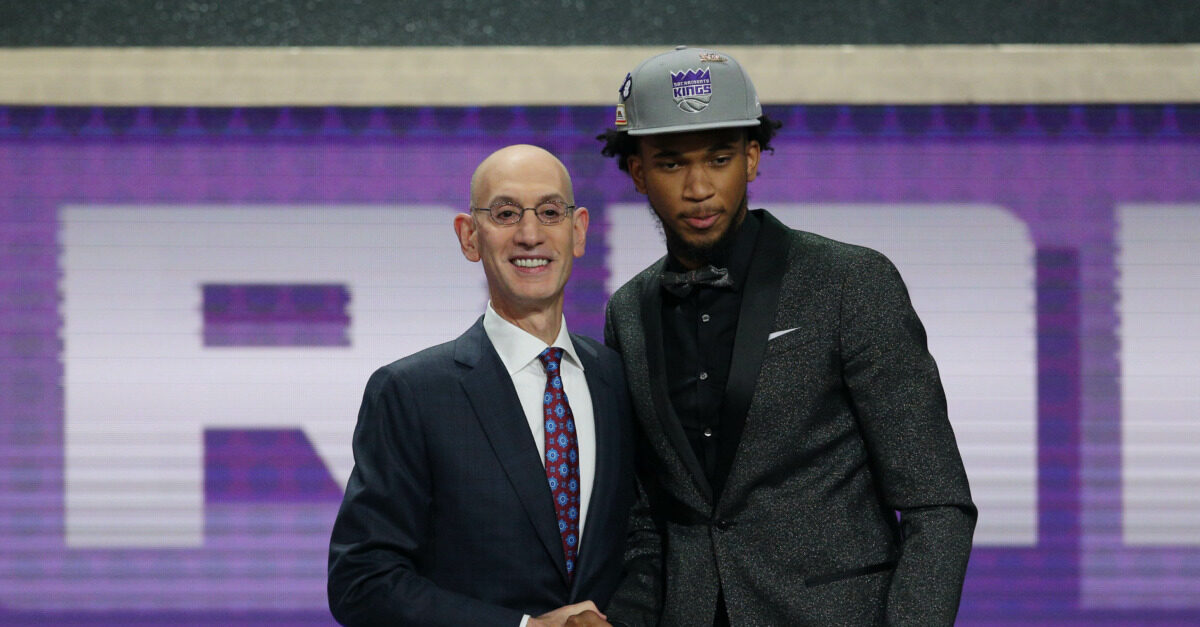 Welcome to the annual Kings Herald mock lottery, where everything is made up and the picks don't matter. We've gathered the brilliant minds of TKH (and Will) together to make the first 14 selections of the 2021 NBA Draft. Each temporary General Manager will justify their pick with one or two paragraphs, no trades or other shenanigans allowed.
1. DETROIT PISTONS: CADE CUNNINGHAM, G/F, OKLAHOMA ST.
Akis: I've done a lot less draft research than most of the others on our staff so I thought I'd take the no-brainer pick here. Cunningham seems like a very complete prospect and if anyone but him goes at #1 I will be surprised. He's got a highly advanced offensive game for his age, able to score from anywhere on the court. He's a smart player who is comfortable with or without the ball in his hands, and has great vision as a playmaker. He stands out defensively as well, reading passing lanes and displaying great basketball IQ in a team set. He's kinda like a souped up Tyrese Haliburton. His only real weakness seems to be a bit of a turnover problem, as he averaged 4 a game last season, and he's not the most explosive athlete. But he doesn't have a ton of weaknesses and should be ready to contribute at a high level from Day 1 in Detroit. Because he's so good in so many areas, it should be fairly easy for the Pistons to assemble a roster around him since he should fit well with most players.
2. HOUSTON ROCKETS: JALEN GREEN, G, G-LEAGUE IGNITE
Akis: This pick is much less of a no-brainer, but there are three very good choices in my mind here between Green, Mobley and Suggs. To me Green makes the most sense for the Rockets. After trading James Harden, they need someone who can become a focal point of their offense. Green possesses a ton of upside, especially on offense, with eye-popping athleticism and a decent shot that should only get better. The Rockets probably aren't going to be good for a while, and with the #2 pick they need to take a shot at someone who could be the best player in this draft. Green has the most potential to be that outside of anyone but Cade in my opinion, but he's also a riskier option than a Mobley or Suggs, who I view as having higher floors. Still, it's hard not to be tantalized by a player this young, this athletic and with an already advanced offensive skillset. Green along with Christian Wood and Kevin Porter Jr. could make the Rockets a very fun team in the near future, even if they aren't very good overall.
3. CLEVELAND CAVALIERS: EVAN MOBLEY, C, USC
Greg: Assuming Cade and Green are off the board, it seems like a foregone conclusion that Cleveland takes Mobley. Mobley has huge upside and I can't imagine he falls past three. If Cleveland doesn't want him, they could look at trading the pick. Mobley has some overlap with Jarrett Allen, but his upside is so much higher that Cleveland can make the pick and worry about fit later.
4. TORONTO RAPTORS: JALEN SUGGS, G, GONZAGA
Bryant: The Raptors are in a great spot - while I'm sure they'd prefer to be higher and thus control their destiny, whoever of Green, Mobley, or Suggs falls to them at 4 is a picture perfect fit for their franchise. In this mock, they end up with Suggs, who'd pair wonderfully with Fred VanFleet to move the roster forward into the post Kyle Lowry era.
5. ORLANDO MAGIC: JONATHAN KUMINGA, F, G-LEAGUE IGNITE
Will: I'm going to create the monster of all logjams for Orlando today, but there's too much talent there for them to ignore in the 6'7, 220 lb forward who last played for the G-League Ignite team. With Orlando taking a slower approach to their rebuilding, Kuminga's physical profile and flashes of true two way star presents a fantastic value at five. He's a rare blend of explosive athleticism, fluid movement and pure, raw grade-A beef and while he's still mastered nothing at this point, he's shown real upside as a shot creator and passer and has shown he could be a guy who can guard 1-4 at a high level€¦ in time.
Does he still need to learn to focus up on the defensive end? Absolutely. Are his shooting inconsistencies frustrating? Sure. Orlando has plenty of ticks on the clock for Kuminga to figure out what he is and just how high he wants his ceiling to be.
6. OKLAHOMA CITY THUNDER: SCOTTIE BARNES, F, FLORIDA STATE
Tony: Outside of the consensus top-4, Scottie Barnes would have been my preferred selection for the Sacramento Kings had they tanked well enough to earn a pick this high. Instead, the rich with youth gets richer with youth, and OKC lands another tremendous prospect they can afford to be patient with. Barnes is going to need some time to figure out exactly where he fits in an NBA offense, but his hustle, defense, and passing should be ready to go from the jump, and I love his fit with the rest of OKC's young core. Sam Presti remains a wizard.
7. GOLDEN STATE WARRIORS: JALEN JOHNSON, F, DUKE
Rob: Setting aside all of the pick(s) trade talk, I'm making this selection as though the Dubs are keeping the pick. The standard operating procedure for Golden St. seems to be not to pass on talent. Johnson was highly thought of in most pre-season player rankings. His €œslide€ is due to his hasty departure from Duke, but my Spidey sense tells me that he has effectively squelched any concerns that the Warriors may have had. The consensus here seems to be Davion Mitchell, but the Dubs won't pass on Johnson's potential at a premiere NBA position. And when they pass on Mitchell, who was primarily a smokescreen in the hopes that Barnes or Kuminga would drop, don't be surprised if a slide that takes him to the Warriors' pick at #14 occurs.
8. ORLANDO MAGIC: ALPEREN SENGUN, F/C, BESIKTAS
Will: Is there any rebuilding team in the league that could better cover Alperen Sengun's defensive deficiencies? The Turkish League MVP being slotted with Jonathan Isaac is an incredibly flexible front court offensive pair and tossing Wendell Carter Jr into the mix makes for an incredible mix of young offensive and defensive versatility. Sengun's passing helps cover some of Orlando's guards score first mentalities, his scoring helps alleviate some of the questions around their current front courts abilities to consistently put the ball in the hole, sans Nikola Vucevic.
Orlando is swinging for the fences with their two picks in this draft and if either hit, they'll have one of the best young cores in the league and an instant league pass favorite.
9. SACRAMENTO KINGS: MOSES MOODY, G/F, ARKANSAS
Tim: Over the last couple of weeks, Franz Wagner's name has been linked to Sacramento more than any other player, but that doesn't necessarily mean he's Monte McNair's final choice, especially if a player of Moses Moody's caliber is available. At his mid-range, non-ceiling outcome, Moody can develop into a starting-caliber, 3-and-D threat who can also create some offense for himself. If he fully blossoms, he may turn into a star role player, a la Mikal Bridges with the Phoenix Suns. Although he may be a little on the shorter end to start full-time at small forward, Moody's 7'1€ wingspan will make up for quite a few deficiencies on the defensive end of of the floor, especially in his first few seasons as his mind and body catch up to the speed and physicality of the NBA.
10. MEMPHIS GRIZZLIES: FRANZ WAGNER, F, MICHIGAN
Tim: The Grizzlies are a fascinating team to observe from a rebuilding perspective. Unlike the Kings, who act like a playoff team, despite never having been there, Memphis continues to operate in reset mode, even though they made the playoffs last year. It's evident that their front office and ownership group doesn't just hold the 8th seed as the ultimate goal, but that they want to build a true, contending core. And that's where Franz Wagner steps in as one of their finishing pieces. He's a great complement to Ja, can play alongside Jackson Jr., and his versatility on the defensive end of the floor would make them even more of a nightmare to play. Be sure to check out Brenden's profile on Wagner to see why some Kings fans wouldn't be upset if he ended up getting his name called one pick earlier come draft night.
11. CHARLOTTE HORNETS: JAMES BOUKNIGHT, G/F UCONN
Brenden: On my board, James Bouknight is in a tier of his own among the remaining prospects. Bouknight and LaMelo compliment each other fairly well with the UCONN guard's great ability and awareness when cutting off-ball and explosiveness in transition. I feel fairly confident that James Bouknight is going to average somewhere around 17-20 points in the NBA during the peak of his career and that is really hard to pass up on. Malik Monk has yet to prove himself, and the Hornets can fill their hole at the center in free agency (Richaun Holmes). Bouknight projects to be a capable defender and versatile scorer on the offensive end and will at least be a microwave scorer in the NBA.
12. SAN ANTONIO SPURS: ZIAIRE WILLIAMS, F, STANFORD
Bryant: Ziaire Williams in the Spurs development program? Yes, please. Williams is a dice roll, one betting on his awful collegiate season being a nightmare and not reality, but he has some clear translatable NBA skills. If his shooting hits and he gets the patient physical development necessary, I think he has fringe All-Star potential - something the super-deep but starless Spurs really need.
13. INDIANA PACERS: JOSH GIDDEY, G/F, ADELIADE
Bryant: The Pacers take the BPA left on the board in my book, snagging a 6'8 wing with elite passing vision, great offensive instincts, good rebounding skills for his size, and some defensive question marks. On a Pacers team that already has a ton of playmakers on offense, Giddey would fit in immediately.
14. GOLDEN STATE WARRIORS: DAVION MITCHELL, G, BAYLOR
Rob: And just like that, the Warriors add a player that may become part of the core this season, one that was rumored to be going to them at #7. An €œold€ and mature rookie that could energize the defense and lead by example for both Jalen Johnson and James Wiseman. The Warriors enter this season with last year's key contributors, plus Wiseman has a year's experience and Klay Thompson is scheduled to return as well. The Warriors could well compete for a top four seed in the West, all while €œre-tooling.€ And the young asset cabinet is robust should the right trade come along. All hail our old/new overlords!
Now, let's see yours!