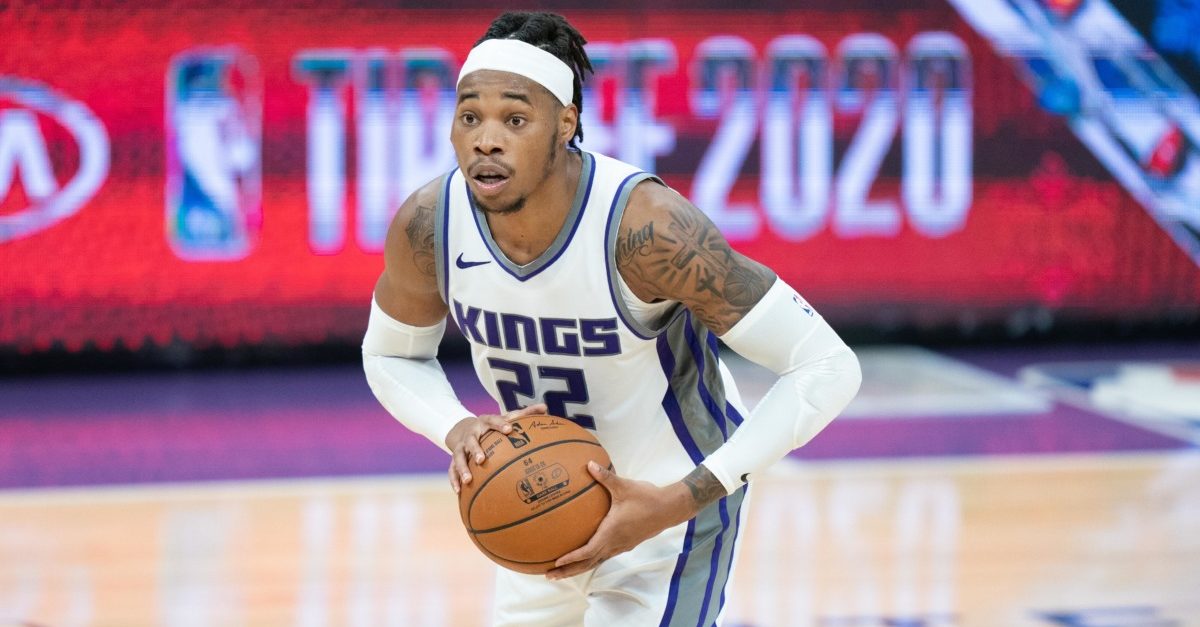 Over the last few months, Richaun Holmes' upcoming free agency has developed into a bit of a panic point for Kings fans. Rumors have abounded that the Toronto Raptors or the Charlotte Hornets or the Dallas Mavericks would shower Holmes with enough cash to pull him away from the Kings, but according to a couple of highly reliable NBA reporters, that may no longer be the case. On Wednesday morning, Zach Lowe stated that "there's a lot of Richaun Holmes back to Sacramento buzz", while Marc Stein shared similar sentiments via the Greenroom app. Interestingly enough, Richaun Holmes' brother, Richard Holmes, tweeted the classic "eyes emoji" yesterday afternoon.
If those reports are accurate, Monte McNair and the rest of the organization can breathe a huge sigh of relief heading into the draft tomorrow evening. They'll no longer be forced to either trade for a starting center or to try and find a subpar replacement in free agency, and the roster will be in a much better position to try and break the 15-year playoff drought currently haunting the franchise.
Bringing Holmes back into the fold will require one of two paths, each with its own complications. As a team that is currently scheduled to remain over the cap heading into the summer, Sacramento's current option is to re-sign Holmes via early bird rights. That method would allow the Kings to offer Richaun a 4-year deal starting at approximately $10.5 million, with 8% annual, non-compounding raises, totaling about $47 million. For a player who has earned a total of $14 million over his six-year NBA career, inking a deal worth almost that amount on an annual basis could be enough to convince Holmes to stay.
However, if other teams are still planning to throw stacks of cash at Richaun, the Kings will be in a much more complicated position. They'll need to find a way to get under the cap before the start of free agency, entirely possible, but not without its own consequences. It's also important to note that Holmes is an unrestricted free agent, meaning the Kings will have no rights of first refusal to match offer sheets. It'll come down to beating other offers outright or convincing Richaun to stay for reasons other than cold, hard cash.
Opening up a path to cap space would require the Kings to start dumping a chunk of salary, but that may not be an issue with both Marvin Bagley ($11 million) and Buddy Hield ($23 million) likely on their way out the door prior to next season. Any such transactions would require the Kings to take on less salary than their sending, but the size of those departing contracts wouldn't make that particularly difficult to accomplish, depending on the other facets of the deal.
One significant detractor in converting from an over-the-cap team to operating under the salary cap is the loss of the mid-level exception and the bi-annual exception. The MLE is a spending tool worth up to 4 years, $41 million, while the BAE would allow the Kings to sign someone to a deal worth approximately 2 years, $8 million. Both of those would be replaced with the room exception, worth only 2 years, $9 million. Going the route of cap space would severely limit Sacramento's spending ability in free agency, outside of re-signing Holmes to a large deal.
Sacramento's desire to re-sign Richaun Holmes is completely understandable, even at the expense of other spending tools. They cannot find an equal replacement in free agency, nor will they likely find a starting-caliber center in a trade, at least not without surrendering significant assets. If the Kings truly are locked into a push for the postseason in 2021, they must re-sign Richaun Holmes, and it seems as though they may be well on their way to accomplishing that goal.