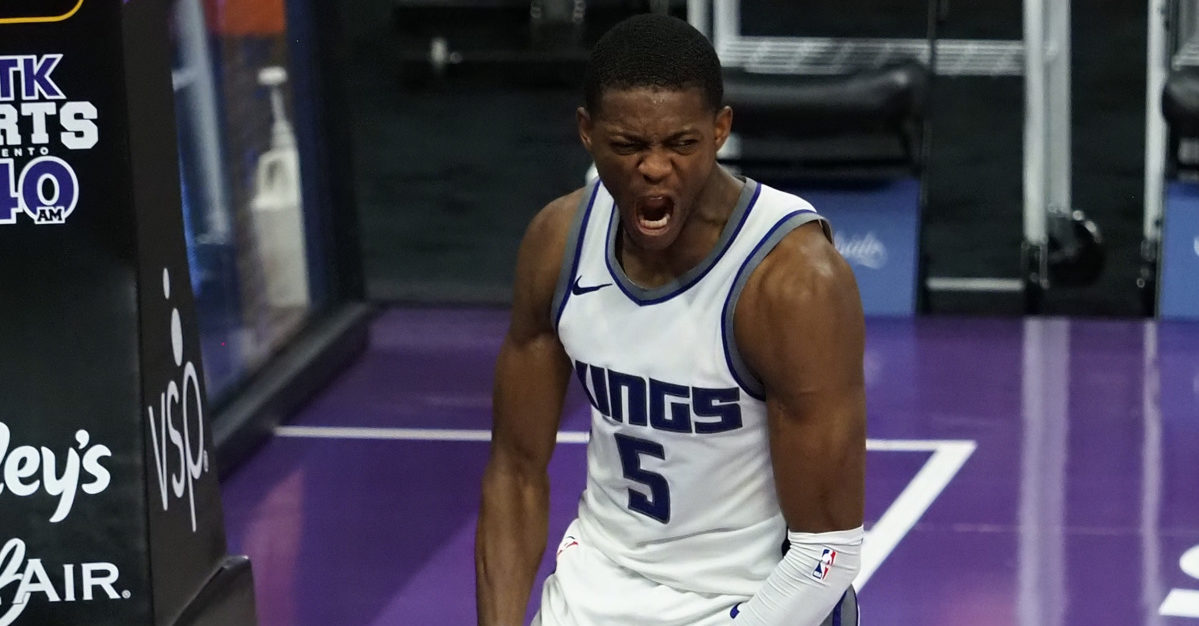 As the calendar gets closer to October, it is that time of year again to check in on muscle watch. For your first update, we have De'Aaron Fox and Tyrese Haliburton providing an update on their gym results this offseason.
The two guards spoke to the Sacramento media Monday and discussed their summer. Fox unveiled his new weight and what his goals are.
"At some point in my playing career I would like to play over 200 [pounds] – I'm 197-ish right now. So, I'm almost 30 pounds up from where I was at the combine. And as I've gotten stronger, I feel like I've gotten faster, more explosive things like that, so it's nothing that's ever weighed me down. It's made shooting the ball a lot easier, being stronger," Fox said. "A lot of it just came with time. I've always been strong for my weight, but just putting the weight on was kind of difficult, but as I've gotten older it's been easier for me to put weight on. I'm probably not where I want to be so to say, but at 23 years old this is good for me."
Fox came in at 169 pounds at the 2017 NBA Combine. Along with helping him shoot, he is hoping the additional strength helps him guard bigger guards and wings.
The 6'5'' Haliburton said he has spent every day this summer working on his body and his game, and says he is up 10 pounds. Various sites have him currently listed at 185 pounds, so he could now be more in the 195-pound range if he indeed added 10 pounds. He has been texting and joking with Fox about their summer muscle watch.
"I keep messing with him. When he texted me and asked what my weight was, and I told him I was up 10 pounds he called me fat, and he's out here in these pictures and he looks like he's the Hulk or something, so I tell him he's fat," Haliburton said jokingly. "So, we're just messing around that way, but he [Fox] looks good, he looks stronger. I don't think people realize how strong he is already, but he got stronger it looks like."
Haliburton has been playing a lot over summer and said he has noticed the strength coming in handy.
"It's paid dividends so I love where I'm at right now on the strength aspect as well as in my game and I'm looking forward to going into year two," he said.
Haliburton said he also has been working on ball handling, finishing with both hands and getting to the free throw line more. Added strength should help with attacking the basket and getting to the line more. He only averaged one free throw per game last season.
Fox said in addition to strength, he's been working a lot on shooting off the dribble and getting more efficient with that. He also acknowledged he could be playing more off the ball this season with Haliburton and Davion Mitchell in the backcourt.
We'll keep you updated as muscle watch continues to roll on.
Watch the full media sessions below.