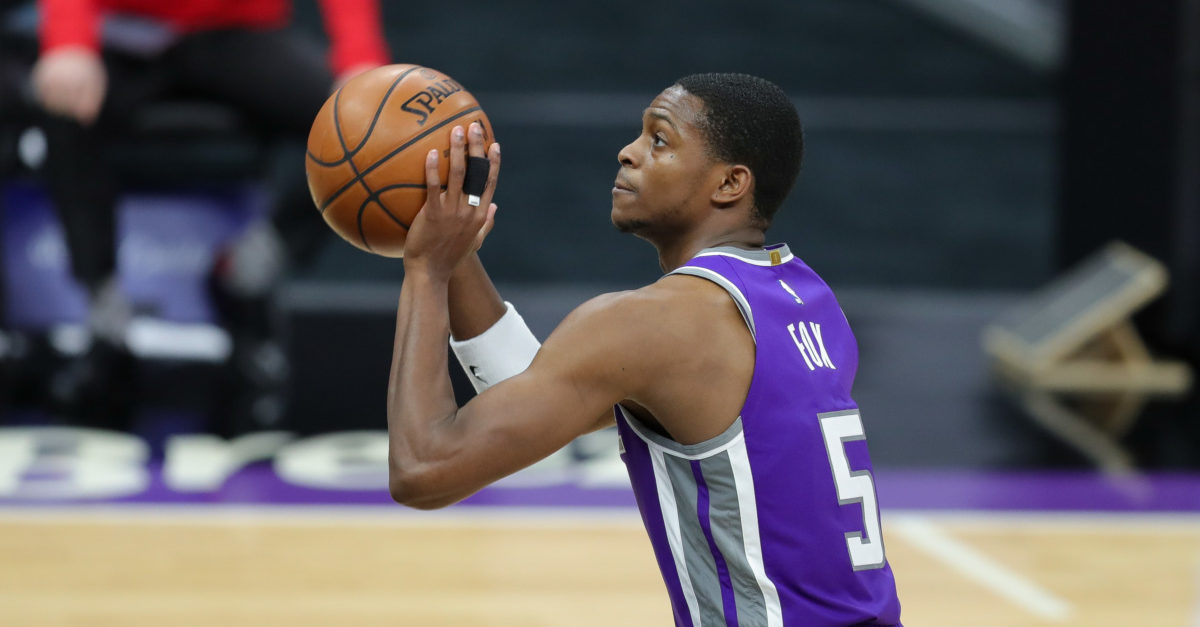 Seven wins in eight games followed by nine straight losses is pretty close to the definition of inconsistency in the NBA. The Sacramento Kings managed to follow that exact pattern twice in the 2020-21 season. At least they were consistently inconsistent?
Typically, consistency in the league is most obtainable on the defensive end of the floor. Even the best offensive teams in the league are going to have an Off-Night shooting the ball every once in a while.
Being aggressive, engaged, and active on the defensive end is something that can be achieved throughout all 82 games each year. Sacramento fit that description maybe around 40 times last season, and that's being generous.
While that defensive effort level is widely expected to increase this season, there are ways that teams can find some regularity on the offensive end of the floor as well. Typically, it's by knowing what your best player(s) are able to bring on a night in and night out basis.
De'Aaron Fox isn't going to finish upwards of 70 percent of his attempts at the rim every night. Fox can however find points regularly at the free-throw line, where he finished tied for eighth in attempts per game (7.2) last season.
Of course, getting to the line isn't exactly an easy task but I also wouldn't label it as all that challenging for potentially the fastest player in the league who also possesses elite body control.
De'Aaron isn't the only player dressed in royal purple that succeeds in regularly demanding a whistle. Harrison Barnes finished just outside the top-40 last season in free throw attempts per game with 4.1.
Getting there to the charity stripe is great, but knocking them down is the important part. Clearly, that's primarily directed towards Fox. Of all players in the top-10 of free throw attempts last season, only Giannis Antetokounmpo (68.5 percent), Zion Williamson (69.8 percent) and De'Aaron Fox (71.9 percent) converted at less than 85 percent rate.
Improving Fox's free throw percentage is something that the media, fanbase, and Fox himself have been talking about for a few years now. Progress is essential, as evident by Sacramento's 3-11 record last season when Fox made less than four free throws. No way Fox should spend 30+ minutes on the floor and only go to the line once or twice.
While De'Aaron is clearly the engine and leader in this category, the rest of the team is more than capable in drawing fouls, and when they did the wins often followed.
The Kings made at least 20 free throws on 21 occasions in 2020-21. Their record in those games? 15-6.
On 27 different nights, the Kings converted less than 15 free throws. They were 6-21 in those showings.
The total number of free-throw attempts is representative of the team's mindset. What it all comes back down to is maintaining an aggressive mentality in attacking the basket and putting pressure on the rim.
We know Fox can do that at a high level, Barnes can contribute his share, and Marvin Bagley has the capabilities to be rewarded with a couple of trips to the line each night.
While defensive's becoming growingly considered with conceding free throws they tend to forget about shooters. More open catch and shoot attempts for Buddy Hield and Tyrese Haliburton is always a good outcome.
While the most obvious answer to my question of finding consistency is defense, the Sacramento Kings may be able to achieve that on offense with relentless attacking resulting in free throws.
Bottom line is that the Kings need to more aggressive on both ends for 82 games this season. Hopefully, those around last year are sick and tired of the ups-and-downs and I'm sure the new faces and mentalities don't want that experience.