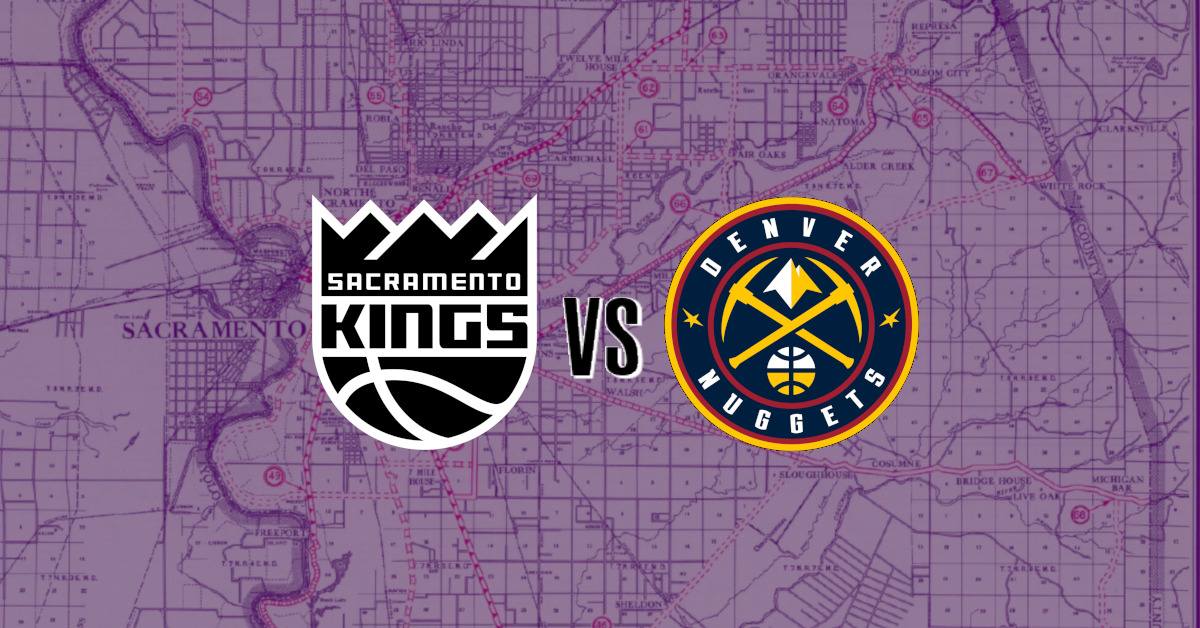 Hey Happy Saturday! If you're reading this, there's a game in just a couple of hours. If you're reading this and didn't surmise that from the title of this preview, I would recommend either pouring yourself another cup of coffee or going to see a neurologist. The Kings are going to be screwing with your weekend schedule both Saturday AND Sunday, so if you're planning on doing yardwork or spring cleaning today or before the "Avoid the Super Bowl at all costs" noon time game tomorrow, I'd say you'd better get to cracking. Yes, the Kings are going to be playing two games in less than a 24 hour window - today's contest features the Nuggets, a twice bitten championship contender and then in LA for a battle against the Clippers.
I'm not going to put the cart before the horse here - while the Nuggets have gotten bested by the Kings twice already this season, they're still one of the very best in the NBA, playing with an MVP frontrunner in Nikola Jokic and being coached by a man who absolutely still has it out for his old team. Can the Kings hit the .500 mark and sweep the Nuggets in one fell swoop? Has anyone asked De'Aaron Fox how that hip is? .... Okay well, I'm not saying one damn positive statement until he says he isn't hurting and you can't make me!
Let's talk Kings Basketball!
When: Saturday, February 6th, 2:00 PM PST
Where: Golden 1 Center, Sacramento, CA
TV: NBCSCA - Mark Jones on the call.
Radio: KHTK Sports 1140 AM
For Your Consideration
The Conditions of Love: There's this line from a beautiful little movie called "The Last Black Man in San Francisco" that's been stuck in my head for a while now. In the film, a native of the city is on a bus, listening to two transplants complain about the city and their poor housing situation and tech jobs etc. He stops them mid conversation and tells them "You don't get to hate San Francisco" - to which he is rebuffed. He follows up by asking them if they love it and when they blow him off he imparts upon them:
"You don't get to hate it unless you love it."
I spend the better part of my time here espousing my amateur opinions, trying to make you laugh a little and trying to get enough conversation going that Akis and Greg still see the value in allowing me to rant like a lunatic to you about whatever I please and when I see fit. I have rarely been hopeful about this team's direction and rarer still have I written about it. I mean, I did once in a 30Q about "What If Vlade's Right?" and I got clowned on pretty hard. I got a good laugh from people thinking I was on drugs for believing. Then, Dave Joerger threw away the playbook, told everyone to run like hell, and I was... well I was kinda right. That was absolutely the last time and I promise it won't happen again.
Recently, I've had a couple of conversations that brought this quote I was talking about back to the forefront of my mind. One was with a guy I wanted to be just like at 16 and he was talking about how frustrating some of De'Aaron Fox's finer points can be, specifically when he turns the ball over and just gets sloppy. Fox is someone I know he loves, but he found himself being critical of him to the point where he had to interject "and I love Fox!". Another conversation was with the owner of a site that couldn't be any different than ours but who makes the Kings his life and at least some of his livelihood. He asked how upset I, as an unabashed supporter of tanking, would be if the Kings made the playoffs. It was a good question, with an obvious answer. I wouldn't. Aiming for a playoff spot isn't what I would do, but I wouldn't have fired Mike Malone or traded DeMarcus Cousins or had Rajon Rondo anywhere near this team. I still root for this team to win every night, I just want to see them win a lot more for a lot longer period of time and I'm willing to sacrifice that happiness in the short run. It's a strategy for success, not THE strategy. Lastly, I had a discussion with a colleague, both on Twitter and privately, regarding the principles of trading Harrison Barnes and the variety of implications that has on draft picks, player attitudes, historical precedent. He took his lumps from plenty of people on Twitter and dished out some himself. It's 2:30 in the morning and judging by the notification on my phone, we're technically still having this conversation and the thing of it is, no one can even be proven right in this particular discussion.
This team pisses me off sometimes. Historically bad defensive stretches, bad coaching and player mismanagement, player slumps and a million missed opportunities can do that. We argue in the comments with strangers, or on Twitter with radio hosts or Instagram video breakdown specialists, or in long text messages with the guy who got you courtside tickets to the California Classic for free. It doesn't matter as long as we get to rant about this godforsaken team. Most of the time, it's one short-term pessimistic take vs. a long-term pessimistic take and it is so, so much effort that is being dragged out of each of us for a team that hasn't won a damn thing in fourteen season. The glimpses of happiness, like our recent run of success are even dampened by that cloud of "we know what happens when we get hopeful" and we get frustrated that we can't even enjoy the good stuff without seeing the end of the party coming up quick. Yet, here I am, 2:50 in the morning now, still wanting to talk about this team that makes themselves so hard to love most of the time. And I want to do it with commenters, twitter trolls, haters, Jerry Reynolds and anyone else who wants to talk about the Kings. I love the passion of ever single dummy and secret genius alike - even when tempers get up, or points get misinterpreted or god forbid, someone says something I truly disagree with. I don't need to sing campfire songs and hold hands. I don't even need you to acknowledge my points 98% of the time (gold jersey opinions excluded) or apologize if things get gnarly. I get it.
In a million different ways, for a million different reasons, we hate this team sometimes.
But we get to.
Because its painfully obvious from every conversation I have about them with all of you, we also absolutely love them.
Post Malone: Okay I guess we can talk about the game a little bit now. The Nuggets are exactly who you know them to be by now. Nikola Jokic is one of the Top 5 players on the planet right now, the team is scoring the fourth most points in the NBA even though they're going at the second slowest pace, and like every team the Kings have gone up against recently - they're dealing with injuries to key players! Jamal Murray is questionable today, as is feisty back-up Facundo Campazzo. To make matters worse for the Nuggets, Gary Harris and PJ Dozier are also both out with various injuries. The Kings will once again have a decent shot at stealing a game here because while the peasants have all be struck hard by the injury bug, the Kings have been ordained on high to be unnaturally healthy this season so far. Jokic without weapons could be left on an island and be forced to shooting in droves and if Holmes can frustrate him and Fox can get him into some early foul trouble, they could come away this afternoon sitting at .500.
Sidenote: Players who signed in the off-season can now officially be traded so I wouldn't be surprised if we see a Bjelica trade here in the next week.
Prediction
I came within a single point of predicting a perfect score of the Celtics game, so lets see what I've got today. Fox goes for 30 today if healthy. Haliburton struggles early in the first half then comes alive and ends up with 17+ by the end of the game.
Kings: 118, Nuggets:113