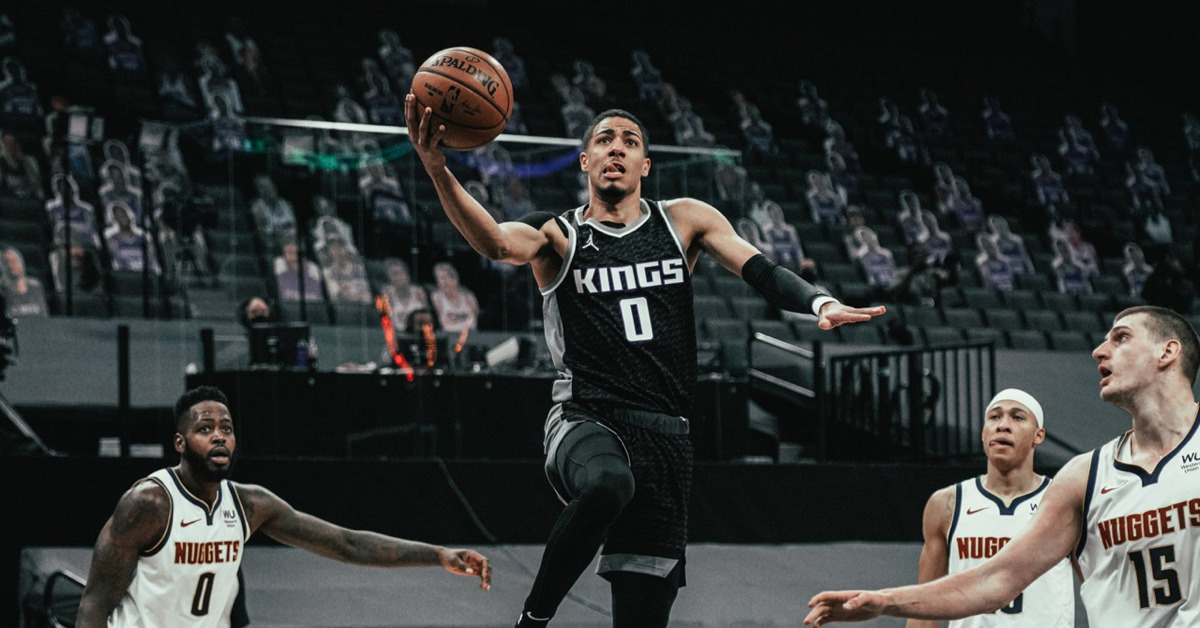 Four Kings eclipsed 20 points, as the Sacramento Kings knocked off the Denver Nuggets for the third consecutive time this season with a 119-114 victory.
Despite missing Jamal Murray, Gary Harris and Facundo Campazzo, Nikola Jokic assembled one of the most dominant performances you'll ever witness: 50 points (20-33 FG, 3-6 3P, 7-7 FT), 12 assists, eight rebounds, three blocks and one steal. However, the MVP candidate received minimal help from his teammates.
For Sacramento, De'Aaron Fox, Harrison Barnes, Richaun Holmes and Tyrese Haliburton all scored at least 21 points in a win where everyone chipped in with their strengths. Both teams traded blows, but the Kings exhibited immense firepower that Jokic failed to overcome alone.
The Kings opened the game with a 2-3 zone, forcing the ball out of Jokic's hands and making Denver shoot. Will Barton and Paul Millsap received open looks, but Barton struggled to knock his shots down throughout the game. Millsap would finish the game with a 3-4 clip from deep, but in the first quarter, the Nuggets combined for a 1-9 mark. Offensively, Sacramento ran multiple pick-and-rolls featuring Richaun Holmes, whose push shot was automatic all game. De'Aaron Fox created and converted on open jumpers, pushing the Kings to an early lead. However, the Cory Joseph and Hassan Whiteside two-man game on offense stalled, and Denver closed the gap. Sacramento led 26-25.
Whiteside, defensively, wreaked havoc on Denver. During the second quarter, Whiteside had already grabbed eight rebounds and blocked three shots in just nine minutes. Buddy Hield's three-point shot floundered as he went 0-5, but Hield showed promise with his passing game. Harrison Barnes continued to crush teams from deep, drilling two triples to maintain the lead. Sacramento would maintain a one-point lead at halftime, 53-52. Barnes led the way with 13 points (5-8 FG, 2-2 3P); Holmes added 12 points and five rebounds; Haliburton marshaled the bench with 11 points (4-7 FG). For Denver, Jokic garnered 14 points, four rebounds and six assists.
Sacramento continued to pound Denver with the Holmes' pick-and-roll game and finding ways to get Barnes downhill against Michael Porter Jr., who struggled against Barnes all night. By the quarter's conclusion, Barnes tallied 26 points (10-14 FG, 5-6 3P). Fox showed great poise with his three-point shot, coming off high screens and waltzing into open looks. His jumper was money all night. Buddy, however, was scoreless through 29 minutes. Sacramento maintained the lead after three.
Jokic made the fourth quarter super intriguing. It's tough to pitch a perfect defensive game against Jokic's talents, and Holmes couldn't agree more, despite the phenomenal defensive plays he had. Jokic nailed shots from all levels of the floor. But Sacramento's quadruple scoring punch reigned supreme, with Haliburton manifesting an excellent three-point shot yet again, drilling looks that shot Denver's confidence. Sacramento held on despite a wild final minute, winning 119-114. The Kings are now 11-11 through 22 games.
Game Notes
Despite shooting 1-11 from the field and 0-9 from three, Hield's passing chops were on full display. That's not something we say often, but his seven assists were all exquisite. The pick-and-roll game between Hield and Holmes resulted in many open push-shot attempts thanks to Hield's pocket passing, as well as how Hield swung the ball around on the perimeter.
The Fox-Hali dyad continues to shine. Despite Denver's thin backcourt, the two excelled together. Haliburton waltzed into threes while hitting open teammates, and Fox replicated the rookie. Both guards possessed a 4-7 clip from deep, torching Denver in that regard.
Hassan Whiteside had his usual lapses, but he provided a strong interior presence against Jokic at times. Whiteside finished with 11 points, 11 rebounds, four blocks and an assist out of the post.
Marvin Bagley featured little in the fourth quarter, but his performance was why. In 18 minutes, Bagley mustered just three points on 1-6 shooting along with two rebounds, one assist and one steal. Denver torched him at the rim.
Next Game
It's an abrupt turnaround for Sacramento as they now travel to Los Angeles to take on the Clippers tomorrow at 12:00 p.m. The Clippers have Sacramento's phone number from the last two matchups, so it'll be interesting to see how the Kings respond.