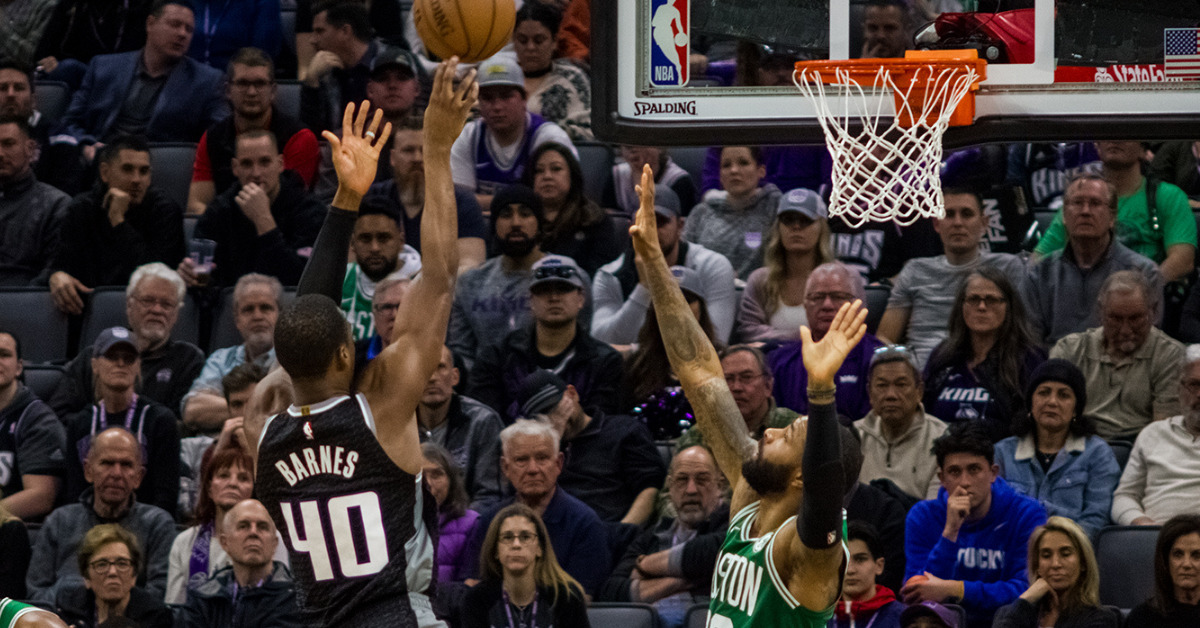 The morning after losing to the Sacramento Kings, Boston Celtics' general manager Danny Ainge spoke about using the traded player exception that was created from signing-and-trading Gordon Hayward to the Charlotte Hornets.
Ainge revealed the team's biggest need as "shooting with size" during his interview on Toucher & Rich.
"I would say that we could use shooting, we could use passing," Ainge specified. "But you always need defense and our team is built on defense... It's just hard to find a shooter that can guard anybody. We're looking for complete players."
The most recent matchup between the Celtics and Kings showcased Harrison Barnes as the perfect candidate to check all of the boxes Ainge listed on Thursday morning.
Barnes is currently converting on a career-high 41.3 percent of his 4.4 attempts from beyond the arc in the 2020-21 season. Yet, this is far from an outlier as the Sacramento forward has not shot below 38 percent since 2017-18. Standing at 6'8", there is no question he fits into the "shooting with size" mold presented.
Harrison Barnes may be most ideal as a four in the modern NBA, but the Brad Stevens-led Celtics have an affinity for versatile wing defenders who can switch across multiple positions.
There are very few moments where Barnes is slow to rotate, caught flat-footed, or simply overpowered. While he is not blessed with overwhelming lateral quickness or a wingspan that swallows opposing players, he remains positive on that end with solid fundamentals, an understanding of the game, and unwavering effort.
Look at the defensive effort from Harrison Barnes on this posession. pic.twitter.com/eEu7yWnH2r

— Brenden Nunes (@BrendenNunesNBA) January 30, 2021
A wing trio of Jaylen Brown, Jayson Tatum, and Harrison Barnes leaves no weaknesses to attack and allows unlimited switching between them.
Really throughout Barnes' entire game, it is difficult to pinpoint a worrying flaw. He has taken a leap in playmaking this season, can put the ball on the floor and attack the rim, gets to the free-throw line and knocks them down, and rarely commits turnovers.
Additionally, he is often regarded as an exceptional teammate and brings championship experience from his early years in Golden State.
Maybe it isn't so hard to find a shooter that can guard across multiple positions who fits into the roughly $19.6-million of the usable TPE.
While the entire exception is $28.5-million, the Boston Celtics became hard-capped after signing Tristan Thompson to the non-taxpayer mid-level exception and limited its use.
After doing a lot of work on it (H/T to all who helped!), I have the Boston Celtics at $19,600,985 under the tax apron/hard cap line. This is inclusive of:

-Team salary
-Javonte Green counting at the 2 YOS minimum salary
-Jaylen Brown's unlikely bonuses

— Keith Smith (@KeithSmithNBA) January 6, 2021
Therefore, the Celtics would need to send back at least $2.6-million in order to take in Barnes' $22.2-million salary that decreases with each passing year.
The idea of Sacramento moving on from one of their most consistent players this season would revolve around obtaining long-term prospects that better fit the timeline of franchise cornerstones De'Aaron Fox and rookie Tyrese Haliburton.
Aaron Nesmith ($3.4M) and Romeo Langford ($3.6M) are both on their rookie deals and either would be enough to individually make the salary work.
Nesmith, who was the 14th overall pick in the 2020 NBA Draft, was on Sacramento's radar with the 12th pick as the Vanderbilt sharpshooter confirmed in an interview and is 21 years olds. With Buddy Hield likely on the trade block as well, Nesmith could fill the role of deadly off-ball threat from beyond the arc for years to come.
During his two seasons at Vanderbilt, the 6'6" wing shot 41 percent from three on 290 total attempts - some even labeled him as the best shooter in the draft. Brad Stevens has a short leash on his rookies, and Nesmith has not been given much opportunity so far into his debut NBA campaign.
Romeo Langford, who was actually selected with Sacramento's 2019 1st rounder that was passed onto the Boston Celtics from the Philadelphia 76ers, could be another intriguing option. The lottery talent dealt with a thumb injury during his time in Indiana and has only seen 370 minutes on the floor after being sidelined for the entirety of his rookie year.
While Langford will reach restricted free agency one year prior to Nesmith, he is only six days older and gained the trust of Brad Stevens enough to get some minutes in bubble playoffs against the 76ers.
Nesmith is likely the more intriguing of the two, but it is certainly too early to label Langford a bust. He fits the prototype of a slashing playmaker who can be positive on the defensive end of the floor, although the three-point shot remains concerning.
With how Harrison Barnes has performed this season, there is potential that he could draw a young prospect along with a first-rounder that is likely to place in the early to mid-twenties.
Two reasonable deals include:
Boston Receives: Harrison Barnes + MEM 2021 2nd
Sacramento Receives: Aaron Nesmith + BOS 2021 1st
Boston receives: Harrison Barnes
Sacramento receives: Romeo Langford + BOS 2021 1st + BOS 2021 2nd
Sacramento would surely get worse in the immediate with these returns, but their time to shine is not now, despite the current win streak. Making the team worse this season, which would secure higher lottery odds, while also acquiring younger talent in exchange for Harrison Barnes is good business.
Barnes, who has roughly $60-million remaining over three seasons, is 28 years old and not likely to be around for the prime of Fox and Haliburton. The current situation that Boston finds themselves in with the TPE being their only option to add difference-making talent gives Harrison Barnes what may be an outlier level of value at the upcoming deadline.
Monte McNair has preached future flexibility, as evident by deciding to not match the Bogdan Bogdanovic offer sheet, and getting Barnes' salary off the books does just that.
Harrison Barnes is sure to be continuously linked to the Boston Celtics from now until the March 25th trade deadline.