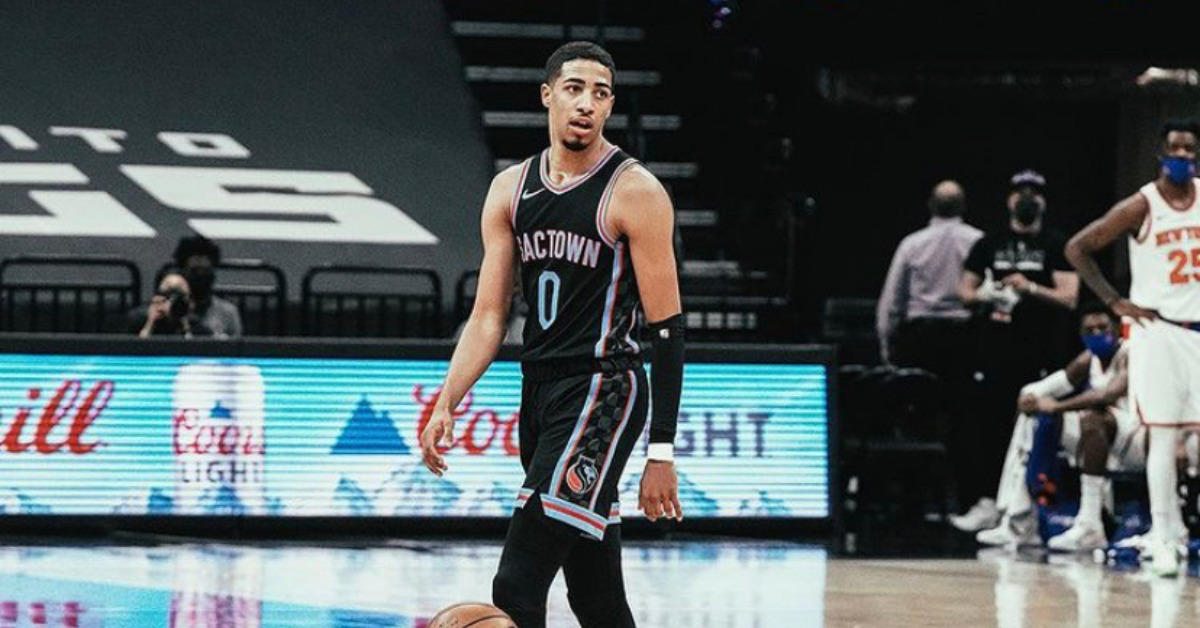 Sacramento Kings rookie Tyrese Haliburton drained a 28-foot three pointer with 44 seconds left in the fourth quarter Friday night to put the team up 120-116 over the Toronto Raptors. Though he had been having a rough shooting night up until that point (0-6) from three, Haliburton took the shot with confidence. He also impacted the game in a variety of different ways €" he finished with 11 assists, 6 rebounds, 1 steal and 1 block, to along with 10 points.
Following the win, several of the Kings veterans, and head coach Luke Walton, praised the rookie's poise.
On Tyrese Haliburton

Buddy Hield: €œHe's out there playing closing minutes, it shows how much trust we've got in him. He's got the ball in his hands to make the right play and he's a rookie, but he's playing like a vet and he's very poised. He's going to make mistakes, but this team trusts him and he's going to make the right play.€

Harrison Barnes: "Tyrese is a gamer, he's got a lot of confidence in himself, his teammates believe in him to take those shots. He's only going to grow in those moments, continuing to step up, take those shots and knock them down."
€œThe fact that he missed 6 and made 1 means he's coming out tomorrow he's going to hit the next 5, that's just the type of guy he is, that's the type of confidence that we have in him. He works extremely hard, he's very level-headed so his future is bright.€
Cory Joseph: €œOffensively, I just let him do his thing, I know he's great on that end. He's obviously a hell of a passer, he's scoring the ball really well for us. He's very poised so I know he doesn't play like a rookie so I know down the stretch even though he had a rough start we have all the confidence in the world that he's going to take big shots and make them as he did in previous games. I stay in his ear defensively, me being a defensive guy, just staying in his ear and try teach him a lot on that end.€
Luke Walton: €œHe's got that confidence, and he's got that contagious confidence, which is what you like to see because even though he was 0-for going into that I don't think there was a single person, myself included, that didn't think that shot was going in. We needed that, especially after Hassan [Whiteside] just missed an uncontested dunk at the rim.€
€œHe's got the clutch gene and even though he had an off shooting night he stepped up and hit that when we needed it. And again, just like De'Aaron [Fox] last night when he had an off shooting night, Tyrese found other ways to really help us even though the ball wasn't going in €" he had rebounds, he had 10, 11 assists, and that's what we want from all of our guys €" don't just count on scoring as a way to help us win.€
Haliburton himself, had this to say about his play down the stretch: €œI guess I was just brought up that big-time players make big-time plays when it's crunch time. I've always wanted to be a big-time player so in order to do that I've got to make plays down the stretch and I've been fortunate to make those plays when my name has been called upon and hopefully I can continue to do that. When it's winning time, I'm always ready.€
What Has Been Different Over the Last Three Games
The Kings have a three-game winning streak going. Here is what the team had to say about what has been different.
Barnes: "I think we're trending in the right direction. There's some joy, some fun that we're having playing the right way and being in these games."
€œAccountability. Knowing that when we're giving up offensive rebounds, when we're giving up blow-bys, when we're giving up breakdowns defensively that we're talking to each other. That we're saying I need to do this, or you need to do this €" really having everyone tied in and locked into those moments. When the lead was dwindling tonight everyone was being vocal everyone had energy and that's what allowed us to get this win and we'll have to continue to do that moving forward.€
"We're learning from our mistakes. You guys know. I've come to this seat and we've lost a lot of games the exact same way and it's the same types of things that we know we need to get better, but we're not really making that step so I think for us to be in a situation like we were tonight €" having defensive breakdowns, turning the ball over, finding a way to win and fighting through it was growth for us and hopefully we continue to get better at playing with the lead."
Joseph: €œI think it just clicked a couple of nights ago, a couple of games ago, we were at home in the second half, I think it was New York that we were playing, I can't remember, but it clicked in the second half where we just kind of understood the type of way that we have to play. We're a scrappy team, a fast team, that is a positive for us so ever since then we watched that film.€
Hield: €œWe had a couple of days of practice and we were just able to fix our weaknesses and fix what we were getting burnt on and help us to translate to games. We're not getting teed up anymore from the three-point line. It's the league, everybody is great, but we're trying to limit our mistakes we've been doing earlier and that's helping us to close out our games.€
Walton: €œIf you're going to get pushed around, you want a response and I think why we're doing a better job now is we've done a pretty consistent all-five-guys type of mentality. Especially before Hassan got back, most nights we were playing against teams that were just physically bigger than us and that's what it takes. But you love to see that from your group and then you add Hassan back into the mix and he brings physicality and size with him to a group that was starting to figure it out from that standpoint already anyways so it's good to see.€
The Kings have a chance to keep the streak alive tonight against the Miami Heat.