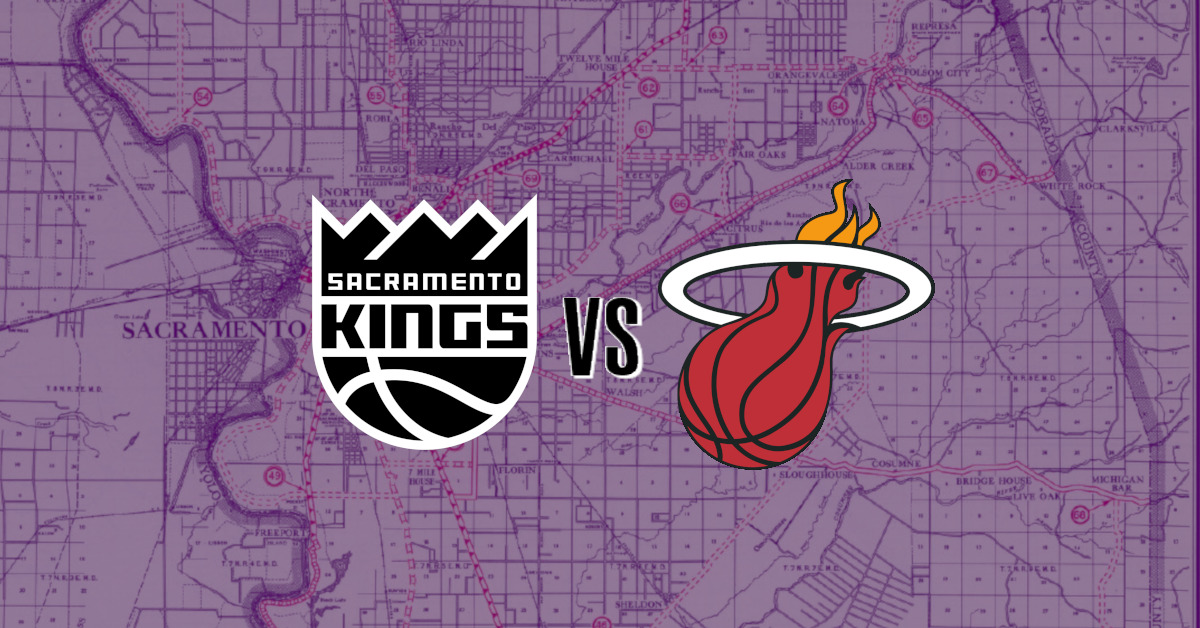 Happy Saturday! The Kings have won three in a row, the sun is shining and that one kid in high school who really hurt your feelings in gym class just stumbled down a couple of stairs and got laughed at by a trouble youth that was watching from a distance! Things are looking up ... up-ish... up-like! But there's no time to waste - the Kings are in Miami today to face up against a Heat squad that sold their souls to the devil to make it to The NBA Finals and are now pay for that deal with their knees, groins, necks, thighs and hips. They are banged all the way up and as such, the Kings have an opportunity to strike while they're weak. Can the Kings continue to climb in the standings? Will I actually be buying a Cowbell Kingdom "Say No to Tanking" Shirt? Am I setting this up in a positive light so that a let down loss will hurt even worse and teach you all never to give your hearts over to hope again? One THOUSAND percent, yes. Let's talk Kings basketball!
When: Saturday, January 30th, 5:00 PM PST
Where: American Airlines Arena, Miami, FL
TV: NBCSCA - Mark Jones on the call.
Radio: KHTK Sports 1140 AM
For Your Consideration
The Butler Didn't: This Miami team is banged up. Like, beat to hell. Currently on the injured list for Miami: Avery Bradley, day to day, knee. Jimmy Butler, day to day, health and safety. Goran Dragic, out, groin. Mo Harkless, day to day, thigh. Tyler Herro, day to day, neck. Andre Iguodala, same as Mr. Herro. Meyers Leonard, out, shoulder. Chris Silva, out, hip. Gabe Vincent, probable, knee. This is, a massive chunk of their team that's still struggling to come back from being on the mend and as such, the Heat's early record really, really reflects that. Losers in eight of their last ten games, including five straight, the Heat are being held together by hopes, dreams and that scrappy Heat culture. Make no mistake, they aren't good right now and the Kings are in a very good position to win four straight. But they aren't dead. Bam Adebayo, this season's leading scorer for the Heat, is still an offensive dynamo, scoring 20.1 points and dishing out 5.6 assists while also grabbing over 9 boards a game. Number two, three and four are all on the injured list so hey, Duncan Robinson is still a guy that needs a microsecond to get hot and four quarters to cool and he has to be contained. Kendrick Nunn is regaining his form with all the extra playing time and can still put up thirty on any given night. This IS the team that Kings squads of old would look past. Yes, I am trying to jinx them.
The fact remains that Miami is the third worst team in the Eastern Conference right now - only Detroit and Washington are worse. They play at a below average pace, score the fourth least points in the NBA and can only muster a bottom ten defensive rating right now. To make matters worse, they turn the ball over the second most times in the NBA, are the worst rebounding team in the league, and outside of leading the league in two point percentage, there isn't a single thing they do particularly well. Three point shooting? 25th in the league, under 35%. Steals? 27th in the league, 6.4 a game. They aren't good! The Kings have a chance to win! If they lose tonight I take all the blame and laugh in all of your faces!
Okay, that's it from me today! The Heat are banged up, the Kings are playing with some cohesion and that's never spelled disaster ever.
Prediction
Kings lose.... their minds and go absolutely bananas on this limping Heat squad. Buddy goes for 40! Fox gets 20 and 12+ assists! Haliburton gets within a couple rebounds of a triple double! Kyle Guy gets time and shows Tyler Herro who the really Kyle Guy around town is. Blowout City baby!
Kings: 135, Heat: 118